Along with their latest flagship Xiaomi announced its simpler version dubbed SE. It's not the first time the company does something like that: last year the same thing happened with Mi 8. But then Mi 8 SE wasn't released outside of China. Now things are different and you can buy the global version of Xiaomi Mi 9 SE. At first glance all seems to be in order: the hardware is simper, but flagship features are still there. Maybe there's no real reason to pay more? Lets try to find out.
Our video about Xiaomi Mi 9 SE
A short video – only the most important thing! If you need more detailed information – read the review below.
Xiaomi Mi 9 SE specifications
Display: 5.97″, Super AMOLED, 2340×1080 pixels, 19.5:9 aspect ratio
Chipset: Qualcomm Snapdragon 712, 8-core, Kryo 360 with a maximum frequency of 2.3 GHz
Graphics accelerator: Adreno 616
RAM: 6 GB
Storage: 64/128 GB
Support for microSD memory cards: no
Wireless networks: Wi-Fi 802.11 a/b/g/n/ac, Bluetooth 5.0 (A2DP, LE, aptX HD), GPS (A-GPS, GLONASS, BDS, GALILEO), NFC
Main camera: triple, main module 48 megapixel, f/1.8, 1/2 ", 0.8µm, PDAF; extra wide angle module 13 megapixel, f/2.4, 1.12µm; telephoto 8 megapixel, f/2.4, 1.12µm, PDAF
Front camera: 20 megapixel, f/2.0, 0.9µm
Battery: 3070 mAh
OS: Android 9.0 Pie with MIUI 10 Shell
Dimensions: 147.5 × 70.5 × 7.5 mm
Weight: 155 g
Price and positioning
Xiaomi Mi 9 SE has two versions: 64 or 128 GB. The price of a smartphone in China starts at about $300 for the junior version and $340 for larger storage. Of course, it is not yet possible to order it at this price. Right now the smartphone costs more – ~ $330 for 64 GB and ~ $360 for 128.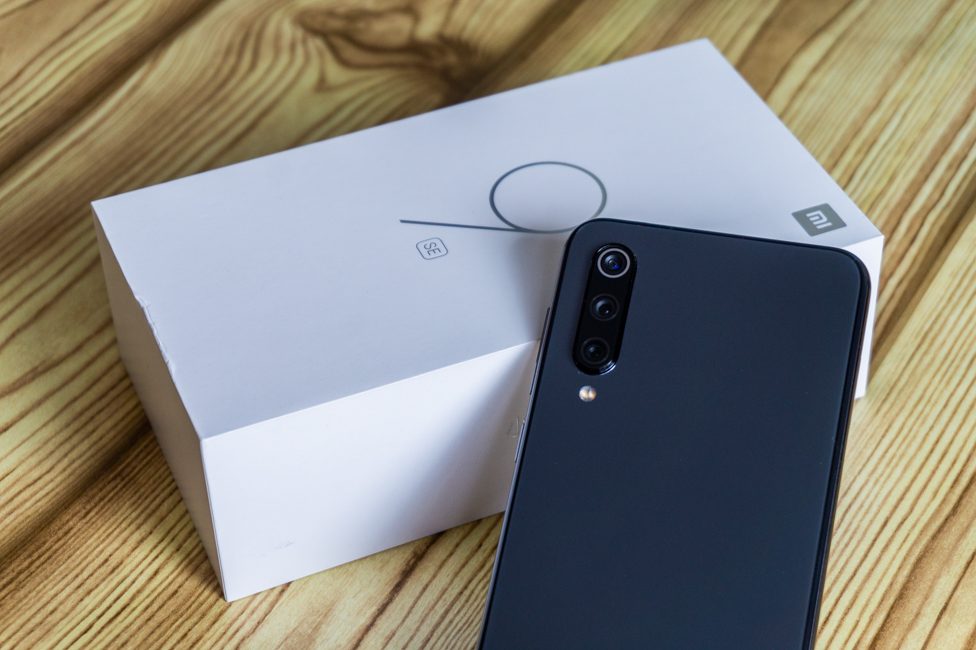 As for the sample that is on the test today, we have the Chinese version with the corresponding software in the 6/64 GB modification.
What's in the box
In the box, along with Mi 9 SE, there is a power adapter (15 W) with a USB/Type-C cable, SIM card eject tool, a Type-C to a 3.5 mm audio jack adapter, some pieces of paper, as well as a traditional silicone case.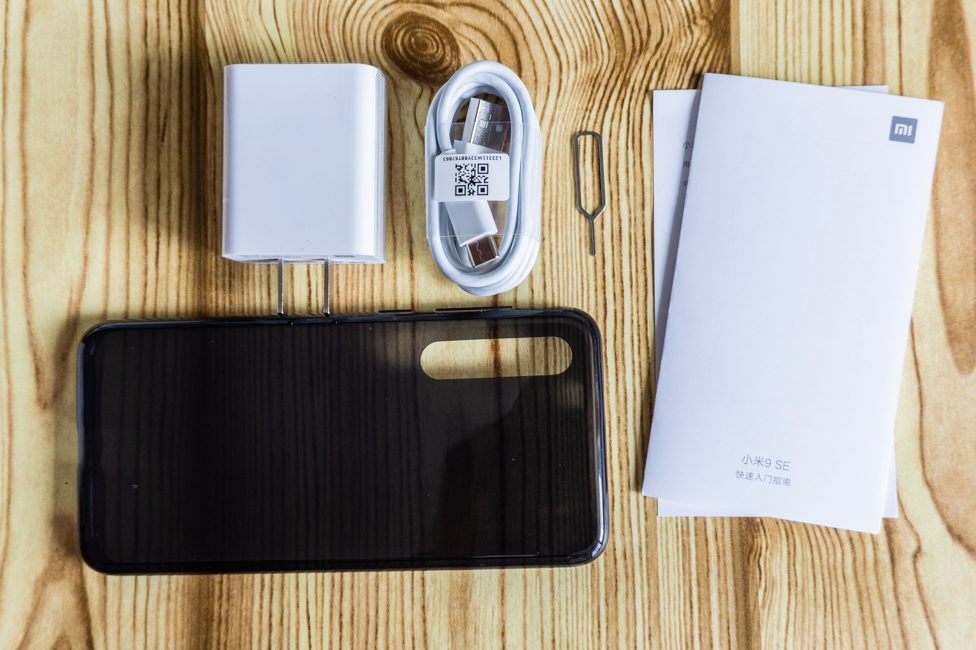 The cover, as in the case of Redmi Note 7, is very simple. It is tinted, thin and does not protect unit with cameras completely. But at least it has a small side around the display.
Design, materials and build quality
Xiaomi Mi 9 SE looks good. Frankly, I am tired of this design, but otherwise it's excellent. The drop-shaped notch has become a usual feature for affordable smartphones. And that is why now I personally feel nothing about the overall design.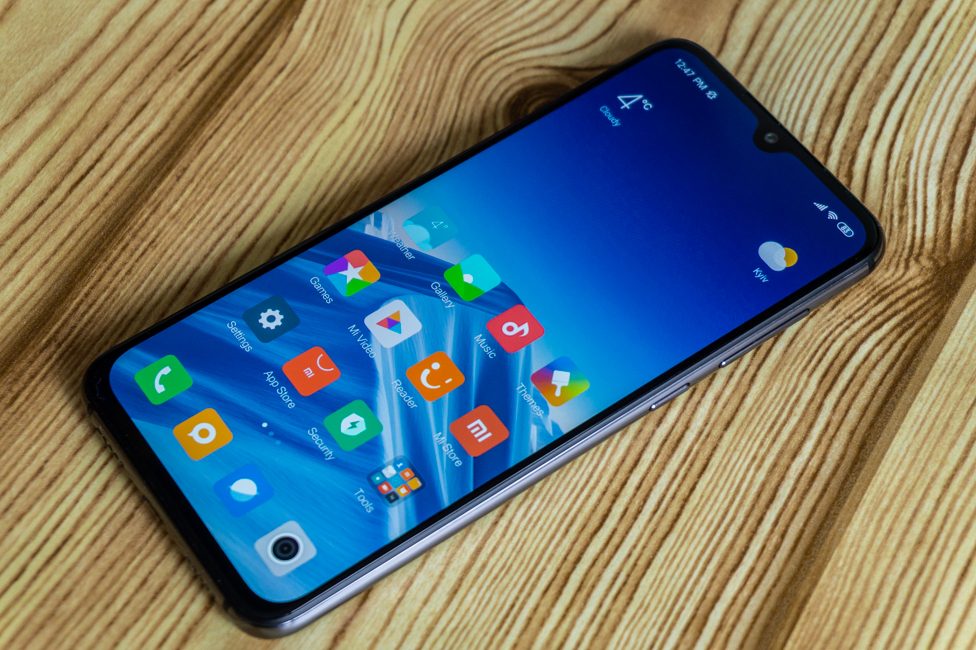 If you have never had a smartphone with similar notch, then most likely the frontal panel will seem enticing. The bezels around the smartphone display aren't record thin, but the bottom margin is narrower than in Redmi Note 7. It looks nicer and more organic.
How much will you like the design of the rear panel depends largely on the color of the case. There are Lavender Violet, Ocean Blue and Piano Black versions.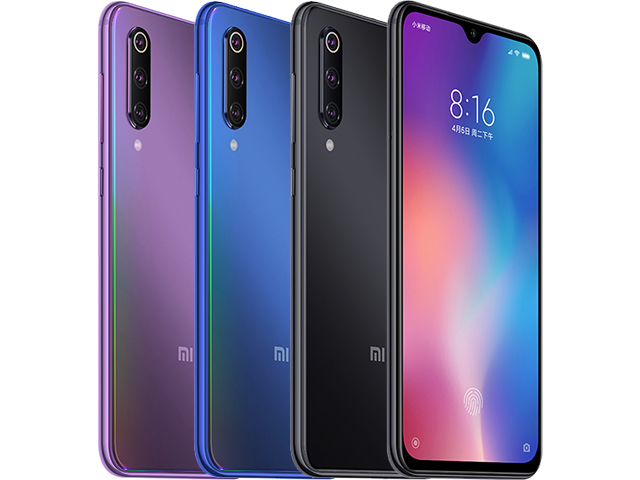 I have the black model or… gray, it depends on the light.
The only thing that really attracts attention is the edging around one of the camera eyes. It shimmers beautifully in the light and tries to dilute all the overall blandness of a vertical block – an element that, I confess, I am fed up with, as it is used in a huge number of smartphones.
The appearance of Mi 9 SE is typical for a smartphone of 2019. The junior 9 looks attractive even in "boring" black. It even has a unique feature that separates it from the rest.
But the block of cameras infuriates me – why should it protrude like that? The bundled case does not save the situation; even in it, it's scary to put the phone on the table, much less click on the screen at the same time. You better look for something better.
Xiaomi Mi 9 SE's notch is made of glass, but whether it is Gorilla Glass or not is not clear. By the way, the front type of glass is known – Gorilla Glass 5. The metal frame and its color will depend on the color of the smartphone. With black, it resembles dark steel. In the rest, it's blue or lavender.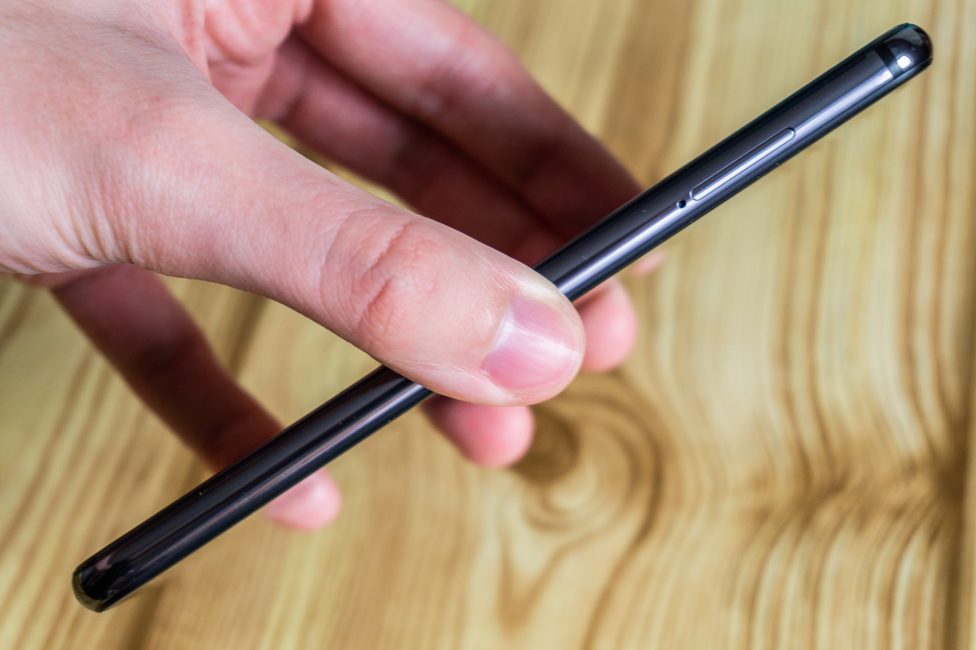 From a practical point of view, everything is largely normal. The fingerprints remain, but they can be wiped away very easily. More dust is gathering around the block of cameras. Oleophobic coating is available on both sides and the device is slightly slippery.
But the build quality is great – we have a sturdy monolithic "sandwich". There is no dust or moisture protection, but the SIM card slot has a rubberized seal.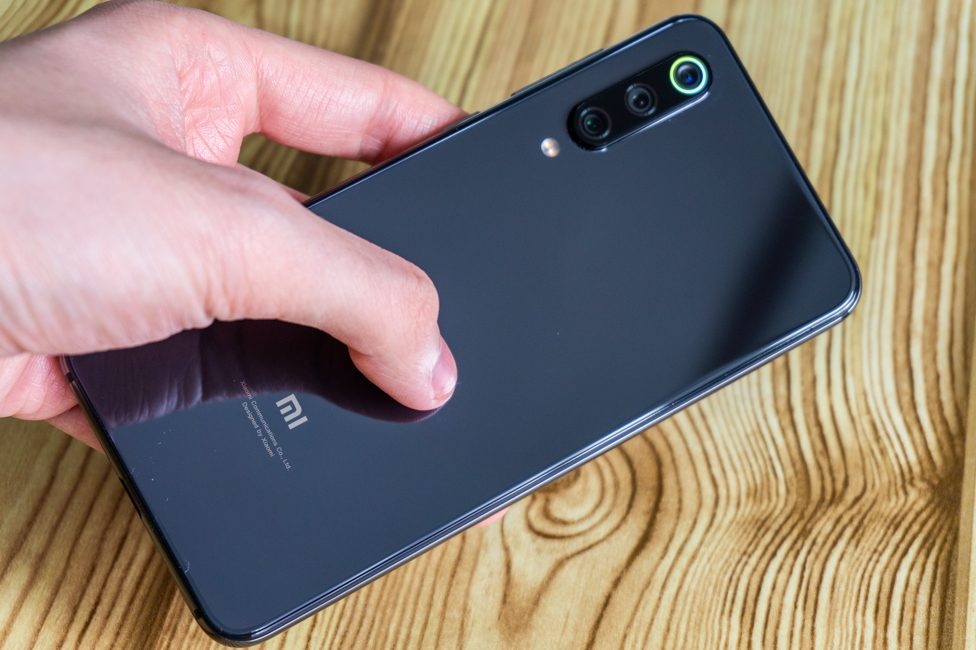 Elements' configuration
In front there are light and proximity sensors, a speaker and front camera in a notch. Bottom is empty, there's no notification indocator.
On the right side is the power button and volume control. On the left a slot for two nanoSIM-cards. You can't expand storage via microSD.
Below are five round holes with a microphone and a speaker, between which the Type-C port is located.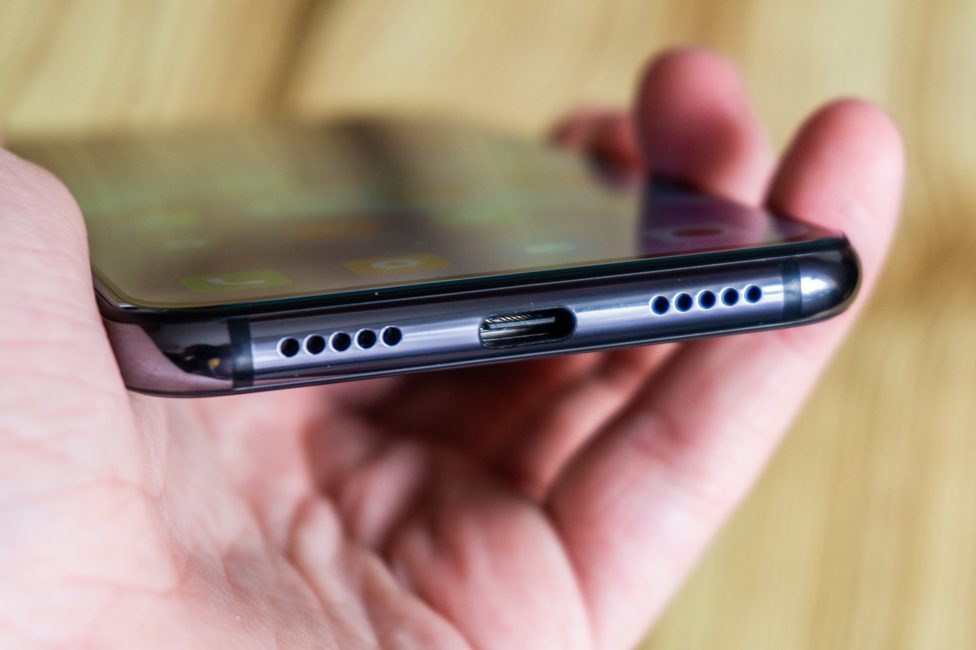 Above is another noise-canceling microphone and an infrared for controlling home appliances. Yes, there's no 3.5 mm port in this smartphone.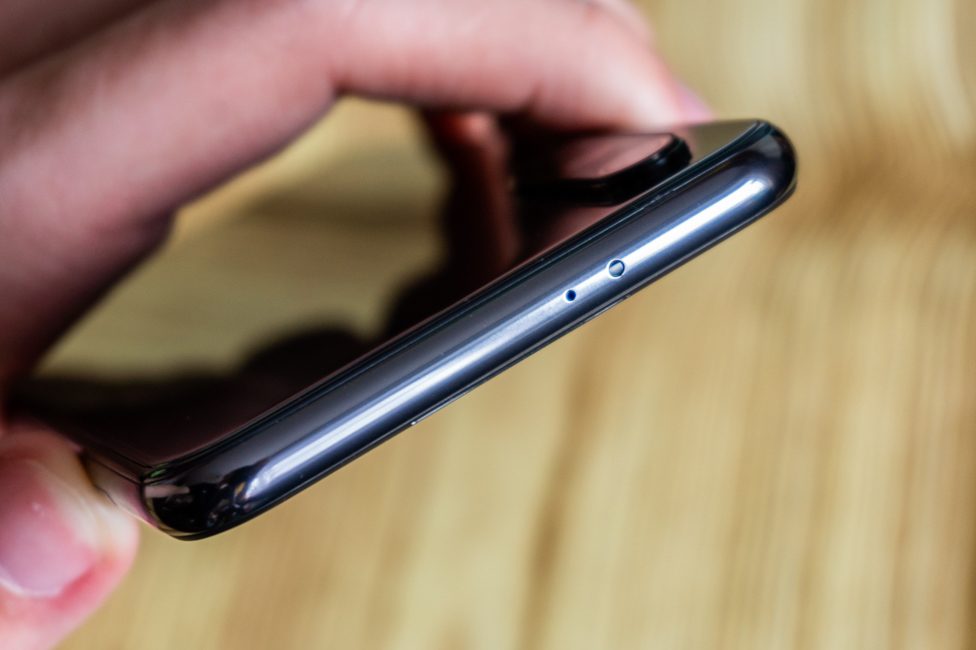 The rear panel is as concise as possible – a module with three cameras, a flash and a Mi logo with inscriptions below.
Ergonomics
Looking back at the many smartphones that went through my hands, after Samsung Galaxy S10e, I didn't expect to meet a decent "compact". But suddenly Xiaomi Mi 9 SE turned out to be one of those few. Yes, it is not as small, but also has very, very interesting dimensions. And that's very good, actually.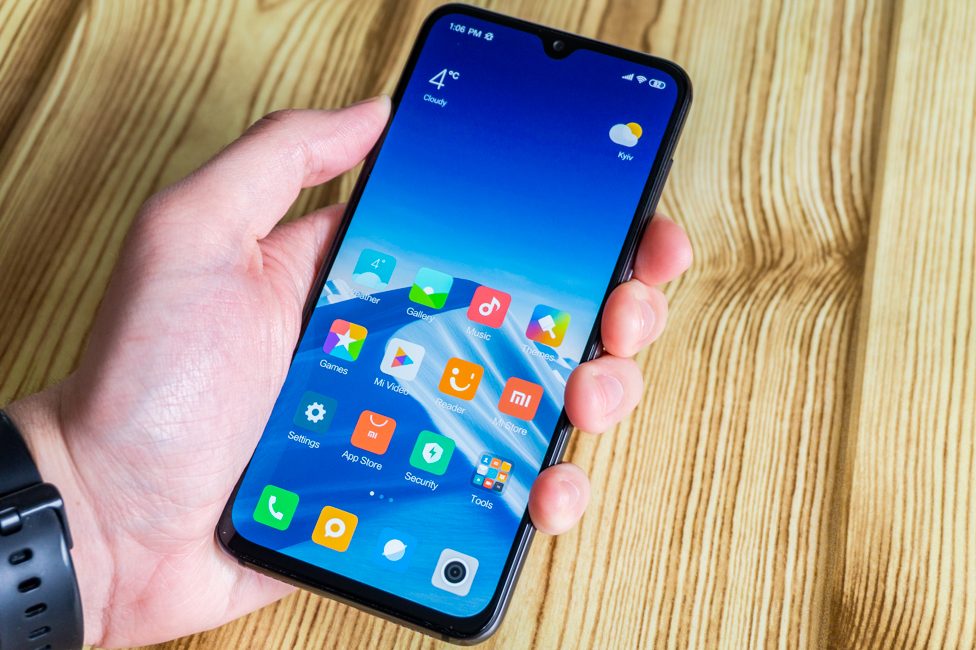 When after a week with a small smartphone you to return to your personal device (5.5″, 16:9) you can't help but think: how could I possibly use it? And this is taking into account a rather big palm and long fingers. Thankfully, this period of adaptation passes quickly enough.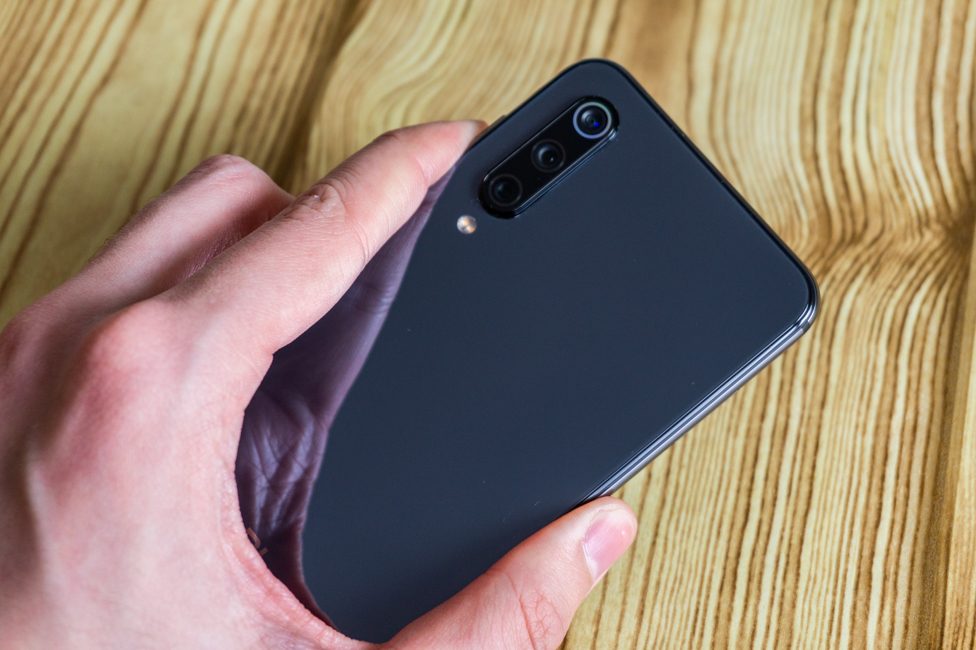 But back to the point. Mi 9 SE is very convenient to use with one hand. Lightweight and compact body does the trick. The shape is comfortable, without sharp edges. The thumb of the right hand fits perfectly on the buttons, there is no need to change the grip.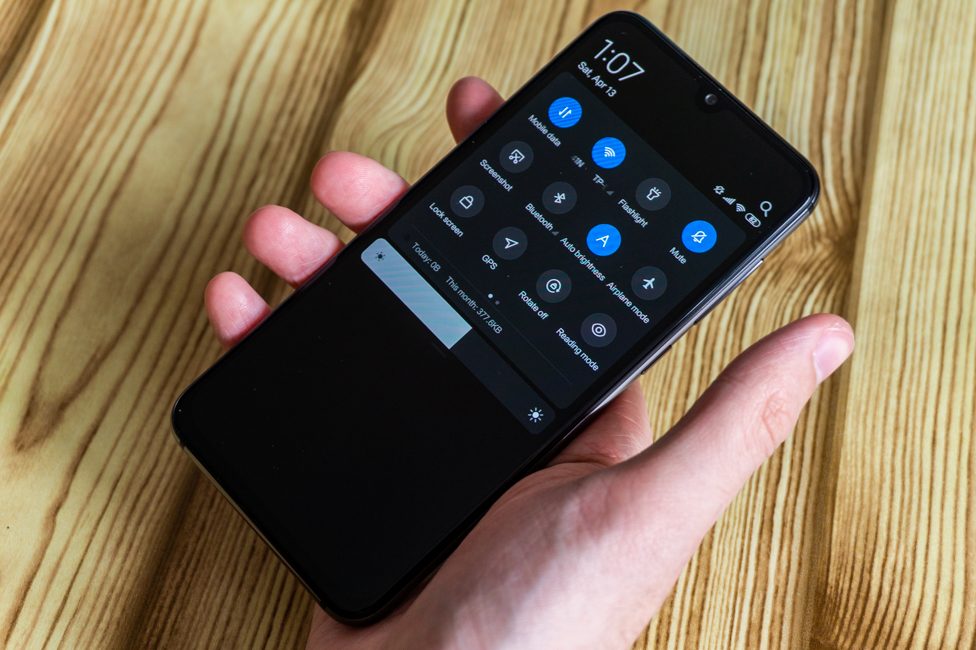 Actually, since there are no problems, there is nothing more to talk about here. If you are in search of a small convenient smartphone that would not be too abridged in terms of any parameters, and if S10e feels too pricey (it is, after all, an expensive flagship), then I strongly recommend looking at Mi 9 SE.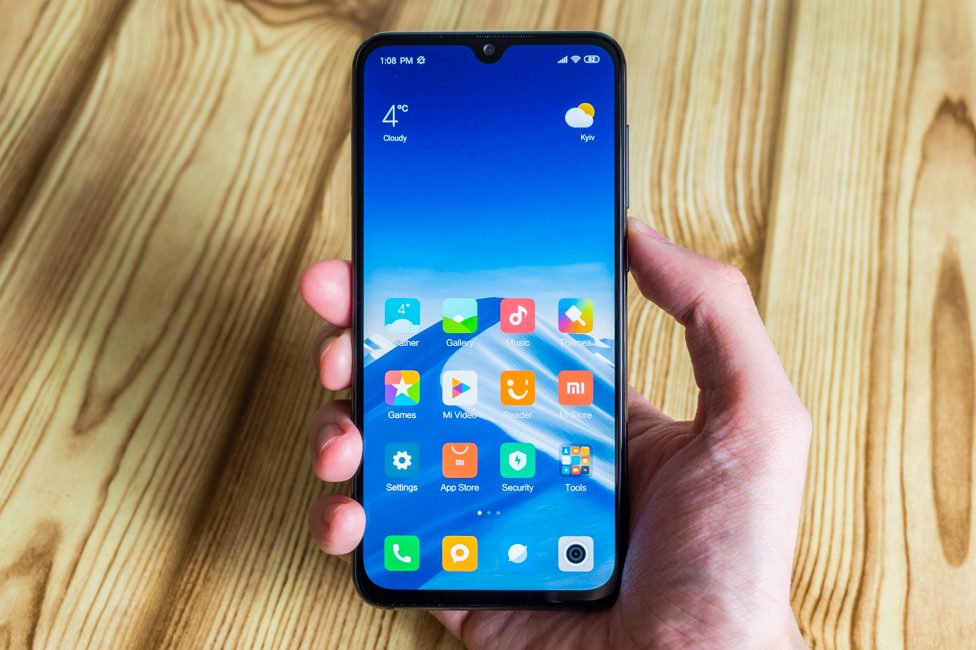 Xiaomi Mi 9 SE display
The screen diagonal Xiaomi Mi 9 SE is 5.97″. The matrix is ​​made using Super AMOLED technology, the resolution of the display is Full HD+ (2340×1080 pixels), the aspect ratio is 19.5:9, with a pixel density of 432 ppi.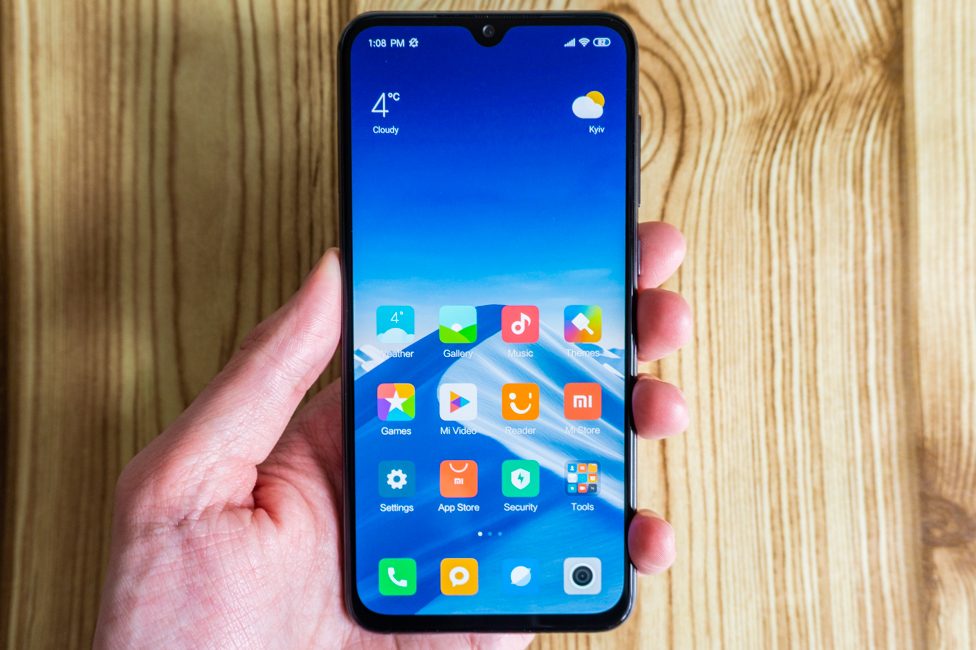 The quality of the installed display is good. The screen is traditional for this matrix with high contrast and saturation. Black color as deep as possible. Viewing angles are excellent.
But white color under extreme angles begins to distort.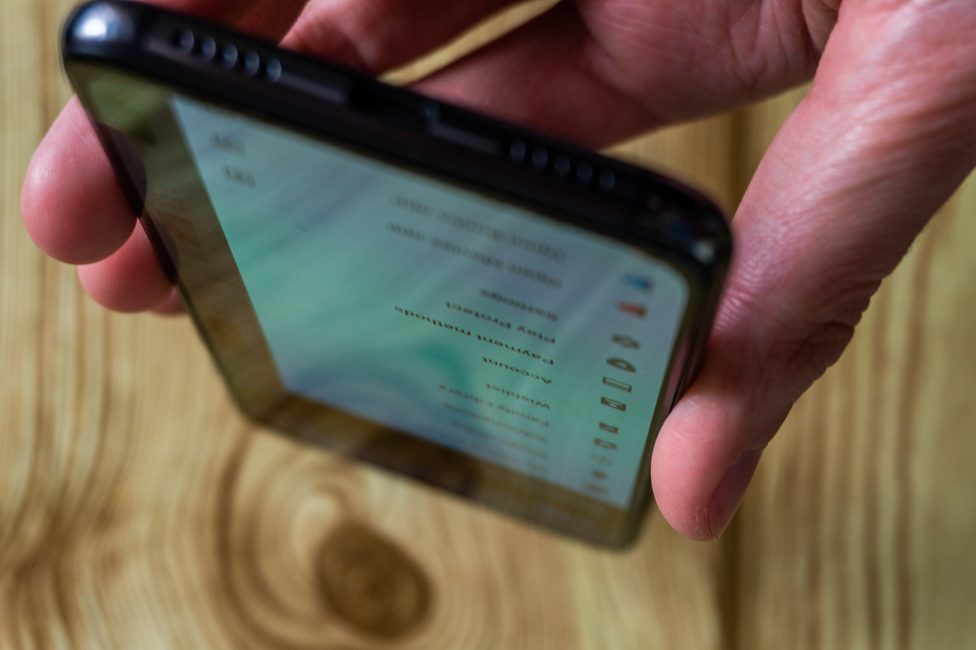 In terms of brightness, to be honest, I would like a little more. I have no doubt that you can read anything on this display on a sunny day. However, it will no longer be quite comfortable to view photos or other graphic information.
From the settings there is a reading mode, a circle for setting the screen temperature (or three presets), as well as a choice of contrast mode. There are three of them: automatic, heightened and standard.
The first – the most optimal choice, I think. In the heightened mode, the excessive saturation of the picture immediately catches the eye, which I really do not like very much, plus the ability to independently control the temperature disappears. The standard seemed to me too faded and warm. In general, there is a choice, it's not a problem to choose a color rendition based on preferences.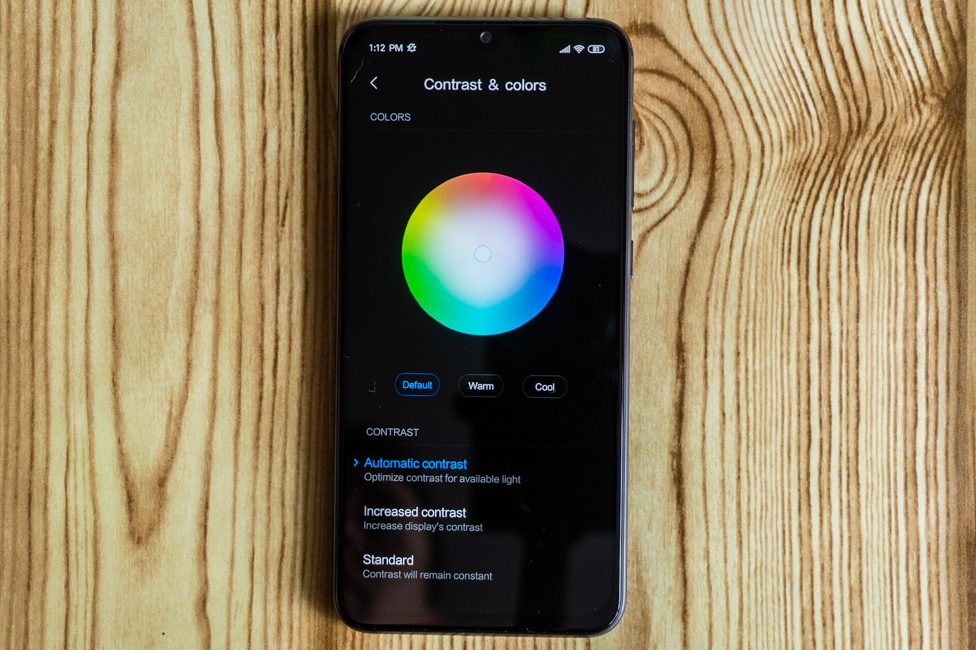 Since we have "Glorious OLED", it means there is Always-On – display of time, date, charge level and notification icons.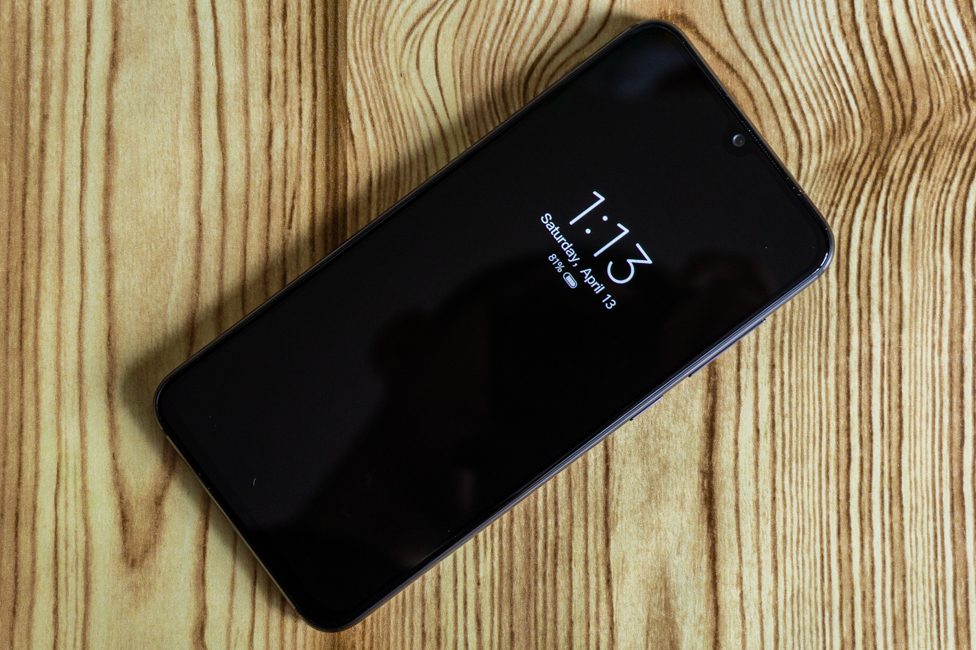 The user is allowed to select the type of watch faces from 16 possible and determine the period of activity.
And as always you can double-tap or lift the device to activate the display. Auto brightness works like a charm.
Performance
Xiaomi Mi 9 SE runs on a fresh 10 nm Qualcomm Snapdragon 712 chip, a successor to SD710. It includes 8 Kryo 360 cores with a maximum clock frequency of 2.3 GHz and Adreno 616 graphics accelerator. In synthetic tests, the 712th bypasses everything that is lower in numbering (660 and 710 chips). And even once the flagship Snapdragon 821, but not the 835th.
The amount of RAM is 6 GB, so that there are no problems with multitasking here. You can keep running dozens of applications, switch between them without delay and restart.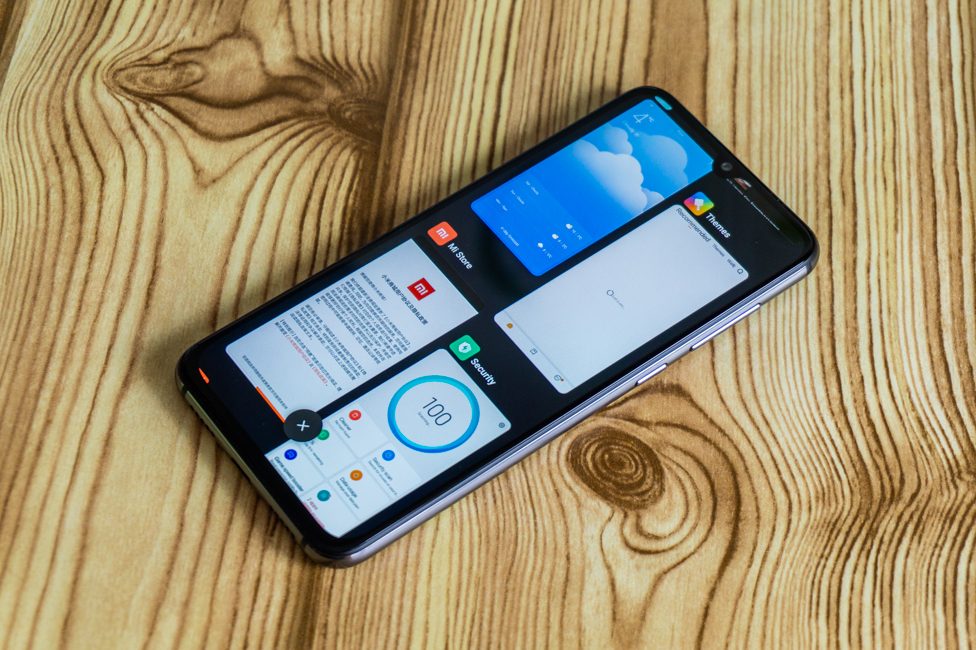 In the junior version of Mi 9 SE of 64 GB of storage, 50.76 GB are available to the user. Let me remind you that you can't insert a microSD card. Buy the 128 GB version if you think you might need more than that.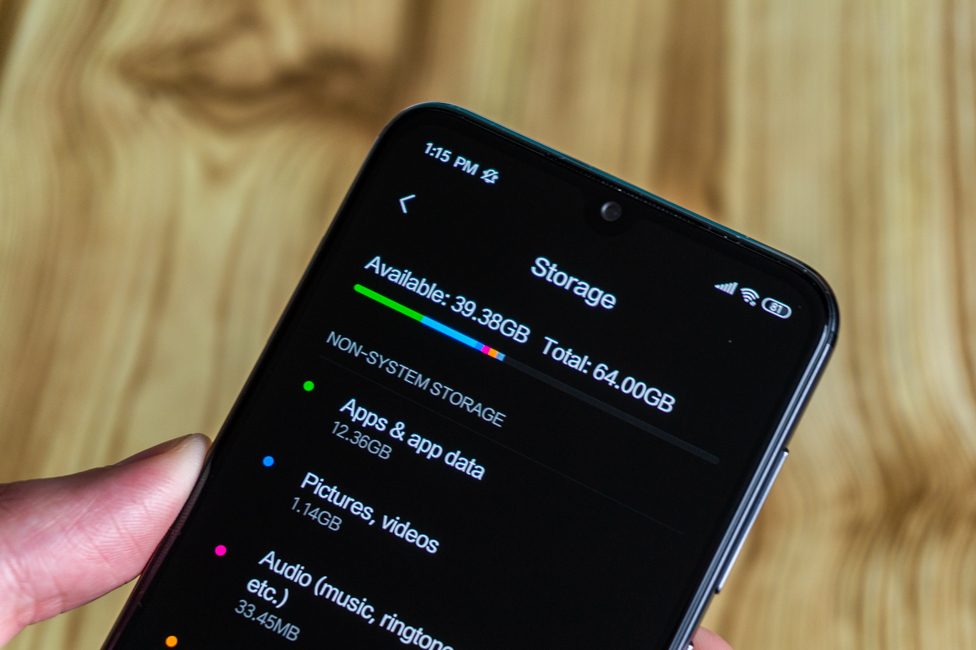 In short – the performance of this platform today is more than enough for any task. The shell and applications work quickly and smoothly, without the slightest problem. With games, too, everything is fine, everything runs smooth, without noticeable slowdowns, at the maximum possible graphic settings.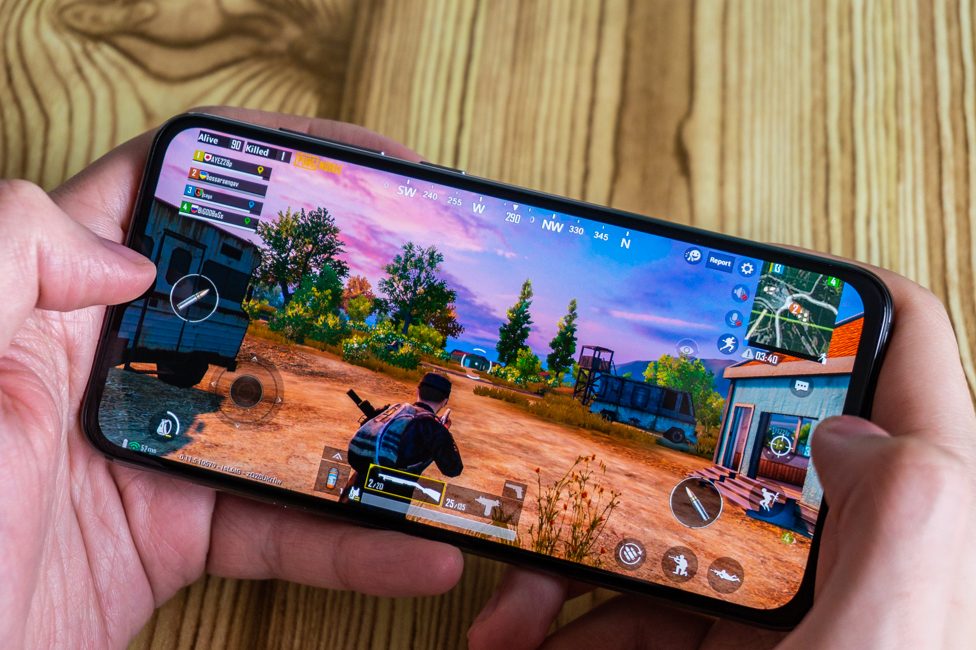 It is a very good hardware in general and you can buy the smartphone for games alone. But if that's what you care about the most, you should not forget about Pocophone F1. Qualcomm Snapdragon 845 can't compete with 712 Snapdragon.
Xiaomi Mi 9 SE cameras
Nowadays it seems somehow indecent to install two sensors in the main camera and manufacturers rushed to install triple cameras even in non-flagship models. In Xiaomi Mi 9 SE, there are three modules in the main unit: the main Sony IMX586 with 48 megapixel, f/1.8, 1/2″, 0.8µm, PDAF; the second ultra-wide module with a resolution of 13 megapixel, f/2.4, 12 mm FR, 1.12µm ; and the third tele-photo 8 MP, f/2.4, 1.12µm, PDAF.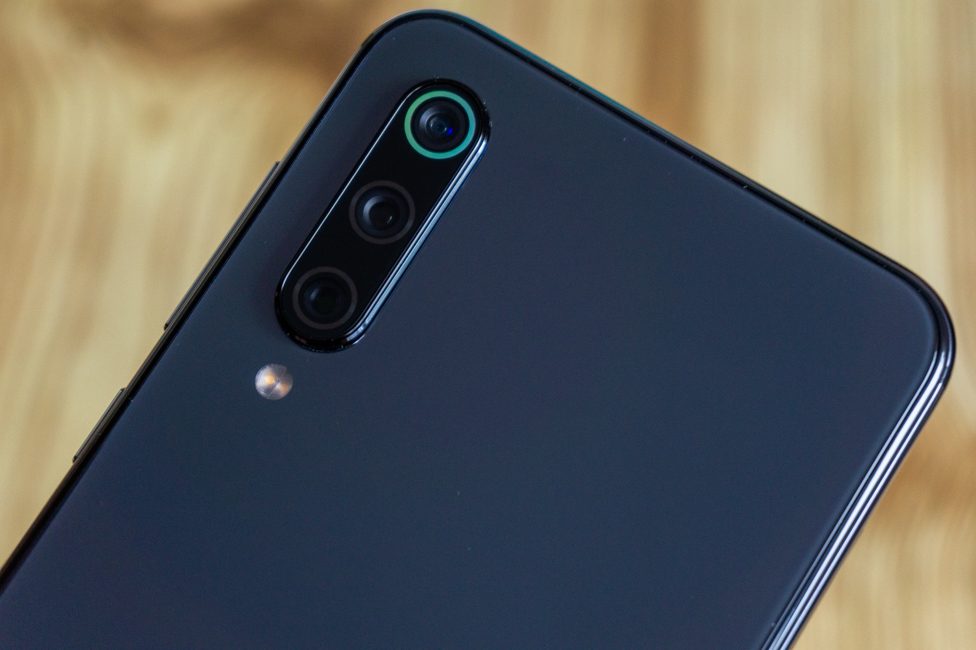 If we compare "on paper" this set of cameras with the set in the original Mi 9, then we can see that the main sensor is the same, but the wide lens and telephoto in the junior brother is a bit simpler. The decision, as for me, is quite logical. Especially if we take into account that the main module will be used more often. By default, pictures are taken with a resolution of 12 megapixels, as with Redmi Note 7, but now "mode 48" is placed in a submenu on the main shooting screen, but only in manual mode.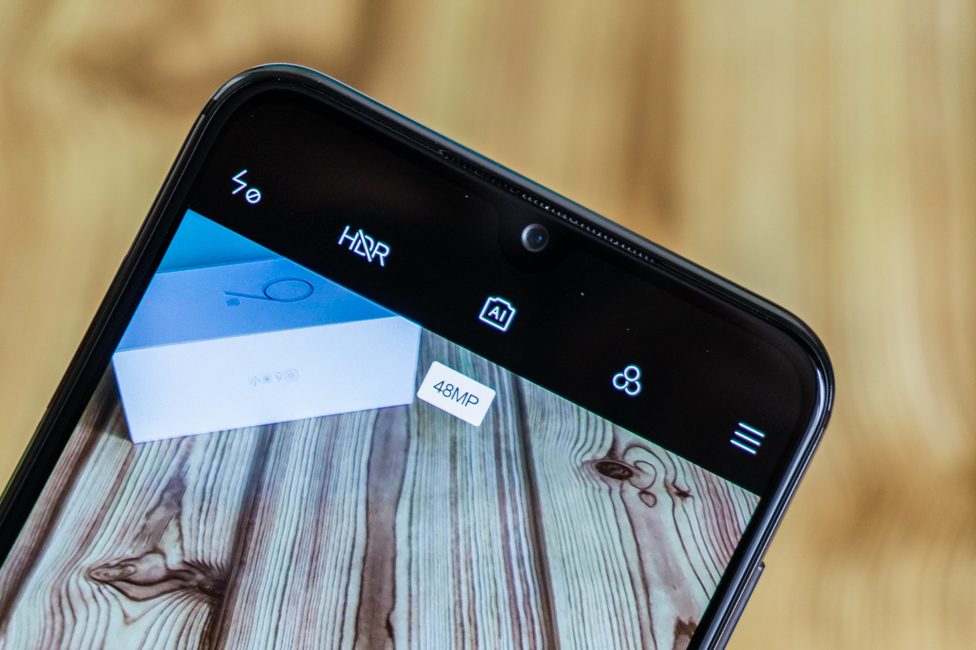 The main module makes great photos on the street in the daytime – good detail and color reproduction, good dynamic range and correct white balance. With a decrease in light, noise appears, and details get lost. In worse conditions, the situation is even shoddier: the pictures are slightly blurry. You can try to save these shots, if you shoot in the night mode.
PHOTO EXAMPLES IN FULL RESOLUTION
The telephoto module functions as usual – it provides a double zoom, but if the auto mode does not have enough light, there will be a crop from the main module. Moreover, this switch is not finished on the software level – you can literally watch how it "jumps" between the modules. It can't detect with certainty the amount of light around. Although on a sunny day you can be sure that the telephoto does all the work. However, this is not so important, because the quality of the pictures is normal any way.
The super wide-angle module has lower details and is characterized by a different white balance selection algorithm. But if in general, it also takes normal pictures and expands the usual shooting possibilities.
With the camera, as always, comes AI, which slightly embellishes the picture if it "finds out" what the user is shooting. There is a portrait mode, it works with people and other objects, and it does the job well. The main thing is not to overdo it with the intensity of the blur, and otherwise the errors of separating the background will be too striking.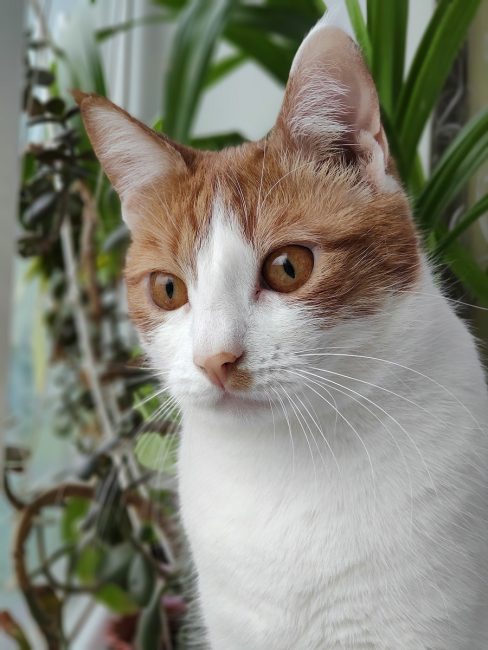 Video shooting is available at a maximum resolution of 4K and of course only 30 fps. And interestingly, even in 1080p 60 FPS is not available. But there is electronic stabilization in both resolutions. Videos are relatively good quality. There are also time lapses and slow motion video at 960 FPS.
The front camera is 20 megapixels, with f/2.0 aperture and 0.9µm pixel size. It makes good photos and blurs the photos correctly.
I didn't see anything new in the camera app that would be unusual for MIUI.
Unlock Methods
Paying tribute to the trends, the company could not pass by the fingerprint scanner and, as in the senior flagship, built it into the display. Thus, in terms of security, the smartphone is not lacking. When you apply the finger, the area below it lights up in bright green.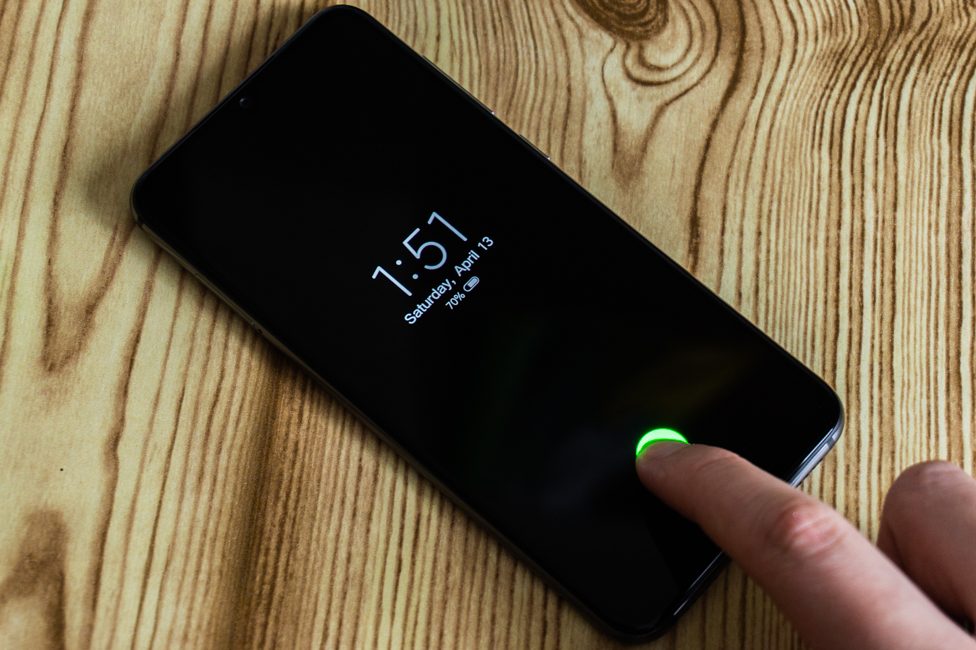 While using Xiaomi Mi 9 SE, I have never had a question – where should I put my finger? I easily remembered the location of the sensor, and even when the smartphone is just lying on the table with the screen off I manage to put my finger in the right place the first time. But in any case, the required area is highlighted for several seconds each time you lift the smartphone, so there should be no problems with this moment.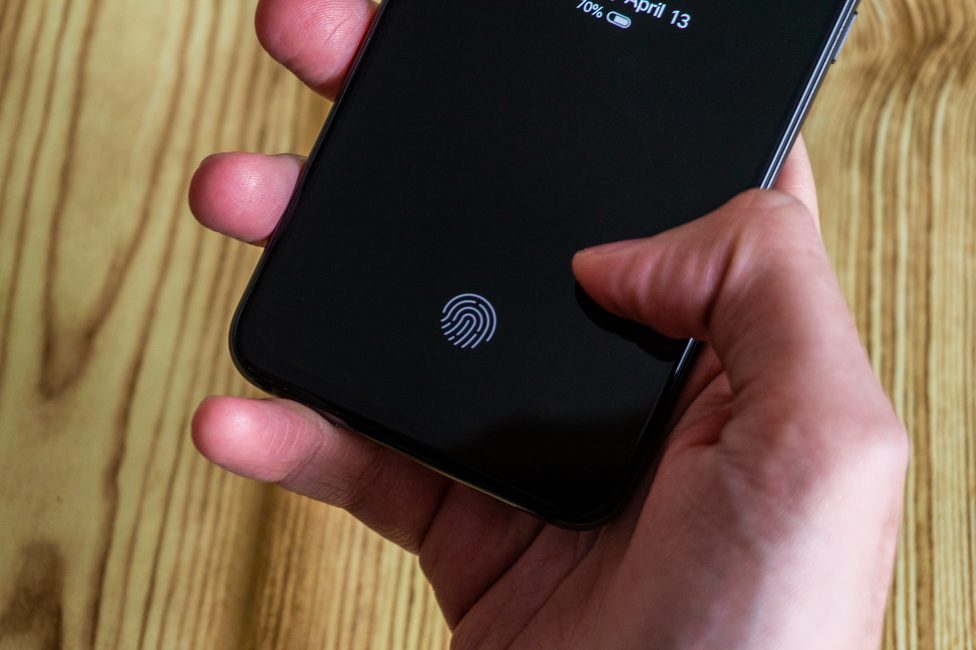 Regarding the operation of the scanner, I can say the following – it is not as lightning fast as a standard capacitive sensor in the Redmi Note 7. But I can't call it slow – it works quite well. However, from the point of view of its stability, not everything is so obvious. Sometimes it does not recognize the finger for the first time, but here it is important to apply it correctly. I would also recommend registering the same fingerprint several times, thereby capturing a large area of ​​the finger.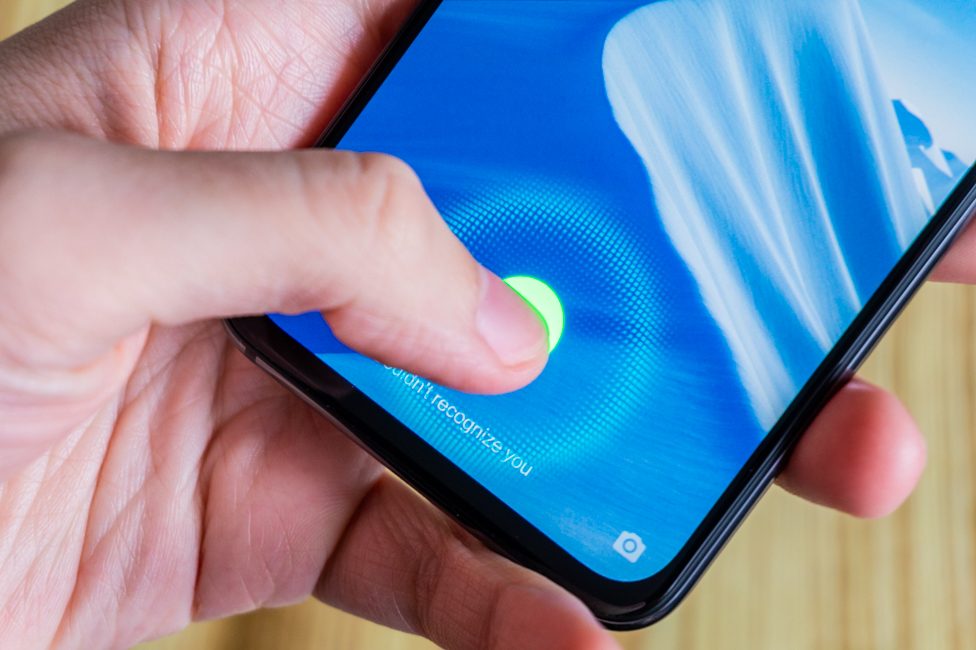 Traditionally, unlocking by facial recognition is also available. In 90% of cases it works extremely fast and stable. It slows down only in poor lighting, because the brightness of the display does not increase and the face is not highlighted accordingly. But it still does the job in the end. But it really does not work in complete darkness, because there are no sensors – only the selfie camera.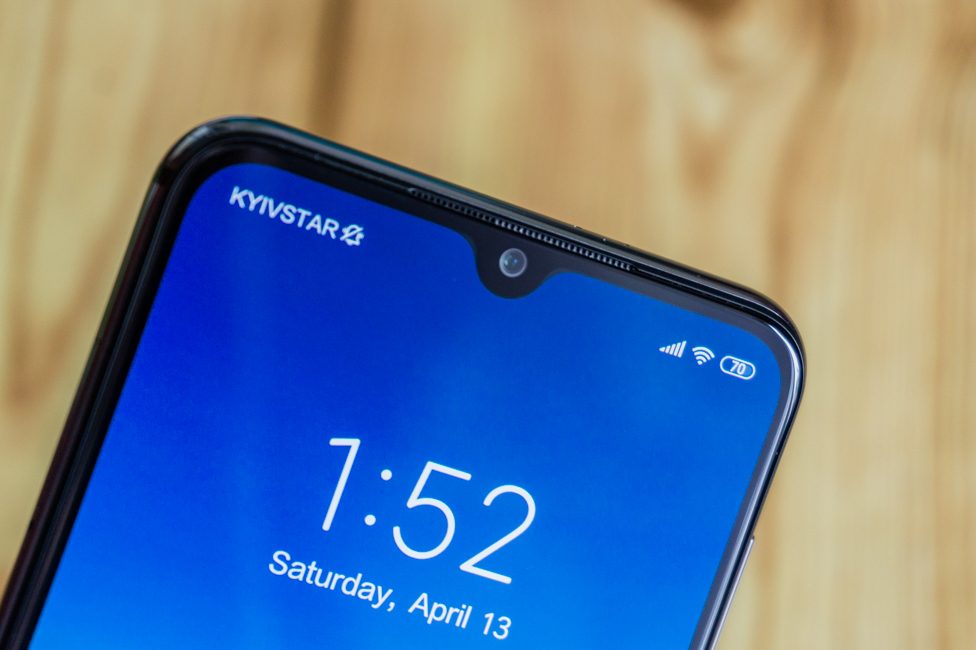 Battery life
The battery in Xiaomi Mi 9 SE is quite modest – only 3070 mAh. No miracles here. The smartphone is going to be working for day on a single battery charge. I managed to get more than four hours of display activity.
In general, a day of work is ensured, perhaps even one and a half, if you reduce your personal "appetites." Besides active use, my Always-On mode worked from 8:00 to 20:00. In short – you can try to squeeze a little more.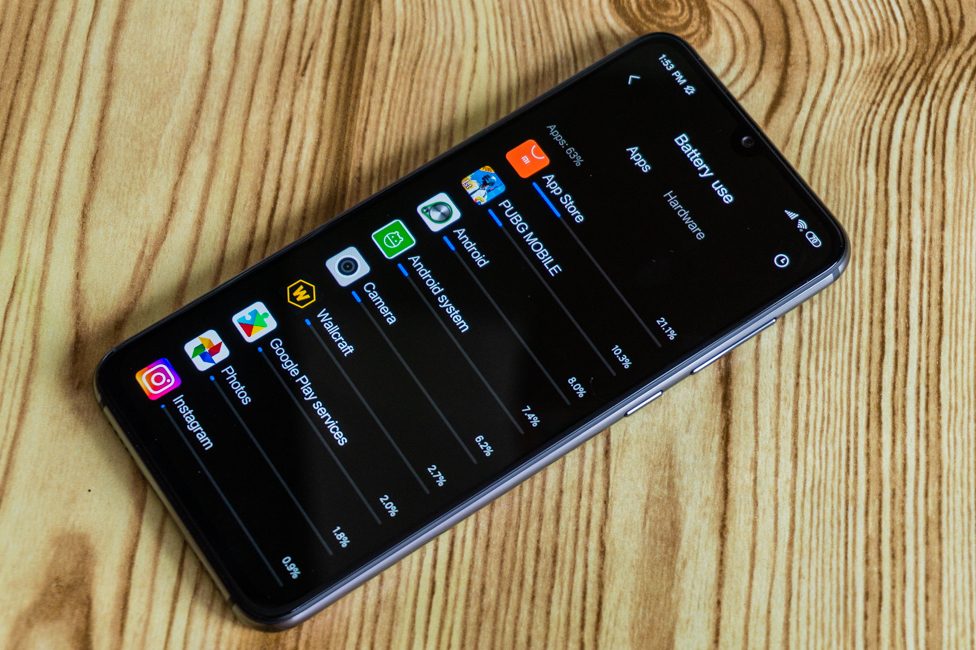 However, support for Quick Charge is almost as important as longevity. It's great that in Xiaomi Mi 9 SE it is present and even the bungled block supports QC 3.0. The smartphone charges very quickly from it – the timing is as follows:
00:00 – 12%
00:30 – 58%
01:00 – 94%
01:14 – 100%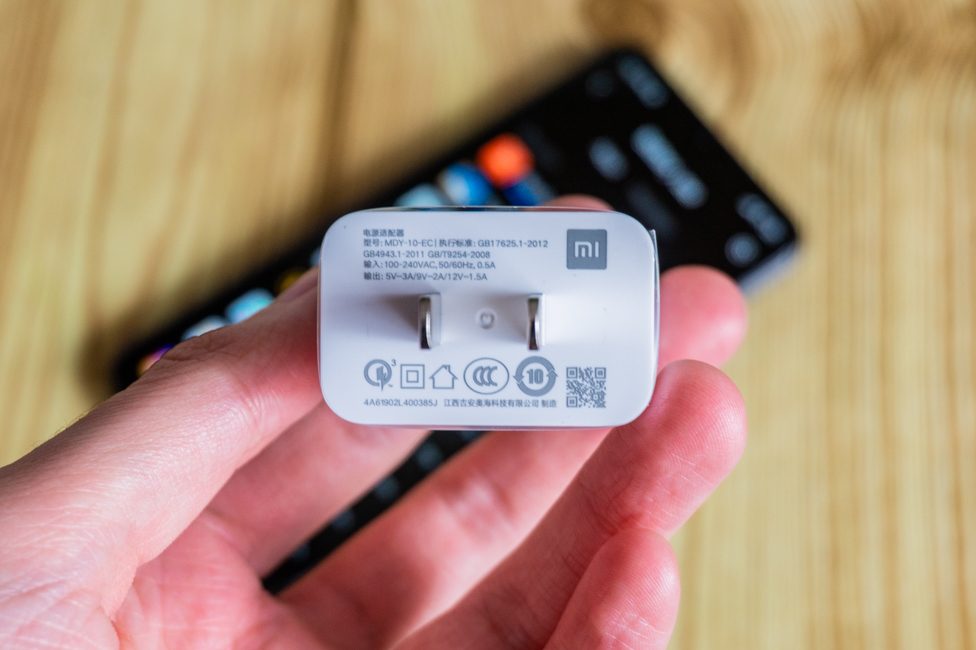 Sound and communication
The sound of the device can be described as average, and from all sources. Speaker has a normal volume but a narrow frequency range. It doesn't play along with the main multimedia speaker and there is no stereo sound, as in the older Mi 9. It's probably not the best idea to listen to music that way, but you can watch the video with no problems.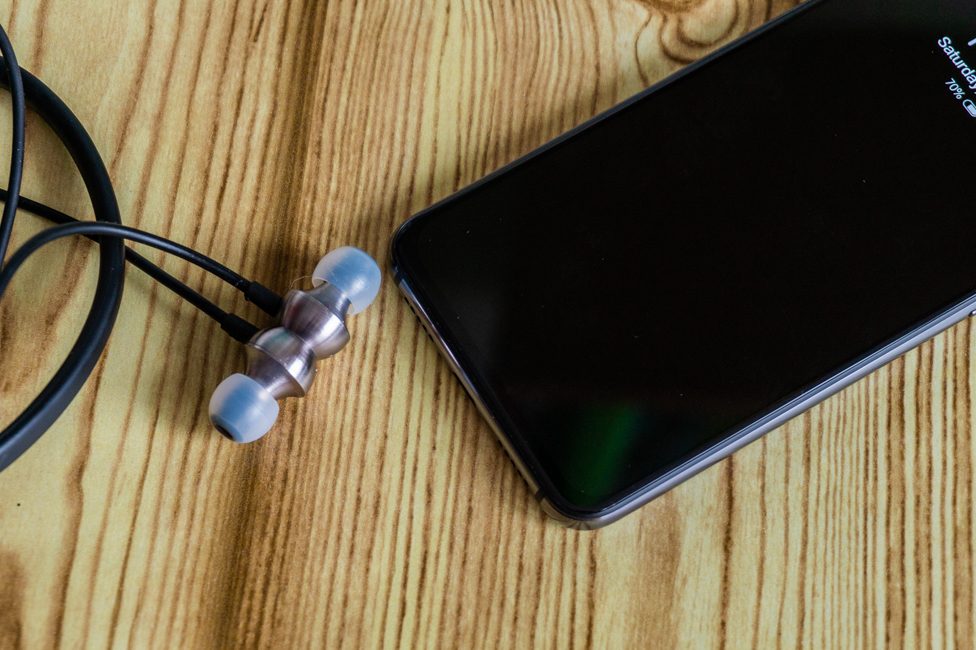 If you prefer wired headphones, use a bundled adapter, since 3.5-mm port is absent. As usual, MIUI has a wide range of sound settings that, alas, do not apply to Bluetooth headsets. The situation is also aggravated by obscenely low volume margin for a wireless headset. Why, it is not clear.
In the reviews, I rarely comment on the vibration and do it only when something warrants mentioning. As, for example, ASUS ROG Phone or Sony Xperia XZ3. But this time I could not resist – the vibration motor in Mi 9 SE is, frankly, bad. It's just impossible to type until you reduce its intensity to the minimum level or turn it off completely. Vibration is loud and unpleasant.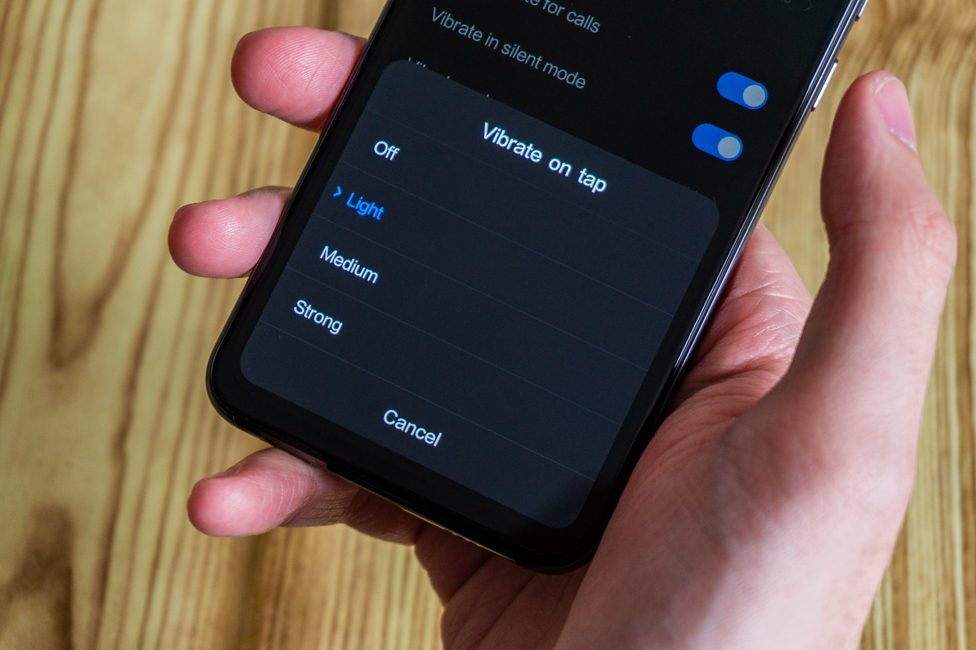 Wireless networks in the smartphone work stably, there were no problems with mobile communication. Wi-Fi 802.11 a/b/g/n/ac dual-band. With Bluetooth 5.0 (A2DP, LE, aptX HD) and GPS (A-GPS, GLONASS, BDS, GALILEO) there are also no problems. Infrared was missing in Mi 8 and Mi Mix 3, but now it comes back. Which is only a plus.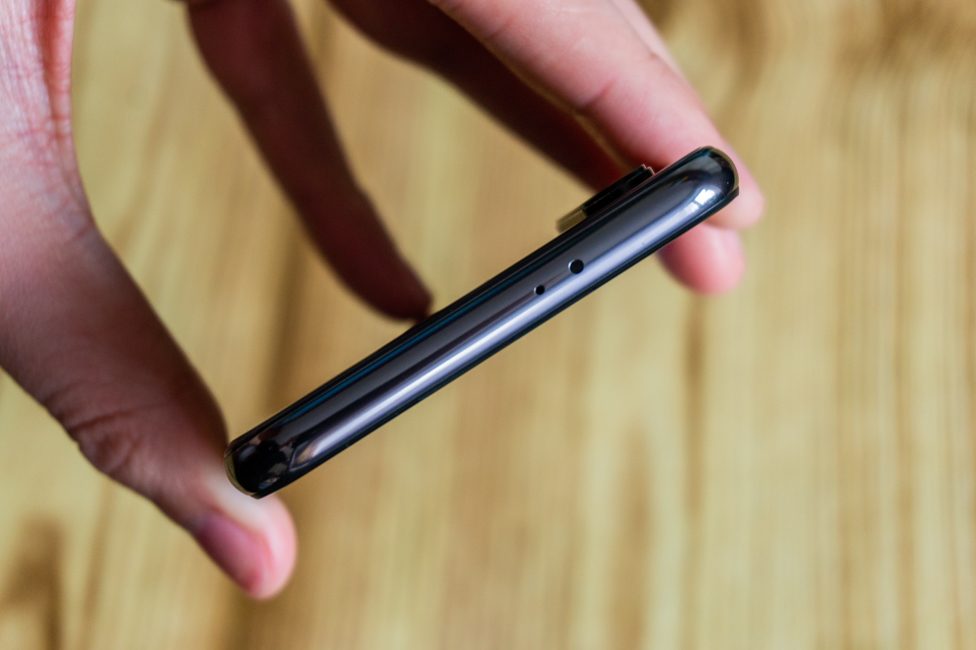 An important advantage of Xiaomi Mi 9 SE is the NFC module. But in the Chinese version of the smartphone you can't pay for anything via GPay. I think that this is fixable and in the global version of the device everything will be fine.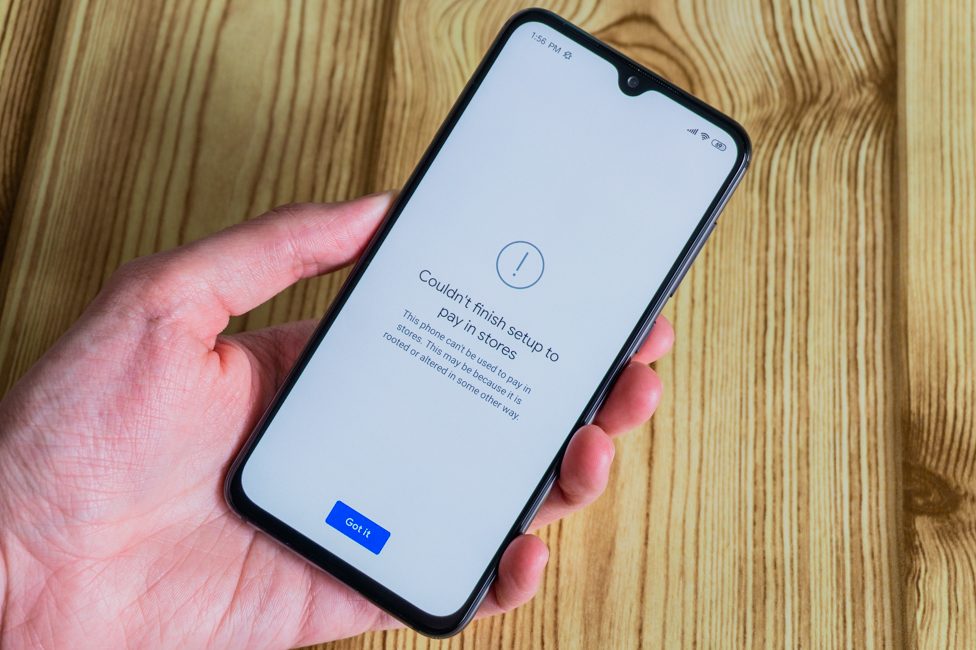 Firmware and software
The smartphone runs on Android 9 Pie with the MIUI 10 shell. A dark mode has appeared in the firmware by analogy with One UI, but it does not work as well. Or rather, it is not as "widespread" in the system as in the Samsung interface. Sometimes some bright elements pop up.
It's supported by caller app, messages, gallery, notes, and even a couple of system applications. Xiaomi kinda messed up with the dynamic wallpaper, which they simply copied from new macOS. The rest is a typical MIUI, with which we are all so familiar.
When you scan your finger, a nice animation appears on the screen. It can be selected from the four currently available options.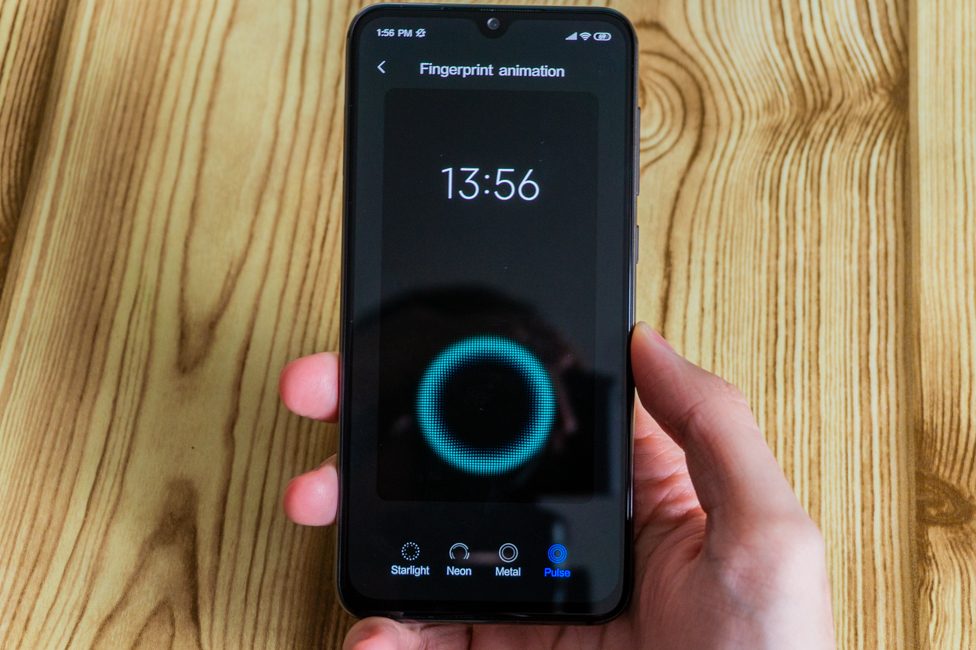 Verdict
Xiaomi Mi 9 SE turned out to be a fine smartphone. It cost less but still has almost all of the flagship features. Xiaomi made the SE-model more compact and convenient to use, which happens rarely.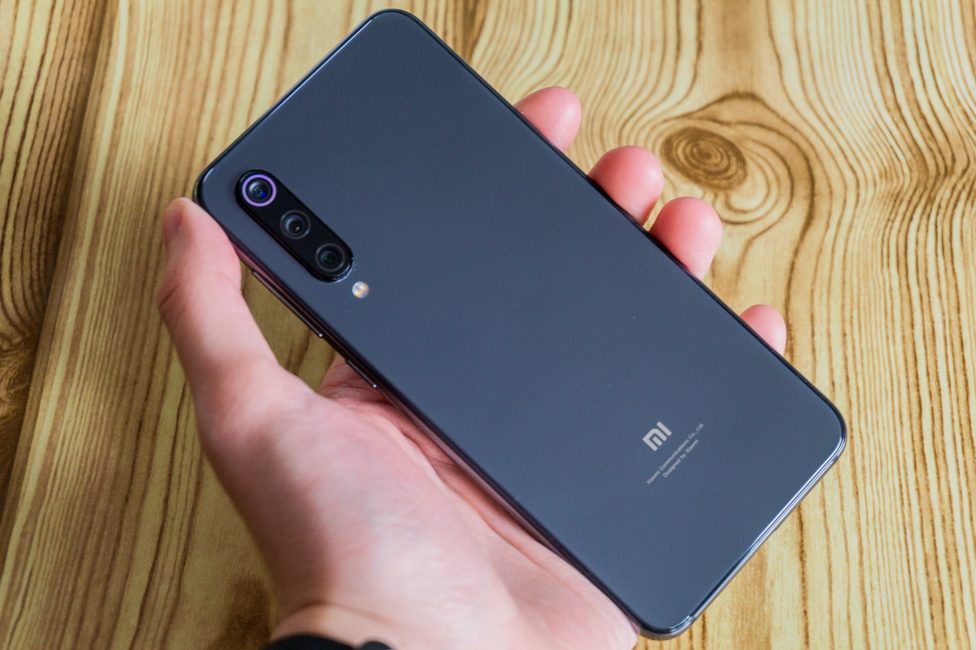 The phone has a good screen, powerful hardware and the same main camera. There's a fingerprint scanner under the screen, NFC and other pros that make it a desirable device.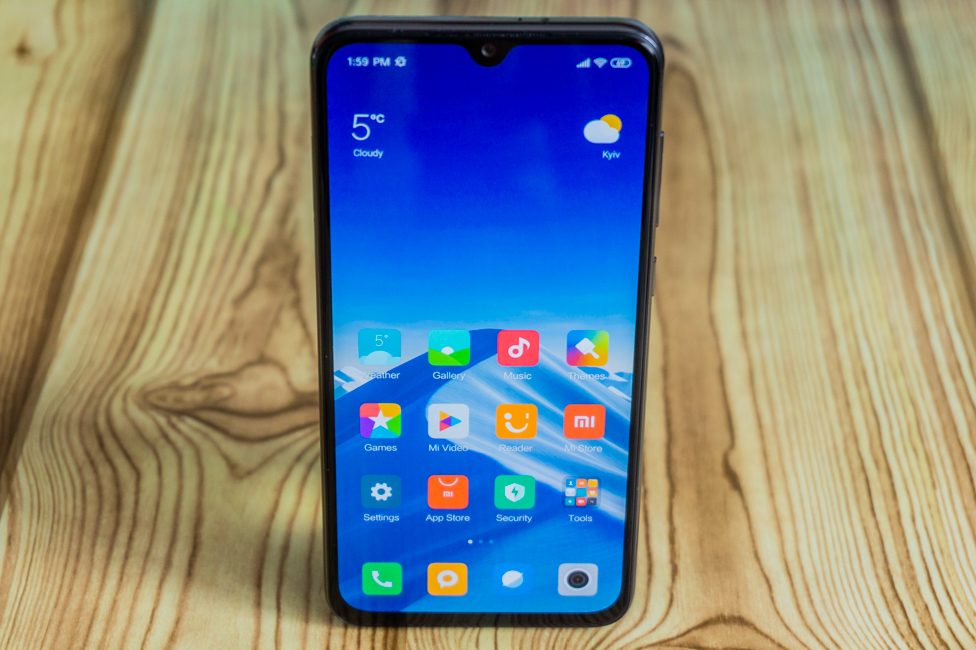 There are cons, but they aren't that big a deal. The battery life is discouraging, but you can fix it with Quick Charge. The camera block is too protruding, the vibration is unpleasant and the sound quality is mediocre.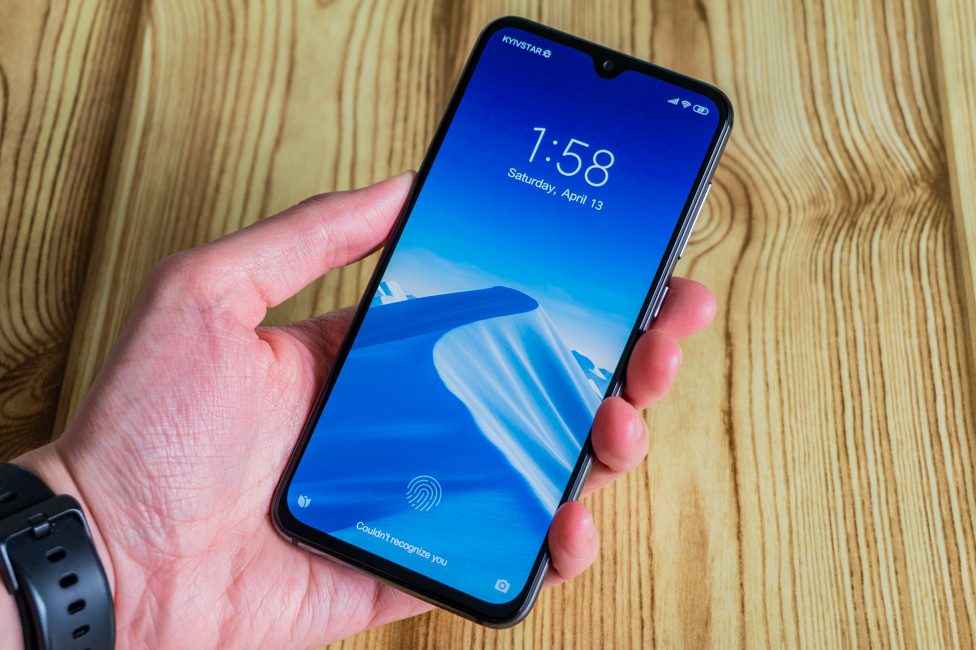 I can recommend the phone to those who seek an affordable compact device with flagship features.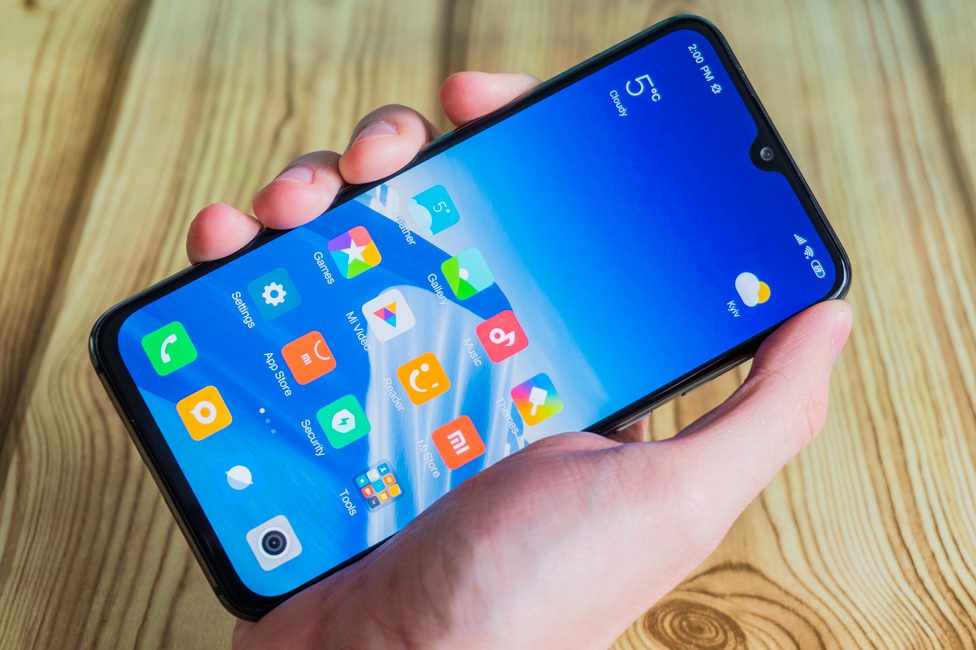 Subscribe to our accounts: