For the third week now, Ukraine has been confidently resisting the occupants from Russia, which is being watched by the whole world, and our editorial board covers the topic in news and articles on daily basis. But before that (at least 2 weeks have passed, but it feels like it all happened in a past life) we used to talk here about interesting gadgets and news from IT world. And now I really want to relax a little.
Today we'll talk about the tablet that TCL introduced in the middle of last month (and which, ironically, was delivered to me exactly on February 24) – TCL Tab Max 10.4. This is an average tablet with a large screen, stereo speakers, good performance, decent autonomy and no support for SIM cards. Let's see what this tablet can be interesting for and for whom.
Read also:
Specifications of TCL Tab Max 10.4
Processor: Snapdragon 665, 11nm, 8-core (4×Cortex-A73 2,0 GHz + 4×Cortex-A53 1,8 GHz)
Video processor: Adreno 610
RAM: 6 GB
Storage memory: 256 GB
Memory card support: microSD up to 256 GB
OS: Android 11 with TCL UI 3.0 shell
Display: IPS, 10,36 in, 2000×1200, 226 ppi
Wireless communication and navigation: GLONASS, GPS, Wi-Fi 2.4 GHz, Bluetooth 5.0
Cameras: rear – 13 MP, f/1.8, 1/3″, 1.12 µm, front – 8 MP, f/2.0, 1/4″, 1.12 µm
Sound: stereo, 2 speakers
Charging connectors: USB Type-C
Battery: 8000 mAh, fast charging 18W
Dimensions: 247.80×157.56×7.65mm
Weight: 470 g
Positioning and price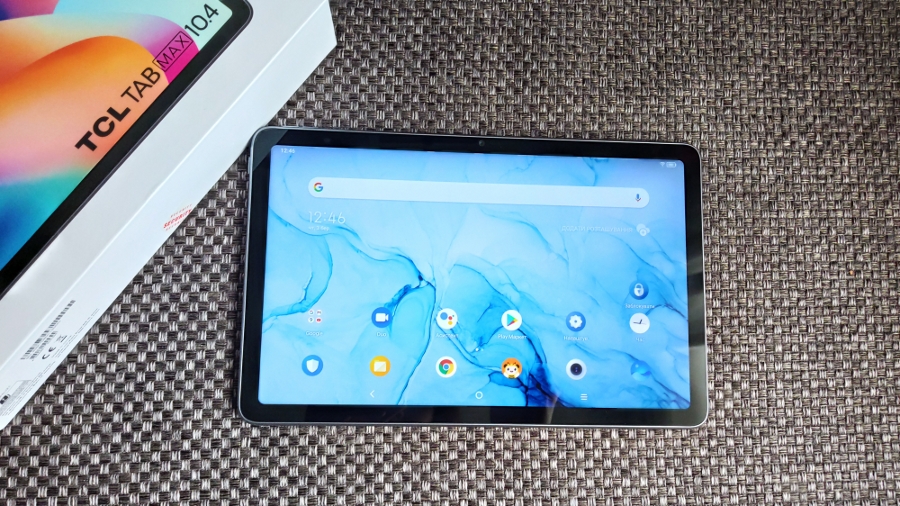 TCL Tab Max 10.4 can be attributed to the tablets of middle price segment. It has pretty nimble mid-range hardware, a good amount of memory (6 GB of RAM and 256 GB of expandable ROM), and a decent screen. The official brand store on AliExpress offers the device in basic configuration (which is only a tablet with a charger) for $277, and the maximum configuration, which also includes a case, a keyboard and a stylus, will cost $360. And what will the customer get for this amount?
Delivery set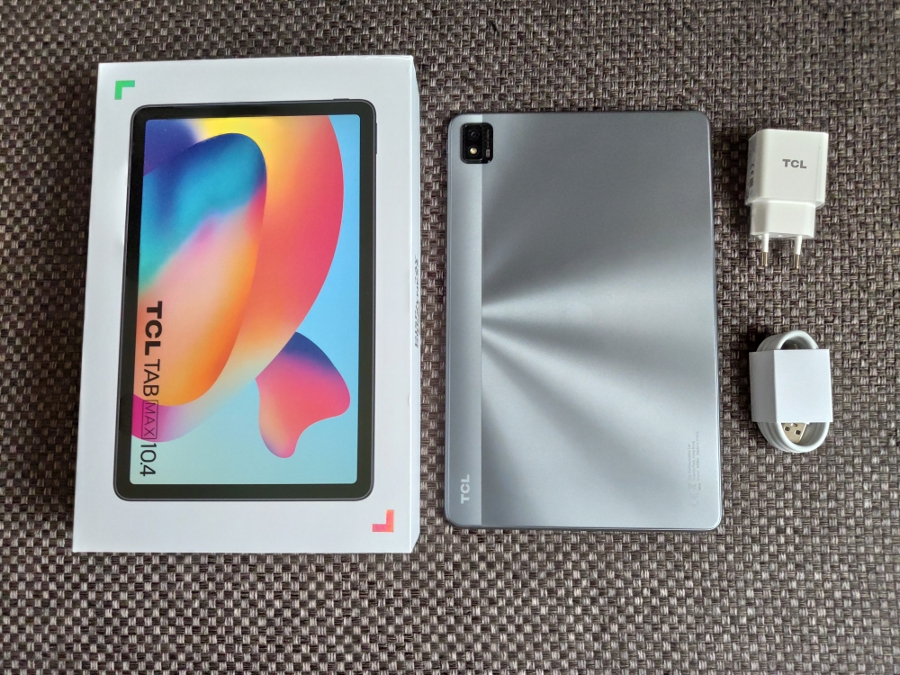 The tablet is delivered in a neat box made of thick white cardboard with a picture and name of the device on the facade. The test model, which is presented in our review,  is also supplied with a charger and a cable, some waste paper and a paper clip for the memory card tray in addition to the TCL Tab Max 10.4. Unfortunately, there is no stylus and keyboard, so we will evaluate the tablet according to what we have.
Read also:
Design of  TCL Tab Max 10.4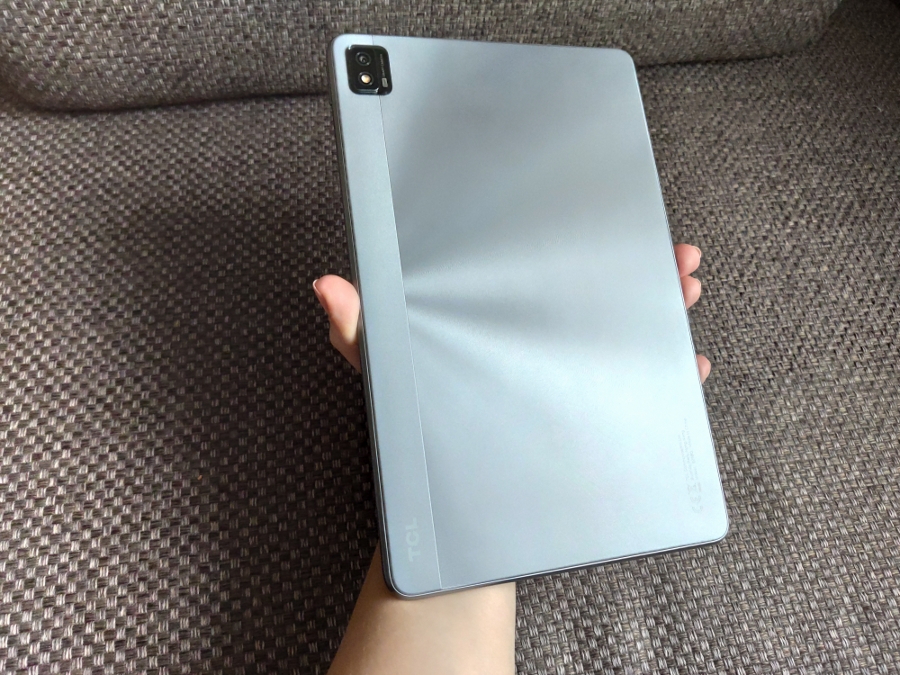 The design of TCL Tab Max 10.4 is consistent with the positioning of the device. On one hand the tablet has a nice and rather thin body, on the other hand it does not use premium materials, and there are no outstanding design elements.
Tab Max 10.4 is presented in a single color – gray. The weight of the device is 470 g with dimensions of 247.80 × 157.56 × 7.65 mm. It feels light and thin, it lies comfortably in the hands. The body of the tablet is plastic, with radial notches that provide a beautiful transfusion of all sorts of gray shades at different angles. The rough texture of the case is a practical thing: fingerprints are not visivble on it.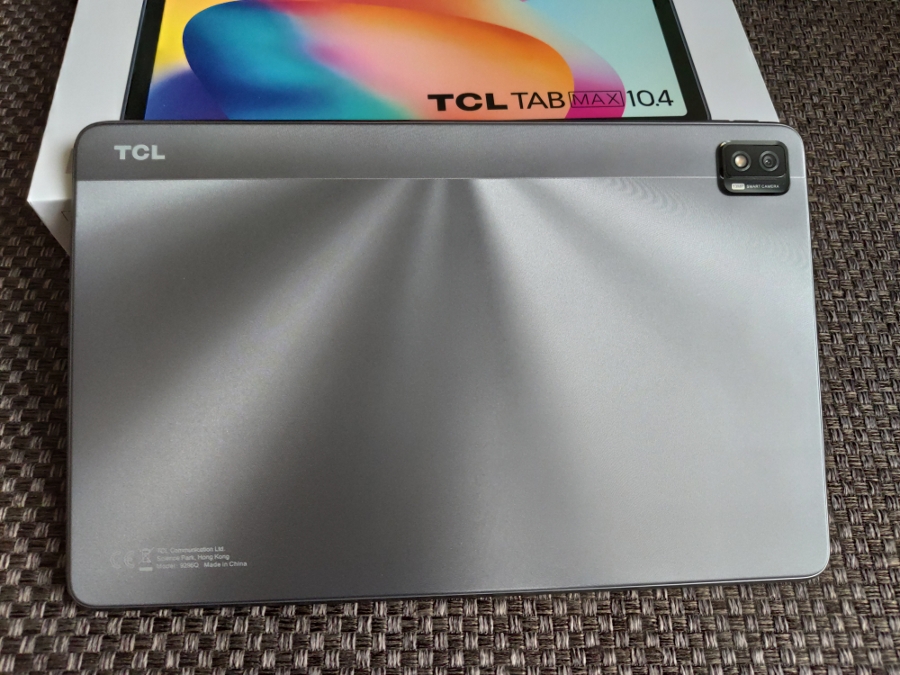 It is worth noting that not entire area of the 'back' is strewn with notches – there is a narrow strip of smooth matte plastic on top. The brand logo is placed on the left, and the main camera module with a flash is located on the right, at the junction of the textured and smooth sections of the body. The only other thing that can be found on the case is the technical marking, which is located in the lower left corner. It is practically  invisible thanks to the 'iridescent' texture.
The screen occupies 83.2% of the front panel. The frames around the display are uniform and quite neat in general. The front camera is traditionally located in the center at the top, and, in fact, we don't have anything else interesting on the front. The assembly quality, as well as the materials used, does not raise questions, everything is at a very high level.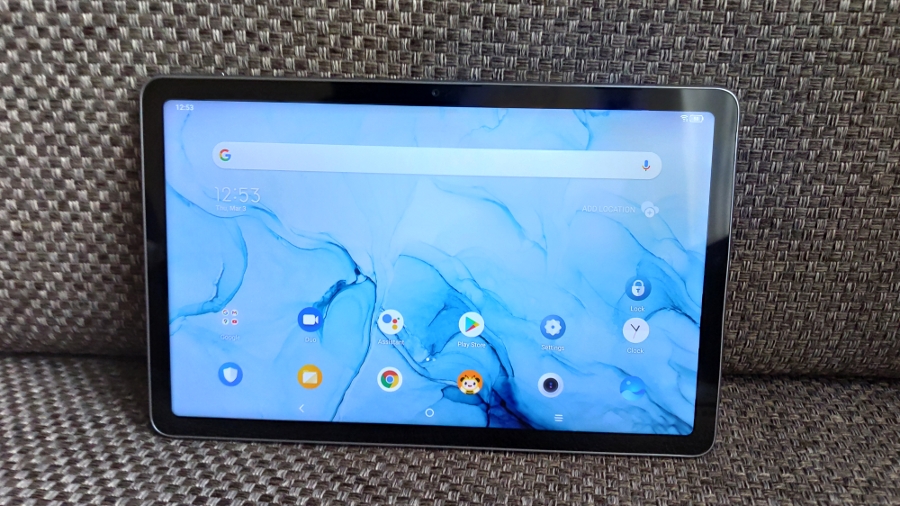 Location of elements
The sidewalls (they are also plastic) have smooth round chamfers, which makes the case look and feel even thinner than it actually is. The main elements are located on them as follows. The lower edge is empty, and above the screen there are volume buttons, a hole for a microphone, a light sensor and a slot for a memory card.
On the right you can find two symmetrical grilles for speakers, but there is only one speaker on each side, only on top. The lower grilles are probably needed for esthetics. On the left there are a couple more holes for the speakers, but the speaker is also only on top, and there is also a USB Type-C charging port and a hole for the microphone. But there is no place for the audio jack.
Read also: Huawei MatePad 11 review: Testing the first HarmonyOS tablet
Display
TCL Tab Max 10.4 has a 10.36-inch IPS-matrix with a resolution of 2000 × 1200, pixel density of 226 ppi and aspect ratio of 15:9. The screen is well suited for both text and multimedia content, it has more than enough brightness for the room, pleasant and at the same time customizable color reproduction, and despite the not very high pixel density the display practically does not show any 'grains'. In general, regardless of what it is used for, the screen is extremely good. Its only drawback, I would say, is perhaps the viewing angles, color distortion is visible at a relatively small angle, pretty much like on TFT displays.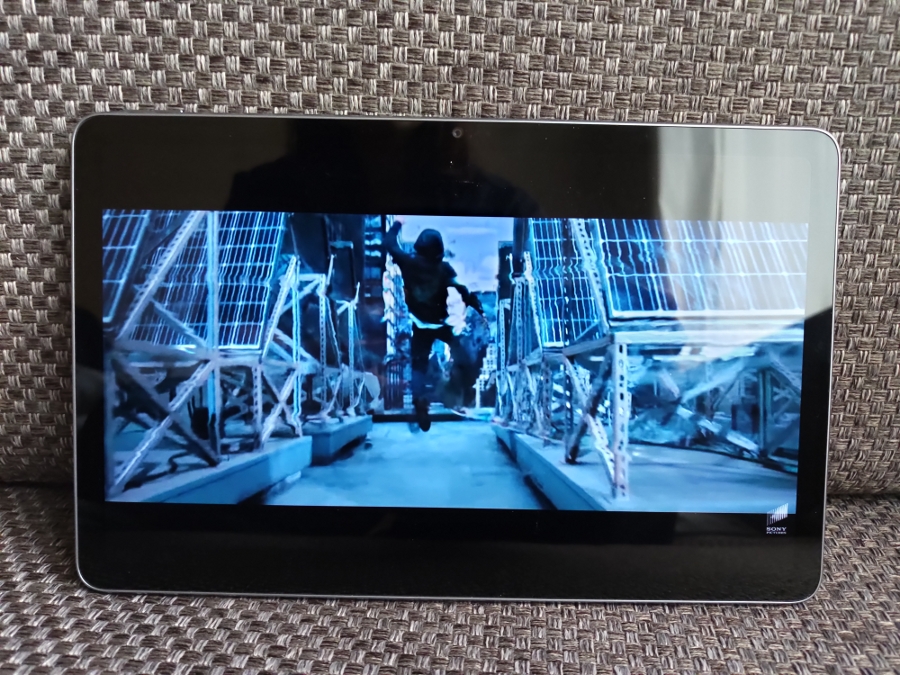 The settings here have almost all the items that were in the TCL 30 SE smartphone, a review that we published not so long ago. Here, of course, are auto-brightness, reading mode and a dark theme that can be scheduled, several color display modes (natural, vivid and extended, in the latter you can adjust the temperature or select sRGB colors), Sunlight mode and everything of sorts. The proprietary NXTVISION feature is not omitted here as well, which tightens contrast and saturation and makes the picture look more juicy.
Performance and wireless connections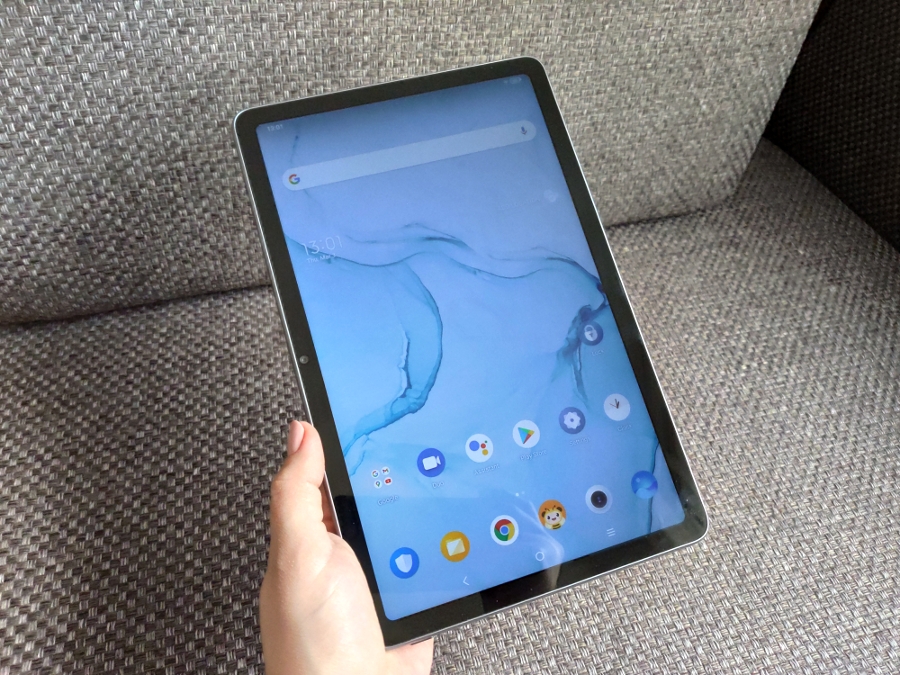 TCL Tab Max 10.4 utilizes the 2019 8-core Snapdragon 665 processor as its 'engine'. It is built on the basis of an 11 nm process technology and has 4 Cortex-A73 cores with a clock speed of up to 2.0 GHz and another 4 Cortex-A53 with a frequency of up to 1.8 GHz. Graphics processing is entrusted to Adreno 610. Although the tablet has only one modification, they did not save on the memory here, 6 GB of RAM and 256 GB of permanent memory with the possibility of expanding microSD by another 256 GB.
A decent, though not the most recent chipset, combined with a good amount of memory  provides the tablet with quite decent performance. For everyday tasks, whether it be surfing, instant messengers, mail, video and work with applications, the device performs  perfectly, there are no problems with multitasking. As for games, the tablet confidently runs games such as PUBG and Fortnite at low graphics settings, providing around 26-29 fps. And in World of Tanks Blitz the result is more pleasant, at medium settings it performs at up to 55-56 fps.
Speaking about wireless technologies, here we have Wi-Fi 2.4 GHz, Bluetooth 5.0 and support for GPS and GLONASS geolocation services. But support for LTE is not declared, this model is provided only with Wi-Fi.
Software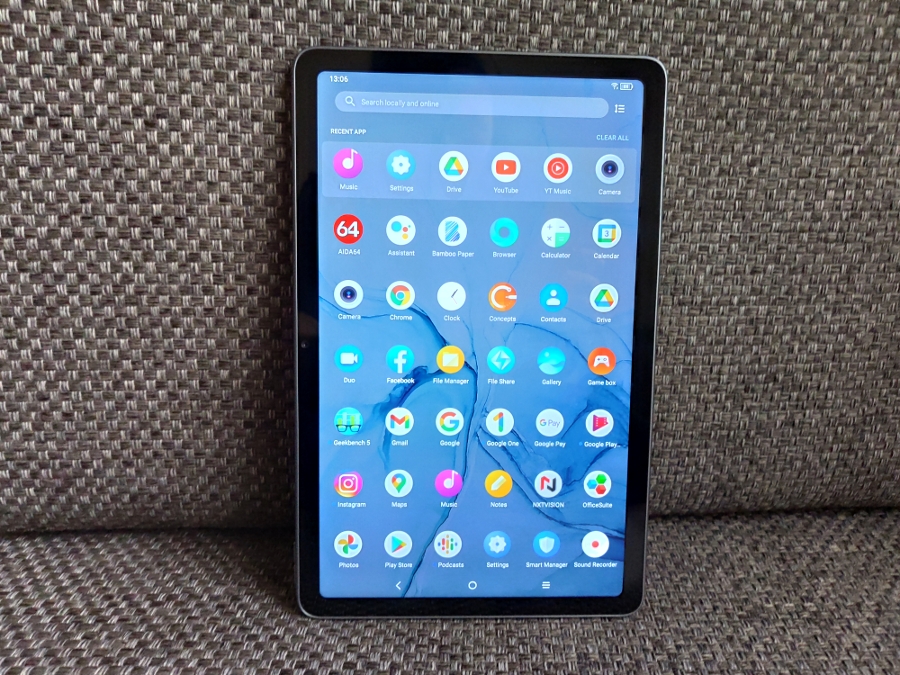 The device is based on Android 11 with a proprietary interface TCL UI 3.0. It is adapted for the tablet, and differs slightly from the more recent TCL UI 4.0 shell, which is used in the abovementioned TCL 30 SE. So, for example, there is no sidebar with quick access to frequently used applications and a number of gestures that are generally not needed on a tablet. But there is a 'children's corner' which concentrates services for children such as games, useful software and video. Therefore, the manufacturer conceived the tablet not only as a multimedia device for adults, but also as an educational and entertainment device for a children's audience. In general the interface is simple, convenient, with some TCL services, but still without any clutter.
Unlocking methods
The fingerprint scanner is not provided in TCL Tab Max 10.4, but in addition to the standard locking tools (password, PIN, graphic pattern) there is a face scanner. The face scanner is quite ordinary, same as on most Android smartphones. It copes with unlocking quite quickly in good light and slows down for a few seconds in bad light, does not provide 100% protecton for your data (like all similar scanners), but it is quite suitable for quick access to the device, especially for home use.
Cameras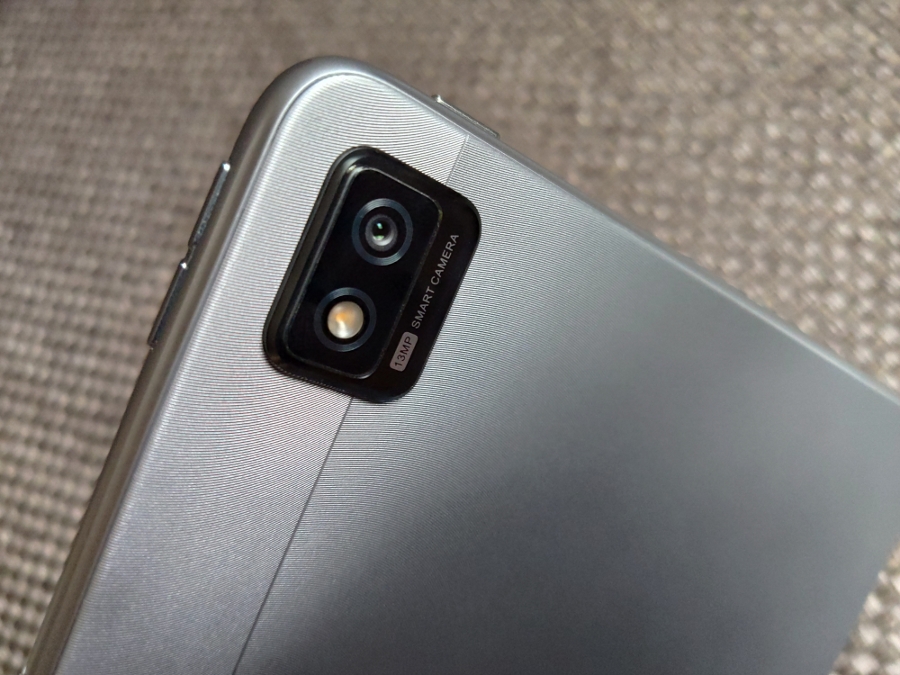 The rear camera has a resolution of 13 megapixels and f/1.8 aperture. The sensor allows you to take photos at about the same level as most tablet devices – in acceptable, but by no means in excellent quality. However, with sufficient lighting it's beyond complaining, the frames are quite detailed (especially in the center of the picture), and the colors are natural, although they look a little darker than in real life. For quick photos, where it is not the form that matters but the content, the camera is very applicable. Video is only shot at 1080p and 30 fps.
A few photo examples can be found below.
The front camera has the same video capabilities as the main one – the maximum resolution for 1080p videos (30 fps). Its resolution is 8 megapixels, and the photosensitivity is f/2.0. Naturally, this camera is not designed for cool selfies, no ring lamp will save it, but for video calling it is pretty good.
Sound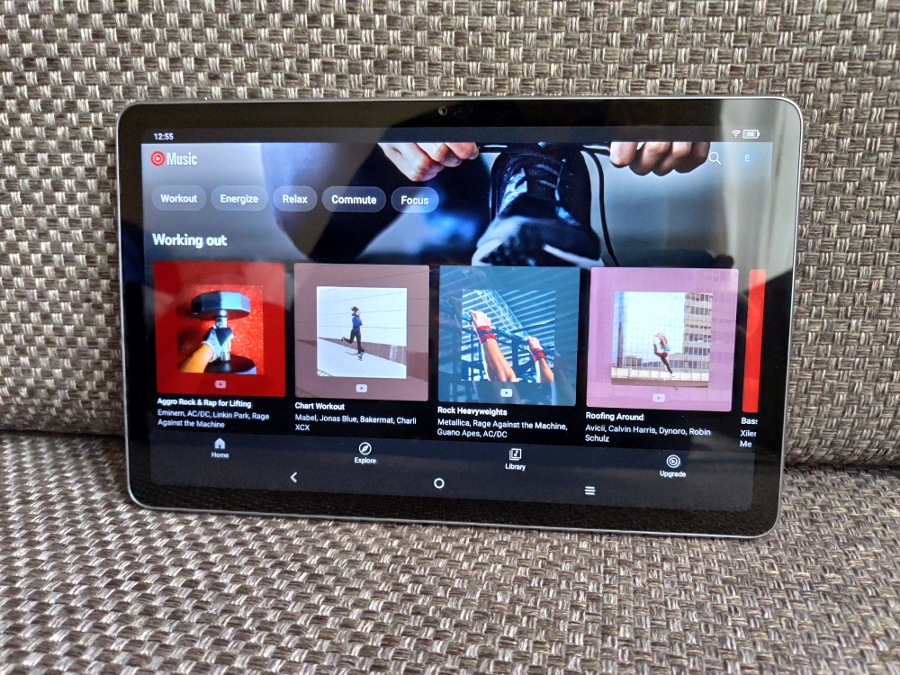 I am definitely pleased by the fact that stereo sound appears even in relatively affordable devices. And here we have a pair of speakers to the left and right of the screen. It is worth noting that the sound is very pleasant for multimedia content such as movies, YouTube and games. But there is no audio jack for headphones. Therefore, you will have to use either Bluetooth headsets or a Type-C to 3.5 mm adapter.
Battery life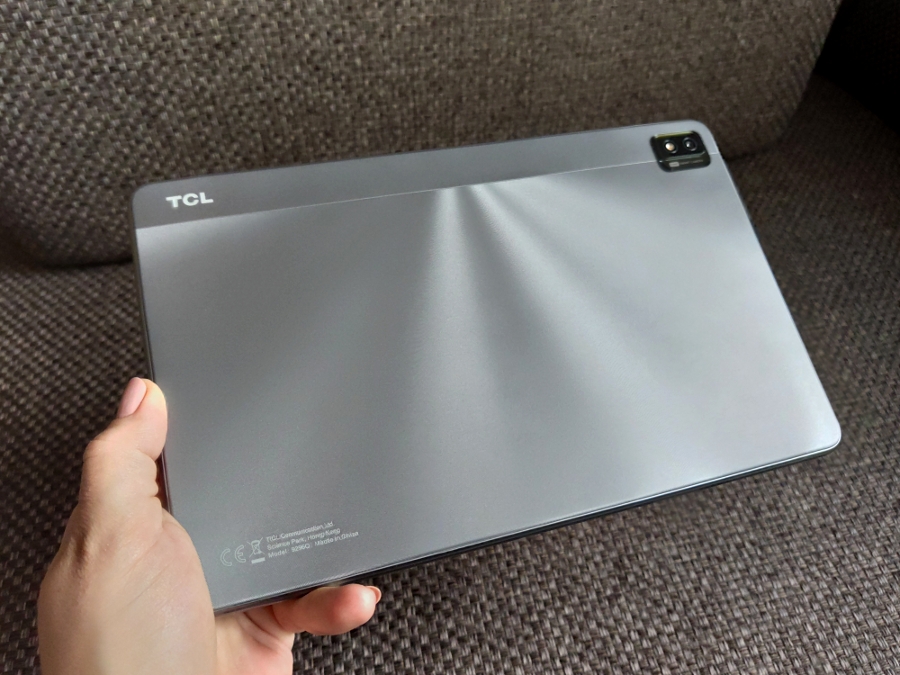 The battery in the tablet has 8000 mAh, which is pretty good for a device with a large screen. The charge lasts up to 6 hours of online gaming, and with less loads (for example, social networks, chatting or watching videos), the tablet is able to last all day. There is support for 18W fast charging, but given the capacity of the battery, it will take more than 2 hours to fully charge.
Read also: ASUS ZenBook Flip S (UX371EA) review – Top-Of-The-Line Transformer
Conclusion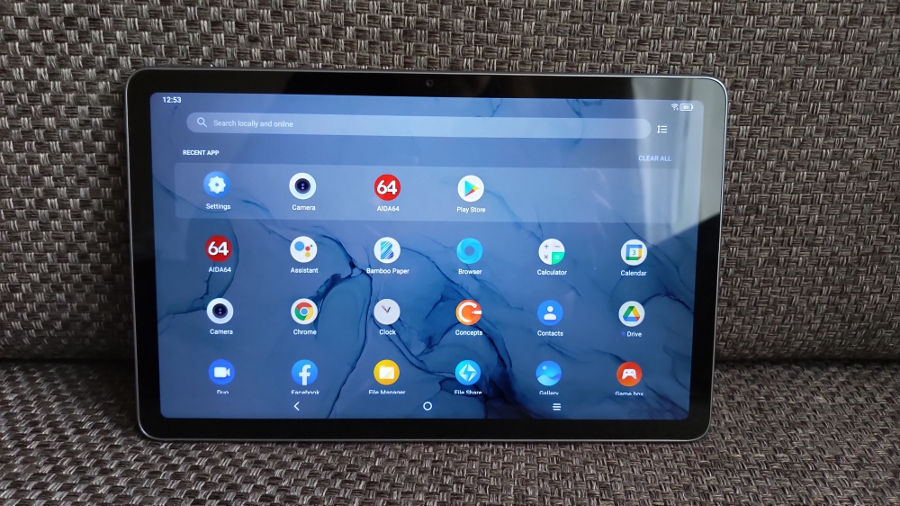 The TCL Tab Max 10.4 is a good choice if you are looking for a reasonably priced home media device for video, gaming, newsfeed monitoring and social media. For these tasks it is equipped with everything you need: a large, solid display with NXTVISION support, stereo sound, good hardware with a decent amount of memory and decent battery life.
Its main drawback is the lack of LTE support. If it's important for you to stay connected to the world outside the coverage of your home router, the Tab Max 10.4 won't be the best option. Perhaps someone here will miss the audio jack and fingerprint scanner. In general, the tablet is perfect for home use. Moreover, it can be supplemented with a stylus and a keyboard, turned into an Android tablet PC and used for study or any work tasks.
Where to buy:
If you are willing to help Ukraine fight Russian occupants, the best way to do this is to donate funds to the Armed Forces of Ukraine through Savelife or through the official page of the NBU.
Read also: