The tobacco heating market is developing at a rapid pace. Therefore, it is not surprising that new players are constantly appearing. One of them is jouz, which devices offer different sizes and capacity of batteries. Today we look at the older model, designed for 20 sessions of use. Go!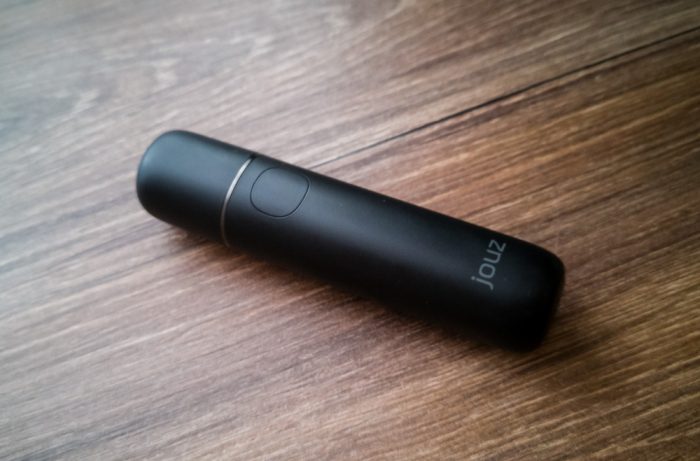 Heating tobacco, not burning
If you consider yourself a supporter of innovation in all aspects of human life, but at the same time continue to smoke traditional cigarettes, you need to change something! Perhaps you should look at this habit from a new perspective and turn your attention to modern tobacco heating systems.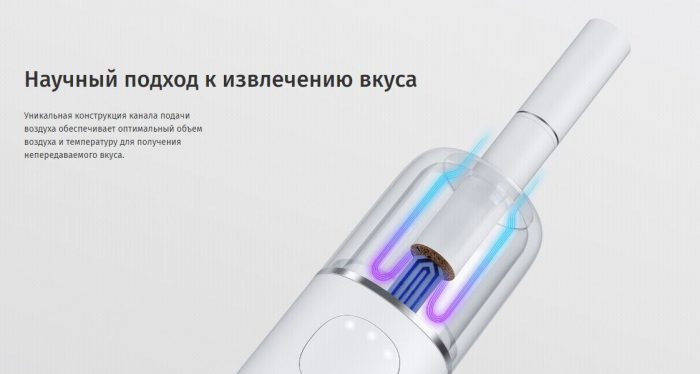 In such systems, instead of cigarettes, special tobacco sticks are used. During the session, the stick is inserted into the device and heats up to a temperature of about 250-300 degrees C, highlighting the tobacco spray that you pull in, and the process is very similar to smoking. But tobacco in the stick does not burn, so there is no smoke and no harmful tar. But the tastes of tobacco and nicotine are all present.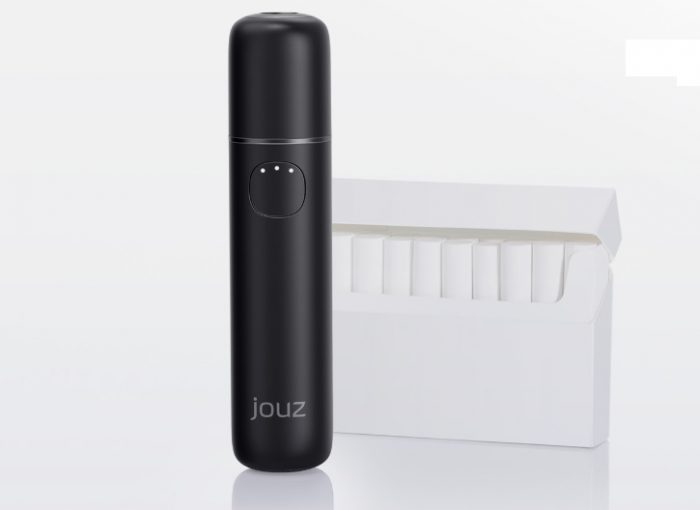 Surrounding people will also appreciate the changes, as you save them from passive smoking and caustic tobacco smoke. And besides, the heating of tobacco allows you to avoid other unpleasant consequences of smoking, such as a pungent smell that is difficult to get rid of. Say goodbye to smoky rooms, bad breath and unpleasant smelling fingers.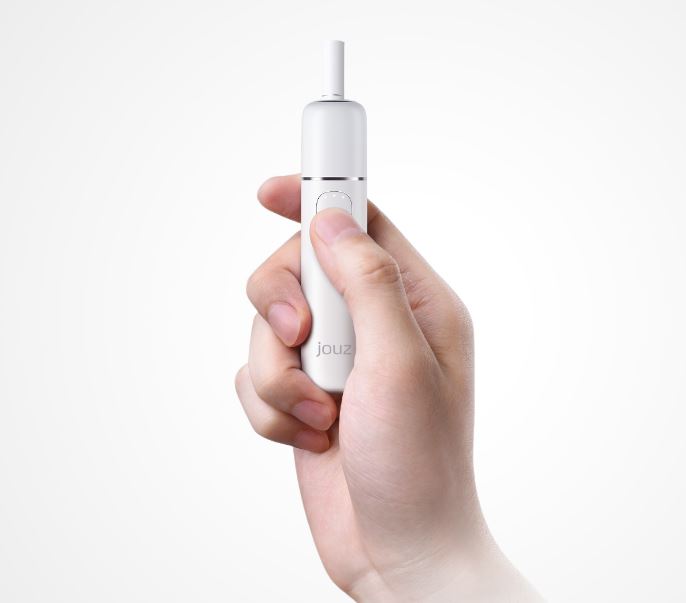 It is for the reasons described above that the use of tobacco heating systems is permitted in many public places, restaurants, and even at airports and train stations.
Price and positioning
I want to note that I myself, more than a year ago, switched from smoking cigarettes to using systems for heating tobacco. I actively use IQOS on an everyday basis and have released several materials on this topic.
In general, I understand the topic and when I saw the news about the appearance of jouz on the market, it is logical that I was immediately interested in this device, so I decided to purchase it for testing and writing this review.
Key moment. The jouz devices are compatible with Philip Morris HEETS popular tobacco sticks. Therefore, it can be considered as an inexpensive alternative to the new gadgets like IQOS 3 and IQOS 3 MULTI from this brand.
As for the "outdated" IQOS 2.4 system of the last generation, its price has recently substantially decreased and now this gadget can be bought even cheaper than jouz. But the latter has a significant advantage: the possibility of continuous use without recharging between sessions. And for me it is a significant incentive for the purchase.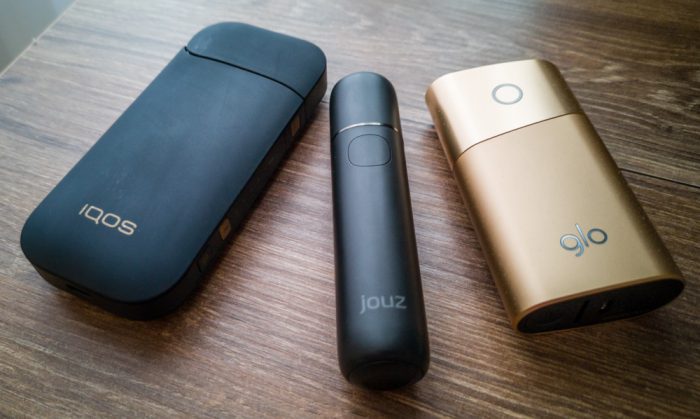 Yes, the new IQOS 3 MULTI is also able to work continuously, but it costs much more. In addition, its battery is enough for about 10 sessions, while the "small" jouz is designed for twelve, and the large one for all twenty uses of the sticks.
At the moment, the device can be purchased on aliexpress.
What's in the box
jouz 20 comes in a neat box, or a case with rounded corners made of transparent plastic. From above we find the device itself in the packaging film placed in a plastic holder. On the top it there is an instruction, and even lower is a USB/microUSB charging cable, a cleaning brush, 4 cleaning sticks and 2 rubber dust plugs for the opening of the sticks receiver.
Unfortunately, there is no charger. In addition, the manufacturer does not indicate the recommended charging current parameters, from which it can be concluded that jouz is "omnivorous" and can be charged from any charger, car charger and USB port of a PC or laptop. We will see if it is true later.
Design, materials, build quality
The jouz gadget has a minimal, cigar-shaped design with slightly flattened longitudinal edges. The main material is a nice high-quality matte plastic. In general, the gadget looks solid and even somewhat premium.
The case is divided into 2 parts. The main, lower, contains a battery, a single control button with three built-in LED indicators and a microUSB charging port on the bottom rotary end. An original solution that allows you to get rid of unnecessary elements in the design and hide the charging port inside the case. However, how reliable is this structure we'll know only with time.
The upper part of the body is actually a cap that is attached to the main body with a magnetic holder. In the place where the sticks are inserted, the receiver hole is framed with a massive ring of polished metal.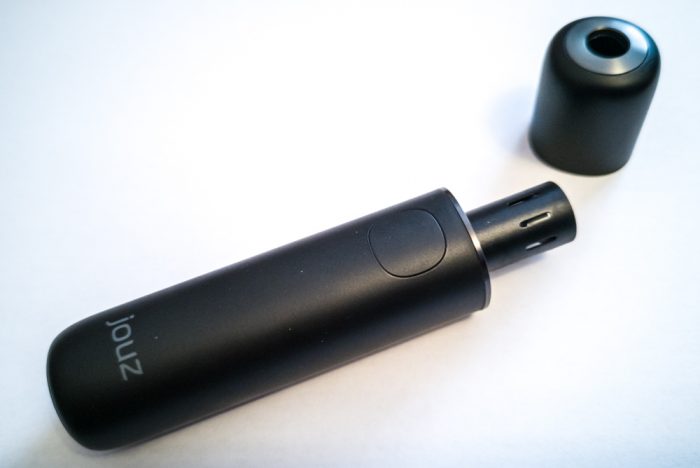 If you remove the cap, you can see the steel tube-barrel with a ceramic heating blade inside. This element is similar to that in the IQOS system. This is not surprising, because jouz is fully compatible with HEETS sticks.
In general, the build quality is excellent. At first it is even hard to believe that the upper part is removable, because there is practically no gap between the parts, and almost nothing bends – only if you twist the cap around the longitudinal axis.
Tobacco sticks
As I said above, jouz is used in conjunction with the HEETS sticks from Philip Morris. At the moment there are 4 options – Amber Label (rich flavor of natural tobacco), Yellow Label (light tobacco flavor), Turquoise Label (menthol) and Purple Label (mint berry).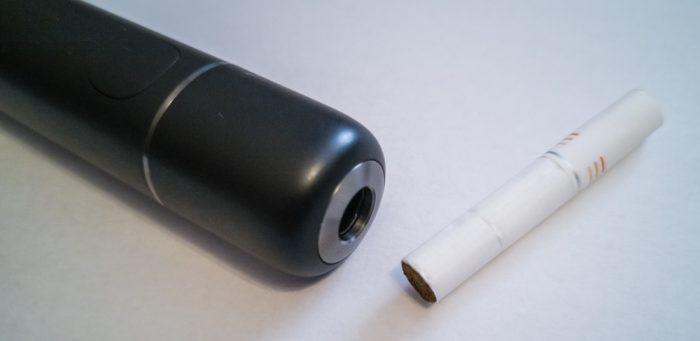 Sticks can be bought online and offline at an affordable price and therefore there is no problem with their availability. In general, the manufacturer says that jouz is compatible with any tobacco stick of 7.5×45 mm in size, but in practice I haven't yet seen anything of the same size on the market, except HEETS. Perhaps the sticks of other brands will appear on sale a little later. The KENT NEOSTIKS sticks can only be used with the glo device and are not compatible with jouz.
The principle of operation and use of jouz
Actually everything is as simple as possible. Before first use, it is recommended fully charging the device.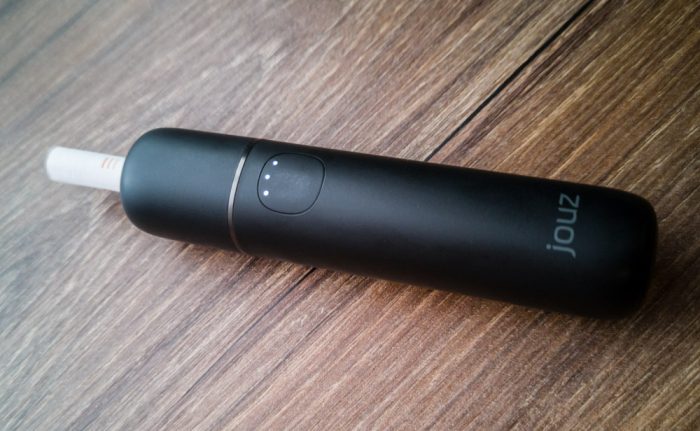 Next, we take the stick (I advise you to stretch it a little with your fingers to avoid tobacco wringing) and insert the tobacco part into the receiver hole, lightly press it from above and insert the stick into jouz until it stops (slightly above the mark on the filter stick). Press and hold the button until the first short vibration signal (about 2 seconds). At the same time, the first indicator will light up, and the second will begin to flash, signaling the start of the heating process of the stick (about 20 seconds).
We are waiting for all three indicators to light up and the device again briefly vibrates. You can start a session. Simply draw in the emulsion through a stick filter, as if smoking a cigarette. At the end of the session (14 puffs or 5.5 minutes – whichever comes first) jouz vibrates and 2 lights go out, and you can still make a couple puffs until it goes out. Slightly raise the cap, it will push the stick out of the heater, remove and dispose of the used stick. Let go of the cap – it will go back into place thanks to a powerful magnet.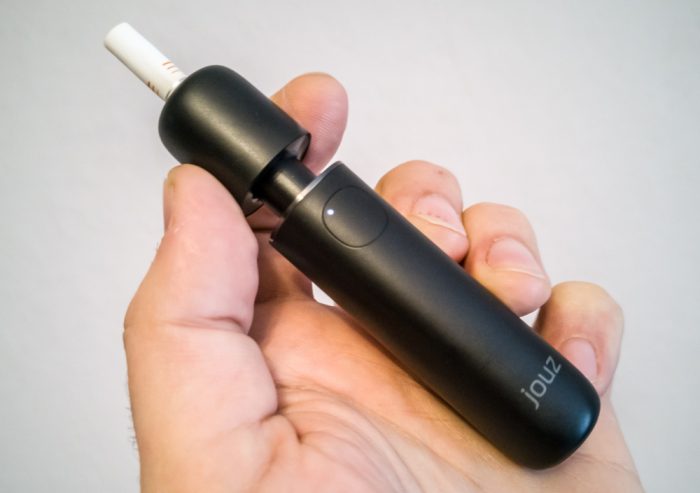 As for using jouz, I noticed only one flaw. The device button completely merges with the rest of the case, which is also completely symmetrical in section and the control element is simply very difficult to find by touch, especially in the dark. Inactive indicators are also completely masked. But there is one life hack. I recommend simply squeezing the gadget with two fingers in the button zone on both sides, and if you don't hit the button the first time, then the second time is sure to work.
Another point that is worth paying attention to is the removable plugs for the opening of the receiver sticks. The manufacturer knowingly put 2 pieces in the package. If you carry jouz in a bag or pocket, then of course it is better to use them to avoid dust and foreign objects in the area of ​​the heater inside the device.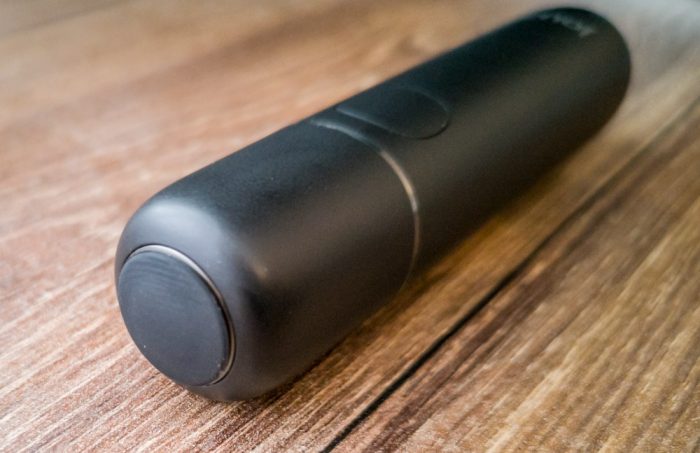 Taste sensations
Using tobacco sticks feels very similar to smoking a kind of super-light cigarette. Many people (including me) can easily move from traditional smoking to heating tobacco. However, guaranteeing a successful transition is impossible.
I would recommend that you use only jouz for several days, not alternating it with cigarettes. And then you yourself will understand whether you like this replacement or not. Personally, after about 5 days of using the device for heating tobacco, I tried to smoke a regular cigarette for the sake of interest and could not make even a couple of puffs – traditional smoking becomes disgusting.
At the same time, I know many people who see this new-fangled technology as a silly gimmick. Only personal experience will help you decide.
Maintenance
In this regard, jouz is very similar to IQOS. It is worth carrying out regular cleaning of the device using a bundled in brush and cleaning sticks. You can alternate or combine these methods – it all depends on the degree of contamination of the heater. Remove the cap and use cleaning tools, then return the cap in place.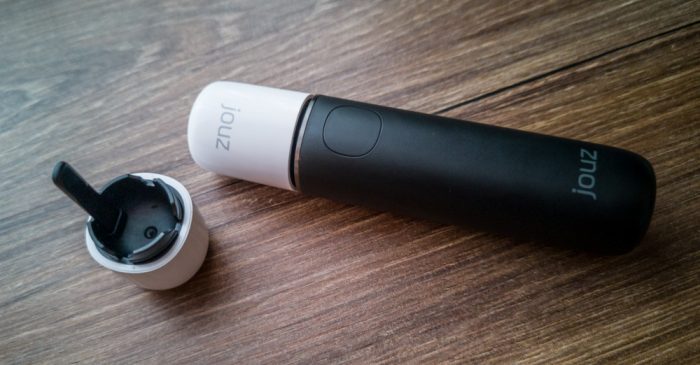 If you feel that there is something wrong with the taste, it means it's time to clean the gadget. The main thing is to give it time to cool before cleaning.
Jouz has a self-cleaning function, which is recommended after every 20 sessions of use. In this case, the heater can be cleaned by heating the element. Just push the button and hold it for 6 seconds. All 3 lights will start blinking for 30 seconds, after which auto-cleaning will end. Of course, this method does not exclude manual cleaning.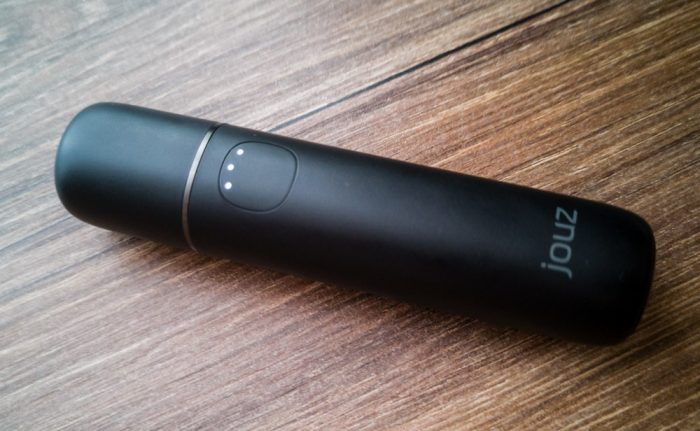 And yes, as for charging – jouz really charges from any source or power bank. Charging is not fast. From a 2-ampere storage device, the gadget charges in about 2 hours, and from the USB port, in 3.
Verdict
Technical progress does not stand still and begins to touch upon such aspects of our life which seem like they never change. At this time, a wave of innovation covers the tobacco industry, threatening to wash off the dirty old traditions. There is an alternative to smoking cigarettes! And it is electric heating of tobacco.
I can not guarantee that this method is completely harmless to your health, it would be stupid and irresponsible of me. Even manufacturers of tobacco sticks write on a pack that "the product is not completely safe and can be addictive." And of course, if you do not smoke, it is better not to start. But everything is relative. Compared with ordinary cigarettes, the device for heating tobacco is a more modern, cleaner and more comfortable way of indulging our bad habit, which of course I wish you to completely get rid of.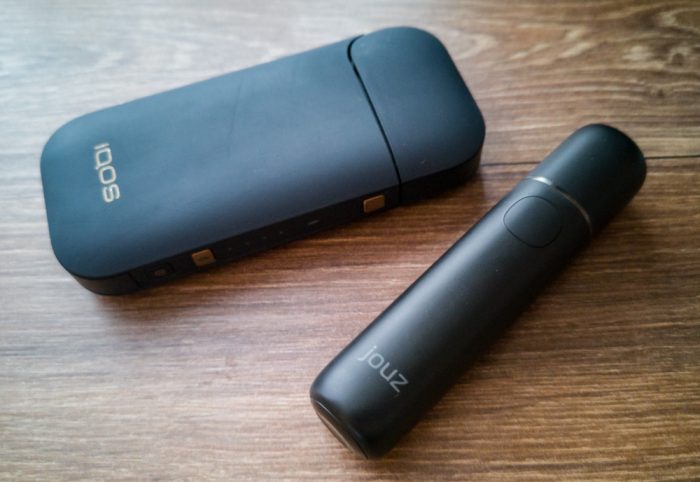 As for jouz, the device showed itself from the best side. Personally, I use it now in a pair with IQOS 2.4, as an outdoors device, that is, outside the house, because it is compact and lightweight, which means it is more mobile. And most importantly it does not need to be charged between sessions. This is a high-quality, reliable and easy-to-use gadget, which I recommend to consider for purchase if you are thinking about buying a system for heating tobacco.