Philips Brilliance 439P9H/00 hits the spot when it comes to professional wide-screen monitors with an aspect ratio of 32:10, as it is the most balanced model in terms of characteristics. Yes, it is expensive, but it's also unparalleled specs-wise. Philips has a larger monitor with a 49-inch model, but I wouldn't call it balanced in terms of characteristics. It is inferior to the 43-inch model in some respects. Let's see why.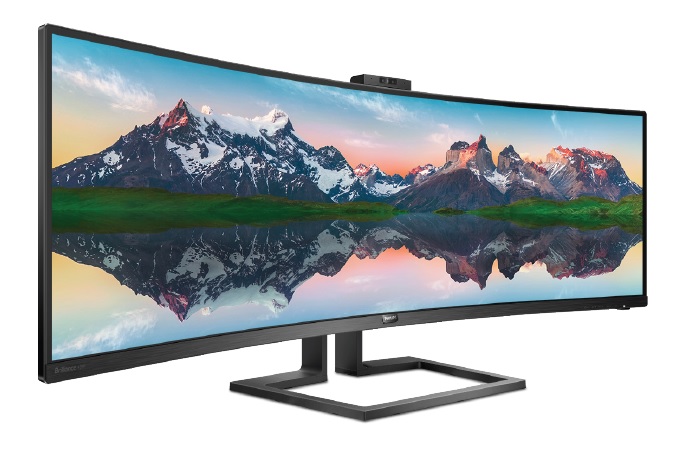 Positioning and price
Philips 439P9H/00 will cost about $1250. And I'll tell you right away – don't try to find a cheaper alternative to it. It didn't work out for me. It turned out that curved models with this resolution, dimensions and feature set are all more expensive. Or from less credible brands. But you can of course try to find something yourself if you don't take my word for it. Please write about the results in the comments.
What's in the box
First of all, I would like to point out the huge size of the box. Inside, the monitor is located between two foam holders and is reliably protected from any damage during transportation. In order to safely take out the device from the packaging, you need to remove the protection from the back of the monitor and place the monitor on a flat surface, and only then remove the front of the protection.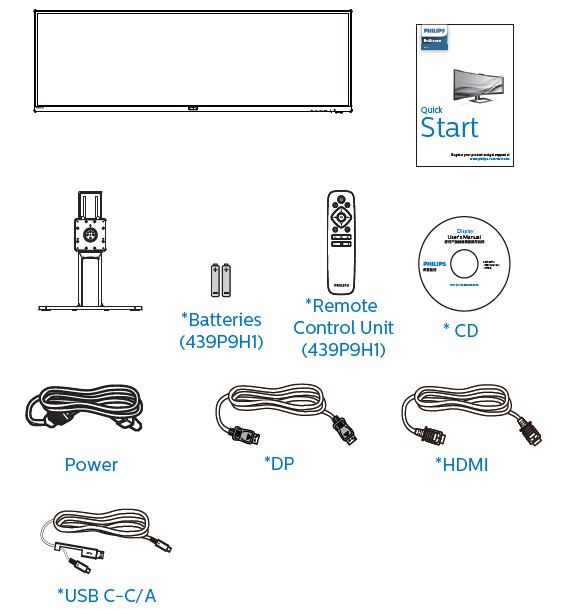 The set of the monitor will vary from market to market, but you can 100% count on the monitor itself, as well as a sturdy all-metal stand for it, a power cable, instructions, a CD with drivers, and HDMI and DisplayPort cables. In some countries, the box also includes USB Type-C to Type-C and Type-A cables, and even a remote control (unfortunately, I didn't get one).
Dimensions and ergonomics
Before you start talking about anything further, it is worth understanding the main thing – yes, the monitor is large, 43 inches total, so please make sure you have at least 110 centimeters of free space on your desk. Also, the stand takes a good 30 centimeters in depth, which shouldn't be a problem, but it can become it if your table is, again, small.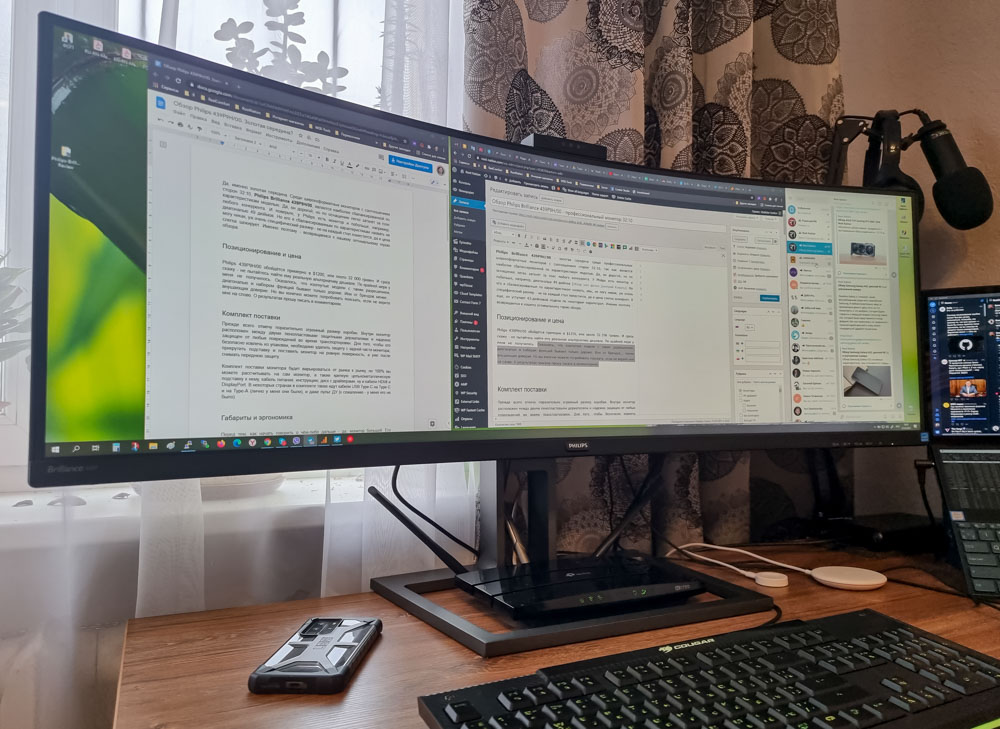 The same applies to the weight of the structure, a 15 kg monitor with a stand requires physical support, and a flimsy table requires moral support. And yes, there are bigger and heavier monitors. The close brother, Philips Brilliance 499P, is 120 cm wide, although it weighs a little more than 15 kilos.
In general, this is NOT an ordinary monitor, but a professional tool for displaying an image that requires initial planning. But, despite its impressive size, the design of the Philips Brilliance 439P9H/00 is quite flexible. Once installed on a table, you have the option to adjust the display in height by 130 mm, tilt forward by 5 degrees and backward by 10 degrees, and rotate 20 degrees to the right or left.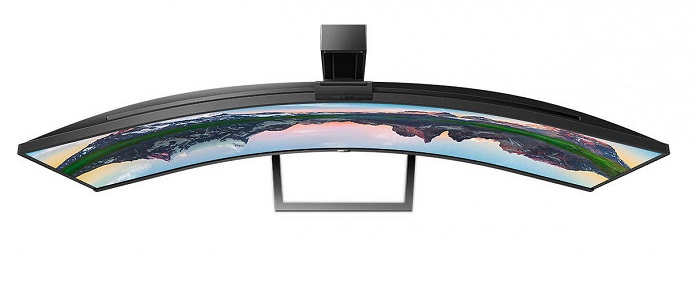 If this is not enough for you, the monitor supports the VESA 100 mount. The main thing is to choose the right bracket to withstand such a high weight.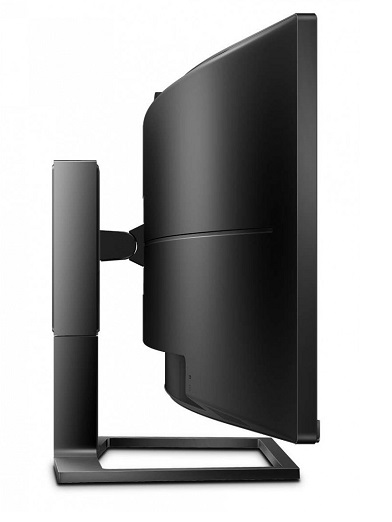 Philips decided to abandon the joystick in this model as a tool for navigating through the settings menu in favor of the classic set of five buttons located on the bottom right edge.
Design, materials, build quality
The monitor looks professionally restrained, but at the same time elegant. Its wants to look bezel-less and fakes it. What I mean is when the screen is off, it seems that there is no frame around the matrix on the sides and on top.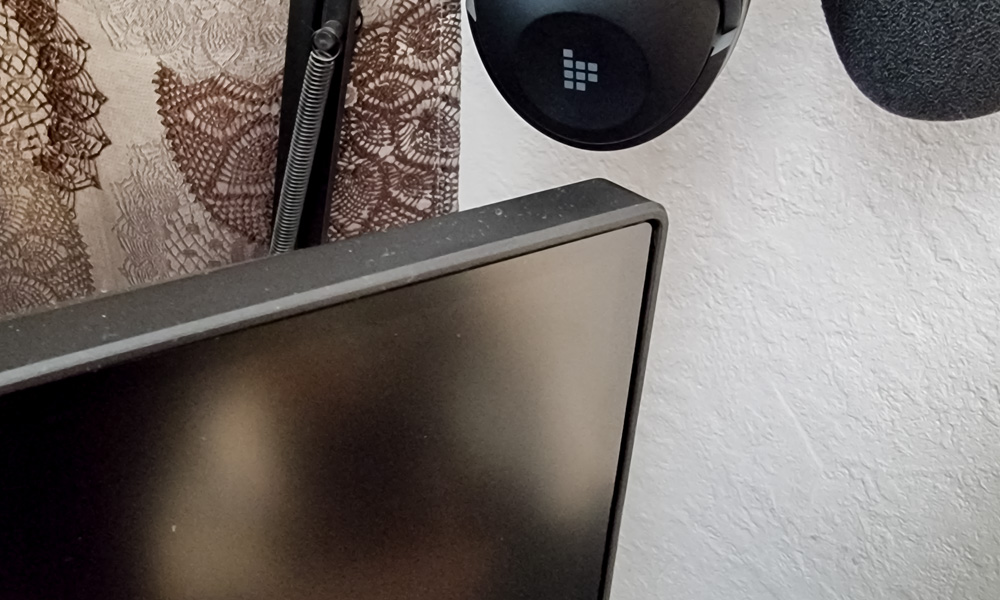 But when the monitor is turned on, approximately 6 mm black borders appear around the screen. The plastic below the screen has a texture of brushed metal and there's the Philips logo in the center, on a slightly protruding platform. On the back we have the usual matte plastic, which looks and feels high quality.
Of course, there is no trace of RGB backlighting in the design, this is not a gaming monitor, but a professional one, as the letter P in the marking directly indicates. There are two LED indicators – on the webcam that extends from above and next to the control buttons at the bottom right.
The build quality of the monitor is excellent and the display unit does not seem fragile. The monitor stand is made of metal (2 parts, fastened with screws) and painted gray. Overall, the design feels solid and sturdy despite its looking bulky.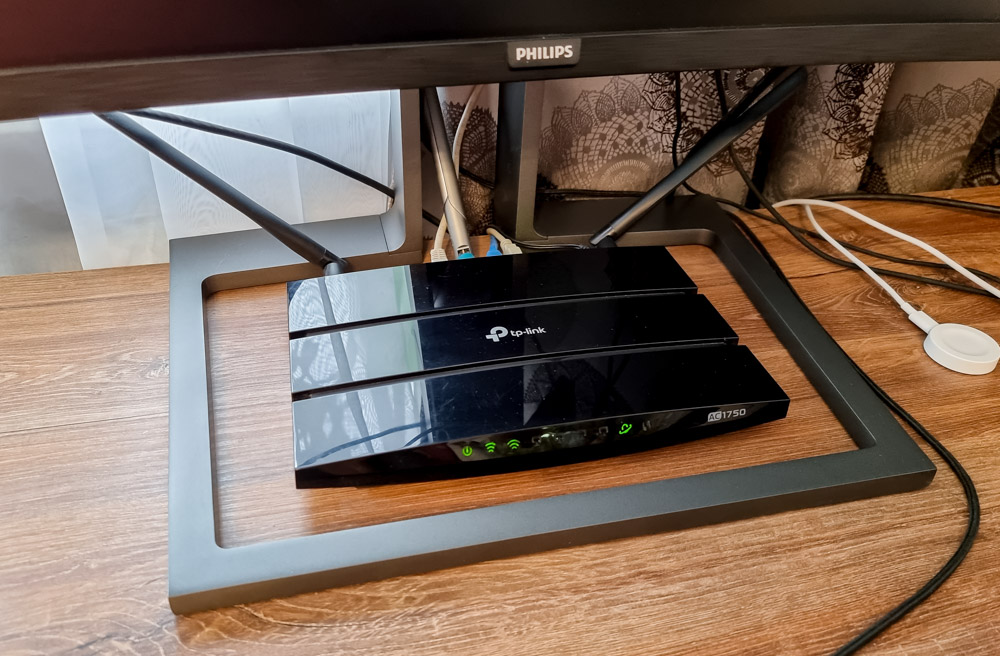 Display panel and picture quality
The Philips Brilliance 439P monitor features a 43.4-inch widescreen (32:10) VA panel with a resolution of 3840×1200 pixels, PPI 93, W-LED backlighting, 1800R curvature. The monitor supports 100 Hz. The viewing angle is 178° in all directions, response speed from gray to gray is 4 ms, brightness is 450 nits. There's a DisplayHDR 400 certification.
The screen is awesome, and it's best for working, but it's not devoid of pleasant nuances and is suitable for entertainment. It is 10-bit (8 + FRC, but still), the refresh rate is HIGHER than that of its 49-inch counterpart (100 versus 70 Hz); the current transmitted over Type-C for powering devices is 95 versus 65 W which is good for peripheral connectivity. There is a matte 25% anti-reflective coating with a hardness of 2H, that is, it is relatively resistant to accidental damage.
In terms of color rendition, everything is fine here. If you use a monitor for color correction, you won't regret it. Maximum color gamut for sRGB is 123%, AdobeRGB is 91%, and DCI-P3 is 95%. In the sRGB color rendering mode, the color gamut, oddly, is reduced to 98%, but the Delta E becomes equal to about 1.3.
By the way, about the display modes, which are called SmartImage here. There are several custom ones available for quick selection (like gaming, economical, office, for movies), including the EasyRead mode, in which the picture becomes black and white, brighter, and maximum contrast. There is also manual adjustment of temperature and RGB colors.
There is support for Adaptive-Sync, Flicker-Free, Low Blue technologies and even a decrease in panel response time thanks to SmartResponse! It can be lowered from 4 ms down to 1-2 to make the monitor better for gaming.
Peripherals and connectivity options
The Philips Brilliance 439P has a rich set of connectors. Let's start with a 3.5mm headphone mini-jack (simply because it comes first from the left), followed by ports for connecting to image sources: HDMI 2.0b, 2x DisplayPort 1.4 and one universal USB Type-C Gen2, which can also be used for image transfer (with support for DP AltMod extension) as well as power up to 90W (PD 3.0), one USB Type-C Gen1 and four USB Type-A. Also a Kensington lock and gigabit Ethernet.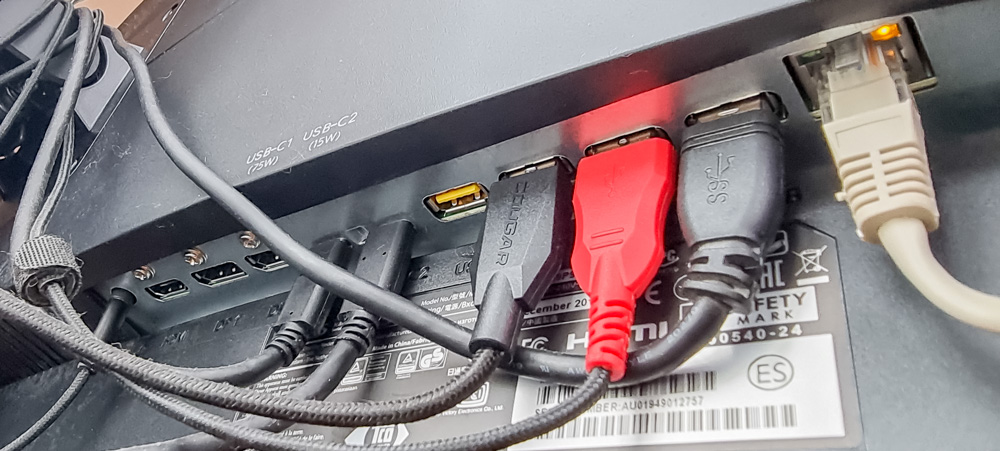 What follows from all of the above set of ports in a practical sense? Personally, I connect my ASUS ZenBook Pro Duo UX581GV laptop to the monitor with ONE cable to the USB Type-C Gen2 port, which provides image, sound, wired gigabit internet connection and all peripheral devices!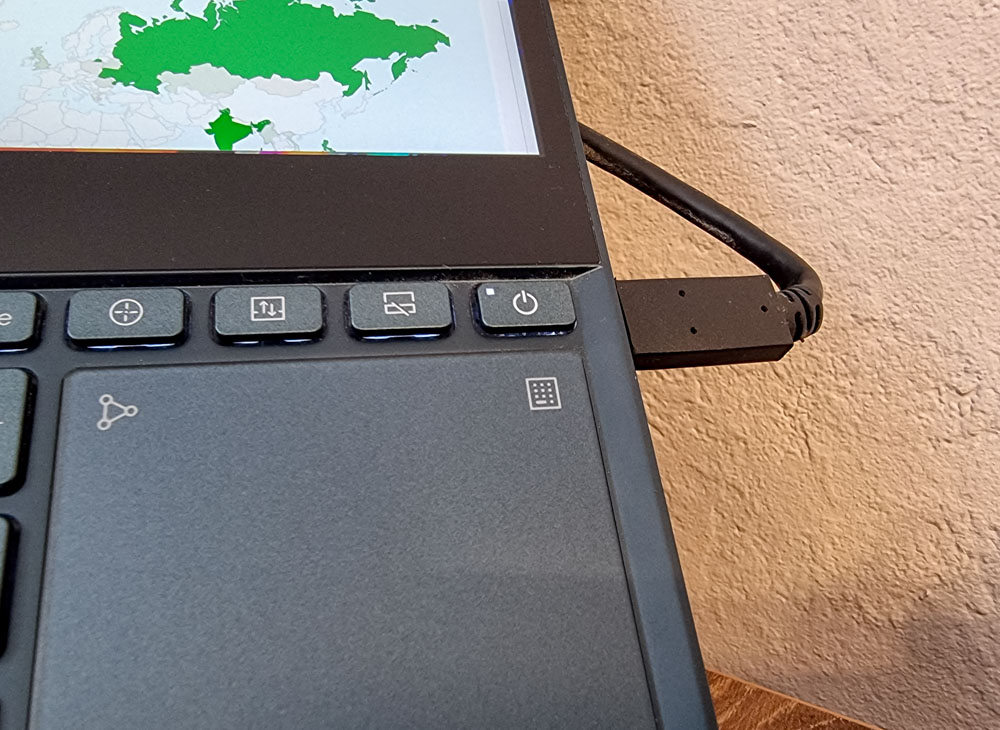 At the same time, I have connected to the monitor wired headphones, a keyboard with a mouse, the first external HDD with 1 TB (via USB-A ports), the second external HDD with 4 TB (via Type-C) and a cable from the router via the RJ-45 port. That is, it is enough for me to disconnect one cable from the laptop to take it with me, and upon returning, simply reconnect the laptop with one cable to the monitor to restore a full-fledged workplace at home.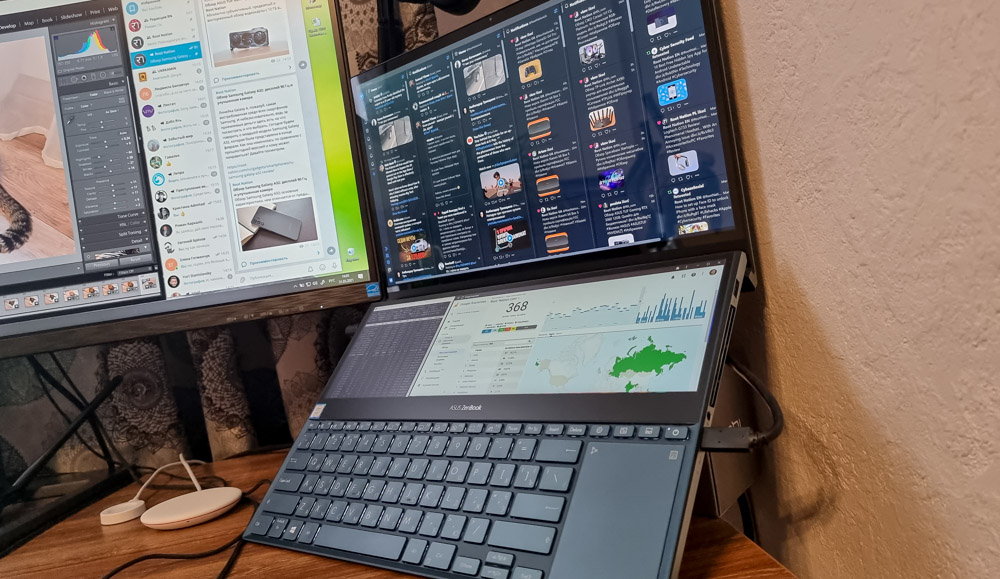 The monitor also has built-in speakers, 2×4 watts. They are nothing special, but will do for most.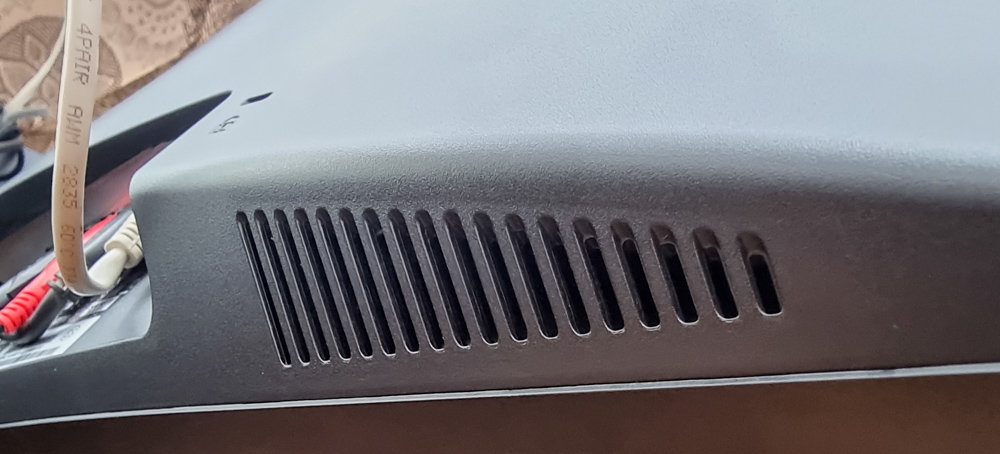 The power consumption of the monitor is up to 42 W in active mode, 36 W in Eco mode and less than 1 W in standby mode. Class B/G efficiency, EnergyStar 8.0 certified.
KVM and MultiView
And because a 43-inch screen quite big, the Philips Brilliance 439P has not only a docking station, but also a KVM switch that allows you to use one set of monitor, mouse, keyboard and other peripherals on two computers!
However, KVM switching is a bit confusing. In order to get quick access to it, you need to set an action on the User Key in the settings. The description of the setting is in the instructions, but it might be a tad hard to find the small button, which is located in the center between all the others.
And the other huge feature is the MultiView mode, which divides the monitor screen into two zones and allows you to simultaneously view content from several sources.
Webcam
I was a little saddened that the retractable webcam is not automated. It is unlocked by pressing and then it must be manually pulled up.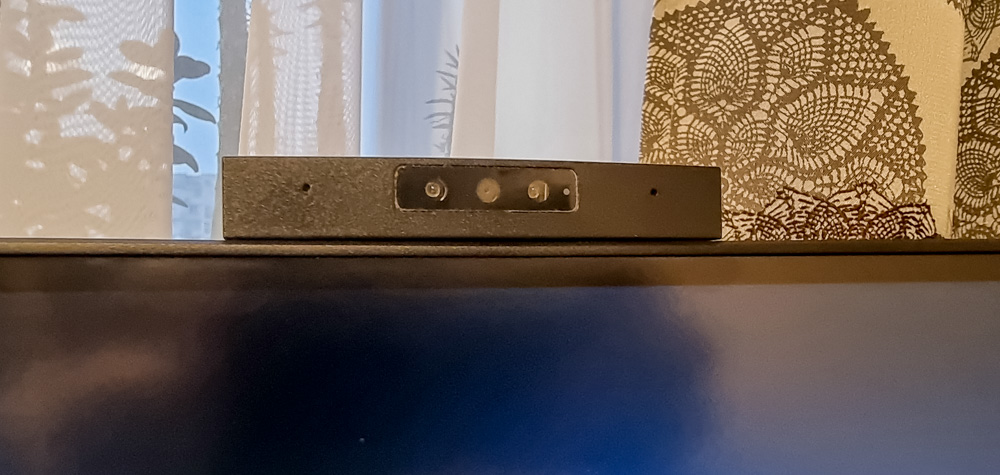 But it is equipped with IR sensors and is compatible with Windows Hello, the picture quality is 1080p, which is quite alright. Also, the camera is equipped with two microphones (displayed in the system as Realtek USB2.0 Audio) and an LED light that glows white. The webcam does not have a shutter, but it is not needed – just hide it to turn it off.
Using Philips Brilliance 439P9H/00
Of course, before buying such an expensive monitor, you need to understand the specifics of the ultra-wide format. Despite the seemingly huge figure, these 43 inches are actually two combined 24-inch 16:9 screens. Which imposes some peculiarities on the use of the monitor. It is not suitable for full-screen multimedia viewing (photo or video). Or for work in a text editor. Although you might be able create a table with a lot of columns easily.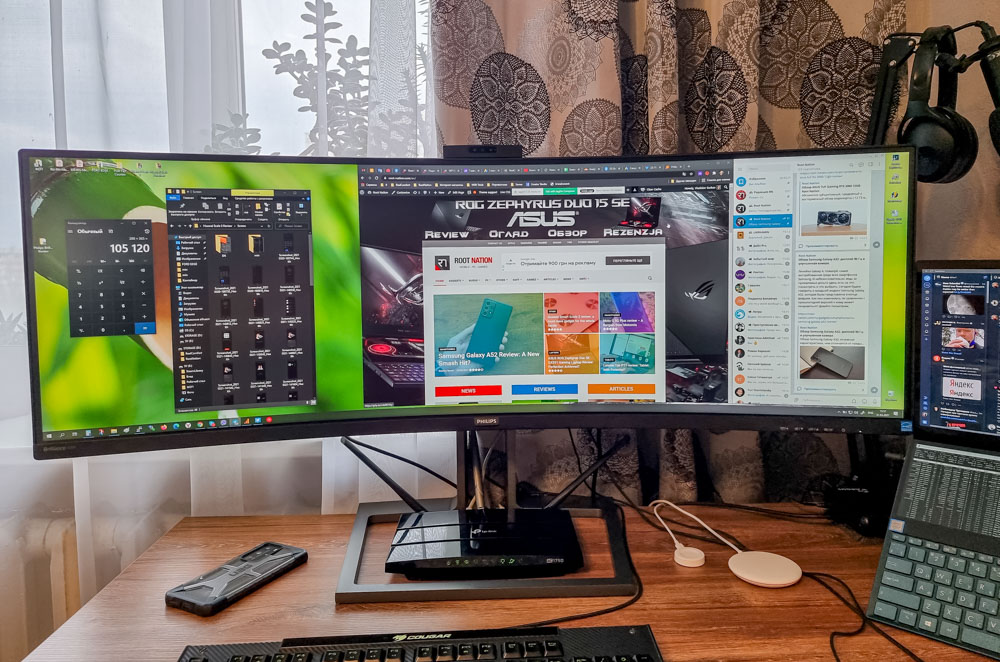 But first of all, this is a multi-window monitor and this is its main feature. Opening two documents or a web page side by side in order to copy and paste, compare, edit the text – it is impossible to think of a better option.
Bulk work with files, monitoring and analysis of large amounts of data from different sources, plus simultaneous chatting in several messengers, or communication in video chats – in such tasks, the wide format is very useful.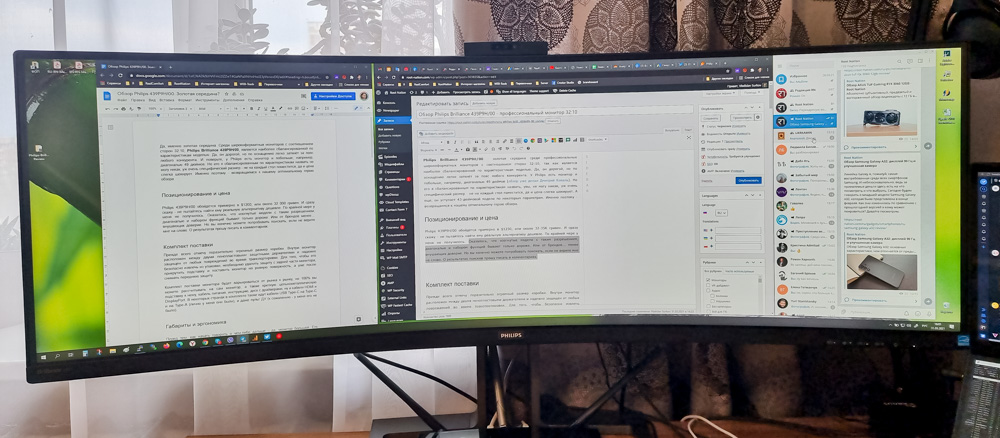 Or, for example, in Adobe applications like Premier or Lightroom (in any programs for creators, designers, etc), where you can add, hide and drag toolbars or windows to create your own unique workspace.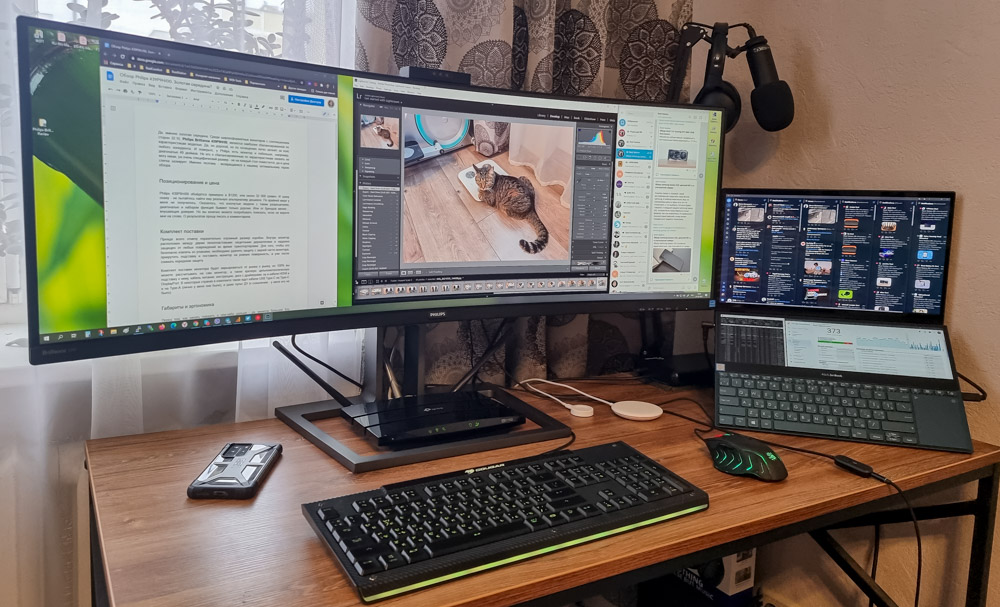 Another key feature of such a monitor is its gaming, oddly enough. It turned out that most modern games support a wide format of image output and run in full screen mode. And the frequency of 100 Hz and the ability to reduce the response to 1-2 ms make the Philips Brilliance 439P almost a gaming monitor.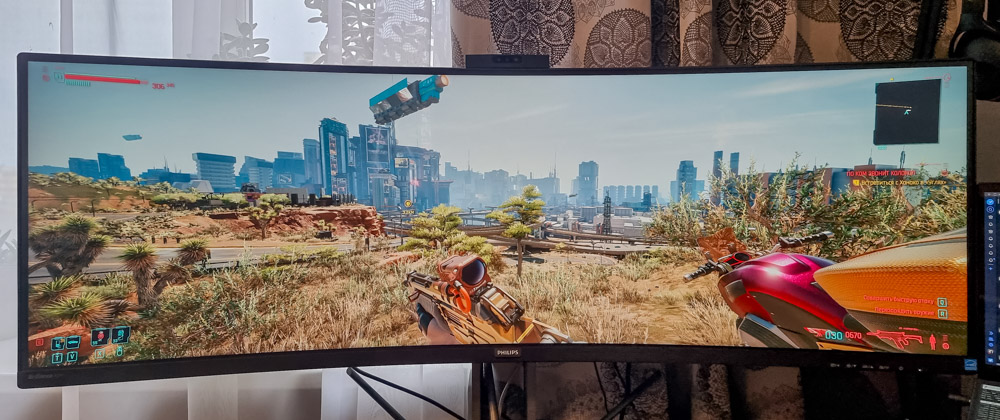 On it, I finished Cyberpunk 2077 2 times. This way immersion in the game is noticeably deeper than with a regular 16:9 monitor, since peripheral vision does not see the borders of the screen on the right and left. I have also tried running RDR2 and PUBG. The main problem that you may encounter while playing games on a wide monitor is the increased requirements for the video card, since you need to process a high-resolution picture and a larger number of pixels. Here I can note that the RTX 2060 with 6 GB of memory installed in my laptop does well in general, but of course, it can't handle every game.
Verdict
Why not just buy 2 or 3 monitors instead of one Philips Brilliance 439P9H/00, if you really need to expand your workspace? Answer: no reason! But there are a few things to consider. The market is full of inexpensive models, but if you try to get several professional monitors with similar features and functionality, you are unlikely to win much in terms of price. In addition, I am finally convinced that one large monitor is better than several small ones.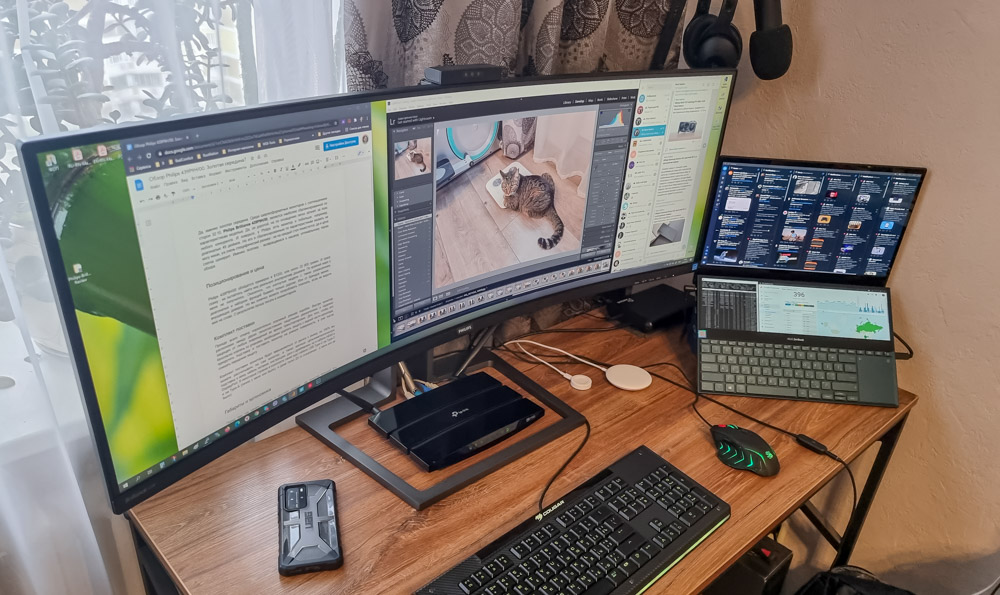 First, one monitor is better ergonomically – one stand on the table and one set of cables as well. Also, for example, many laptops generally have only one video output, so connecting a second and even more so a third monitor will be extremely problematic.
Secondly, there is one place to adjust the display position and picture quality. In the case of multiple monitors, it will be necessary to set up the same display parameters on all screens, which is not always possible, even if the same models are used. And if you need to change some parameter? You will have to do this two (three) times.
Thirdly, and perhaps most importantly, the absence of bezels between displays provides more flexibility in multi-window mode. You can set the window to any size and move it anywhere. In addition, if necessary, you can run full-screen apps and games, which you cannot do on multiple displays.
Is it worth overpaying for all these benefits? It's up to you to decide. My personal conclusion is this: since I tried a widescreen monitor, I don't want to go back to the old classic version or multi-monitor configuration. In addition, this model is very cool in terms of screen quality, and it is suitable for any professional use, it is good for gaming, and the possibilities of connecting to a computer using one cable or several PCs to one monitor are simply amazing. And if this option for improving productivity matters to you, I definitely recommend it!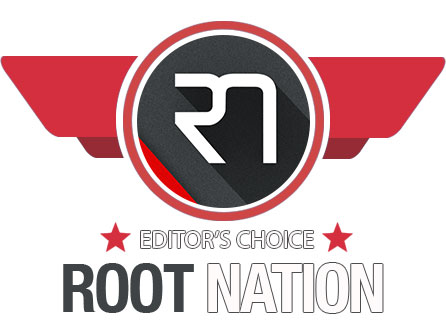 Subscribe to our accounts: