Gamers are always having trouble finding a laptop that provides the perfect balance between performance and price. The new Lenovo Legion 5 Pro might just be the anwer. Probably no category of personal computers causes as much contradictory emotions as laptops for gamers. It will take no more than 15 minutes after the publication for there to be at least one comment that either claims that it is pointless, or that no one usually buys these things, or that you can build a modern desktop gaming PC for this money.
But the development of the gaming laptop market proves such comments wrong. Laptops for gamers are always popular, and that is a fact. The growing popularity of e-sports only further contributes to this, and such laptops can become equipment for professionals.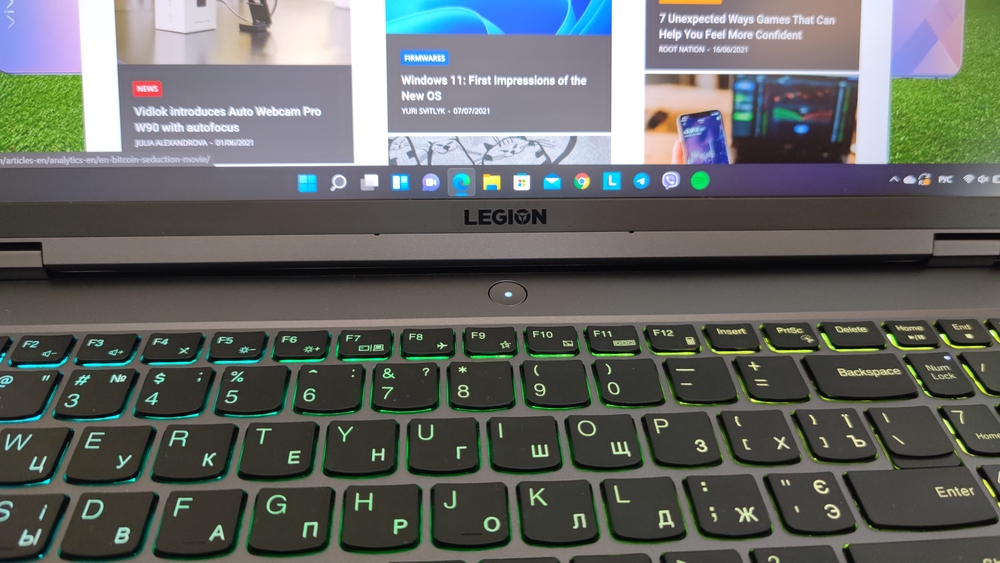 Now gaming laptops sometimes look so attractive that it is difficult to believe in the gaming orientation of such devices. Most manufacturers try to make their gaming laptops not only powerful, but also attractive in appearance. I especially like the Legion series from Lenovo.
Lenovo has been manufacturing laptops for gamers for quite a long time and has achieved significant success in this segment. Although now there is an incredible struggle for the consumer in this market segment. That's why Lenovo gaming laptops are always distinguished by their unique design, combination of high performance and affordable price. Today I will talk about the new representative of such devices from Lenovo – the updated Legion 5 Pro, which combines the latest developments from AMD and NVIDIA.
Read also: Lenovo ThinkBook Plus Review: E Ink on the Lid — Good or Bad?
What is interesting about the Lenovo Legion 5 Pro and what is the price?
Lenovo's Legion 5 Pro is an example of how two opposing forces come together for the common good. These forces are AMD and NVIDIA, and the gaming community benefits the most from this union. Equipped with the AMD Ryzen 7 5800 processor and the Nvidia GeForce RTX 3070 GPU (although in the tested version it is the GeForce RTX 3050 Ti), the Legion 5 Pro provides gamers with the power they need to run the latest popular games on Ultra graphics settings.
The Legion Legion 5 Pro I tested has a large enough 16-inch screen with 165 Hz refresh rate with adaptive synchronization and 100% sRGB coverage, making it ideal for games and professional programs. In addition, the laptop has a very efficient cooling system that provides high and stable performance.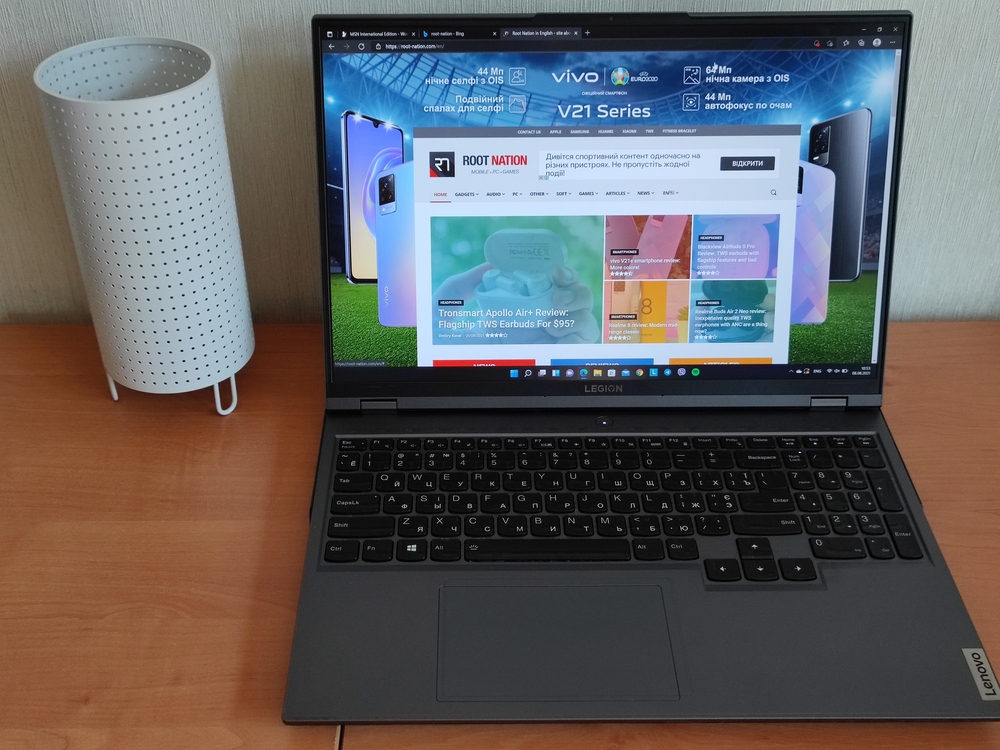 Unfortunately, the device has a relatively small battery, but this does not mean that the battery life is shorter than that of competitors. It's enough for comfortable work outside the home or office.
The Legion 5 Pro is one of the most interesting devices equipped with such effective components and a good screen, which makes it a versatile laptop for both players and people who deal with graphics, video editing and the like.
If we talk about my first impressions, I immediately realized that I was dealing with a powerful and at the same time beautiful device. It feels like the laptop is made not only for gamers, but also for those who want to have an excellent mobile device for everyday tasks in the office and other needs. Especially if you are a creative person and edit photo and video content, but also like to play cool modern games.
The price for the configuration with AMD Ryzen 7 5800H, NVIDIA GeForce RTX 3070 and 16 GB of RAM is expected to range from $2055.
Design and design features
The Legion 5 Pro has a familiar design from previous models, with hinge hinges protruding forward on the bottom of the case, which allowed to leave room for the rear grilles of the fan and the placement of ports. The aluminum case is quite rigid, it looks good thanks to the small angles of the cuts on the lid. You won't find any RGB lighting here except the Legion Y logo, which glows white when the laptop is closed and charged, or when it opens and turns on. The restrained gray color of the lid hides fingerprints, stains and dust particles well. You can also get an interesting version of the white color of Stingray.
I really liked the design of the Lenovo Legion 5 Pro. It is very aggressive: the ribs on the body behind the display resemble the ribs of the hood of a racing car, and the large air intakes on the sides and back say that the developers have worked as much as possible to optimize the hot air flow to cool the components.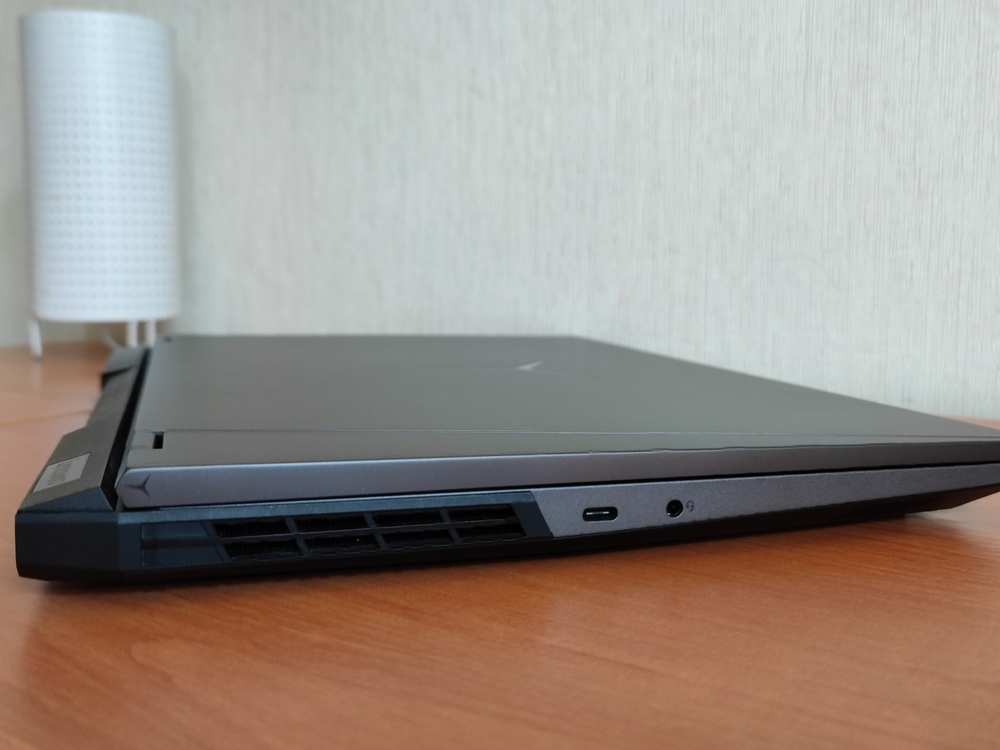 The thickness reaches 2.7 cm at the highest point, and the weight reaches 2.45 kg (you also need to add about a kilogram of the power supply). But these parameters are similar to many gaming laptops, especially in this price range. Also, consider the extra inch you get on the display, which increases the playing space compared to the more popular 15-inch machines. Of course, it is not easy to transport it, but these inconveniences are certainly compensated by the the performance, which we will talk about a little below.
Keyboard and touchpad
Opening the lid, we immediately see Lenovo's extended TrueStrike keyboard, which here was obviously designed more with a game focus in mind than for typing and "office" use. The buttons with the characteristic shape of Lenovo, like in the ThinkPad series laptops, slightly rounded on the bottom, completely made of black hard plastic, with a matte smooth surface and a very pleasant movement.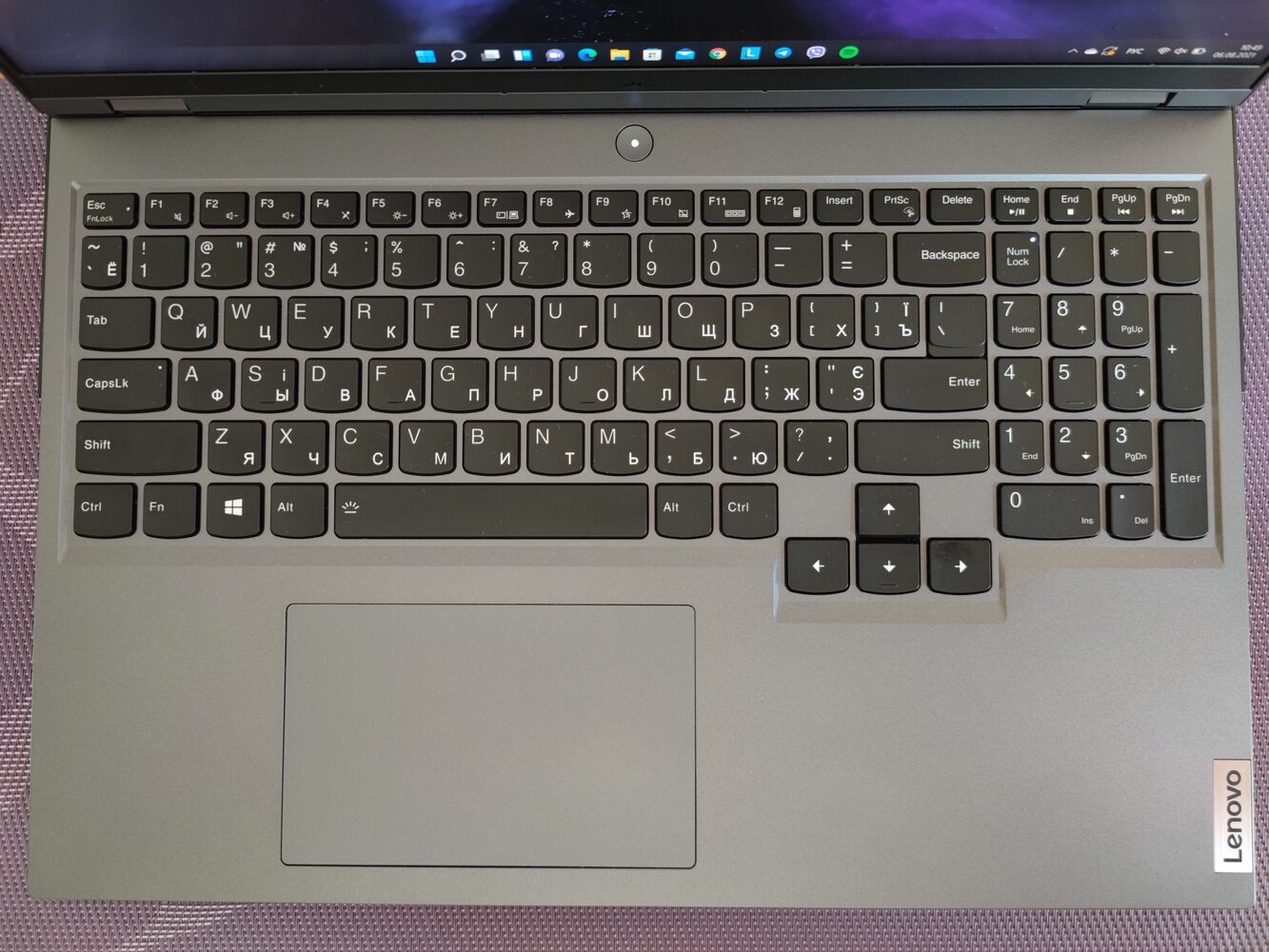 The arrows are full-size, and in addition, they are extended beyond the keyboard, so choosing the right one is not a problem. The NumPad is also full-size, and above it there are additional buttons that are responsible for navigating pages (Home, End, PgUp, PgDn), or used for alternative media playback control.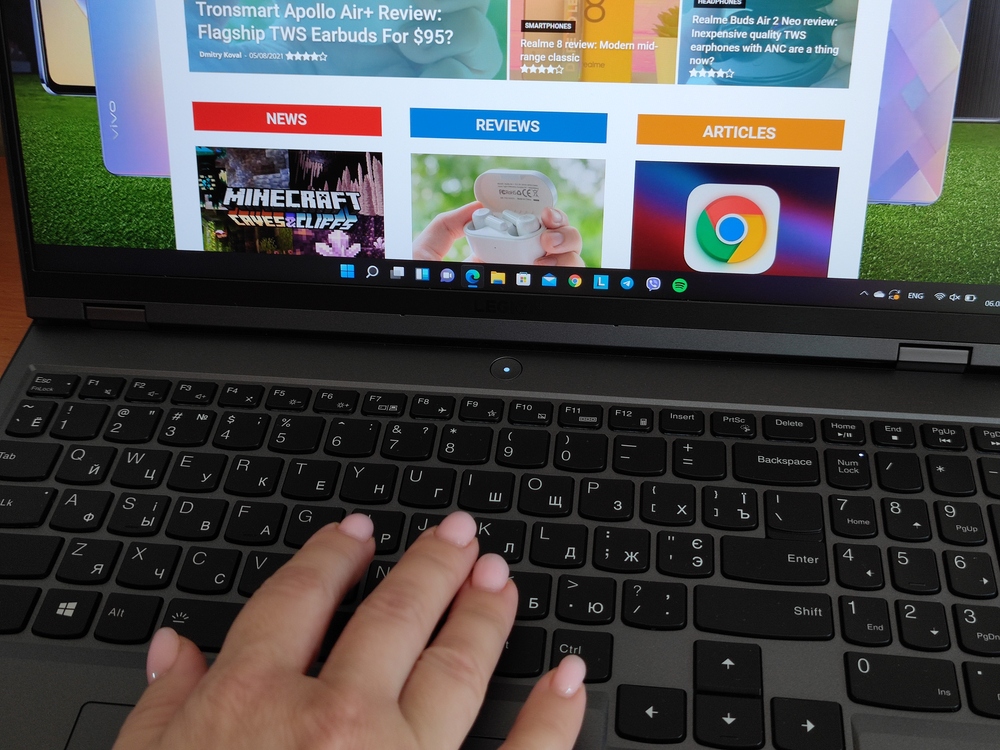 If you are a seriously motivated gamer, you would certainly better use a mechanical keyboard, but otherwise this one will do the job. You'll definitely like the four-zone RGB keyboard backlight, which is customizable. This is a gaming device alright.
The Precision touchpad is sizeable enough and is quite smooth. The touchpad performs its tasks, but we are talking about a solution that will almost always be accompanied by a mouse.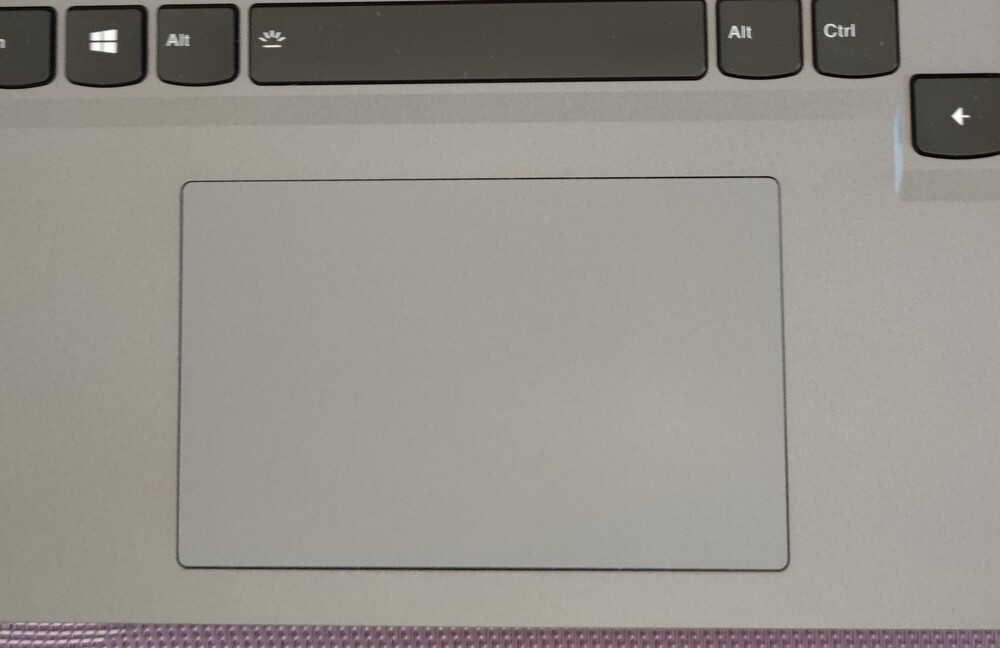 Ports and connectors
Most ports are located along the back edge between the fan grilles, making it easier to control the cables. There you will find an interesting Lenovo branded charging port, RJ45 Ethernet connectors, HDMI 2.1 (great for modern displays) and ports: one USB Type-C 3.2 (Gen 2) and three USB Type-A 3.2 (Gen 1).
The Lenovo Legion 5 Pro side edges also look quite interesting. Here, almost under the screen itself, there are holes for ventilation grilles, one on each side. On the left, there is also a classic 3.5 mm connector for wired headphones and another USB Type-C 3.2 (Gen 2) port.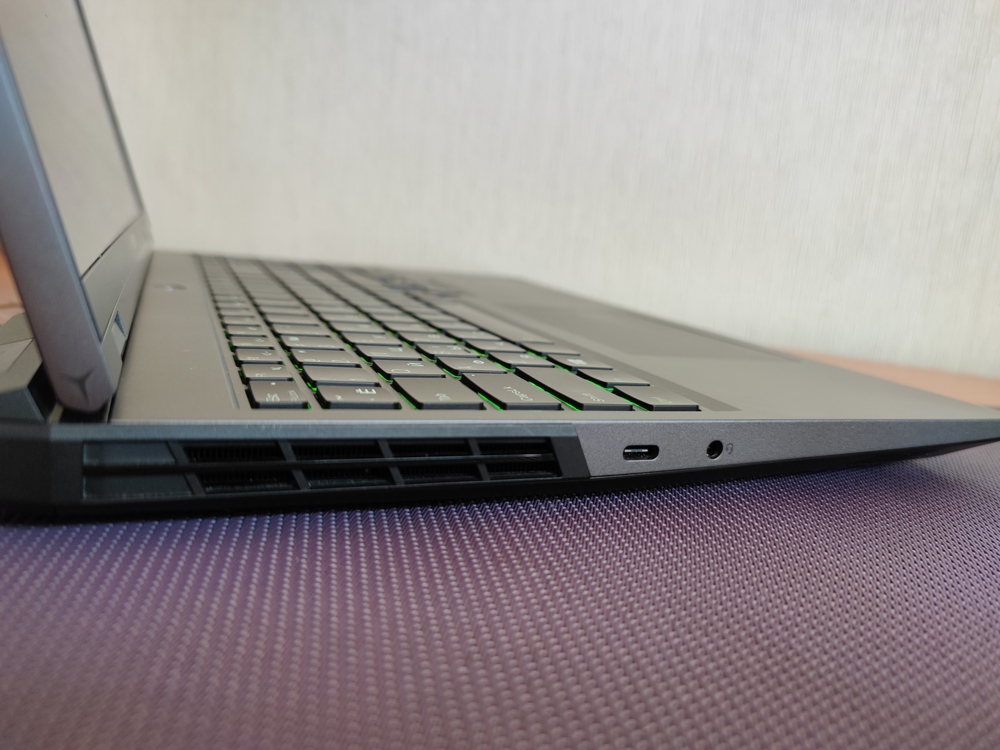 On the right side you will find USB Type-A 3.2 (Gen 1) and the camera's E-Shutter switch. This wonderful combination of ports and I/O connectors will give you the opportunity to connect everything you need without much trouble. Having Thunderbolt 4 support would be a good solution, but this disadvantage is a compromise for the AMD system. Maybe someone is also missing a memory card reader.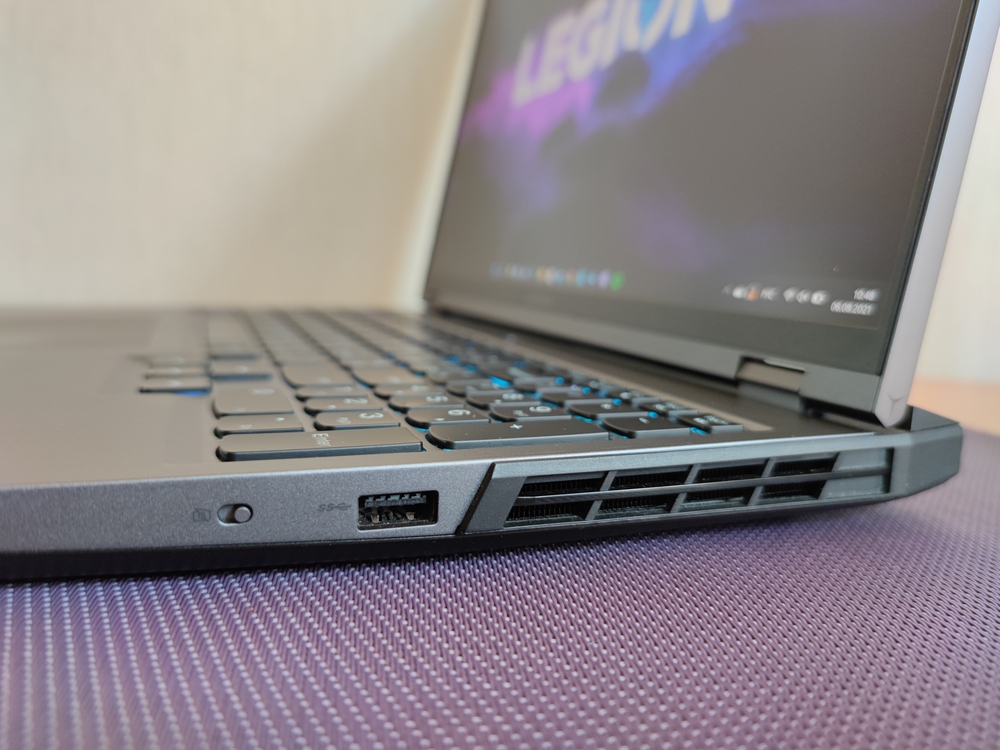 I also miss a biometric sensor for fast and secure access to the system. Despite the large amount of free space, we do not have a fingerprint scanner or infrared camera sensors for facial recognition.
16-inch display
The whole front panel under the lid is occupied by a 16-inch display. It's a pretty high-quality IPS matrix, but I'll tell you about it later. The display itself has quite thin frames. The side edges are about 7 mm wide, the top edge is slightly wider, about 8 mm, and at the place of the slightly protruding edge of the valve is 10 mm thick.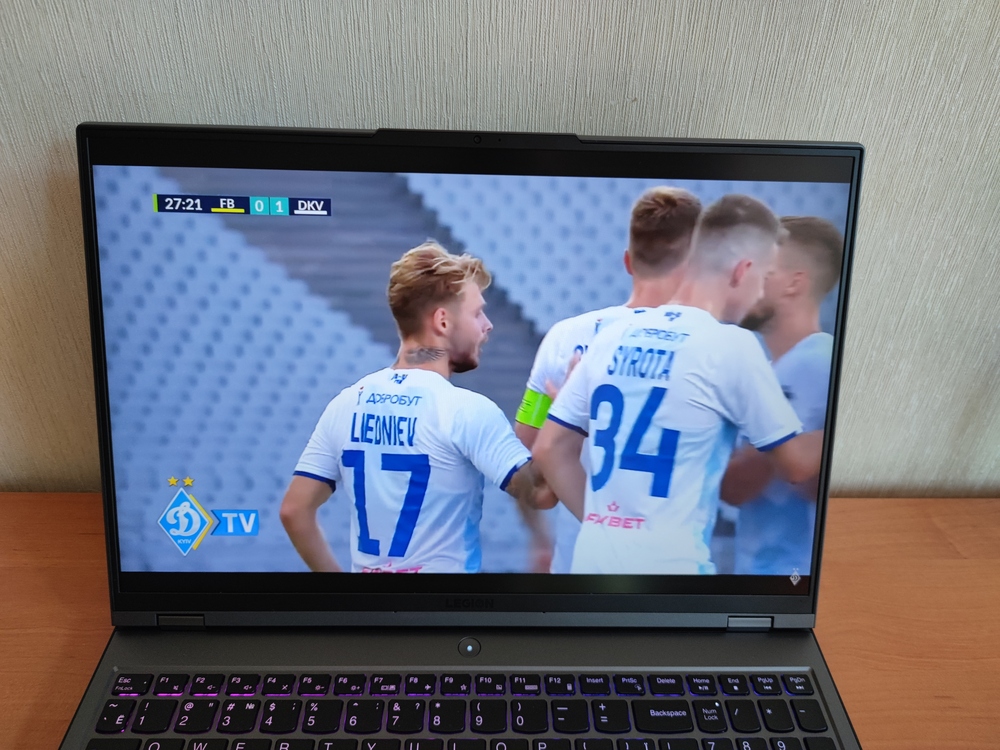 At the top, almost in the center, there is a 720p front camera. It is pretty good. Grain is almost non-existent, and it does a good job of exposure during video calls. I have already written that on the right side of the laptop there is a built-in switch with an E-Shutter shutter, which closes the camera's eye if necessary for additional privacy.
The bottom part is thicker than the others. This is understandable, as there are two hinges here which hold the lid with the display. They are quite elastic and hold the display firmly above the bottom at the selected angle. The angle of inclination itself is no more than 120°, but this is enough for comfortable use.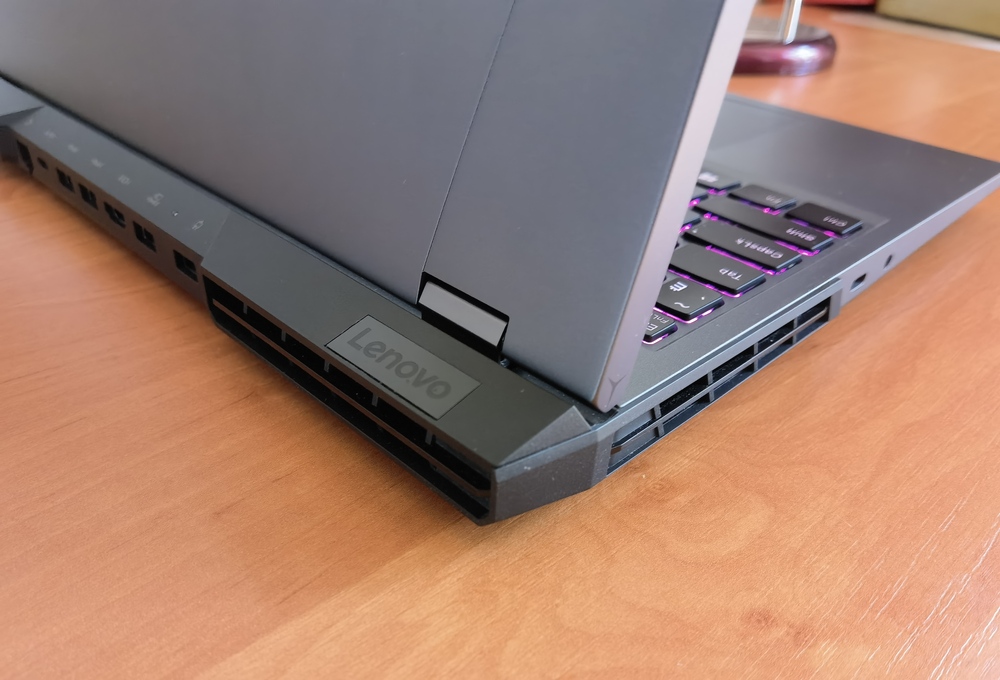 On the bottom, we see a few more grilles for exhausting hot air from the laptop case. Here they are located with an interesting pattern that instantly attracts the eye.
The solid plastic stripe at the top and two legs at the bottom allowed me to comfortably hold my laptop both on the flat surface of the desktop and on my knees during typing.
Read also: Acer Nitro 5 2020 review: Good Gaming Laptop Doesn't Have to be Expensive
Great display for games
Let's take a look at the display that was included in this configuration. We are talking about a 16-inch panel with a 16:10 aspect ratio (the first time Lenovo has moved away from a 16:9 ratio in a gaming laptop) and a resolution of 2560×1600 pixels. We have a refresh rate of 165 Hz and a response time of only 3 milliseconds, as well as G-Sync.
Also note is the support for Dolby Vision and VESA DisplayHDR 400. We're talking about the classic IPS LCD display, which, despite these very specific characteristics, retains good quality in terms of calibration and color reproduction.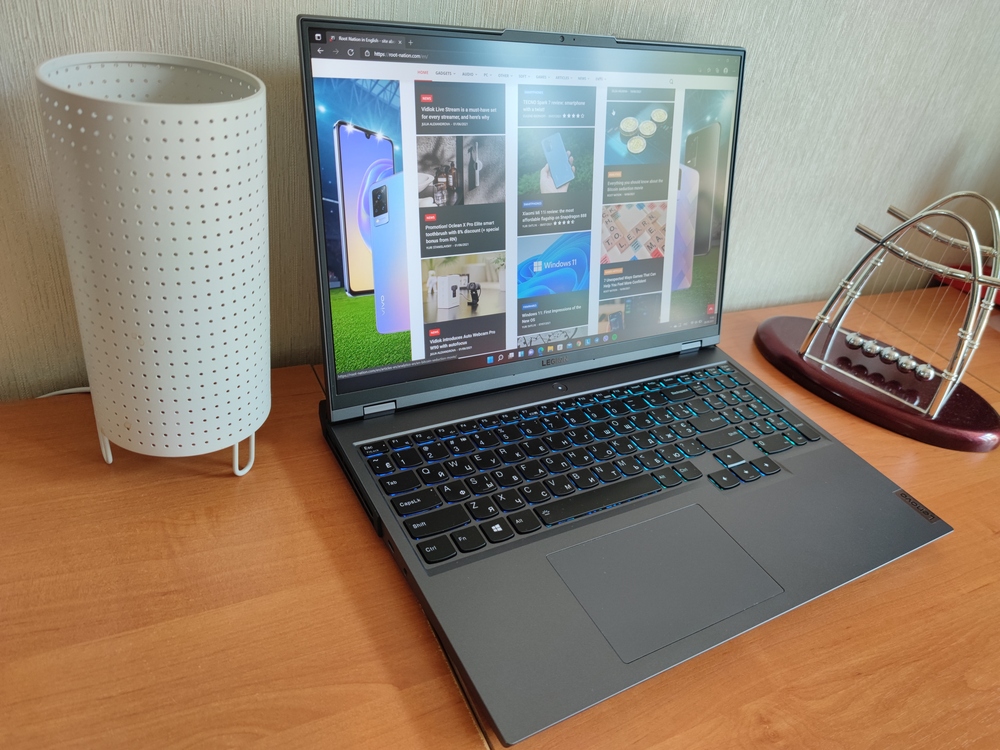 Whether I'm playing or just watching the series on Netflix, the Legion 5 Pro display is always a pleasure. It can be really bright and it has very wide viewing angles. In fact, we have a maximum brightness of 500 cd/m2 and a good contrast ratio.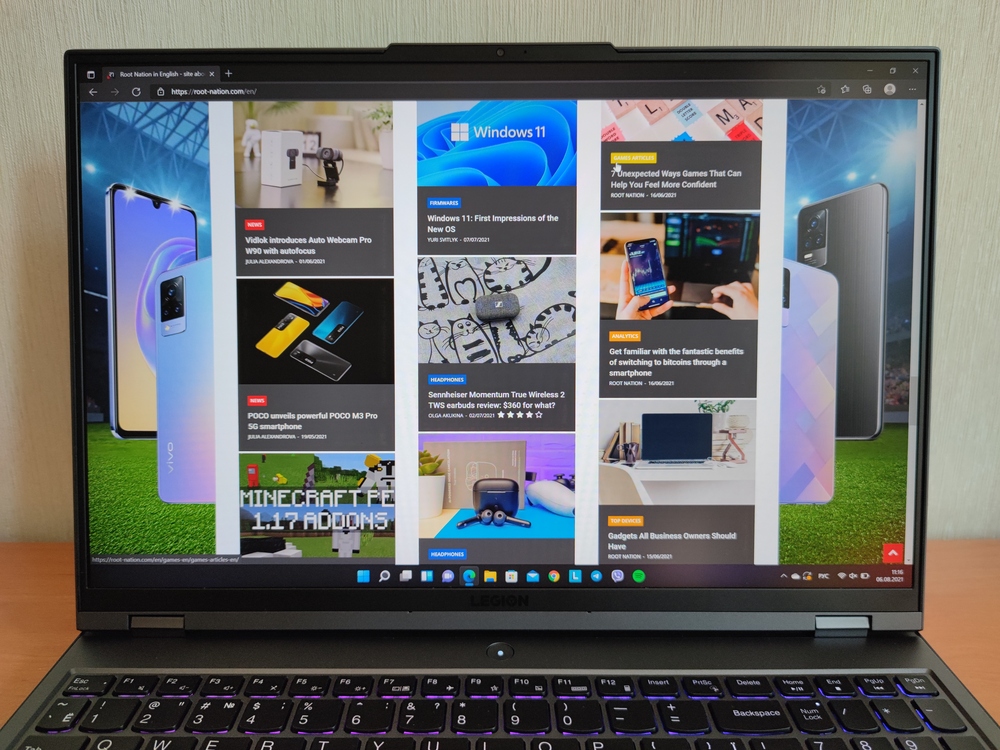 These two parameters, combined with a matte coating that minimizes the reflection of the environment, create a very comfortable screen. In addition, we must note the full coverage of the sRGB standard and the DeltaE value, which is low enough for both gray and color shades.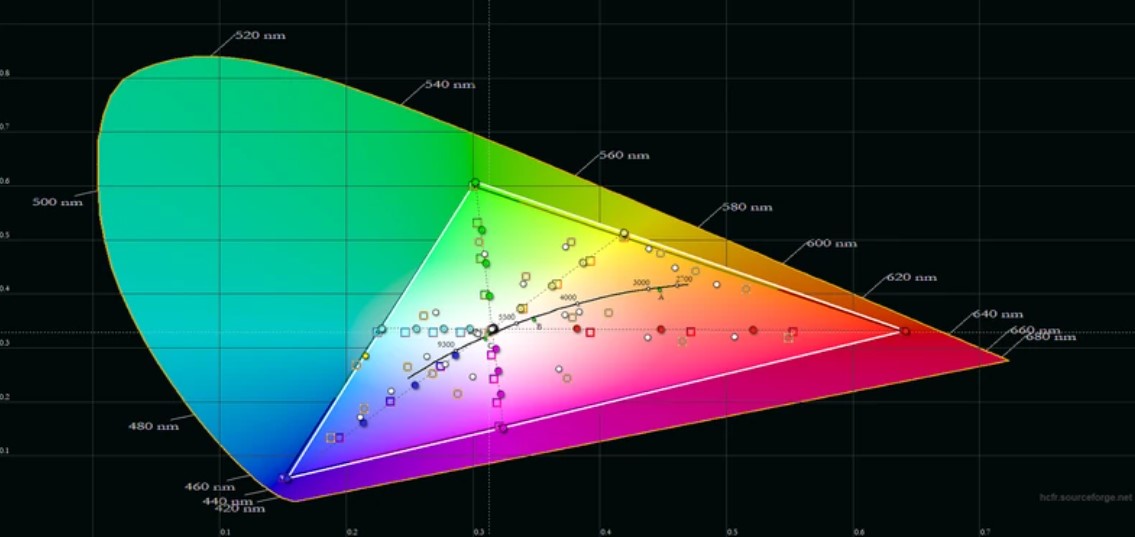 The color temperature of the white is almost exemplary and is 6438K. 97.2% sRGB coverage is also excellent (for AdobeRGB it is 68.8%, and for DCI-P3 72.1%). However, the color reproduction accuracy is slightly weaker: the average DeltaE error for the sRGB range is 5.0 and the maximum error is 7.87. Lenovo also added XRite color correction to Legion 5 Pro, providing a switch between Rec.709 and sRGB profiles. When sRGB mode is enabled, the maximum DeltaE color offset is only 0.77, and the color accuracy is very good.
| | |
| --- | --- |
| Screen size | 16″ |
| Resolution | 1920×1080 pixels |
| Type | IPS, matte |
| Refresh rate | 165 Hz (with adaptive synchronization/G-SYNC) |
| Maximum brightness | 450 cd/m2 |
| sRGB color palette | 97,2% |
| Adobe RGB color palette | 68,8% |
| DCI-P3 color palette | 72,1% |
| Brightness of black (at 180 cd/m2) | 0.22 cd/m2 |
| Real (static) contrast | 1:820 |
| Color temperature white | 6438 K |
| Average DeltaE error (sRGB) | 5,00 |
| Maximum DeltaE error (sRGB) | 7,87 |
This set of features makes the Legion 5 Pro model screen almost ideal for gaming or working or viewing media. The high refresh rate creates the impression of speed while browsing the Internet and during the game.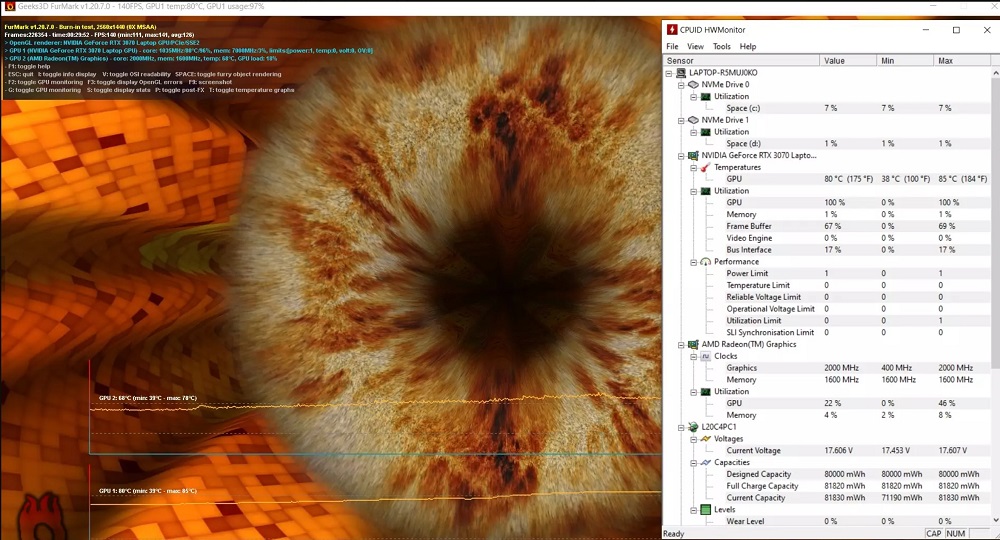 High maximum brightness and matte coating allow you to have fun and work in bright lighting conditions, and the high level of coverage of the sRGB palette makes colors in games and movies rich. The laptop can be used for semi-professional photo editing, graphics and film editing (although more demanding programs may require screen calibration).
Two speakers and Nahimic Audio
The 2W speakers were placed on both sides for decent sound. They won't surprise you in themselves, but a lot of settings are available with Nahimic Audio. You can customize them for music, movies, voice chat or games.
There's a 3.5 mm audio connector on the left, so you will definitely not have any issues with sound. The built-in speakers are loud, with almost no distortion of sound even though they lack bass, which I felt when I listened to music from Spotify.
Excellent performance and efficiency of the Lenovo Legion 5 Pro
As I said at the beginning of the review, this is a gaming laptop, and so Lenovo developers sought first of all to make its functionality appropriate to the purpose of the device, and therefore perfectly balance all the components under the case. It should be noted that they did it perfectly.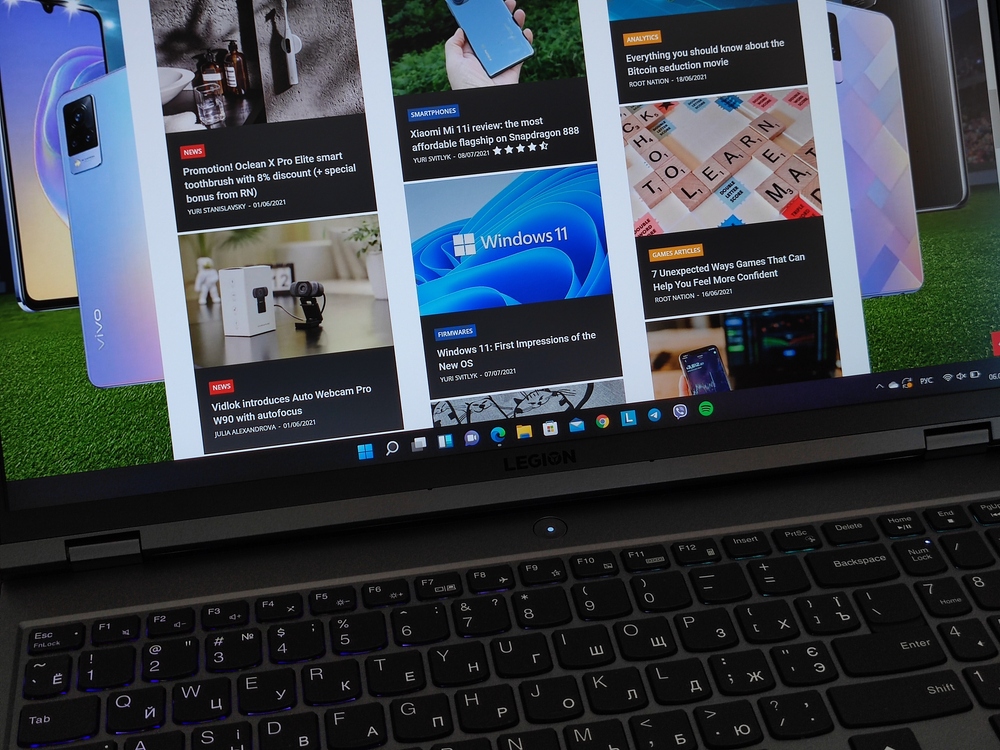 The Legion 5 Pro uses one of the latest AMD Ryzen 7 5800H processors, which belongs to the Cezanne family. It has 8 cores based on the latest Zen3 microarchitecture with a clock speed of 3.2-4.4 GHz, and also supports SMT (16 threads). That is, this chip is capable of reaching a maximum frequency of 4.4 GHz and a significant increase in IPC compared to its predecessor.
In addition to eight cores, this processor also has an integrated AMD Radeon RX Vega 8 graphics card with 8 compute units and a frequency of up to 2000 MHz. The dual-channel memory controller supports DDR4-3200 MHz and energy-efficient LPDDR4-4266 memory. In addition, the chip has 16 MB of L3 cache. The chip's TDP is 45W (default) and can be configured by laptop manufacturers in the range of 35 to 54 W.
Lenovo-Legion-5-Pro-CPU-Z
There is a built-in AIDA64 stability testing tool for one-time FPU mode selection with the highest CPU load, processor power remained stable at about 76 W, and the processor frequency stabilized at 3.8-3.9 GHz. That is, it is safe to say that this Ryzen 7 5800H laptop has the highest performance values.
The Ryzen 7 5800H processor has a slight improvement in multithreaded performance compared to its predecessor, but single-threaded performance, which has a greater impact on gaming performance, has improved significantly.
The almost perfect union of the new AMD Ryzen 7 5800H processor with the NVIDIA GeForce RTX 3050 Ti graphics card (and there is also an option with the RTX 3070) does its job. It is one of the most powerful gaming laptops on the market.
The technical characteristics of the new GeForce RTX 3050 Ti first remind us of the characteristics of its immediate predecessor, the GTX 1650 Ti: in addition to the speed of Boost (1495 MHz for the tested model), the size of video memory is also identical, 4 GB GDDR6-VRAM with a 128-bit interface.
NVIDIA has increased the number of shader units, although they are not exactly identical due to different GPU architectures (Ampere vs. Turing). Instead of 1024 CUDA cores, the RTX 3050 Ti is equipped with 2,560 CUDA cores, indicating a noticeable performance advantage. It is even higher when compared to the GTX 1660 Ti (1536 shader units) and RTX 2060 (1920 shader units), although both are supported by 6 GB VRAM and 192-bit interface. However, the new midrange GPU is still far behind the RTX 3060 (3,840 shader units).
Like the more expensive Ampere GPUs, the RTX 3050 Ti also has a very wide TGP range, which significantly affects performance. The Legion 5 Pro with the RTX 3070 manages to work at 95W at all times, and in some situations even brings it to 105 watts. All this is possible thanks to a good heat dissipation system and the right balance of all platform elements.
I didn't feel any problems during the gameplay. So if you're an avid gamer and want maximum performance, you'd better choose a configuration with NVIDIA GeForce RTX 3070.
16 GB of RAM (these are two bars of 8 GB Samsung DDR4 3200 MHz) and up to 2 TB of storage will also help you with this. In the Lenovo Legion 5 Pro I tested there are modern Samsung MZVLB1T0HBLR-000L2 SSD drives of 1 TB each, which support PCIe 3.0 × 4 protocol and 3D TLC technology.
This set is enough to feel comfortable not only in everyday tasks, but also during gameplay. It should also be mentioned that the Intel AX200 wireless network card supports WiFi 6 and 2 × 2 MU-MIMO protocol. They haven't forgotten about Bluetooth 5.1 support either. All this out of the box works on Windows 10 Pro. However, I decided to install the beta version of the new Windows 11. A few minutes, and the new OS was already up and running.
This means that buying a new gaming laptop from Lenovo you will not feel any problems upgrading to Windows 11. By the way, it seems to me that on the new OS it works even faster than on Windows 10 and looks more aesthetically attractive in terms of settings.
Lenovo Legion 5 Pro has received many certifications that confirm its performance and efficiency, which sets it apart from the competition.
Performance in video games
Of course, when testing a new gaming laptop, you need to check how it behaves in terms of games. I'll tell you frankly, I really enjoyed playing on this laptop.
Lenovo has focused on its AI-enabled-configured AI engine to ensure performance optimization regardless of the task. It works with the "Q Control" setting, which allows you to quickly switch between performance, balance and quiet modes.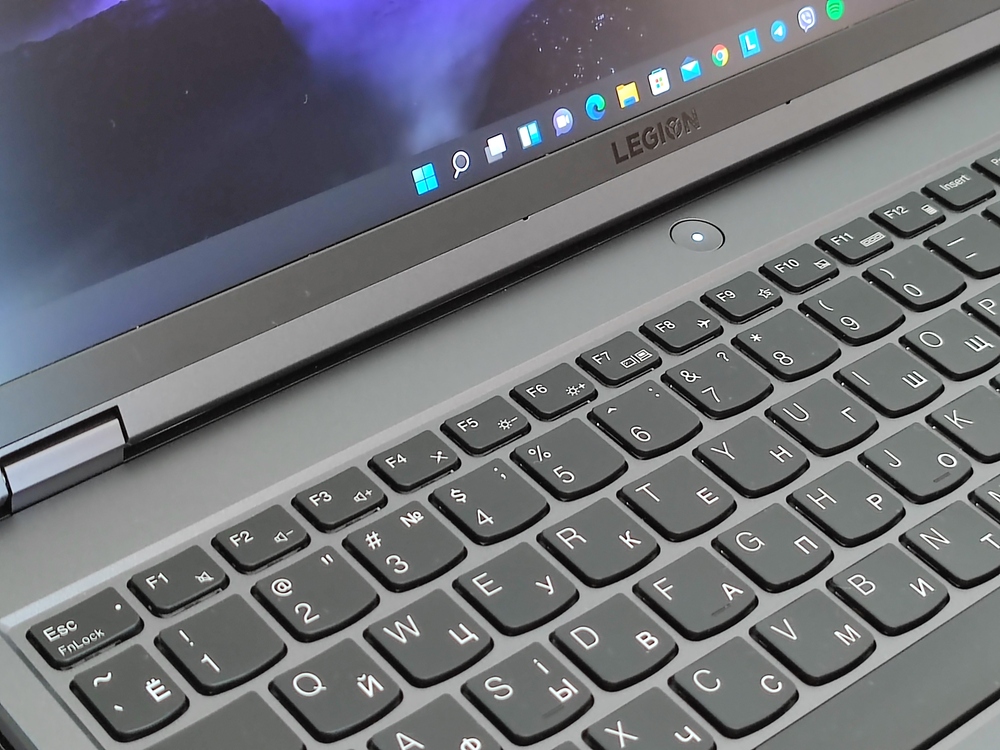 All this is processed in the Lenovo Vantage program designed to focus on games. Here you can also give priority to games, as well as reduce screen response time, block the touchpad, enable hybrid mode to disable the onboard GPU and much more. This is usually enough for an ordinary user. But if you want to go deeper into the system settings, or if you encounter excessive or insufficient overclocking, you can check BIOS, or some third-party software.
Lenovo-Legion-5-Pro-Vantage
I decided to use the full potential of the Lenovo Legion 5 Pro, so I used the resolution of 2560×1600, with 165Hz. DLSS and RTX have also been turned off.
Here are some of my observations and impressions:
Far Cry: New Dawn: At extremely high settings, the average frame rate can reach 80 frames per second, the lowest is 65 frames per second, everything runs smoothly.
Forza Horizon 4: also played on high. The average frame rate reaches 124 frames per second, the game works smoothly
Shadow of the Tomb Raider: Had the best image quality on the Legion 5 Pro for me. The average frame rate can reach 64 frames per second.
Assassin's Creed: Hall of Valor, which is a very demanding game, can get an average of 63 frames per second on very high settings.
PlayerUnknown Battlegrounds: good image quality, 100% visualization rate, and average frame rate can reach about 108 frames per second. With less load, Overwatch can get a high rate of 150 frames per second with 100% high quality rendering.
I got a great gaming experience with support for G-SYNC technology and 165 Hz. The screen with a resolution of up to 2560×1600 will allow players to clearly see all the details of the image. A 2K high-resolution screen on a laptop is a huge plus.
The Lenovo Legion 5 Pro in action
I really want to tell you about my impressions of the Lenovo Legion 5 Pro. Although the Ryzen 7 emits little heat during downtime, Coldfront 3.0 cooling fans, regardless of the performance profile selected, remain active. However, the sound of 22.4 dBA is almost inaudible when performing everyday tasks, such as surfing the Internet or watching YouTube. Although sometimes in balanced/efficient mode, fans generate tangible sound with an intensity of 25.6 to 28.1 dBA.
To remove heat from components that run at such high power, the fans of the relatively modest Coldfront 3.0 cooling system rotate at great speed, and thus generate a lot of noise. During the game this means quite annoying noise at 45.1 dBA.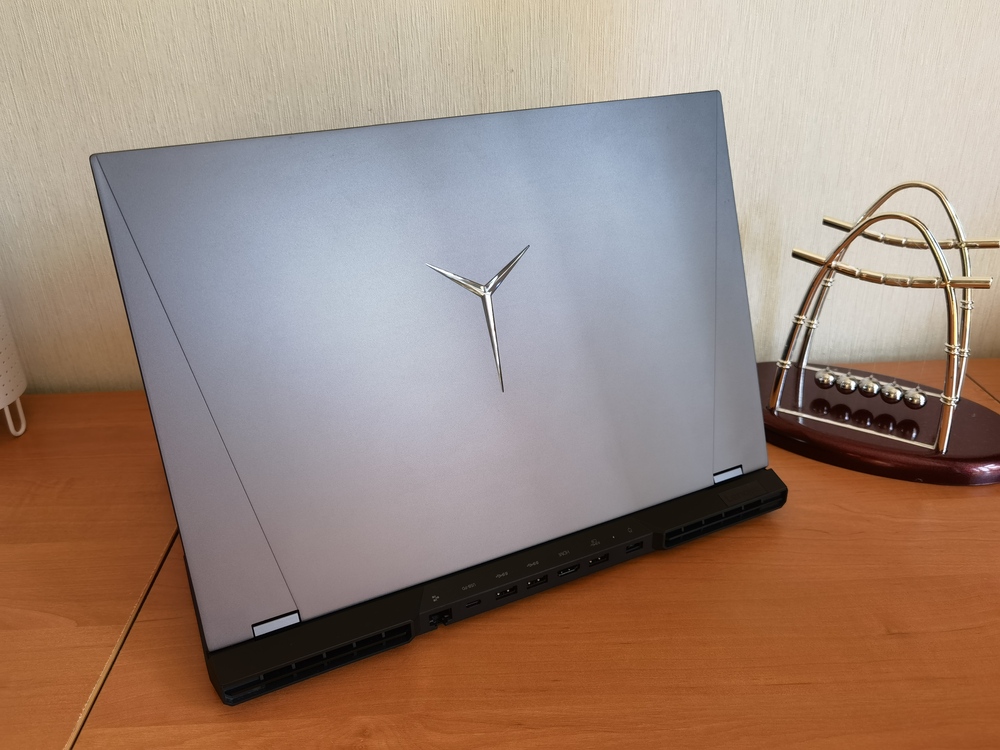 However, the big advantage of the Legion 5 Pro is that it maintains a relatively low temperature in the case. Even at maximum load, the temperature at the warmest place gets to about 40° C, and important areas, such as the WSAD button area or the area under the wrists, heats to about 30° only. Even while playing heavy titles, the laptop remains relatively cold. I love working by putting the device on my knees. It's not quite comfortable in summer, since it can get hot, but not with Lenovo Legion 5 Pro. Surprisingly, it remained cool even when I typed or edited photos. Most powerful laptops are almost impossible to keep on your knees in such situations.
Read also:
Good battery life
Thanks to the large 16-inch case of this laptop, there is enough space to install an 80 Wh battery. According to Lenovo, this battery capacity is enough for 6.5 hours of operation when performing normal everyday tasks and can reach 8 hours if you switch to low-power mode. Please note that it is better not to use the battery for games, this will lead to a serious loss of battery life.
What's in practice? In fact, everything is almost as promised by the manufacturer. I used up one battery charge in 6 hours while typing, editing photos, communicating on social network or watching the Olympic Games in Tokyo on YouTube. But during gameplay, I very rarely used my laptop without an outlet. The battery charge literally melts in front of your eyes, and then you need to connect the charger urgently. This is not just Lenovo Legion 5 Pro problem, all gaming laptops are like that.
By the way, the charger, which, as I told you, provides power up to 300 W, is quite large and weighs almost a kilogram. The good news is that it fully charges the laptop in standby mode in about an hour and twenty minutes.
Should you buy the Lenovo Legion 5 Pro?
Legion series laptops are very popular for a reason, and the 5 Pro confirms that it deserves recognition even by demanding users. Among the many advantages is the eight-core AMD Ryzen 5800H, which provides very high performance, both in single-threaded apps and in programs that use all cores. At the same time, it is very energy-efficient, making it ideal for both everyday tasks and games. Another Legion 5 Pro's advantage is the RTX 3050 Ti GPU with up to 95W, which is almost the maximum value for this mobile GPU. This means extremely high gaming performance for this system – several percent higher than other similar laptops.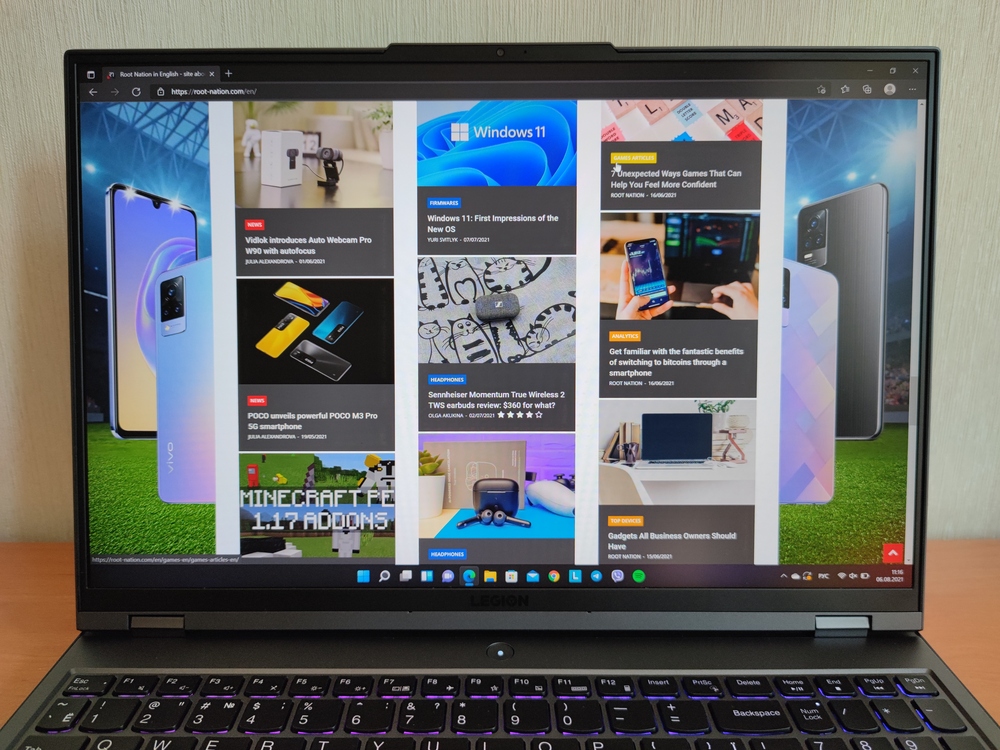 Also worth noting the gorgeous 16" QHD+ display with 16:10 aspect ratio, 165Hz refresh rate, 500+ nit brightness, and features like NVIDIA G-Sync, Dolby Vision and HDR. Thanks to the high refresh rate, both during daily use of the laptop and during games, we get the impression of speed and additional smoothness. High color coverage means that when viewing photos and videos, as well as in games, the colors are saturated and deep. Thanks to that the Legion 5 Pro is also very good for semi-professional photo processing and video editing.
The device boasts a very efficient cooling system. Although key components operate at high power and therefore generate a huge amount of heat, their temperature is kept within reasonable limits. This guarantees high efficiency, even during long-term use, and a comfortable temperature of the case.
The comfort of use is also positively affected by a very convenient keyboard with an intuitive layout, which works well both when typing and during the game, and the large number of ports allows you to connect almost all the necessary accessories like an external monitor.
The Legion 5 Pro gaming laptop has little flaws, and most aren't a big problem. Among such cons, I can mention the average battery life.
The Legion 5 Pro impressed me a lot, and I can recommend it to anyone who wants to buy a modern gaming laptop, play on a 16-inch QHD+ display and is looking for high performance for an affordable price. This is a powerful gaming machine that is also good for games and everyday tasks.
Pros
Attractive "gamer" design
Quality housing materials
Very convenient keyboard with intuitive layout
High-quality 16-inch QHD+ display
Large set of ports and connectors
Solid performance in all situations (AMD Ryzen 5800H and NVIDIA GeForce 3050 Ti)
Fast SSD drives up to 2 TB
Reliable cooling system
Adequate price
Cons
Lack of a biometric sensor for fast and secure access to the system
Mediocre battery life during gameplay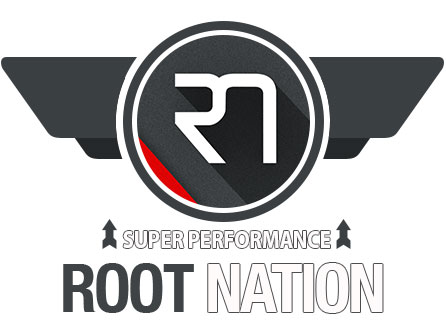 Subscribe to our accounts: