What we love Lenovo for is its willingness to make bold experiments, and not with prototypes, but with serial, mass products, which might end up as a costly mistake. This time the ever-brave Lenovo is trying not only to cross a laptop and an E Ink screen, but also sell it to the masses. And the result is the Lenovo ThinkBook Plus. Is it any good? Let's figure it out.
The first attempt, let me remind you, was when the Lenovo Yoga Book C930 (not to be confused with the Yoga C930, this is a completely different device) was released, and had its keyboard replaced with an E Ink screen. The device wasn't popular, because it was small and insufficiently functional as the main computer, too expensive as the second computer, and many did not like the idea of ​​completely abandoning the mechanical keyboard. Although the Yoga Book was beyond sexy, at least in my book.
And if the Yoga Book C930 is not practical enough for you, then let's go from the other side and take the most practical of the practical ones (ThinkBook) as a basis. Now let's attach E Ink to the lid and leave the mechanical keyboard be. The second screen can only be attached to the bottom. This is supposedly in order to read books and take notes without opening the computer.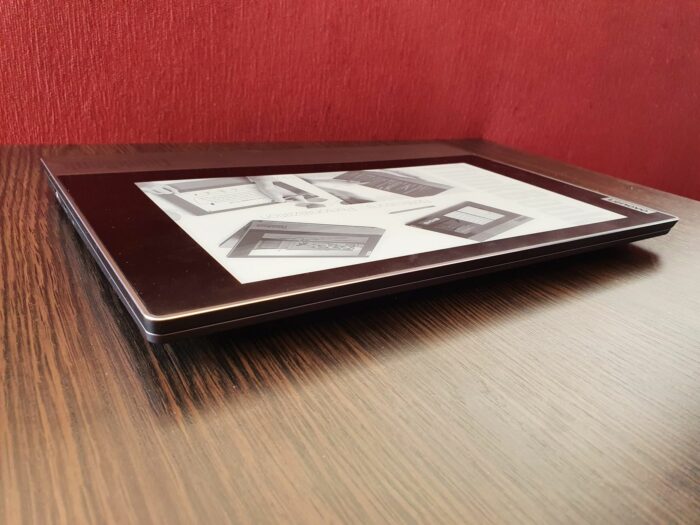 Class, configurations and prices
Lenovo ThinkBook Plus is a 13-inch laptop that looks like something between an ultrabook and a regular laptop. In some countries, it is available in two configurations. The cheaper, 20TG000RRA, is equipped with an Intel Core i5 processor, 8 GB of RAM and a 256 GB SSD, and it costs approximately $1600. The more expensive 20TG005ARA is equipped with a Core i7 processor and 16 GB of RAM and 512 GB of SSD. It costs $1680.
Needless to say, the price category that the laptop falls into is quite serious. For this money, the buyer can choose a model from the flagship or gaming series of any manufacturer, counting on at least Core i5/8 GB/256 GB. This is who our subject has to compete with.
Lenovo ThinkBook Plus 20TG000RRA full specifications
Let's start, as usual, with the table. It concerns the junior configuration, which we reviewed.
Operating system
Windows 10 Pro
Processor
Intel Core i5 10210U, 4 cores, base frequency 1.6 GHz
Ram
8 GB DDR4
Storage
256 GB SSD
Display

External: 10.8′′ E Ink, monochrome, 1920×1080 pixels
Main: 13, " IPS, 1920×1080 pixels, brightness up to 300 nits

Video adapter
Built-in Intel UHD based on UMA architecture
Battery
45Wh, Rapid Charge Technology Support
Wireless interfaces

Wi-Fi IEEE 802.11ax 2×2
Bluetooth 5.0

Security

The fingerprint scanner is built into the power button
DTPM 2.0 trust platform module

Audio system

Dolby Audio
Harman Kardon speakers

Webcam
720p
Dimensions
308.0×217.0×17.4 mm
Weight
1.4 kg
Ports and connectors

USB-C (DisplayPort + power supply)
2 × USB 3.0, 1 × USB-A (one always on)
HDMI 1.4b
3.5 mm mini jack for microphone and headphones
Read also:
What's in the box
The laptop comes in a shabby brown box, inside which is… another cardboard box, much more attractive, which hides the device itself, and under it in a secret compartment with the stylus and documentation. The laptop itself lies in an envelope made of thin packaging fabric, the same envelope is found between the screen and the keyboard. Next to the laptop is a folder for it, quite solid in appearance, made of a combination of fabric (super stylish texture) and artificial leather (quote mediocre).
The laptop is inserted into the folder through the upper end, for this you need to open two narrow valves. A usual system for a usual laptop, but for ThinkBook Plus, to which the stylus is magnetized on the side, it is inconvenient – the stylus periodically comes off when inserting and removing the device.
The set is completed by a compact charger with USB-C – it is a traditional design for laptops, with full grounding of the AC circuit. After certain accidents with charging Microsoft Surface Pro 7, I learned to appreciate this feature.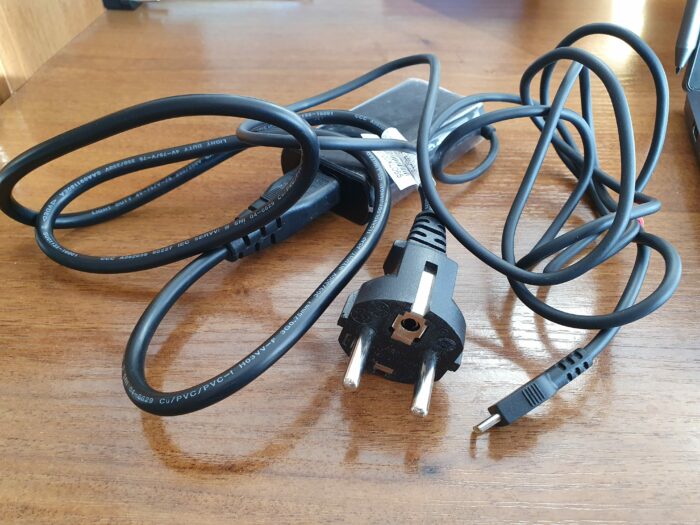 Design
Nice, classy, solidly built, dark metal case looks quite decent. The external E Ink screen, its background image and a wide black frame around it, of course, leave no chance for minimalism, and the device looks rather lurid. The situation can be somewhat improved by choosing a black background for the external screen.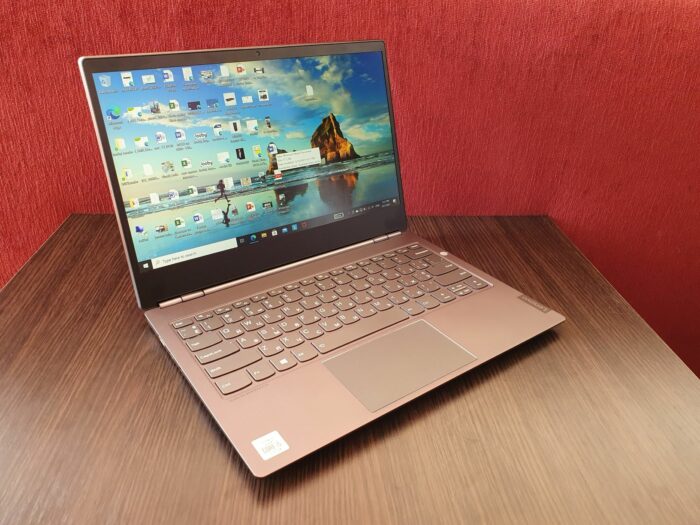 Several design nuances should be noted separately. The first one is a rather thick lid, which is to be expected, since it hides a "sandwich" of two screens. However, it is not heavy, and practically does not affect the mass balance of the laptop.
But the device itself is heavy. Subjectively, it seems that its weight is more than the declared 1.4 kg. It is impossible to open the lid with one hand – there is nothing to grab onto, and the hinge is rather tight.
Lenovo ThinkBook Plus specs
Looking ahead, I will say that in terms of specs and performance, this is a completely ordinary laptop. Therefore, I did not pay much attention to formal testing. If you wish, it will not be difficult for you to find detailed reviews of this model on the internet.
Computing platform and performance
There is some kind of processor inside, and that's enough. A joke, of course, but not without a grain of truth. Comet Lake-U is not the newest or fastest chip, although it belongs to the 10th generation Intel Core i. In simple office tasks in tandem with 8 GB of RAM, working is quite comfortable. Office tasks are fine, heavier stuff not so much.
Read also:
Display
Nothing fancy on paper, but in real life it is quite a pleasant screen. The matte finish prevents glare. Viewing angles are excellent, contrast and colors are virtually distortion-free. There is color rendition, red is predominantly similar to red, and blue to blue. Also a joke, but you don't need much more from an office laptop. Here we have just 300 nits – not enough, in the summer it will be somewhat uncomfortable trying to work in the fresh air. The lack of glare will help a little, but it will not completely save the situation.
Keyboard
The Lenovoesque keys are quite pleasant to work with. The layout is mostly classic, which is good. The only exception is the right slash key, which has eaten away part of the Enter. But backlighting is nice – clear, uniform, color of unlit and backlit symbols perfectly contrasts with the background under any conditions.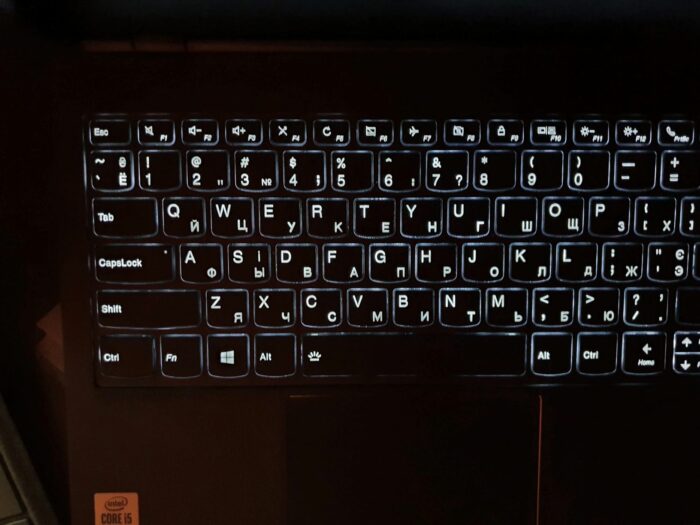 It is disappointing that, by default, the F1-F12 keys work like F1-F12, and not like controls – almost all laptops do not require additional pressing of the Fn key to adjust the volume or brightness, and this throwback is not welcome. The keyboard backlight control is also atypical – Fn + Space, but you can get used to it; in the dark it is much easier to find the spacebar than one of the many small keys.
Interfaces
Two USB-A ports on one side of the case, one USB-C through which the laptop charges – the usual. The good old HDMI and mini-jack for audio are here as well. Everything is conveniently located, you can use it without any problems. There are no issues with the work of Wi-Fi and Bluetooth either.
Fingerprint sensor
A fingerprint scanner is built into the power button. Unfortunately, you can register only one fingerprint, and the laptop will always have to be turned on with the same finger. This is not convenient at all. However, there are no issues with the sensor. If you don't like this login method, you can use other standard Windows Hello options – password, PIN, physical key, picture password. There is facial recognition in the Windows Hello options, but it cannot be activated – the device is not equipped with all the necessary sensors.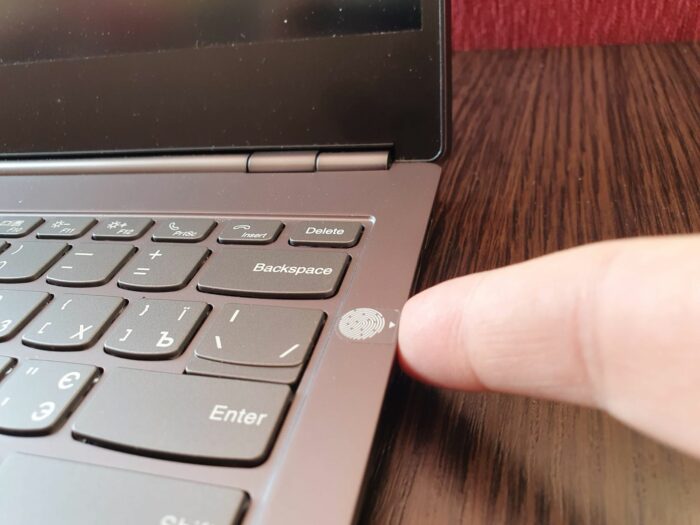 Camera
It's cheap, and that says it all. In good light, the image is mediocre. If it is bad, the noise reduction practically leaves no grain, but the image becomes very fuzzy.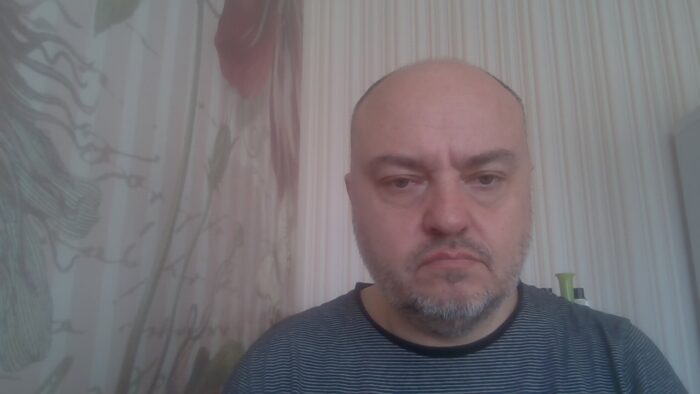 Battery life and charging
When you start working with a fully charged laptop, Windows and Lenovo Vantage (a proprietary program that, among other things, shows the battery charge and the forecast of operating time) promise mountains of gold – sometimes 7 or even 9 hours of work, and this at a brightness close to maximum. However, this means nothing, and it seems that time for the Lenovo ThinkBook Plus is running faster than for the rest of the world. In reality, with an average screen brightness, all you have is about 4 hours. But remember about 300 nits – for work, you have to set a higher percentage, which means that the device does not survive 4 hours. This is the ThinkBook Plus' only drawback as a laptop, but it is quite significant.
The laptop sleeps okay – not bad and not good. From evening to morning, it loses 4-6% of the charge, depending on when and how the evening ended, and when the morning began. This is more than the best rivals (for example, Microsoft Surface Pro 7 loses up to 3%), but not a disaster. This is achieved with the default energy management settings (sleep after 5 minutes of inactivity, or when the lid is closed). If anyone wants to improve it, they can use hibernation, to get deep sleep at the cost of a slower awakening. The laptop comes out of sleep mode in 10-15 seconds, although it won't impress users who have experience with devices that support the Instant On function.
But fast charging is quote good: in 45 minutes the laptop got from 13% to 81%.
Important notes
I think it is worth highlighting two aspects that do not actually match expectations, despite the fact that the laptop has a stylus and a touchpad on the E Ink screen.
First, the main display of the Lenovo ThinkBook Plus is NOT a touchscreen. This is a huge disappointment. You can poke it with a stylus or a finger, it wouldn't care one bit. This is a big loss, considering that you can find a number of examples of using the stylus during normal operation in Windows – annotating screenshots, and helping with presentations, drawing in color, and other features. If the stylus worked on both screens, the value of the entire device would increase significantly.
Secondly, the ThinkBook Plus is not a transformer. It is impossible to rotate it 360 degrees and get a tablet. And this is kinda expected from a laptop with a bundled stylus. But it can only be opened 180°.
Lenovo ThinkBook Plus E Ink Screen Related Features
Let's move on to the feature that made me interested in this model at all, namely the external screen that uses the electronic ink technology.
Getting started and basic features
Screens E Ink, as you know, consume energy only during image change, and in a static state they do not spend it at all. Therefore, on the lid of the laptop, whether it is sleeping or not, something will be displayed. If you don't like it, you can set a dark background, which makes the display less conspicuous and the design of the device looks more sophisticated that way. Or you can attract attention by placing a provocative picture or a corporate logo on the screen.
Detailed screen specifications are not easy to find. In terms of characteristics, it is close to the 10.3-inch E Ink Carta Mobius, used, in particular, in PocketBook X. Perhaps we are talking about some special version exclusively for Lenovo. If this is so, then the questions about the reliability of the screen, which is located on the outer surface of the laptop lid and is often subjected to shock and pressure, are partially removed. The Mobius is built on a plastic backing, not glass like the classic E Ink screens, so it is quite durable. Well, again, respect to Lenovo, because the non-standard E Ink is not just expensive, it's very expensive.
There are no issues with the image quality on E Ink – with this resolution the fonts are absolutely smooth. Unfortunately, for comparison, only the absolutely prehistoric VizPlex 5 was at hand, and in comparison with it the Lenovo screen is whiter and more contrasting, although the difference is not striking, the main advantage is the resolution.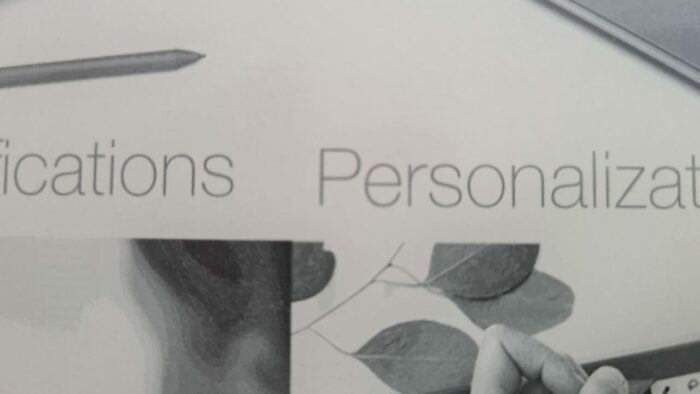 The biggest cognitive dissonance associated with E Ink in the Lenovo ThinkBook Plus is that it can't be used right away when you take the laptop in your hands. After all, the active work of a reader is possible only when the processor and the operating system of the laptop are running. Forget about the Samsung Galaxy Note, or the Samsung Galaxy Tab S, when you can take a peacefully sleeping device, just remove the stylus and start scratching something on the screen is impossible. The laptop must first be turned on by pressing the power button. Yes, it only takes a few seconds, but… Besides, if you set up a login using a fingerprint sensor, you must remember to do it with the "right" finger, otherwise you will have to open the lid to wake up the device. For quick notes, this is a no good.
A sign of the active state of a closed laptop is the presence of three icons in the corner of the screen, which are responsible, respectively, for launching the reader application, notepad and settings. The screen is in this state even when you work with the device as with a laptop. If you close the lid, E Ink will remain active for a while, and then the device will fall asleep and a static non-interactive picture will remain on the screen.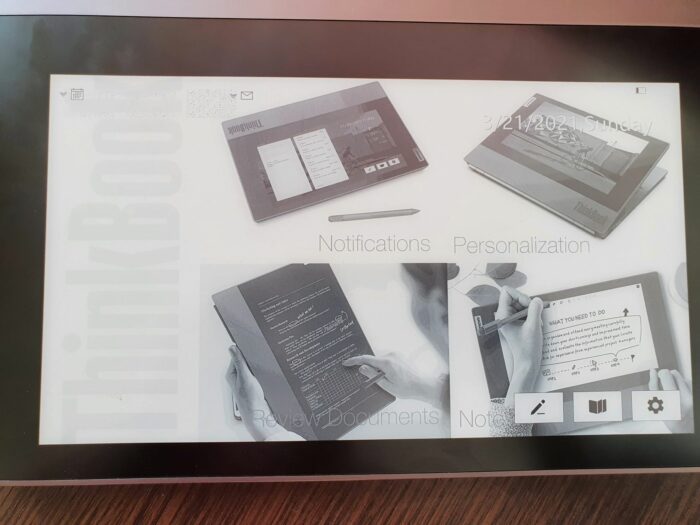 The laptop also has the ability to display calendar events and unread email indicators taken from Outlook. However, in the light of the above, the question arises – when does it get the information? Of course, when Windows and Outlook were still working. If the laptop is asleep, it will not receive or display anything new.
You can control the work on E Ink both with your fingers and with a stylus. The interface is slow. Failure to respond from time to time happens, no matter what you poke. It is somewhat reminiscent of the first Android tablets with a resistive touch, you have to press hard and sometimes repeat.
Notepad
A fairly simple set of functions is provided for input, although there are some interesting ones among them. The "freehand" line is the main working tool, here you can choose one of four thickness settings; the force of pressure  on the screen also affects it.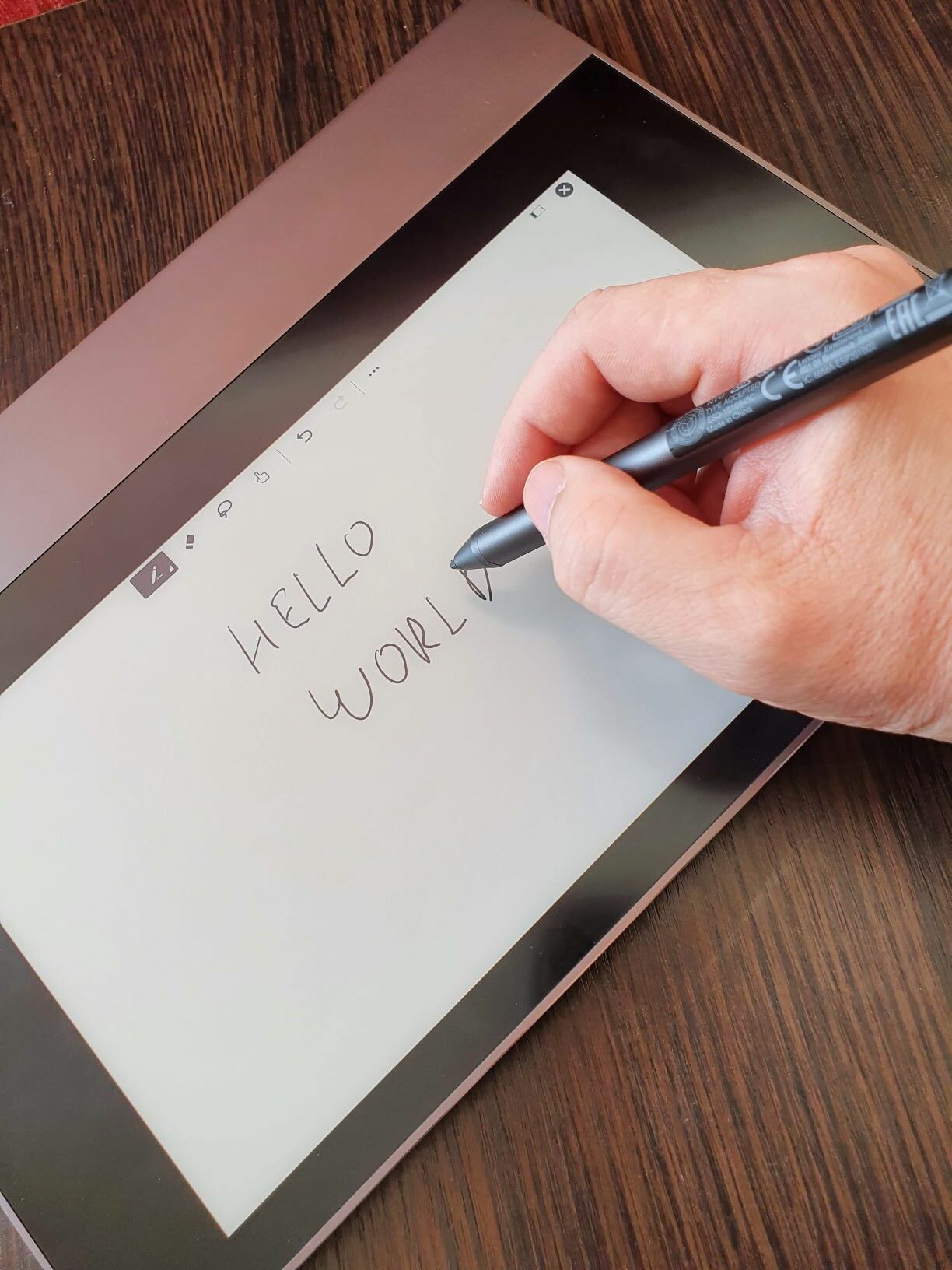 A useful feature is Smart Shapes, it allows you to turn drawn lines and shapes into geometrically correct ones; if you have drawn a lopsided triangle, the system will make it neat and straight.
"Eraser" allows you to erase what you've drawn. ThinkBook Plus cannot use the blunt end of the stylus to do this, like the Microsoft Surface, which means you have to choose an eraser and poke around with a sharp tip. The efficiency of this process is extremely low, there are many gaps that will eventually have to be removed with other tools.
Lasso works, on the contrary, like a clock. The area is edged clearly, quickly, and you can copy what you've scribbled as an image, recognize it as text, or as a mathematical formula. Or even as a diagram. Everything is copied, of course, to the Windows clipboard, and there is one problem with this. While using E Ink, you cannot do anything with the copied object. We'll have to open the laptop, select the program that will process the copied stuff, run it, and paste it there. Recognition in itself is quite decent, simple mathematical formulas are recognized correctly and inserted, say, in Word, as an appropriate type of object.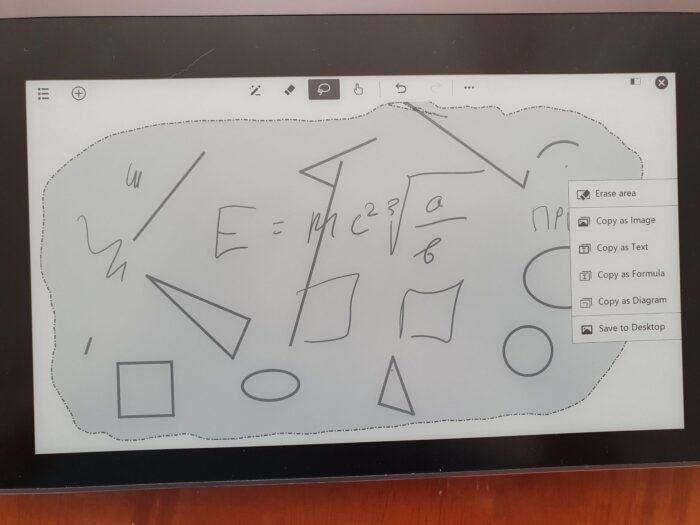 Text recognition is possible in one of many languages ​​that you can choose between. There are most European languages, including Polish, Czech, and Russian, and there are several variants of Chinese hieroglyphic writing.
A separate option allows you to switch the drawing mode with a stylus or a finger, the developers did not allow this at the same time, probably so as not to bother with intelligent palm rejection algorithms.
In addition, you can undo and redo the last action, save or recognize the entire note in one of the ways described above, as well as save it as a graphic file on your desktop. And finally, go to the directory of saved notes.
The notebook in ThinkBook Plus is a mixture of interesting and useful (recognizers, intelligent geometric objects, lasso) and downright terrible (Eraser) functions. However, its biggest problem lies elsewhere: the workflow inevitably stumbles over the laptop lid. We write a formula, highlight it, recognize it, then open the lid, insert it into Word, write a line of text, close the lid, draw a diagram, select it, recognize it, open the lid… Yes, at first we could write everything down and draw with the device closed, and then start dragging it all into documents… and then the lid gets in the way. As for me, an adequate notepad-recognition program for Surface Pro or a transformer with Windows Ink would be MUCH more convenient to use.
Read also: Lenovo Tab P11 review: Tablet with Potential?
Reader
Everything is simple here – the program for reading books supports three formats.
PDF
Any file is opened and displayed, there are no problems with compatibility. But there are other issues. PDF documents have a certain page size and aspect ratio, and in 99.99% of cases it is NOT a 10.8 size with a 16:10 aspect ratio, like the ThinkBook Plus screen. Accordingly, the reader begins to scale the document, which makes the fonts small and unreadable. Theoretically, the page scale can be increased to make it more comfortable to read, but this is done slowly, plus you have to scroll through the pages, which is also done slowly. And this behavior is more likely not an exception, but a rule for e-ink readers. I admire people who have the patience to tinker with PDF on readers, but I do not belong to them.
TXT
Everything is simple here. Bare text scaled to fit the page.
EPUB
An extremely common format of e-books with copyright protection. This is the only format you can normally read on the ThinkBook Plus screen, as it scales correctly to fit the screen. You just need to switch the screen orientation to vertical to get one readable page, not a scalable spread with gray tiny letters.
Functionally, the reader is primitive – you can browse the entire file system of the built-in SSD (which is good), open books, zoom in and out, turn pages, and that's it. However, much more is not needed.
One big problem with using a reading device is its weight. It is unrealistic to hold a 1.5 kg reader in your hands. Sitting in a chair, or lying on the couch, you can hold it for a while, leaning on your knees or on your belly. But one way or another, your hands will tire.
Conclusions
Before us is a laptop that costs $1600, and while the actual laptop inside cannot cost more than $800,  you pay a hefty price for E Ink, its touch panel, stylus and the idea to glue it all together. So does this idea increase the value of ThinkBook Plus compared to the sum of the laptop and reader, or vice versa, reduces it? So, the big problem with this device is exactly what it reduces, and here are the reasons:
the laptop is too heavy for an e-book reader;
the whole complex of programs for the external screen suffers from bugs – some things are slow, something does not work; the user experience reminds me of e-book readers from 2010s
the process of working with notes is torn between Windows and the E Ink shell, from beginning to end nothing can be done either here or there – you can draw and recognize objects only from outside the lid, process them further and insert them into documents only from the inside
notes are not available on Windows unless they are saved to the desktop from the notepad shell
the device is no good for quick, spontaneous notes, since to start writing, you need to activate it with the "right" finger, wait for it to wake up and start the program
the stylus doesn't work with the main screen of the device
I think everyone understands that at the current price, buying this device has no practical sense. For this money, you can freely buy two or three gadgets that will do all the tasks that you think you would entrust ThinkBook Plus, and do it better as well.
Want to add freehand sketches and sketches to your usual workflow? Any laptop-transformer, or Surface-shaped tablet will do it better.
Want a laptop and a big reader? Take a regular ThinkBook, or any of its analogs for $899  + Pocketbook X for $467.
Want to make quick notes? Samsung Galaxy Note does it better, thanks to the fact that it is always in your pocket, and you can make notes without even touching the power button. The prices range from $359 to $1258. Even if you take the most expensive one with a regular laptop, you don't overpay much.
Want to draw with E Ink? Look for one of the Onyx Boox Note models that are designed specifically for this. Costs like Pocketbook X.
Completing this apocalyptic picture is a significant drawback of the ThinkBook Plus, which is bad battery life.
And the last thing. Experience shows that Lenovo initially sells such experimental devices at a price that covers their rather big cost. Of course, for that kind of money, few people need them. Then the second stage begins, when the devices get extremely cheap. Consider the Yoga Book C930, which initially cost $40,000, but on sales you could buy it for as low as $13k. I still regret that I did not take this chance, and therefore I ask myself the question – will I need to buy ThinkBook Plus when the same happens to it? And the answer is no. The value of E Ink is rather negative here, and the bad battery life of the laptop is too much of a problem.
Subscribe to our accounts: