In May ASUS introduced two smartphones of the main flagship line: Zenfone 8 and Zenfone 8 Flip. The second one is mainly distinguished by the presence of a flip camera, as you can guess from its name. But the ordinary 8 has another trump card – its compact size. Today, not many companies produce compact smartphones, much less flagship ones, so there is genuine interest in the ASUS Zenfone 8. In this review, we will find out what the smartphone had to sacrifice for the sake of small size and what other features it has.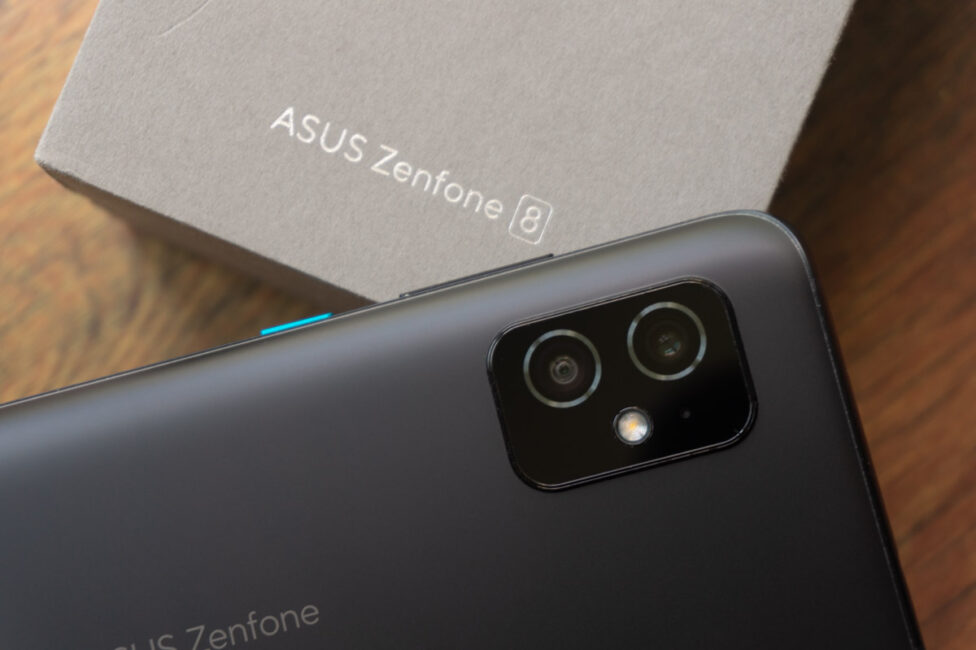 Full specifications of the ASUS Zenfone 8
Display: 5.9′′, Super AMOLED, 2400×1080, 20:9 aspect ratio, 446 ppi, 1100 nits, 120 Hz, HDR10+
Chipset: Qualcomm Snapdragon 888, 5 nm, 8-core, 1 Kryo 680 core with 2.84 GHz, 3 Kryo 680 cores with 2.42 GHz, 4 Kryo 680 cores with 1.80 GHz
Graphic accelerator: Adreno 660
RAM: 6/8/12/16 GB, LPDDR5
Storage: 128/256 GB, UFS 3.1
Support for microSD cards: none
Wireless networks: Wi-Fi 6/6e, Bluetooth 5.2 (A2DP, LE, aptX HD, aptX Adaptive), GPS (A-GPS, GLONASS, GALILEO, BDS, QZSS, NavIC), NFC
Main camera: dual, Sony IMX686 64 MP main module, f/1.8, 1/1.73′′, 0.8μm, 26 mm, PDAF, OIS; Sony IMX363 12 MP ultra-wide-angle module, f/2.2, 1/2.55′′, 1.4μm, 14 mm, 112°, Dual Pixel PDAF
Front-facing camera: Sony IMX663, 12 MP, f/2.5, 1/2.93′, 1.22μm, 28 mm, Dual Pixel PDAF
Battery: 4000 mAh
Charging: fast wired 30 W, reverse wired
OS: Android 11 with ZenUI 8 shell
Dimensions: 148.0×68.5×8.9 mm
Weight: 169 g
Positioning and price
The ASUS Zenfone 8 is a real flagship, which is obvious looking not only at its technical characteristics, but also at the cost. It is a little cheaper than the Zenfone 8 Flip, but the price tag still remained high enough to match other flagship devices. However, this is not the most expensive smartphone from ASUS and in addition to the previously mentioned Flip, the manufacturer also has a gaming ROG Phone 5, which we also talked about.
The ASUS Zenfone 8 in most countries has three configurations: 8/128 GB, 8/256 GB and 16/256 GB. The first one at the time of publication of the review costs $741, the second is $852, and for the top version ASUS asks $1000.
What's in the box
The smartphone comes in a small and fairly simple gray cardboard box. Inside there is a 30W power adapter with USB-C output, a Type-C/Type-C cable, a plastic protective case and a SIM eject tool.
The case is quite decent. The case does not cover the top and bottom ends, and also has a wide cutout on the right in the button area. However, it protects the camera unit well and there is a bumper above the screen, so you can put the device down on its screen without fear.
Read also: ASUS Zenfone 8 Flip review: Flip camera makes a return
Design, materials and build quality
The design of ASUS Zenfone 8 as a whole leaves a pleasant impression, although there is nothing extraordinary about it. The smartphone is made in a classic and relatively strict style. After all, this model focuses not on the appearance, but on the size of the device.
The front plate of the smartphone looks the most familiar. No ultra-thin bezels around the screen or a cleverly disguised front-facing camera. On the contrary, the selfie camera is located in the upper left corner of the display and is additionally distinguished by a silver ring, and the bezels at the top and bottom are traditionally thicker than the side ones.
The back plate is also made in a minimalist style. It is a solid black panel, in the center of which the inscription ASUS Zenfone is vertically placed, and in the upper left corner there is a small block of cameras. The block itself is slightly shifted down. It consists of two modules in a concentric circle border, a flash and a microphone.
The only bright element of the case is the blue power key on the right. It is highlighted in both black and silver smartphones. By the way, the Zenfone 8 is only available in these two colors: Obsidian Black and Horizon Silver, respectively. Apparently, the second one looks more interesting, and if the usual black color seems too boring to you, you can pay attention to silver.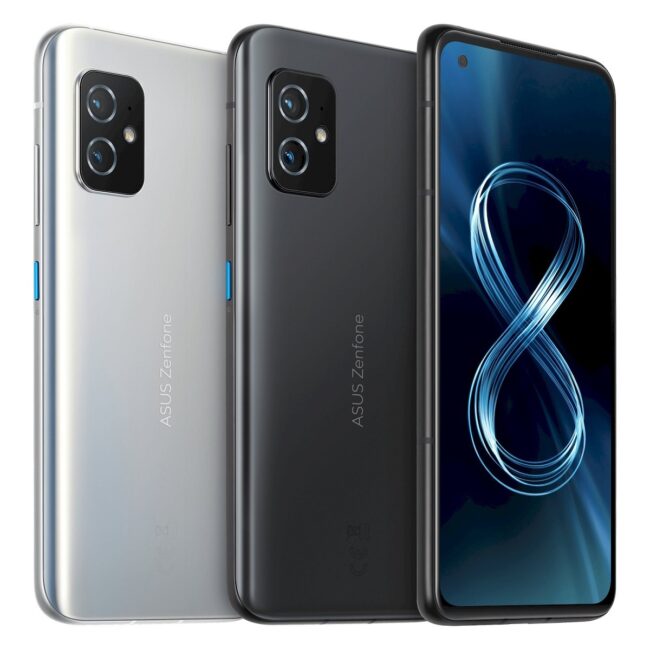 The materials are flagship quality. At least the manufacturer did not save there. Glass and metal are used in this design. At the front is the last generation of Corning Gorilla Glass Victus, but the back is the good old Gorilla Glass of the 3rd generation, which still does its job. In my opinion, it's even better than Victus. The edges are also aluminum.
Equally important and pleasant is the fact that everything has a matte finish. It's more pleasant than glossy coating, and the smartphone doesn't collect fingerprints and other stains as much, which means it's not only stylish, but also practical. There is an oleophobic coating on the glass at the front, but it not the best.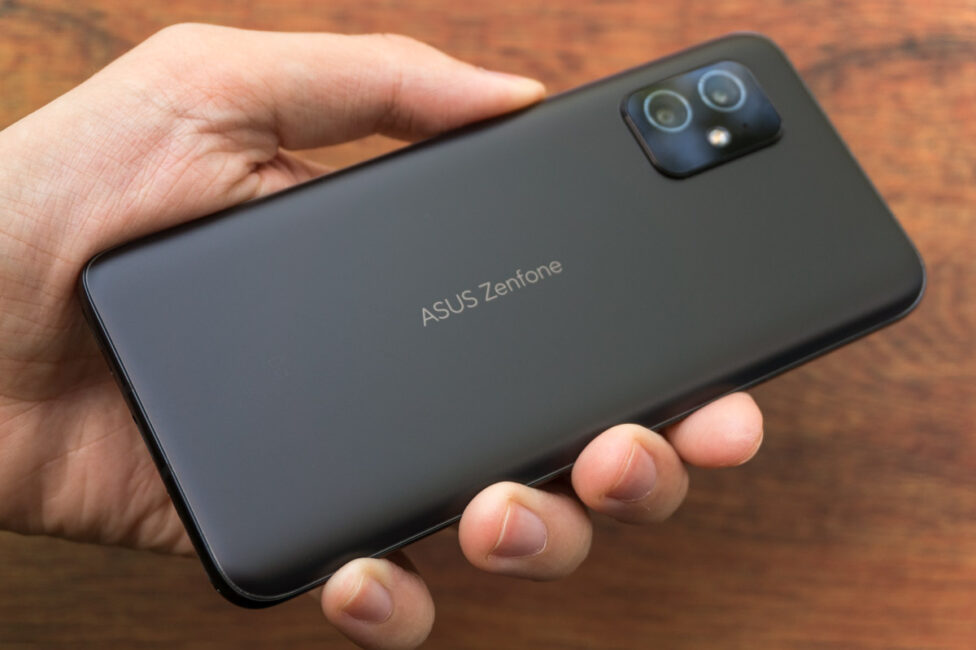 Among other things, the ASUS Zenfone 8 case is protected from water and dust according to IP68 standard. This feature is a must in a modern flagship. By the way, this is basically the first ASUS smartphone with certified water and dust protection. There are no problems with the build quality, it's perfect.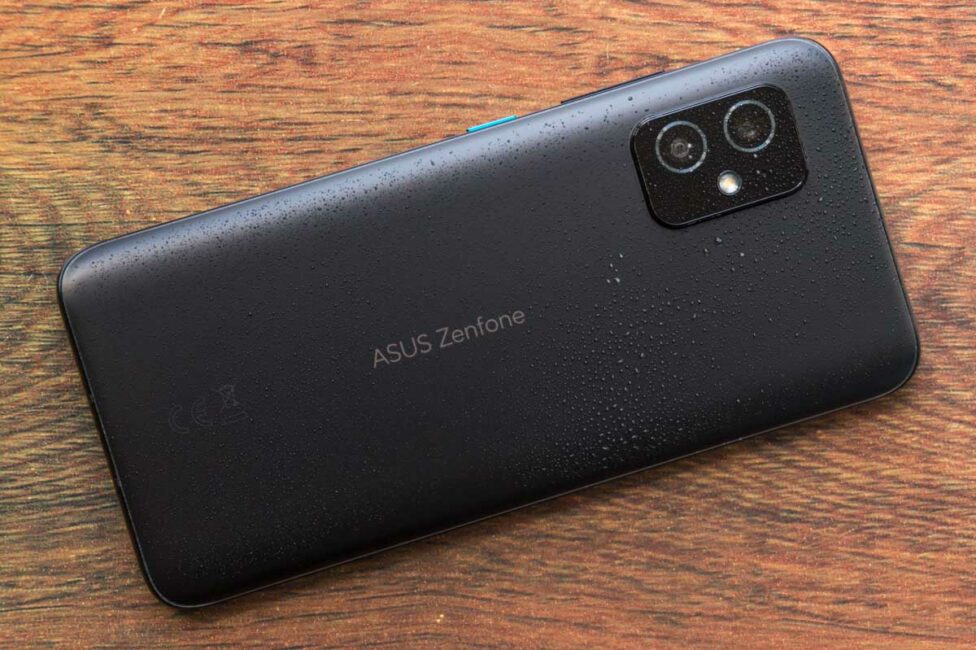 Read also: ASUS ZenBook Pro Duo UX582 Review: 4K OLED, GeForce RTX 3070 and… Two Screens
Elements' configuration
A front-facing camera is placed in the front left side of the screen. At the junction of the edge and the glass there is an earpiece speaker, and to the right of it there are light and proximity sensors. Nothing at the bottom.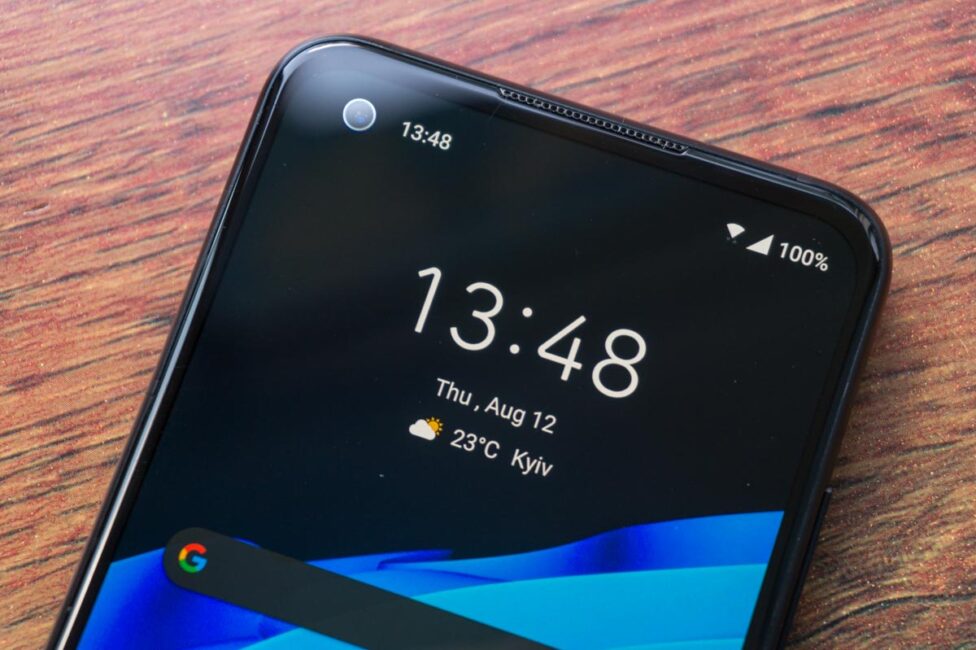 On the right end there is the same power button painted bright blue, as well as a volume control key. The left edge does not have any elements, only three plastic antenna pins.
At the top there is a 3.5 mm audio port (rarity for a flagship) and an additional microphone, at the bottom there is a slot for two nanoSIM cards, the main microphone, a USB Type-C port, an LED notification indicator (yes, an unusual location) and a slot of the main multimedia speaker.
At the back is a small and slightly protruding block with cameras, lower in the middle is the  ASUS Zenfone vertical inscription and at the very bottom below it is some tech info.
Ergonomics
ASUS Zenfone 8 is predictably a convenient smartphone to use. Its display is 5.9′, which is very little by modern standards. Case dimensions are: 148.0×68.5×8.9 mm, weight is 169 g. The smartphone is very easy to use with one hand.
In addition, we can note the curved edges of the smartphone back plate. In case the size alone is not enough for convenient operation of the device on the go, you can use a special one-handed control mode. It is activated by a simple swipe down from the bottom of the screen and the entire interface is shifted to the bottom so that all controls are within reach of the thumb.
The physical control keys are placed at the optimal height. You can easily use any of the buttons without changing the grip. It is also worth noting the very convenient location of the in-screen fingerprint scanner. It is not too low or high, but in the area where you intuitively want to put your finger when you take your smartphone in your hand.
In simple terms, the ASUS Zenfone 8 is one of the most convenient current flagships to date, which distinguishes it from dozens of other devices with "ordinary" screens. The last time I saw something similar was when I tested the Samsung Galaxy S10e, but it was a long time ago. I hope that in future ASUS flagships this feature will remain in any form. These days a compact smartphone really feels like a breath of fresh air.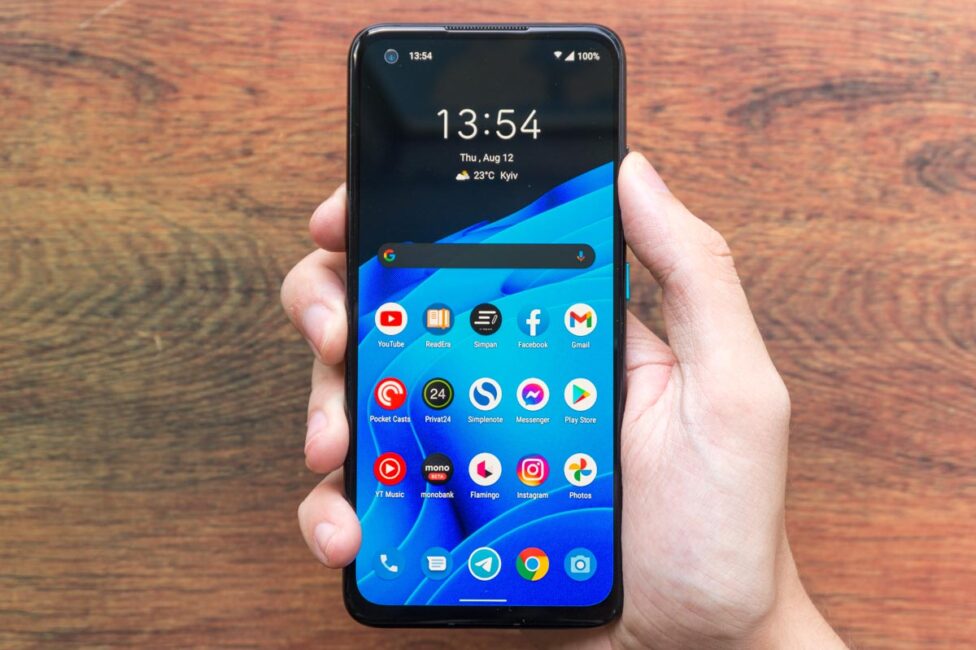 Display
The ASUS Zenfone 8 has a 5.9′ display, using Samsung's Super AMOLED sensor. The panel resolution is 2400×1080, the aspect ratio is 20:9, and the pixel density is 446 ppi. The manufacturer has declared a peak brightness of 1100 nits, the screen supports an increased refresh rate of 120 Hz, and the response time is 1 ms.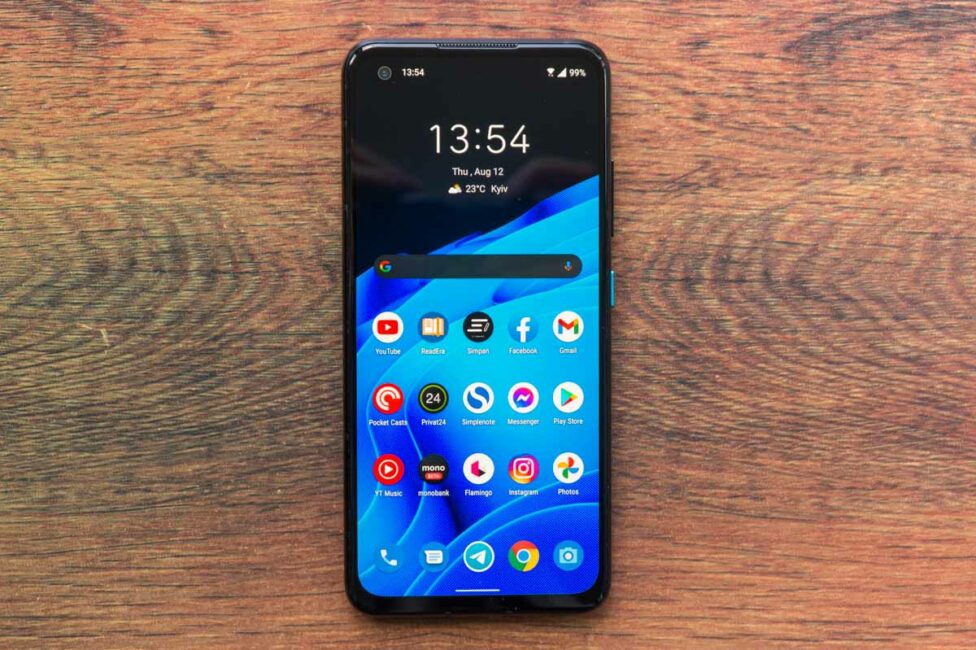 The display also supports HDR10+ technology. The color gamut of the DCI-P3 according to ASUS is 112% with Delta-E<1, and in NTSC and sRGB color spaces it is 107% and 151.9%, respectively. That is, on paper we have a real flagship AMOLED display, but what in practice?
In fact, the smartphone screen is really very good. The brightness reserve is enough to comfortably use the device outdoors on a bright sunny day. Plus, I was very pleased with the minimum level of brightness and when used in complete darkness, there is also no discomfort for the eyes. The colors are saturated, the contrast is very high. In general, in terms of color rendering, there are zero issues with the Zenfone 8.
There are several Splendid display modes in the settings and the user has something to choose from. Personally, I prefer "Natural", but in addition to it there are modes like "Default", "Cinematic", "Standard" and "Customized". Each offers its own level of saturation and color temperature, but you can adjust the latter in any of the modes. The "Customized" profile allows you to adjust the saturation of the screen yourself.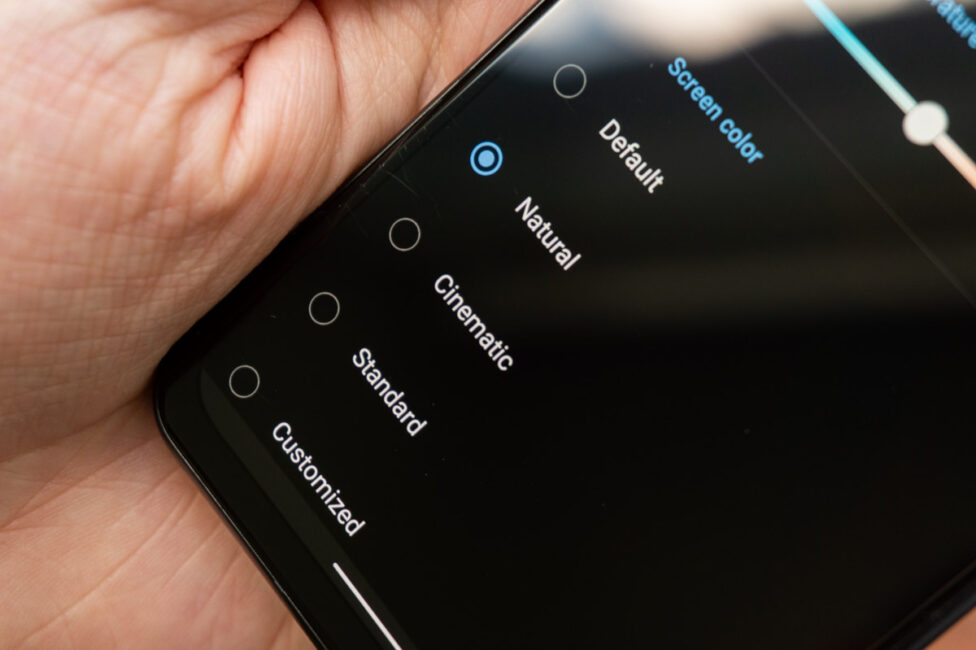 The viewing angles are traditionally wide, but not without the typical issues. As always, at an extreme viewing angle, typical green and pink overflows of white are observed.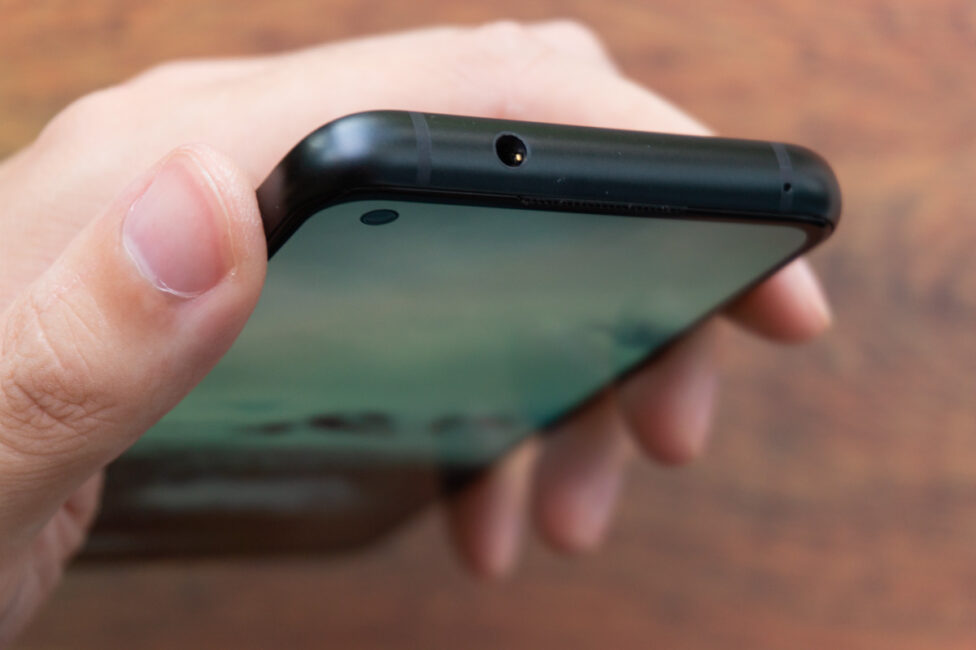 Separately, I would like to touch upon the increased refresh rate, because there's something to discuss. First of all, the smartphone offers a maximum frequency of 120 Hz and it's great. The interface works as smoothly as possible, plus the increased frequency works in almost all apps and even in games where 120 Hz screens are supported. Secondly, the manufacturer offers several modes and in addition to 120 Hz and the classic 60 Hz, there are two more options: 90 Hz and auto.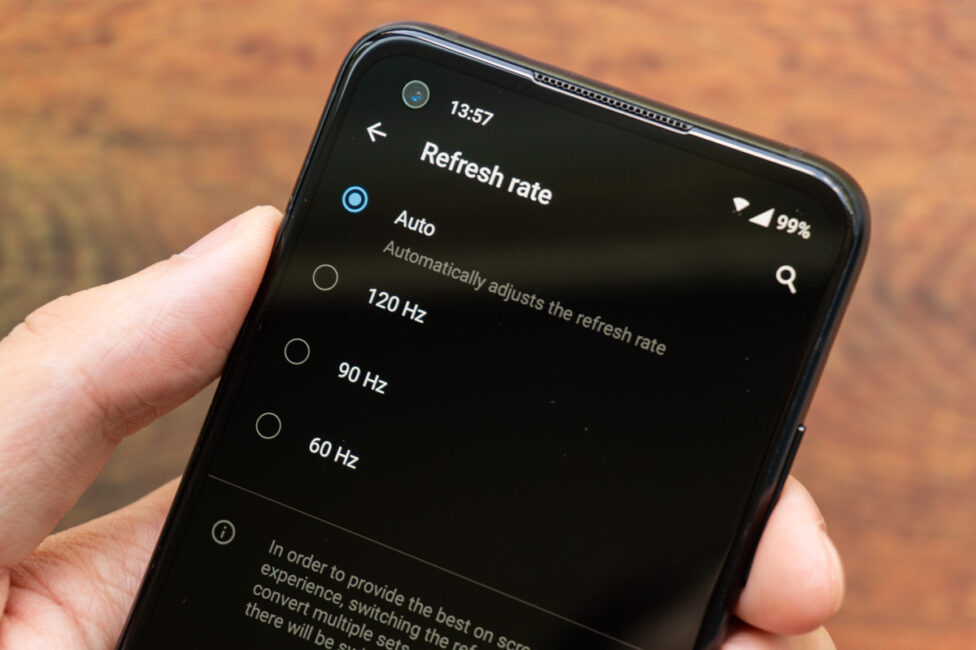 If one of the locked modes (60/90/120 Hz) is selected, all tasks except watching video will use this frequency without reducing it to 60 Hz if you use a frequency of 90 or 120 Hz. Constant change of refresh rate happens in the auto mode. For static images and video playback, the smartphone will use 60 Hz, the interface and almost all third-party apps are displayed at 90 Hz, and compatible games display at 120 Hz. That is, for every day it is the best option that will allow you to enjoy the increased frequency without stressing the battery.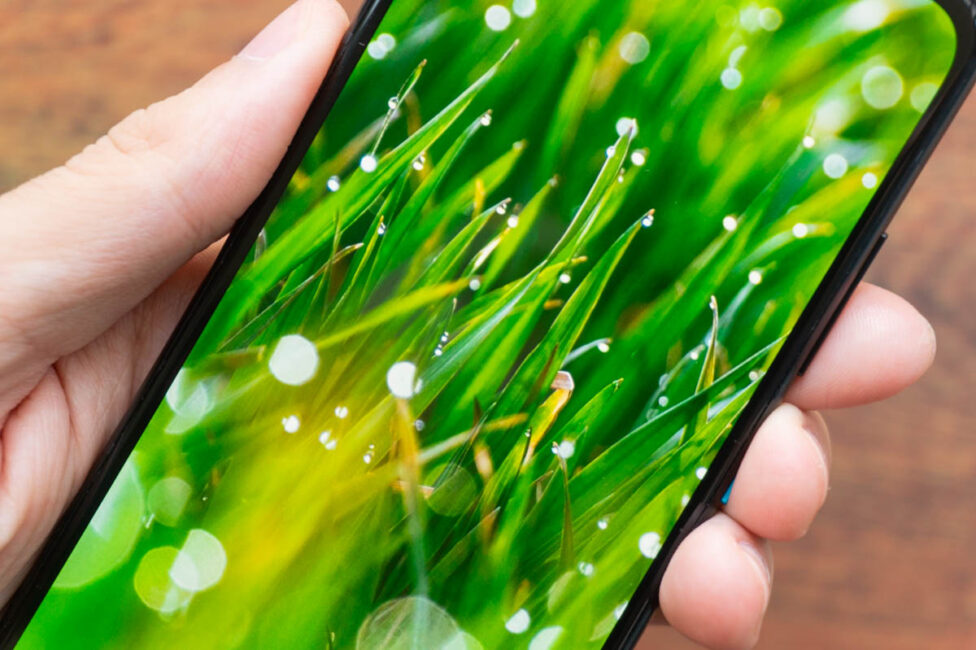 However, there are other details that are also worth mentioning. The fact is that the smartphone has several performance modes. I will talk about them in more detail a little later, but if you choose a high-performance mode, the screen will always work at 120 Hz. If you don't make any adjustments to the settings of the mode itself, of course. That is, the frequency of 120 Hz will not change to 60 Hz even when watching video, which in turn will have a negative impact on battery life.
Now let's go back to the other display parameters. The screen settings have night mode, the before-mentioned Splendid profiles and the choice of refresh rate, as well as DC dimming. But the latter becomes active only when you select the 60 Hz refresh rate. You can ask the phone not to turn off as long as you look at it or hold it in the upright position.
Different font styles and colors of the UI are available, you can choose the speed of animations (usually these settings are hidden in the developer menu) and the color scheme of the system (light/dark themes, in other words) with the ability to work on schedule, reduce the brightness of wallpaper in dark mode and force dark mode for third-party apps. You can also select which apps to display in full screen, adjust icons in the status bar, select system navigation and layout of the quick settings curtain.
Always On is also supported. You can set up the schedule, always or within 10 seconds after touching the screen, and choose one of the three watch faces. That's not enough, of course, but what can you do. Next is the option to activate the screen when the smartphone is lifted, or when you get notifications, as well as the LED.
Worth a look:
Performance
We have already found out that the ASUS Zenfone 8 is a flagship smartphone and its hardware is appropriate. Take, for example, the Qualcomm Snapdragon 888 5-nm chipset, which includes 8 compute cores divided into three clusters. It offers one high-performance Kryo 680 core with a maximum clock speed of up to 2.84 GHz, and another 3 Kryo 680 cores with a clock speed of up to 2.42 GHz and 4 Kryo 680 cores with a clock speed of up to 1.80 GHz. The graphics accelerator is the Adreno 660.
ASUS Zenfone 8 - Benchmarks
In various tests, the smartphone shows excellent results, as befits the flagship device with top hardware. But as with any other flagship based on the Qualcomm Snapdragon 888, there are two issues: heating and throttling. Let's talk about the modes of operation of the smartphone in a little more detail, because a lot depends on it. First of all, we are interested in two of them: the high performance mode and the dynamic mode.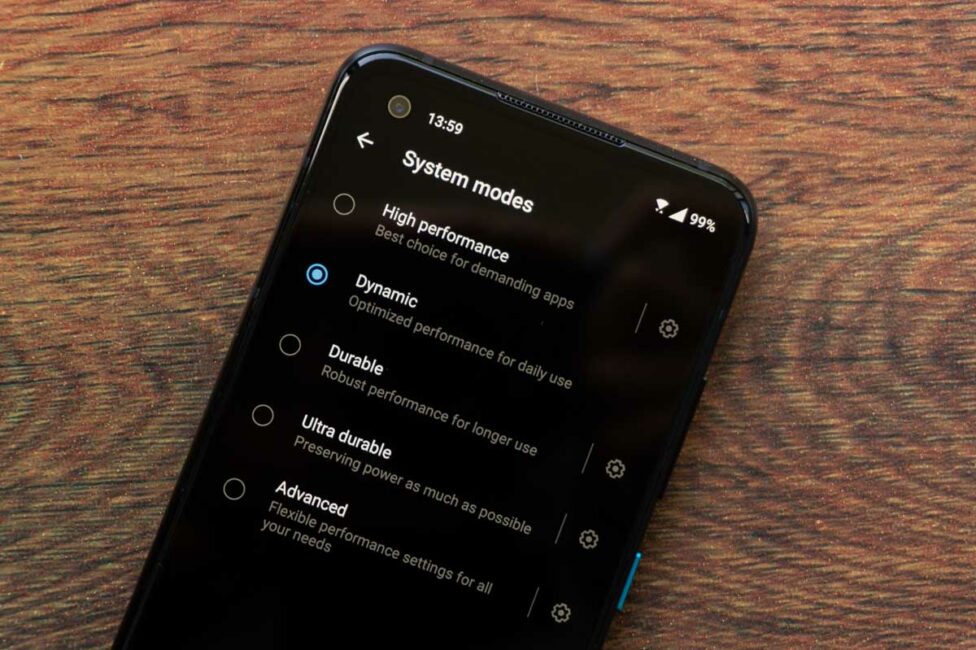 In the first ASUS Zenfone 8 shows the best results in terms of = stability under load and in 15 minutes of high performance test, its efficiency systematically reduces by 23%, and in half an hour by 21%. But the smartphone heats up a lot during the test and at some point it even becomes unpleasant to hold it in your hand.
Dynamic performance mode does not allow the smartphone case to heat to the same extent, but the CPU stability chart is not pleasing at all. In 15 minutes, the same throttling test recorded a maximum performance drop of 39%, and in 30 minutes by 41%.
So, for the usual daily use the dynamic mode is more than enough, because it offers a good balance between performance, heating and autonomy is observed. But during long game sessions, it is better to use high performance mode in demanding titles. Yes, the smartphone will heat up, but still.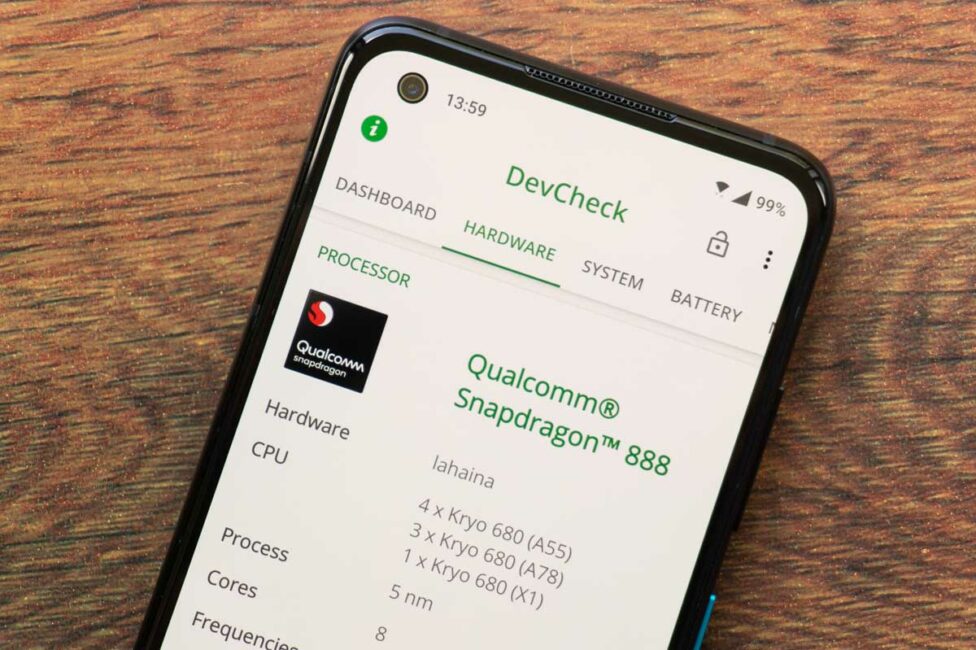 RAM can be 6, 8, 12 and even 16 GB. Memory is fast, LPDDR5. In general, even 6 GB is enough for the comfortable use. I got a top version with 16 GB of RAM on the test and it's MORE than enough for any task.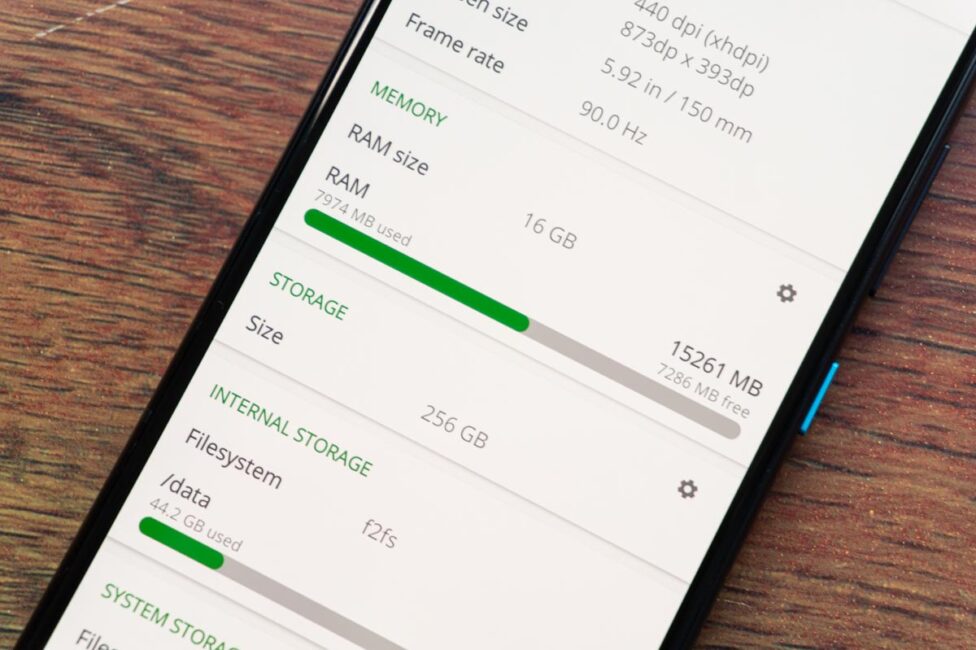 There can be either 128 or 256 GB of storage, UFS 3.1. In the version with 256 GB of memory, 227.02 GB is available for the user. The smartphone does not support microSD memory cards, so it will not be possible to expand the storage in the future.
The ASUS Zenfone 8 is extremely fast and copes with any task you can throw at it. The UI is fast and smooth. The smartphone also copes perfectly with the games, but I remind you that it heats up as well. Although, for the sake of fairness, I have not encountered nor automatic decrease in brightness or notifications about overheating.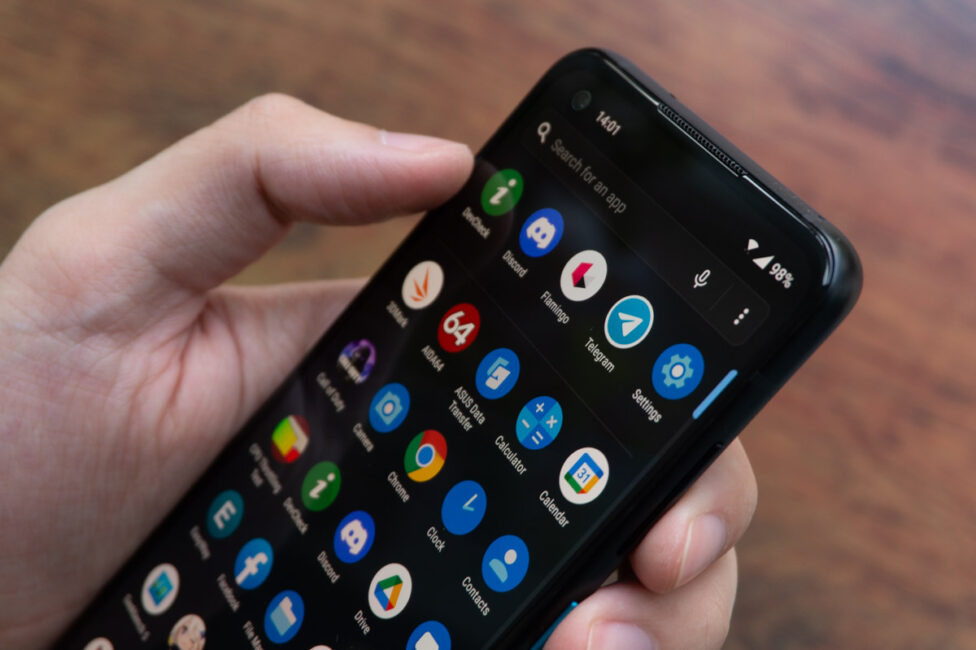 In heavy games you can count on maximum graphics and comfortable FPS, although there are exceptions. For example, in Genshin Impact, the average FPS drops quite quickly from 58-60 fps to less pleasant 40-43 fps even with the high performance mode enabled. These are the average FPS values recorded using GameBench:
Call of Duty: Mobile – very high, all effects (except rays), Battlefront mode ~60 FPS; Battle Royale ~60 FPS
Genshin Impact – maximum values of all graphic settings with all effects, ~43 FPS
PUBG Mobile – Ultra Graphics Settings with Smoothing and Shadows (No Reflections), ~40 FPS (Game Limit)
Shadowgun Legends – ultra-graphics, ~60 FPS
Read also: ASUS ROG Phone 5 Review: King of the Hill
Cameras
The main ASUS Zenfone 8 unit has only two cameras: a wide-angle and an ultra-wide-angle. The characteristics of the Sony IMX686 and IMX363 modules used are as follows:
Wide angle: 64 MP, f/1.8, 1/1.73′, 0.8μm, 26 mm, PDAF, OIS
Ultra-wide angle: 12 MP, f/2.2, 1/2.55′′, 1.4μm, 14 mm, 112°, Dual Pixel PDAF
It is a little unusual to see such a set in the modern flagship, but on the other hand, there is no useless depth sensor or a separate camera for macro. However, there is no full-fledged telephoto either, although the manufacturer promises a 2x digital zoom with minimal loss of quality, and the ultra-wide has autofocus.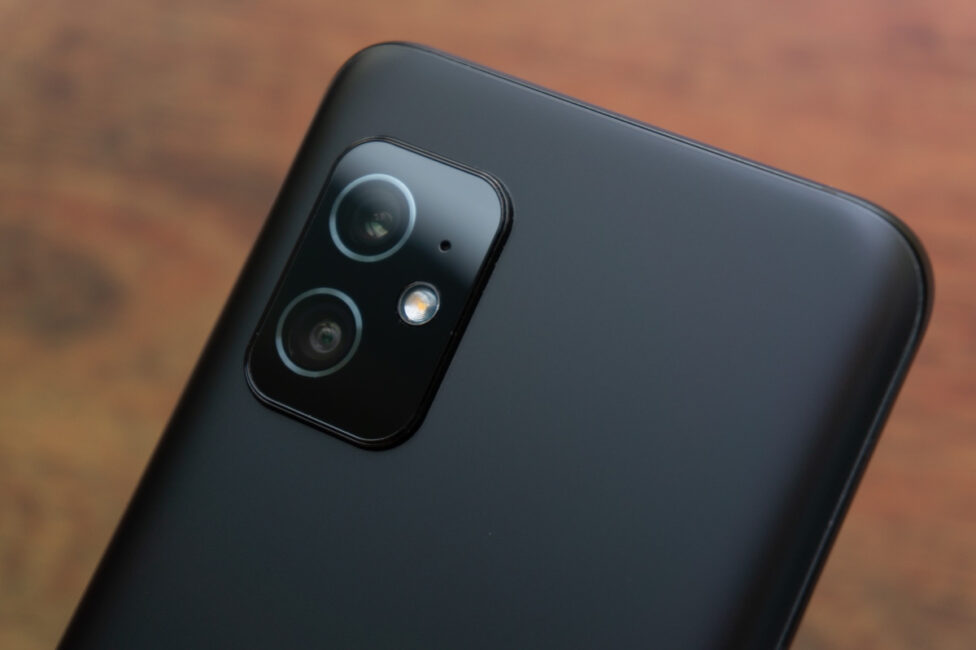 The main camera shoots in 16 megapixels by default and does so, admittedly, very well in almost any conditions. The photos are characterized by high detail, wide dynamic range, precisely selected white balance and natural color reproduction. Full resolution offers better detail, but this benefits only to those shots that are made in excellent lighting. In the evening, you can and even need to use the night mode. The latter can be switched on manually, by selecting a separate mode, or automatically when the smartphone detects insufficient lighting. There will be fewer details in the photos, but this way you'll get rid of most of the noise.
What can I say about the 2x digital zoom? They photos are created by simply cropping the image center in full 64 megapixel resolution and are saved at 16 MP with subsequent post-processing. In general, they turns out fine, given that this is digital zoom. Photos are relatively sharp if you shoot outdoors during the day or in good light, but in other situations digital noise is too much.
PHOTOS IN FULL RESOLUTION FROM THE MAIN MODULE
The ultra-wide-angle camera also shoots quite well, in daylight at least. Color reproduction is slightly more saturated than the main camera, the detail and dynamic range are, of course, also weaker. Automatic distortion correction works, so the edges of the pics remain sharp, but digital noise will be visible in dark areas even in those shots that were taken in good light. Pictures in poor light are not very good, but when night mode is activated, they become lighter and clearer.
I was pleased with the presence of full-fledged autofocus, that is, you can shoot anything on this module at all, not just landscapes and architecture. The minimum distance to the subject must be at least 4 cm for it to be sharp.
PHOTOS IN FULL RESOLUTION TAKEN ON AN ULTRA-WIDE-ANGLE CAMERA
Video on the main wide-angle camera can be recorded in a maximum resolution of 8K with 24 FPS. Of course, the level of detail in such videos is very high, but it is more suitable for static shooting, because there's not enough frames per second and a very noticeable rolling shutter effect when shooting in motion. Therefore, the best option is 4K resolution with 60 FPS, which is also available for ultra-wide-angle module.
In fact, the ASUS Zenfone 8 shots video really well. The picture is detailed and moderately sharp, with accurate color reproduction and smooth change of exposure without sharp jumps. Perhaps the smartphone is slightly inferior in terms of autofocus speed to other flagships, but in other aspects it performs perfectly. Also, do not forget about the 4-axial optical stabilization system, which perfectly copes with shaking when recording in motion.
The results are less impressive from the ultra-wide. The colors seemed slightly oversaturated to me compared to the main camera. Besides, the detail will, of course, be weaker. In general, it is okay for daytime shooting outdoors, but in the evening better use the main module.
The front-facing camera module in the Sony IMX663 smartphone with a resolution of 12 MP (f/2.5, 1/2.93′′, 1.22μm) boasts support for Dual Pixel PDAF autofocus, which is always welcome. It does its job: photos tend to have relatively high details and natural color reproduction. In my opinion, the results are excellent during the day, but in worse lighting, many details tend to get lost. There is a portrait mode, the background is blurred quite alright.
The selfie camera can record video in maximum resolution up to 4K and 30 FPS. Details are fine, but the viewing angle is quite limited due to enabled electronic stabilization. But the effect of a rolling shutter is more of a problem since you can't do anything to get rid of it. That's why it's better not to make sharp movements when shooting.
The camera app is quite advanced, with several popular shooting modes. There are separate manual modes for shooting photos and videos, night mode, portrait mode with background blur, panoramas, documents, accelerated/slowed videos and tracking the movement of the selected object.
Unlocking
As I noted earlier, the fingerprint scanner is built into the screen and is in a very good place. It is easy to remember its location and after a day or two of use you can find it without even a hint icon. In this regard, everything is fine.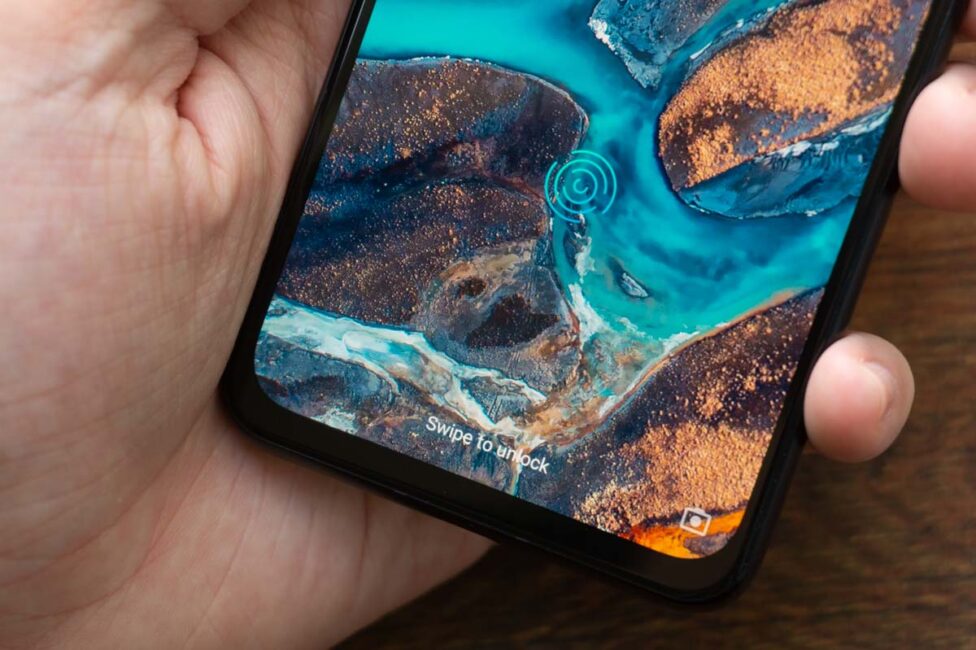 The optical type scanner here offers the usual illumination of the finger when applying it. The scanner works quite quickly and almost without errors. It's comparable in speed to conventional capacitive scanners and I was completely satisfied with it.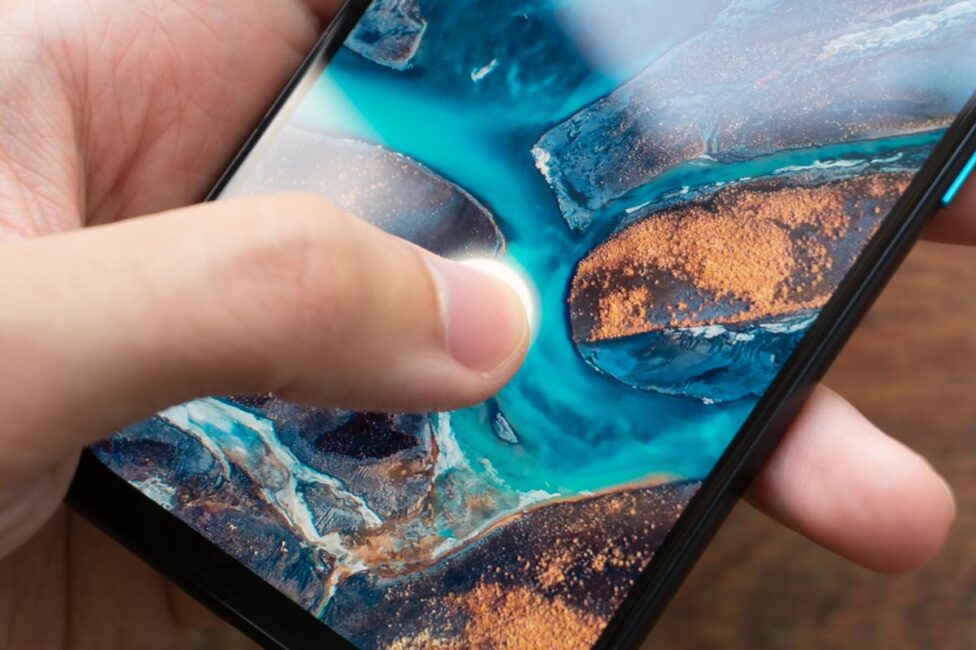 I also liked unlocking by facial recognition. In most situations, it works great and almost instantly, but only in good light. In complete darkness, when the face is not illuminated in any way, the unlocking of the face will not work. In addition, there is no option to increase the brightness of the display in low light.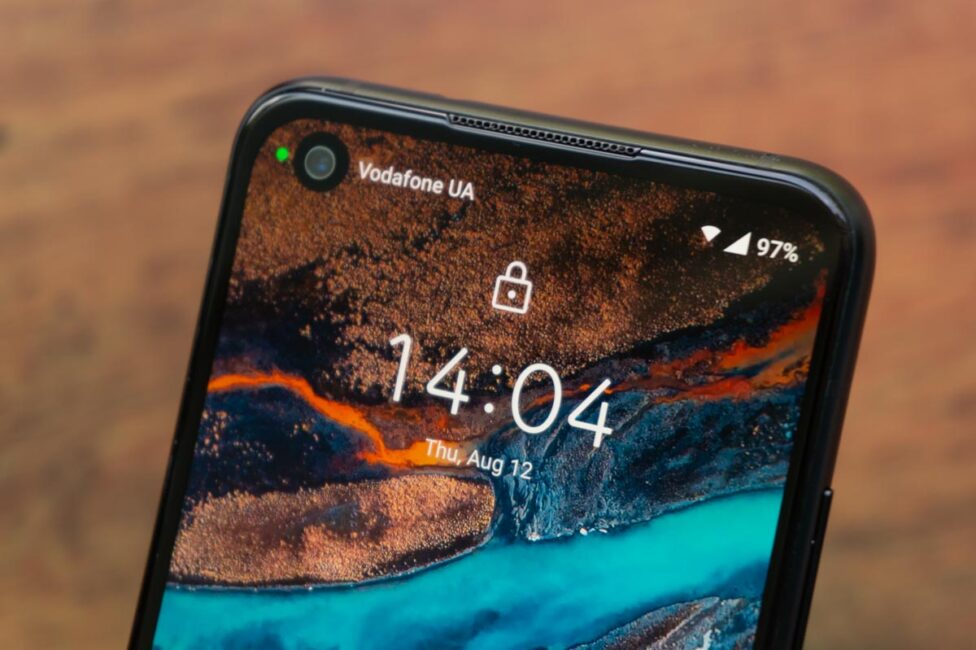 And in general, there aren't many settings for both methods. For the scanner, you can adjust the tip icon on the deactivated screen, select one of the two available animations, and the color of the icon: blue or white. For the second method, you can only choose the trigger method. This is either an instant unlock with a transition to the last window opened, or you stay on the lock screen after recognition and swipe up.
Battery life
The dimensions of the ASUS Zenfone 8 are compact and it was not possible to provide the smartphone with a particularly impressive battery; 4000 mAh is all you've got. So yeah, don't expect miracles. The smartphone will survive for exactly one day if you use increased refresh rate and other features.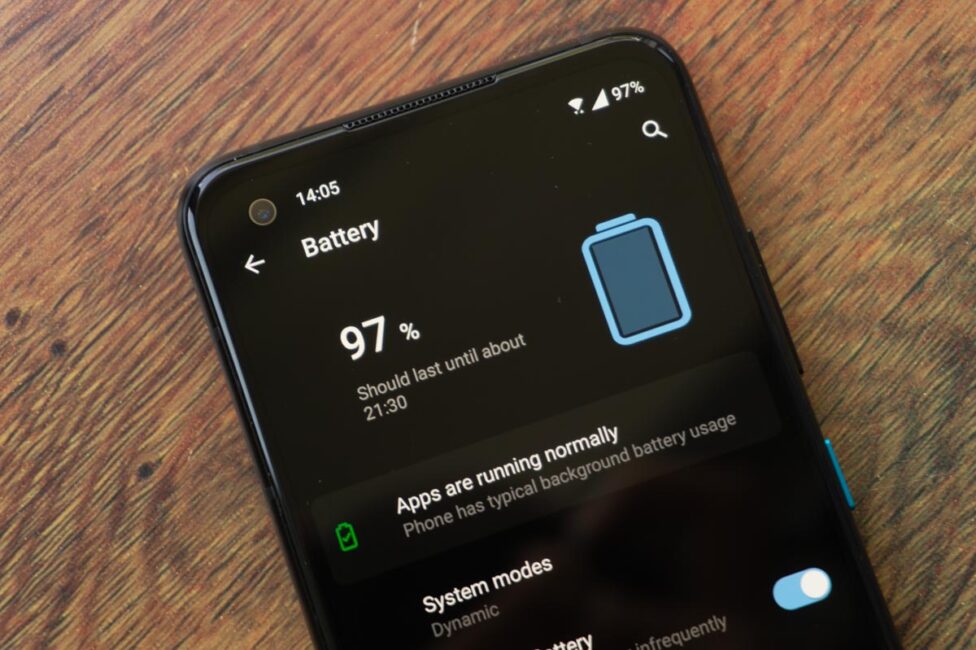 Of course, if you bother and choose a more economical mode of operation, leave the standard 60 Hz refresh rate, do not use the Always On and rarely use your smartphone at all, you can squeeze more, but is it worth it? I used a smartphone mainly with a refresh rate of 120 Hz, dynamic mode of operation, Always On on schedule from 8:00 to 20:00 and on average 4.5 hours of active screen. However, the change from a locked refresh rate to an automatic one bore fruit and in this mode the smartphone lasted longer with a total of 5.5-6 hours of active screen.
I tried the Work 3.0 battery test from the PCMark benchmark twice at 60 and 120 Hz with maximum display brightness. In the first case, the smartphone lasted 6 hours and 58 minutes, which is even not bad for such a battery. However, with locked 120 Hz, it survived only 4 hours and 24 minutes, which is not great. As a result, I would recommend that you use auto refresh rate. It will be difficult to notice the difference, but I think a few dozen bonus minutes of work will come in handy.
The smartphone does not charge very quickly by modern standards, but there there is some kind of fast charging support here. With the standard 30W HyperCharge power adapter and cable, the ASUS Zenfone 8 charges completely in less than an hour and a half. Here are detailed measurements from 6% to 100%:
00:00 — 6%
00:10 — 26%
00:20 — 48%
00:30 — 67%
00:40 — 82%
00:50 — 90%
01:00 — 95%
01:10 — 98%
01:19 — 100%
Reversible charging is also supported, i.e. you can charge another device from Zenfone 8, but only by cable. There is no wireless charging in the smartphone and this is, of course, a small disadvantage of the smartphone. Apparently, it would be necessary to sacrifice dimensions or other components to implement it, which the manufacturer clearly did not want to do.
Read also: Windows 11: First Impressions of the New OS
Sound and communications
The earpiece speaker performs its main function perfectly: the interlocutor is heard well and the volume reserve is excellent. In addition, it helps the main multimedia speaker and as a result we get a full stereo sound. Even the smaller speaker is very good, because stereo speakers support Dirac HD technology and are equipped with dual Cirrus Logic CS35L45 intelligent amplifiers for louder, deeper and less distorted sound. The sound is very loud, voluminous, saturated and with good bass, as for such a compact smartphone. In general, it's as good as other flagships.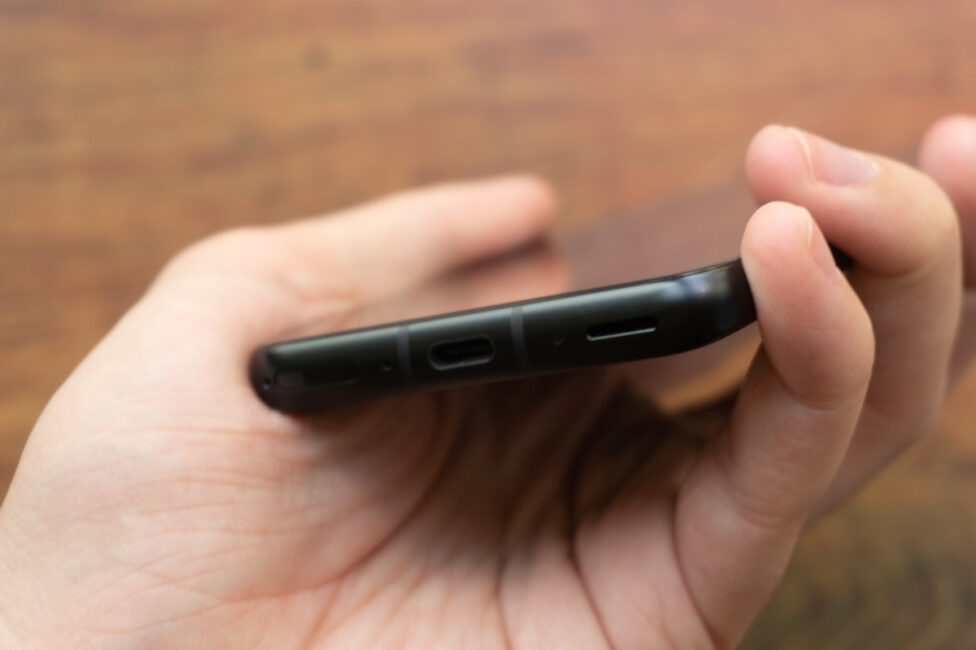 Everything's more than good about the headphones, too. I remind you that the smartphone found space for a 3.5 mm audio connector. That is, you can connect any wired headphones to it without using adapters. Plus, the Qualcomm Aqstic audio codec (WCD9385) with built-in DAC is used. Wireless headphones also sound fine. There's Master Audio utility with several Dirac profiles and a full-fledged equalizer with separate high and low frequency adjustment.
There are plenty of wireless modules. First of all, 5G support. Secondly, the ASUS Zenfone 8 has the latest Wi-Fi 6E with support for fast and stable 6 GHz frequency band in addition to existing 2.4 and 5 GHz network support. Next is Bluetooth 5.2 and A2DP, LE, aptX HD and aptX Adaptive. As for GPS, there is a two-band A-GPS and support for all other satellite navigation systems: GLONASS, GALILEO, BDS, QZSS, NavIC. Of course, there's an NFC module here, too. If only there were support for eSIM, too.
Read also: Logitech G733 Review: Phenomenal Headset… With An Annoying Issue
Firmware and software
The phone works on Android 11 with ZenUI 8 shell. Visually, the UI is very similar to the standard pure Android, but with its unique features and standard apps from ASUS. Among the interesting features, we can once again note the modes of operation that allow you to flexibly adjust the operation of the smartphone. For example, you can set up the heat limit, CPU, GPU and RAM performance yourself, as well as select screen and network parameters. It is possible to set up the energy saving mode on schedule, plan charging and even set a charging limit to extend the battery life of your smartphone.
The manufacturer has highlighted the power button in blue for a reason and calls it a "smart key" because it offers to reassign standard actions with its help. It can be as simple as launching any app, or quickly performing absolutely any action, from system actions, such as turning on/off Wi-Fi, and ending with shortcuts of all third-party apps. There is a built-in manager with optimization tools and security recommendations, as well as an advanced Game Genie gaming hub, just like in the ASUS ROG Phone 5 gaming.
There are Twin Apps for cloning apps, OptiFlex for speeding up the launch of selected apps and reducing their reboot times, and a number of different gestures. The latter include movement gestures (flipping the smartphone over to mute an incoming call and automatically answering a call when the smartphone is brought to your ear), various screen  gestures even when it's not on. There you can also enable pocket mode to avoid butt dialing when the smartphone is in your pocket, and the "gloves" mode to increase the sensitivity of the touch screen.
Verdict
The ASUS Zenfone 8 is an excellent compact flagship that stands out primarily for its small size. The smartphone boasts a minimalist design, an excellent display with a refresh rate of 120 Hz, flagship hardware, good cameras, wonderful stereo speakers and functional software.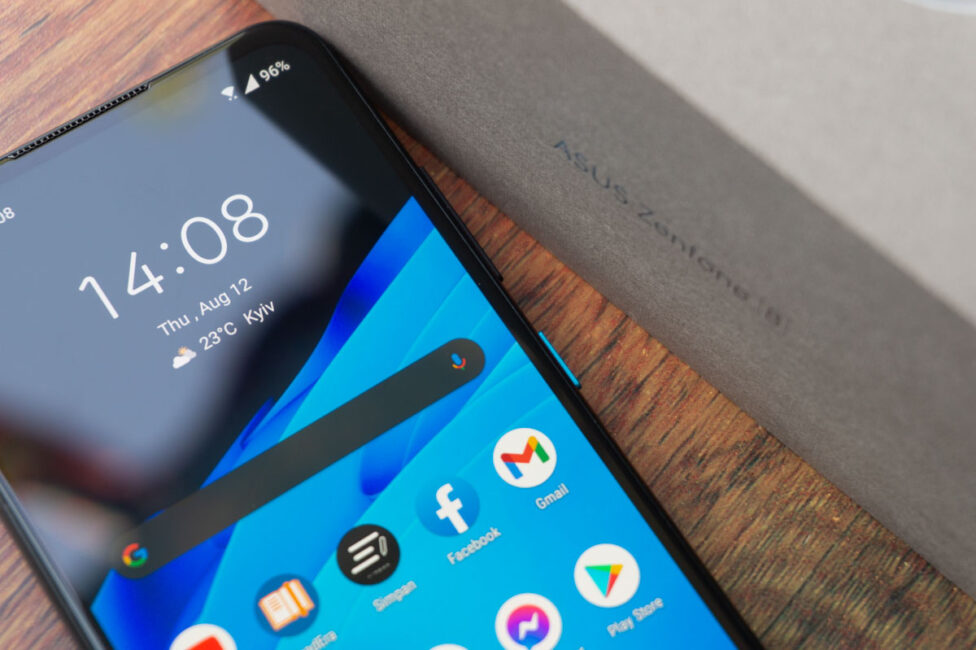 Among the serious disadvantages of the smartphone, I could single out only the so-so battery life, but you can blame the smaller dimensions of the phone. Other less significant disadvantages of the Zenfone 8 include the lack of eSIM support and wireless charging. But for those users who are looking for a convenient flagship, it is a great option.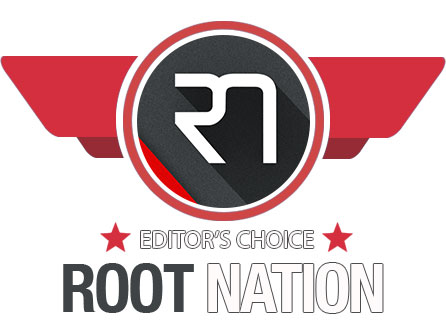 Subscribe to our accounts: