The Nova series was born at the end of 2016. Nova and Nova Plus were meant for people of style; for people, who want a thin device with a great camera and a trendy design. The original models had different designs – while Nova looked like a mini Nexus 6P, Nova Plus reminded me of OnePlus 3. This year, Huawei decided not to reinvent the bicycle, and created two identical devices which look a lot like the good ol' iPhone 7. Only screen sizes differ.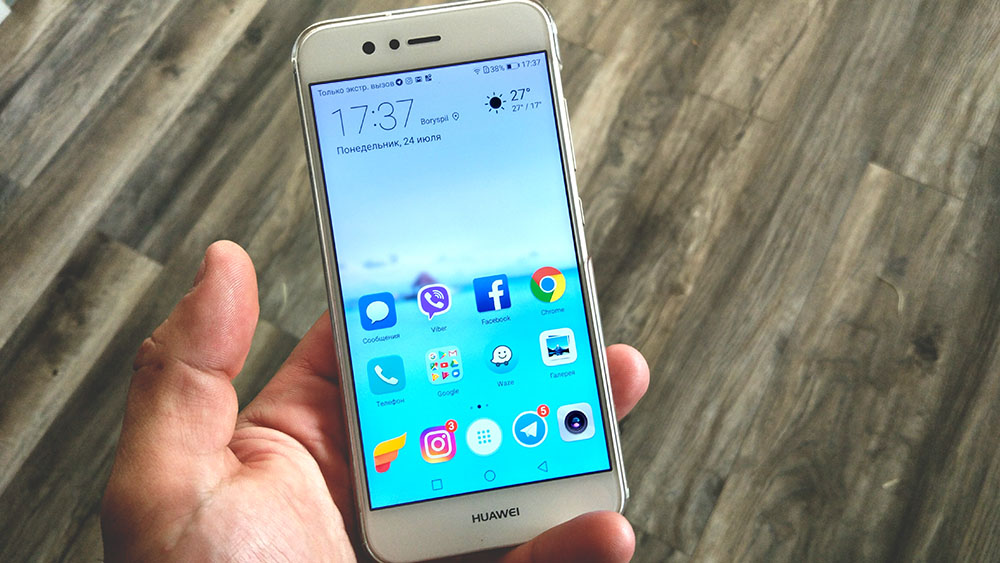 Huawei Nova 2
Before we begin, let's be clear: right now you can't buy this phone anywhere except in China. Luckily, we got our hands on the phone before the official release into the world. In this review we'll take a look at the junior model called Huawei Nova 2. We have a Streamer Gold model with 64 GB of storage, of which the user gets about 52 GB. For cellular network we used 3Mob carrier.
Huawei Nova 2 specs
The phone was unveiled in the end of June. It has a metallic body and comes in five colors: Streamer Gold, Rose Gold, Green, Aurora Blue and Obsidian Black.
Huawei Nova 2
Standard
GSM 850/900/1800/1900 HSDPA
LTE 2100/1800/2600/800
SIM cards
2×nanoSIM
OS
Android 7.0 (Nougat)
RAM, GB
4
Storage, GB
64
Expansion slots
MicroSD (up to 256 GB)
Dimensions, mm
142.2 x 68.9 x 6.9 mm
Weight, g
143 g
Dust and water resistance
–
Battery
2950 MAh (non-removable), with fast charging technology
Screen
Size, inches
5″
Resolution
1920×1080
Matrix type
LTPS IPS
PPI
443
Brightness sensor
+
Sensor screen (type)
Capacitive
CPU specs
CPU
HiSilicon Kirin 659 + Mali-T830 MP2
Core type
Cortex
Core number
8
Frequency, GHz
1.7 GHz
Camera
Main camera, Mp
12 + 8
Video
+
Flash
+
Front camera, Mp
20
Communications
Wi-Fi
Wi-Fi (b/g/n), WiFi Direct, hotspot
Bluetooth
4.2
Geo-positioning
GPS/GLONASS
IrDA
–
NFC
–
Interface Connector
 USB Type C
Additional
Audio connector
3,5 мм
MP3 player
+
FM radio
+
Body type
monoblock
Body material
Metal
Keyboard type
Screen input
Packaging
Nothing unusual for a Chinese phone: inside the box there's the device itself, a charger, a case, a cable, a clip for SIM-cards and documentation. There's also a neat headset that comes with the smartphone.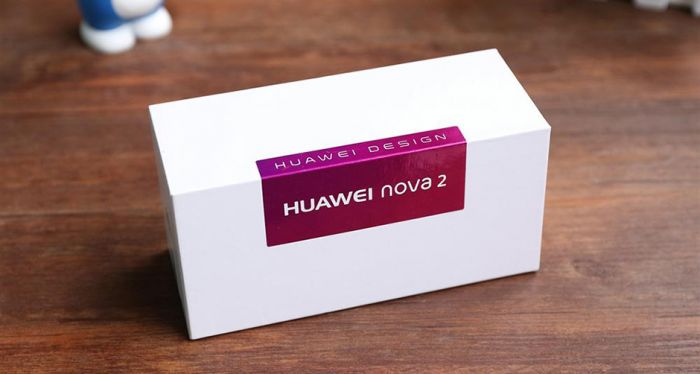 Huawei Nova 2 design and ergonomics

Nova 2 is a great-looking smartphone. The build quality is excellent – I see no faults at all. You may not like something, but that's all subjective. Sure, some might not like the similarities between Nova and iPhone 7, some might think that Huawei logo on the front is tacky. Objectively though, the phone looks nice –  a lot better than others in that price range.
The body is made of aluminum alloy. Everything is tight, nothing is loose. The construction is monolithic. The device has a thickness of 6.9 mm and a weight of 143 g. The screen size is small by todays' standards, but Huawei Nova 2 is convenient to carry in the pocket of any clothes.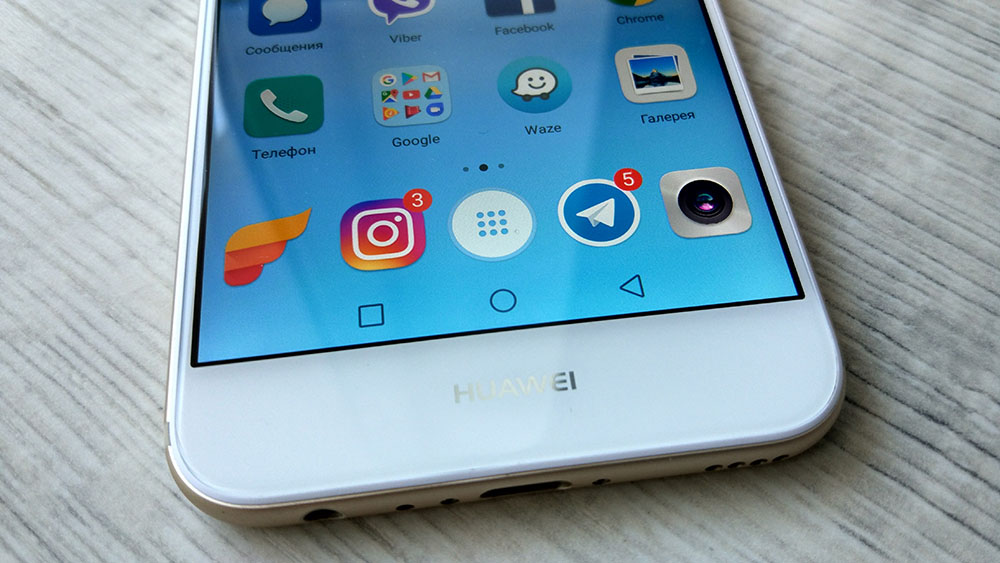 The front is covered with quality 2.5D glass. It's tough and scratch resistant. Under the display we have a Huawei logo. No navigational buttons, only soft ones. Not a great decision: screen navigation is not always convenient, and the line takes up a considerable amount of place. But that's subjective – many people like soft navigational buttons.
Under the screen there's a 20-megapixel front camera, a speaker, brightness sensors, proximity sensor and a notification indicator.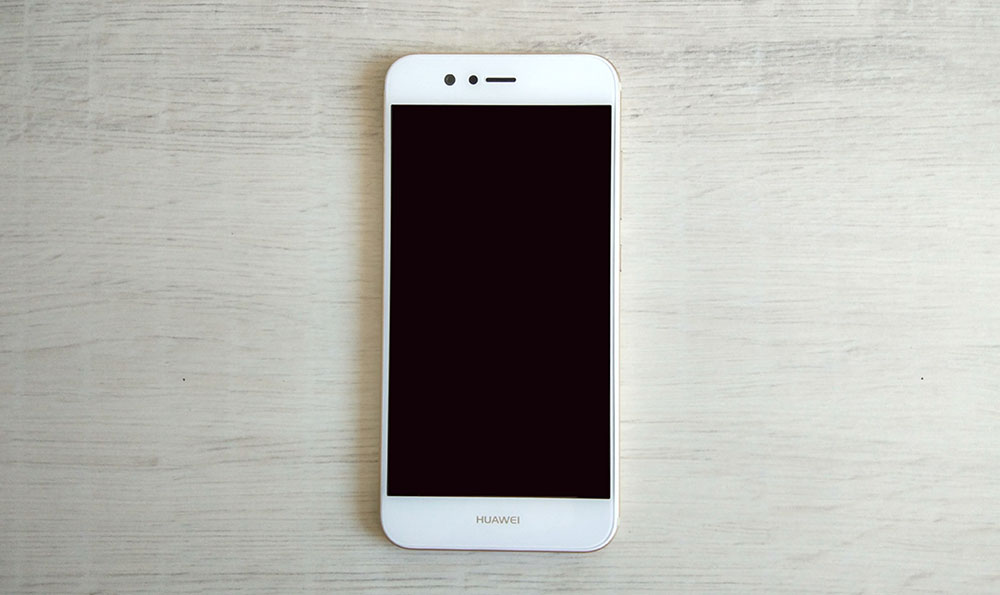 The back plate is made out of a single piece of aluminum and looks a lot like iPhone 7. The main difference is in the double camera and a fingerprint scanner. The latter is fast and reliable.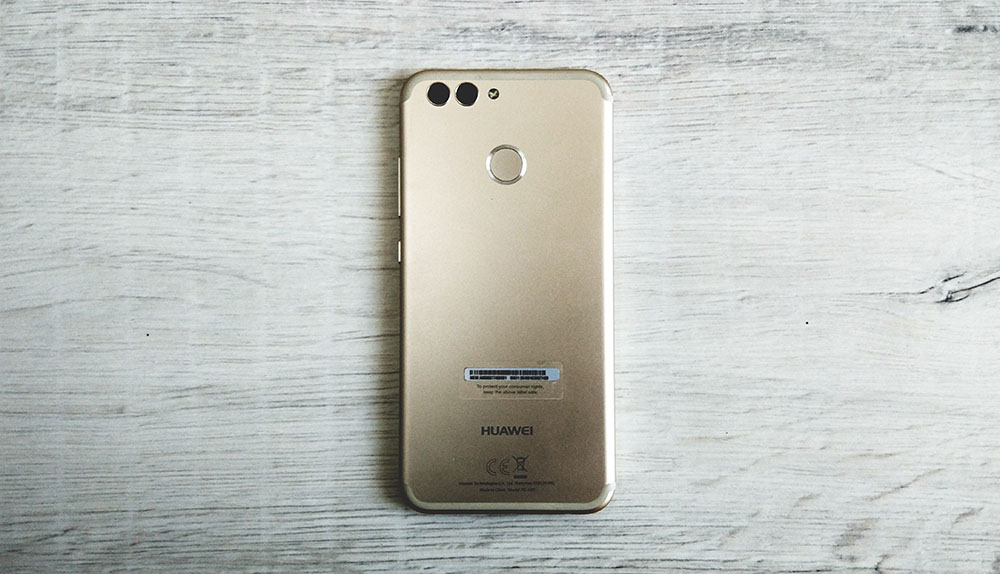 At the bottom are: a USB Type-C connector, a mic and a loud and high-quality speaker. While it may look like an iPhone, everything is in fact different. For example, the 3.5 mm headphone jack is still here.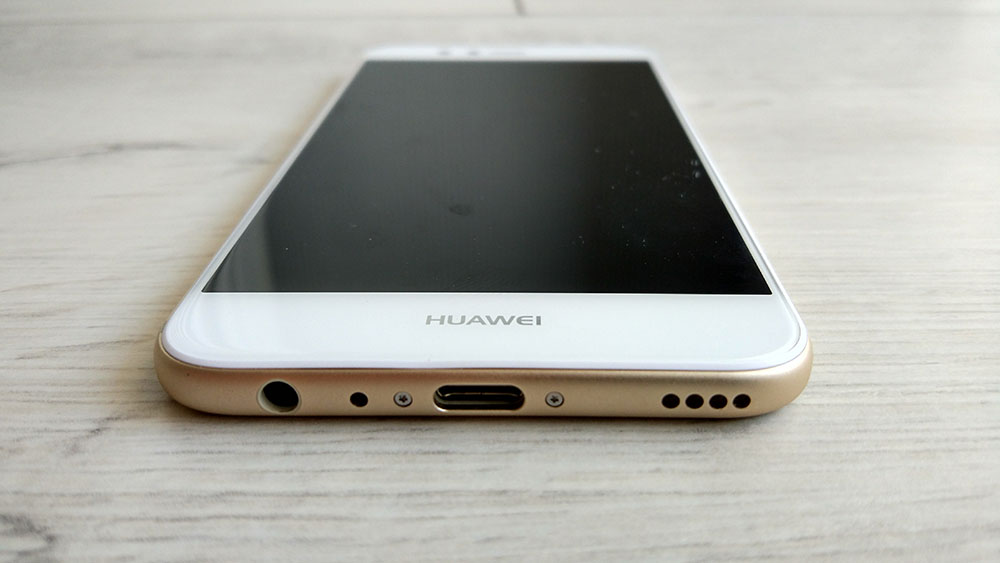 At the top end of the phone there is nothing interesting, except for an additional microphone.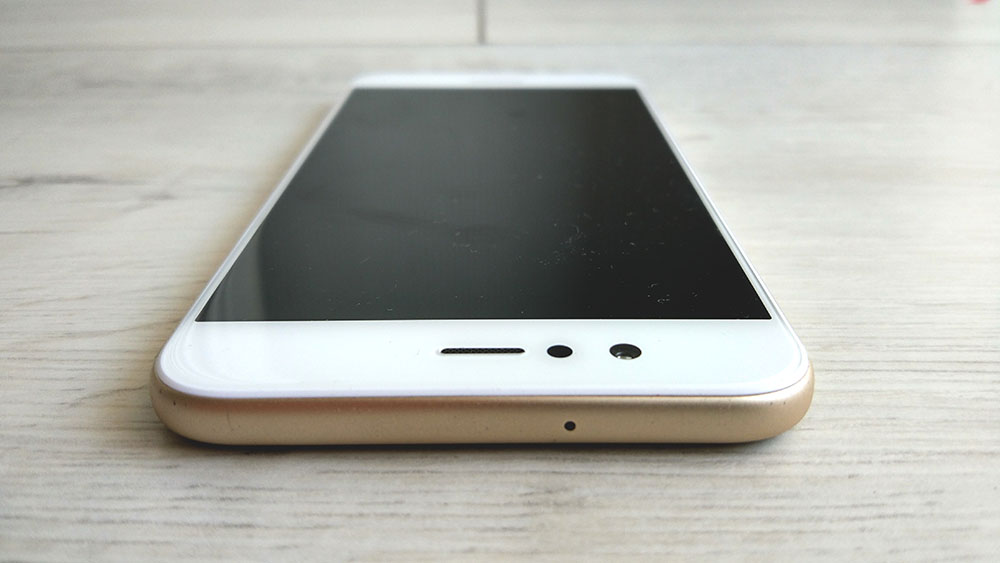 On the left edge of Nova 2 is a tray for two nanoSIM or one SIM card + microSD card. It is a compromise, but a standard for almost all modern smartphones. Moto G5 Plus is a rare exception.
On the right side there's a power and volume buttons. Total travel of buttons is sharp and light, with a nice click. The power button has a slightly rough surface. This small feature adds some class to the smartphone. Especially if the case is in lighter colors.
Screen
Huawei Nova 2 has one of the best screens of its class. Wide view angles, high brightness levels, juicy colors. Even in sunny weather the screen is easily readable – but only if you set the brightness to the max. The screen of Nova 2 is made with LTPS tech and has the resolution of 1920×1080. There's a feature for protecting the eyesight, like when you're reading before sleep.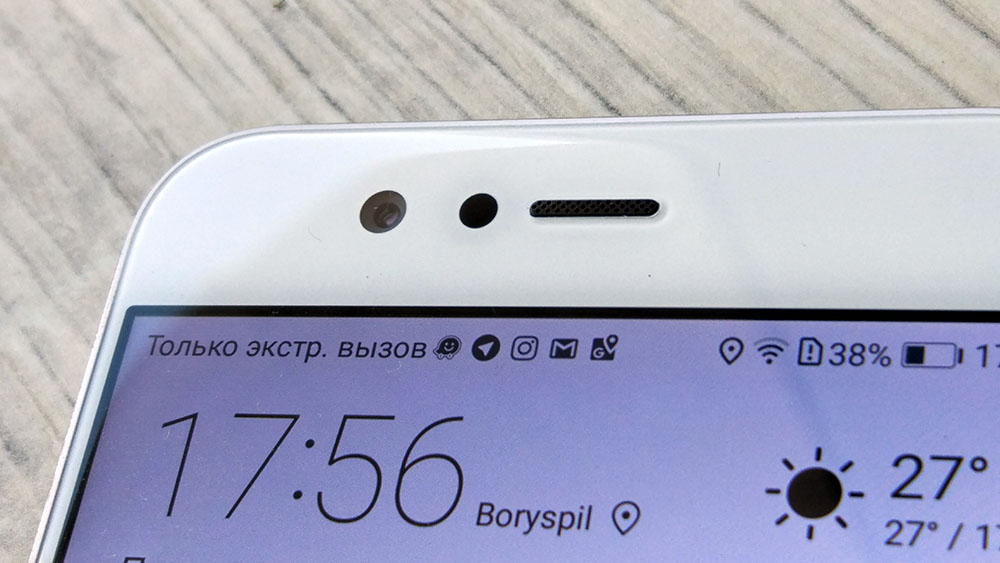 There's an interesting feature in the screen settings for blurring the picture of your choosing. It makes any picture a great wallpaper, which looks nice with the app icons.
Multimedia
Another strength of the phone. The sound is great – even with nonexpensive headphones. The preinstalled player has a functional equalizer with huge amount of customization and presets. No problems with the speaker either. The sound is loud and clear. You can watch cooking shows on YouTube while making dinner with no problems
Another worthy addition is proprietary sound improvement soft called Histen. This technology includes simulation of surround sound depending on the scenario. For example, the "Close" mode is suitable for listening to quiet music. The "Frontal" mode is perfect for watching movies or listening to rock, as it enhances bass. If you decide to listen to classical music, choose the "Volumetric" mode, which simulates the acoustics of a concert hall.
Communication
Huawei Nova 2 has a slot for two nanoSIM. Both work in 3G/4G.
Network types:
| | |
| --- | --- |
| 2G bands | GSM 850 / 900 / 1800 / 1900 |
| 3G bands | HSDPA 850 / 900 / 1700(AWS) / 1900 / 2100; |
| 4G bands | Cat4/Cat6 |
The rest is standard: Wi-Fi: a/b/g/n, Bluetooth 4.1, GPS and GLONASS. NFC is not supported, which is not very good – mobile contactless payments are all the rage right now.
Camera
The second generation of Nova phones (along with Huawei P10 and P10 Plus) all have dual cameras. These are not created in partnership with Leica, but the quality is comparable with those of a flagship.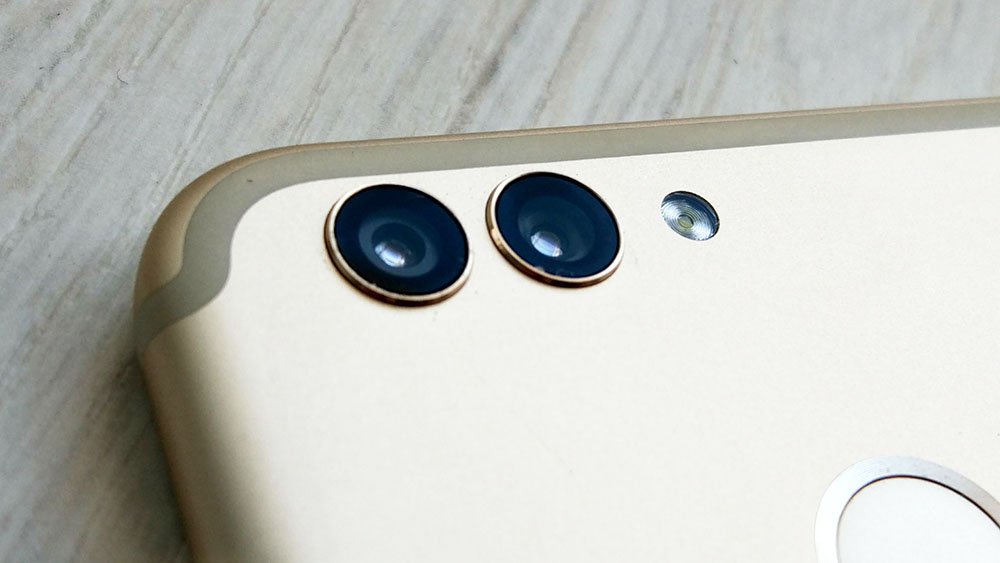 The main camera is made of two 12 and 8 Mp modules. The first has a wide-angle f/1.8 lens, the second is used as a telephoto sensor with the option of double magnification without the loss of image quality. This combination of cameras is not new, a similar "marriage" is used in iPhone 7 Plus. Cameras are able to work together to create the widely advertised bokeh effect.
The front camera in terms of pixels beats even Huawei P10 – 20 megapixel versus 8. If performs admirably, no complaints. Detail, sharpness and color rendition are at the proper level. The camera is equipped with a picture enhancement function. This option will be very appreciated by selfie lovers, since in just a few seconds it cleans up the faces and makes them look cleaner and overall better.
In bad lighting and indoor the quality of photos is worse, but still acceptable.
As for video, there are no surprises. Nova 2 shots video in 1920×1080 resolution, with 30 frames per second. Nothing fancy, just like most smartphones of this price category. There are modes of deceleration and acceleration. You can put pre-selected and edited stickers and watermarks.
Photos during the daylight
Photos indoors
PHOTOS AND VIDEO IN FULL DEFINITION
Performance of Huawei Nova 2
The device is equipped with a proprietary Huawei Kirin 659 processor. It consists of two blocks of four-core ARM Cortex-A53. The maximum clock frequency is 2.36 GHz. Coupled with the Mali-T830MP2 accelerator and 4 GB of RAM, the chipset is more than enough for stable work of any applications and even resource-intensive games, although not on the highest graphics settings.
In synthetic tests Nova 2 showed excellent results, for a mid-range phone at least. In Geekbench 4 smartphone is gaining 3680 points. In AnTuTu – 75,000 points. When used to the max, the body gets a little warm.
Firmware and software
Nova 2 runs on Android 7.0 Noughat with the proprietary EMUI 5.1 shell from Huawei. Beautiful, bright, and with a wide range of options for customization and a set of auxiliary applications for cleaning your smartphone, it's great all around. The shell is quick and smooth. The developers of Huawei have really outdone themselves.
There are also two very useful features of EMUI. The first is the pedometer in the "Health" application. It's quite accurate, but you'll have to take your phone everywhere. The second feature allows to clone apps for accessing them from different accounts, for example when you use Instagram or Facebook.
Battery life
Nova 2 has a 2950 mAh battery which handles heavy tasks (games, Internet, music, GPS) for the duration of a light day. In the evening the phone will need recharging. If you take it easy, it'll easily last up until the night. If this is not enough, Nova 2 has proprietary technologies of energy saving, which shut down most of the energy-intensive processes and squeeze a couple of hours out of the battery.
There's an option for quick charging. 1 hour and 20 minutes and your phone is fully charged. While watching HD movies, the phone lasts for 5 hours, when listening to music on maximum levels – about 20 hours.
Verdict
Huawei managed to make Nova 2 better. Premium design, great cameras and a lots of features make the device ideal for those who prefer compact phones for affordable price.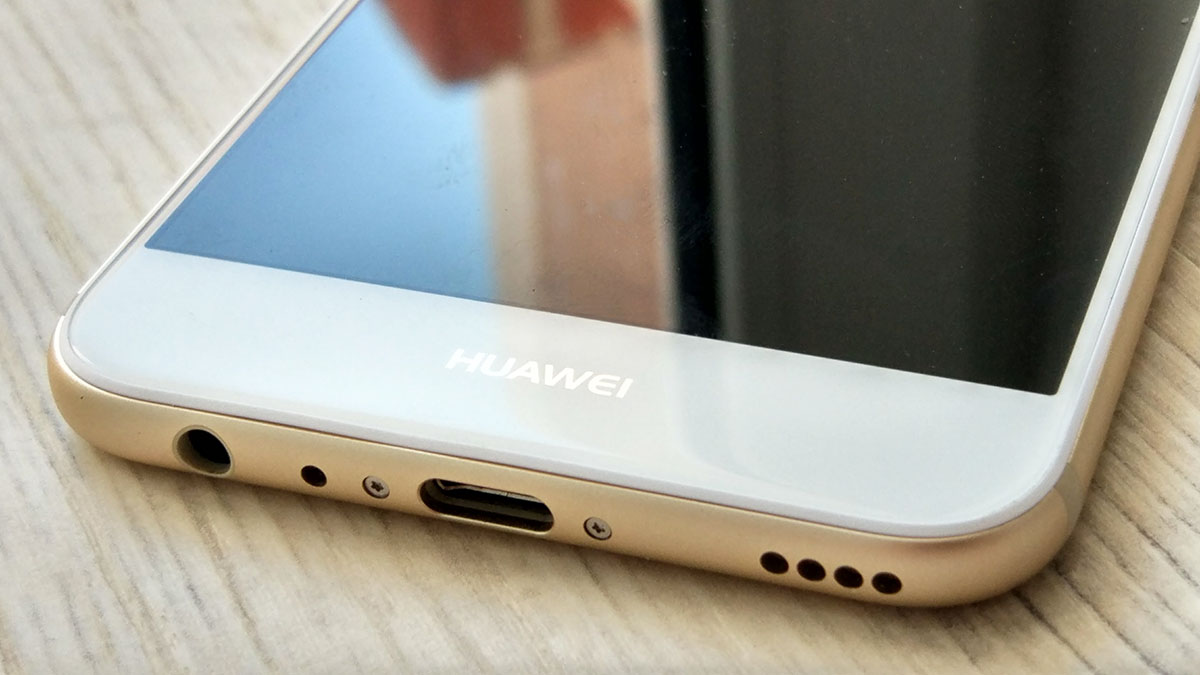 Sure, the phone is not very powerful, but it's powerful enough for the user not to care about the number of running apps or their sizes. Sure, Huawei Nova 2 has a lot of competitors among other Chinese brands, but none offer such materials and build quality. The only company that can hurt Nova is Huawei itself, and by that I mean its subsidiary Honor, whose phones have similar specs and lower prices. But Nova 2 still has universal design and higher liquidity. If you plan on selling the phone, that's something you have to consider.
Huawei Nova 2

Liked:

Design
Build quality and materials
Good battery
Dual camera unit with multiple modes
Big storage

Did not like:

Currently only available in China
Competition with Honor and other brands
Price