When I get to test a low-budget phone, I rarely expect features from flagships. But sometimes miracles happen, and the new TP-Link Neffos C9A surprised me with a couple of aces up its sleeve.
Technical specifications of TP-Link Neffos C9A
Display: 5.45″, IPS, 1440×720 pixels, aspect ratio 18: 9
Processor: MediaTek MT6739WW, 4 cores Cortex A53 with a frequency of 1.5 GHz
Graphics Accelerator: PowerVR Rogue GE8100
RAM: 2 GB
Strogage: 16 GB
Support for microSD memory cards: up to 128 GB
Wireless networks: Wi-Fi 802.11 b/g/n, Bluetooth 4.1
Main camera: 13 megapixel, f/2.2, PDAF
Frontal camera: 5 megapixel, f/2.8
Battery: 3020 mAh
OS: Android 8.1 with NFUI 8.0 shell
Dimensions: 146.5 × 70.9 × 8.3 mm
Weight: 145 g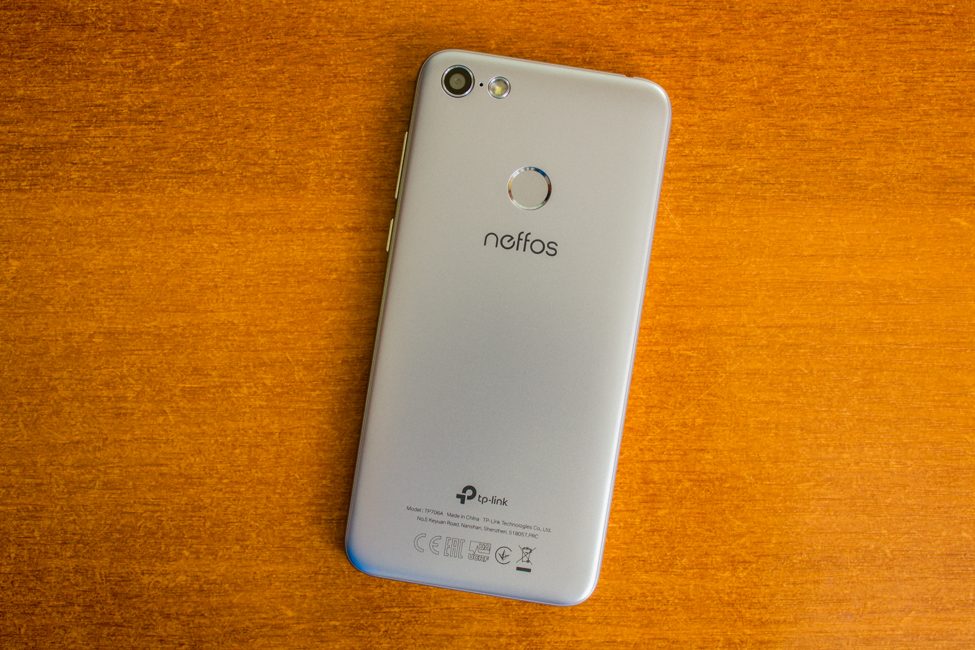 What's in the box
The gadget comes in a small box that consists not only of the usuals (smartphone, power adapter (5V/1A),USB/MicroUSB cable and SIM eject tool), but also offers a transparent silicon cover and a screen protector.
Sure, those are rudimentary, but they are a nice addition that sets up the tone. A buyer sees this bonus and can't help but feel better about his new toy.
Design, materials and build quality
TP-Link Neffos C9A comes in two colors: dark grey with black front panel and light grey with white front panel.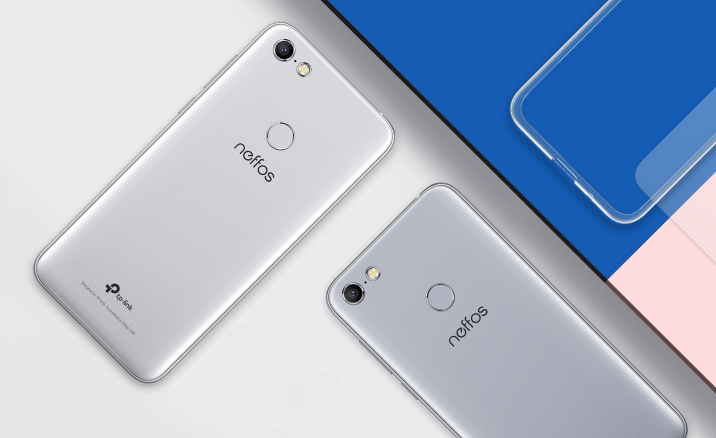 The first visible changes can be seen in the screen format. Now we have the modern 18:9 aspect ratio. I am very happy to see this ratio in today's mid-ranger.
But the screen is the only notable thing about the device. It really looks like Neffos C7, only smaller. And yes, C9A is very compact.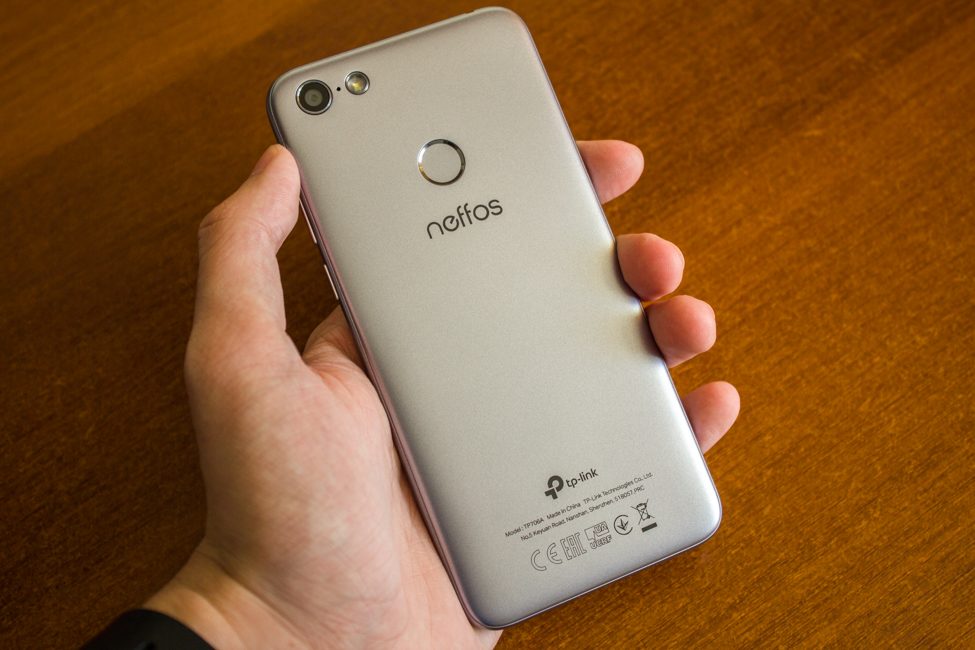 When I first took the device out of the box, I got the same feeling as with Huawei Y5 2018. In general, they are very similar in all respects and Neffos C9A is a direct competitor to Y5 2018.
The frames around the screen are not very thin, and the top and bottom are slightly asymmetrical. But the glass that covers the display is slightly rounded around the perimeter.
The body of the smartphone is completely plastic. A good quality plastic, and the build quality is surprisingly excellent.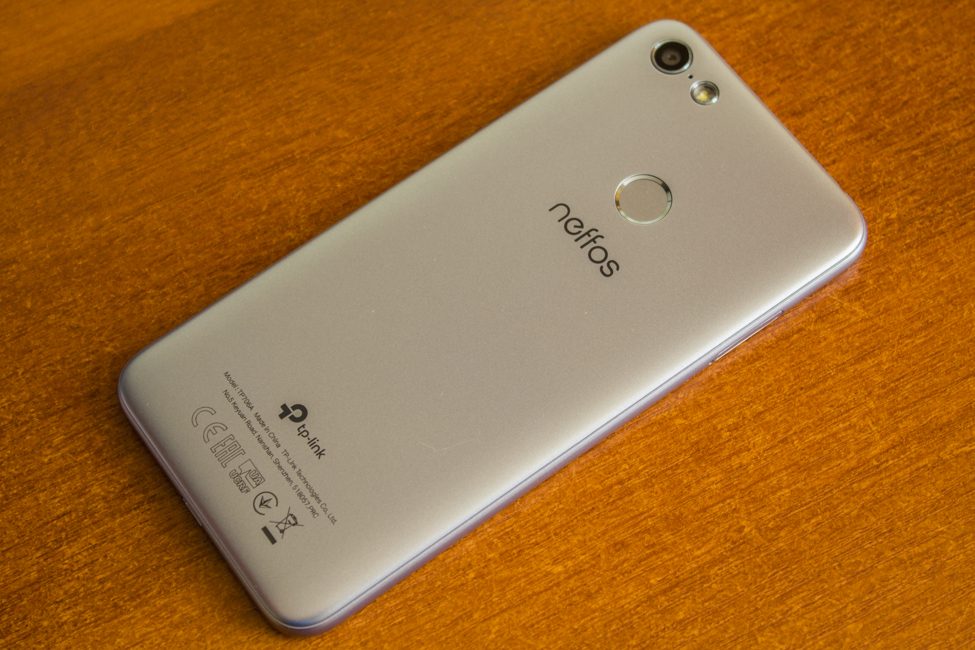 My only real issue with TP-Link Neffos C9A is that there's no oleophobic coating on the glass, so expect the screen to collect fingerprints, dust and so on.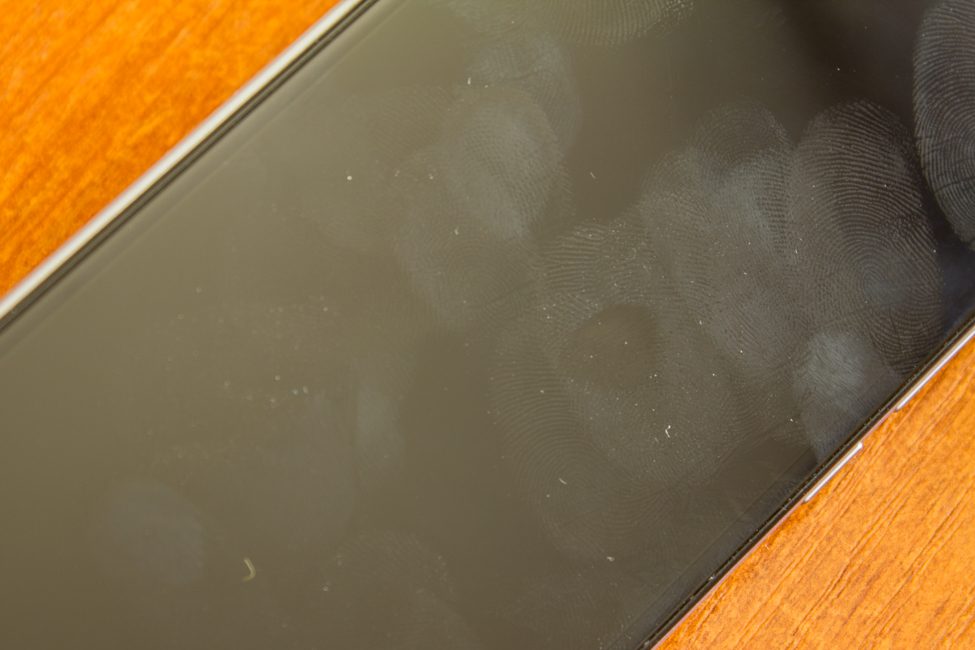 That's more of a nit-pick since in the box we have a protective film that solves that problem.
Arrangement of elements
In terms of the layout of the elements, everything is typical. Above the screen in front there is a flash, proximity and light sensors, the only speaker and selfie camera's eye.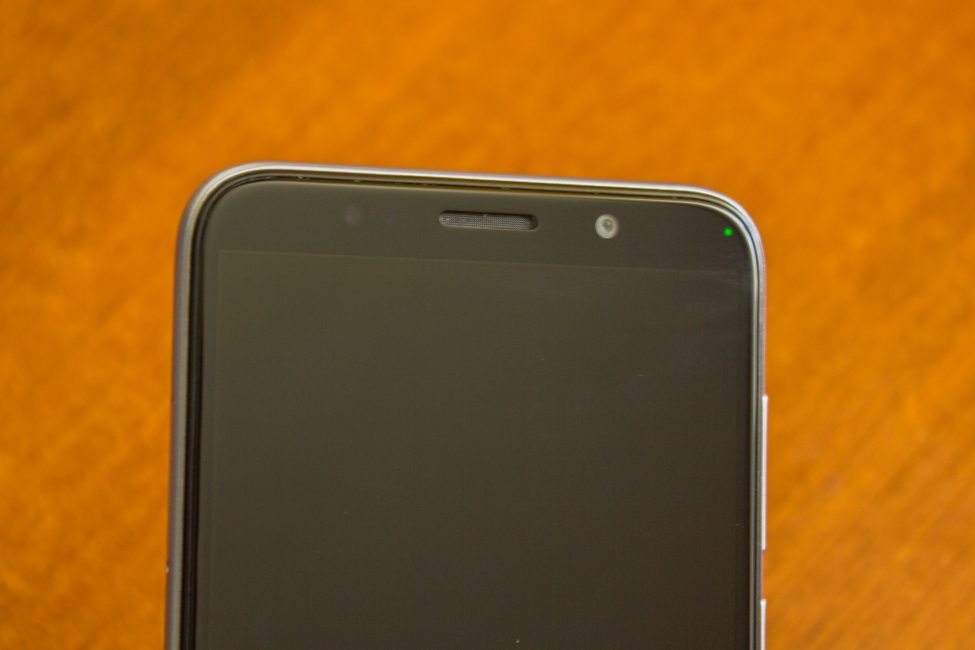 Neffos logo below the screen.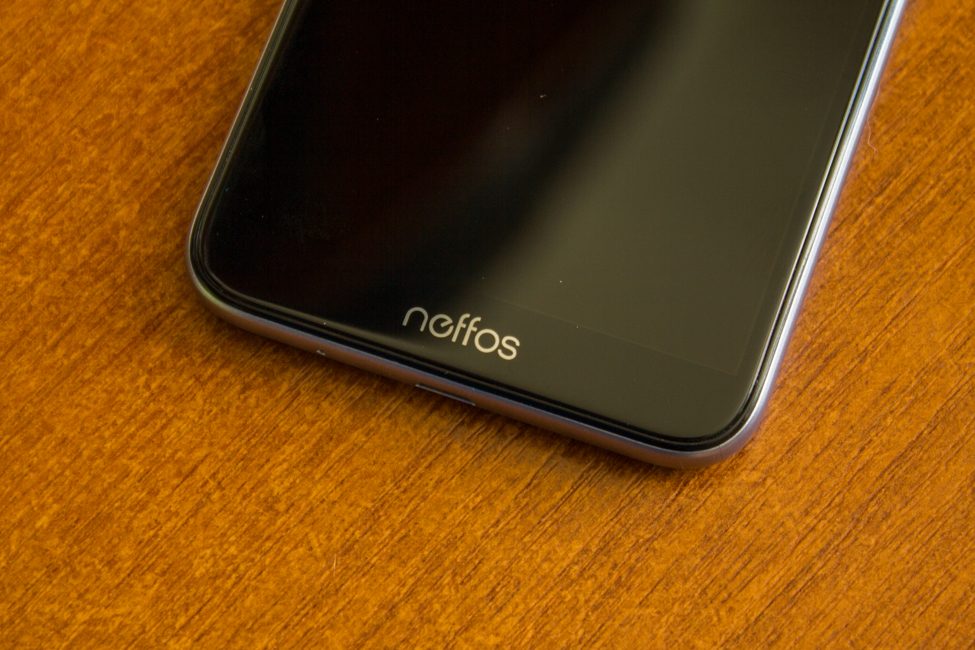 On the right side there is a power/unlock button and a paired volume control button.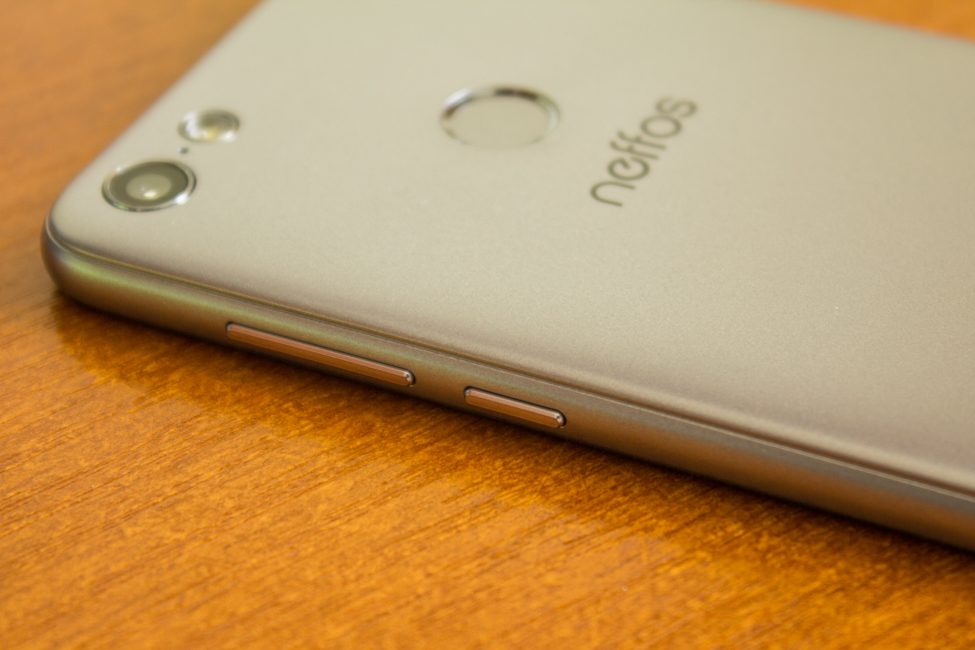 On the left is a slot for two SIM-cards in nano format and a microSD memory card. The slot is not combined, which is a positive trend of 2018.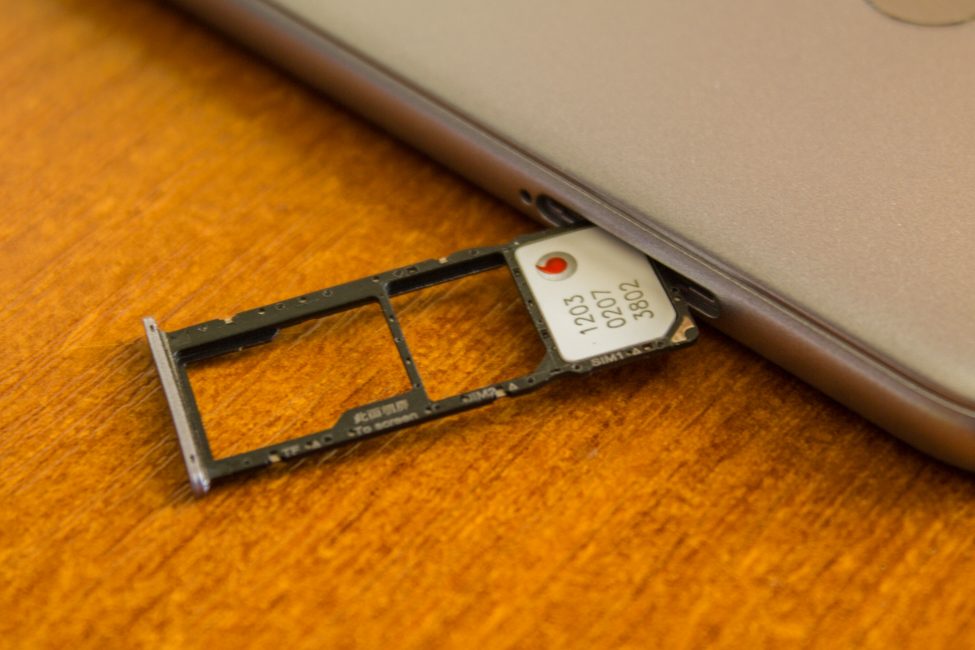 On the lower edge there is a microUSB port and a microphone. And on top there's a 3,5 mm audio jack.
On the back of the device, in the upper left corner, there is an eye of the main camera in the silver frame, an additional microphone and a flash.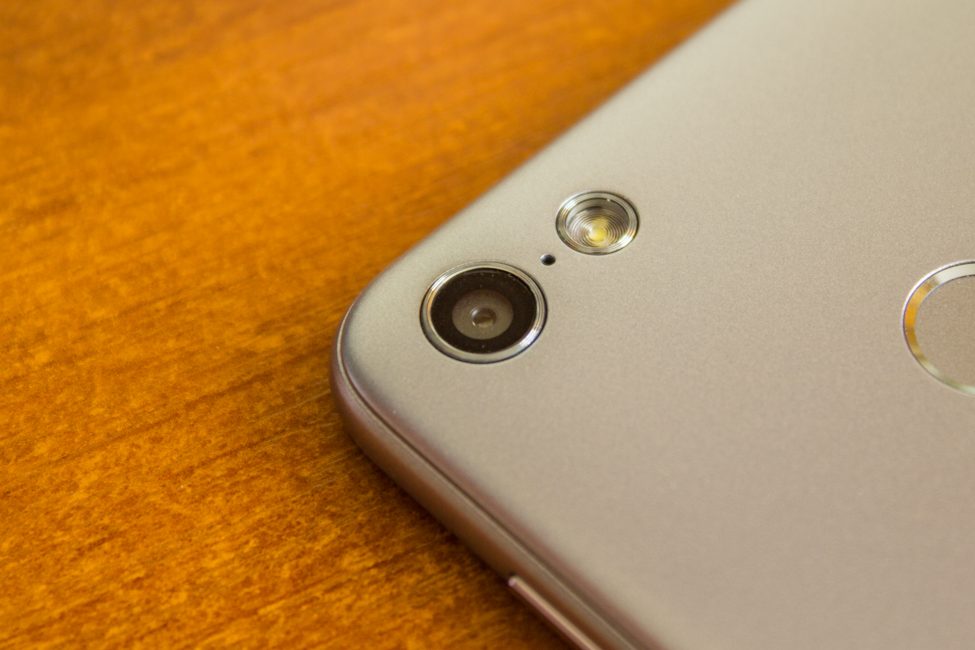 A little lower we have the fingerprint scanner and Neffos logo. And at the very bottom – the TP-Link logo and service inscriptions.
Ergonomics
I already said that the smartphone is very compact. You can use it with one hand, without experiencing any inconvenience.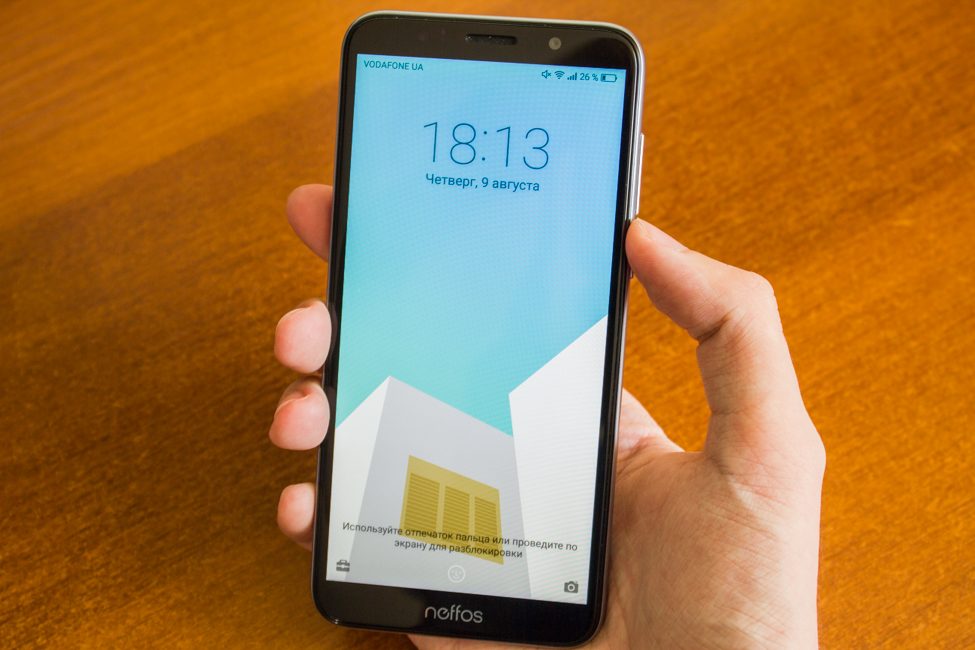 It feels light in one's hand. The fingerprint scanner and buttons on the right edge are all in the right places, there's no need to change the grip in order to touch them.
Display
TP-Link Neffos C9A is equipped with an extended FullView-display (18:9) with a diagonal of 5.45-inches and HD+ resolution (1440×720). The matrix is IPS.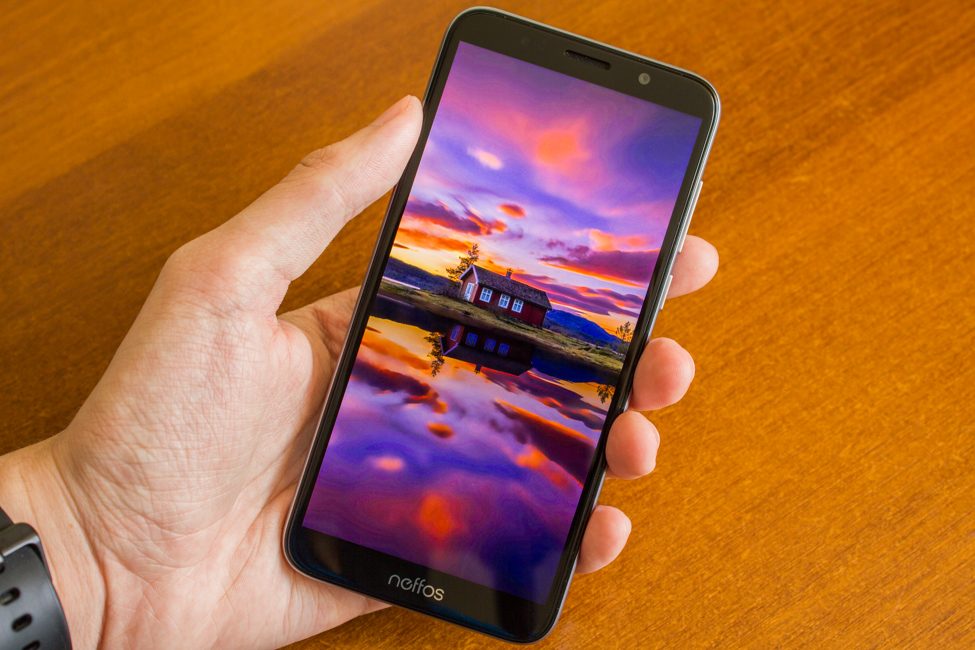 The pixel density is approximately 295 dots per inch, and therefore it is almost impossible to see the individual pixels.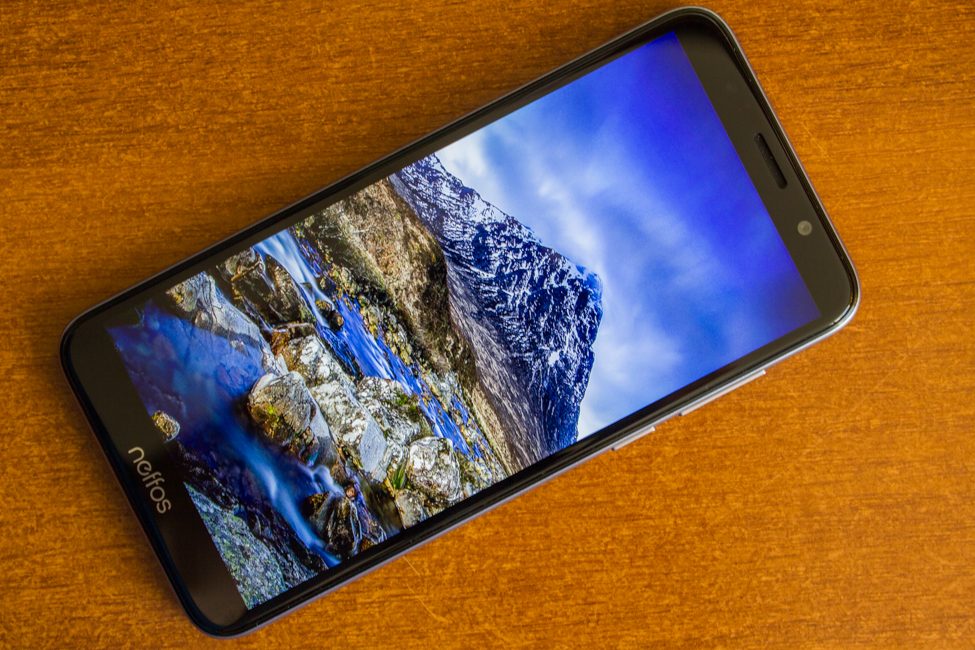 The screen has a good reserve of brightness; it's saturated and contrasty. With different angles, no color distortions were observed. Automatic brightness control works at medium speed. In short, the quality of the display for a mid-ranger is excellent.
In the display settings there is night mode, glove mode, adjusting the sensitivity of the screen and a few other gestures. We'll talk about those later.
Performance
The smartphone runs on a budget MT6739WW processor from MediaTek with four Cortex A53 cores and a maximum clock frequency of 1.5 GHz. Graphics chip is PowerVR Rogue GE8100.
In synthetics, as in everyday operation, the smartphone demonstrates corresponding low results. In AnTuTu Benchmark, for example, it couldn't be tested, because after the first video fragment the testing process stops at 0%.
Neffos C9A has 2 GB of RAM. It can run several simple applications without restarting. 16 GB of storage is in fact 10.86 GB. The memory can be expanded with a microSD memory card up to 128 GB. And no, we don't have to sacrifice the second SIM.
When you download or update applications from Google Play, smartphone slows down significantly. However, this happens for 5-10 seconds and the frequency depends on the intensity of the updates of the applications you have installed. On average it's every 1-2 weeks. In general, it is not critical in everyday use. Also, lags are visible when opening the application list and sometimes when running individual programs. Although in the apps themselves everything is mostly fine and smooth.
Overall, all is typical for a budget device – it is suitable for basic tasks and no more. By "more" I mean games. The casual ones are okay, but don't expect anything else.
TP-Link Neffos C9A 

cameras
There's only one camera module. It has 13-megapixel resolution, the aperture of f/2.2, and a phase autofocus.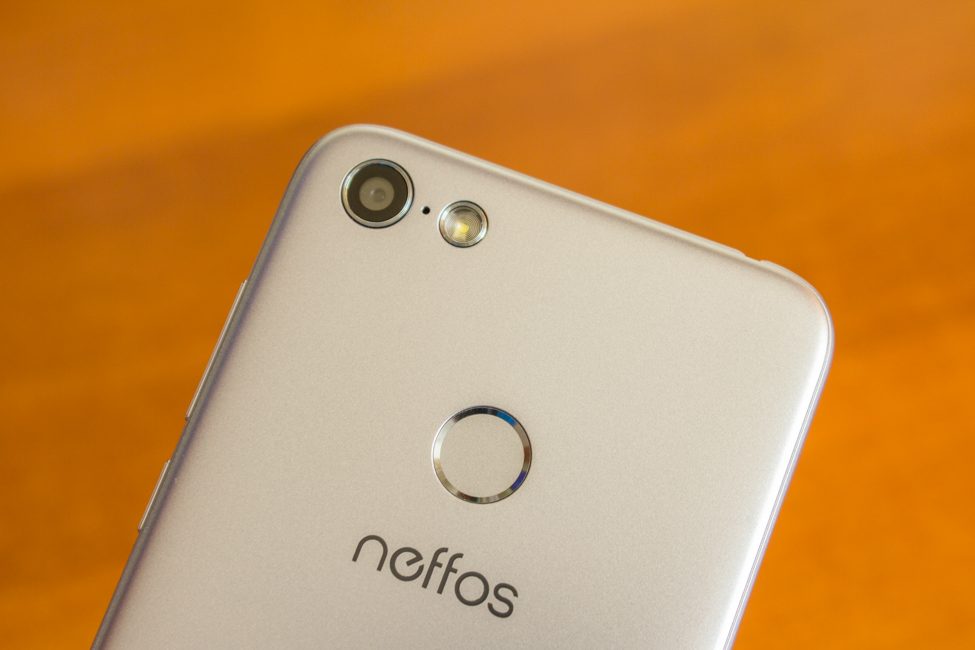 Taking into account the price tag of the device, the camera is okay. All usual elements, such as detail, dynamic range and color rendition are at the level appropriate for the price. Sometimes the pictures are blurred at the edges, even with good daylight. Autofocus and camera are fast.
EXAMPLES PHOTOS IN FULL RESOLUTION
In general, the main camera obviously will not impress the advanced user, but the undemanding buyer will mostly be happy with the results.
In terms of video, the situation is even worse. The max resolution is 1080p. No stabilization. Can also write time-lapses in a similar resolution.
Front camera module: 5 Mp (f/2.8). Not too particularly impressive, but will suffice.
The camera application is usual for this manufacturer. There is an advanced manual mode with ISO setting, shutter speed, white balance, focus, exposure, metering and adjusting the color settings (hue, saturation, brightness, contrast). In addition, there is a separate monochrome regime.
Unlocking methods
You can unlock the TP-Link Neffos C9A with a fingerprint scanner or face recognition. Unlike the similar Huawei Y5 2018, this phone has a fingerprint scanner.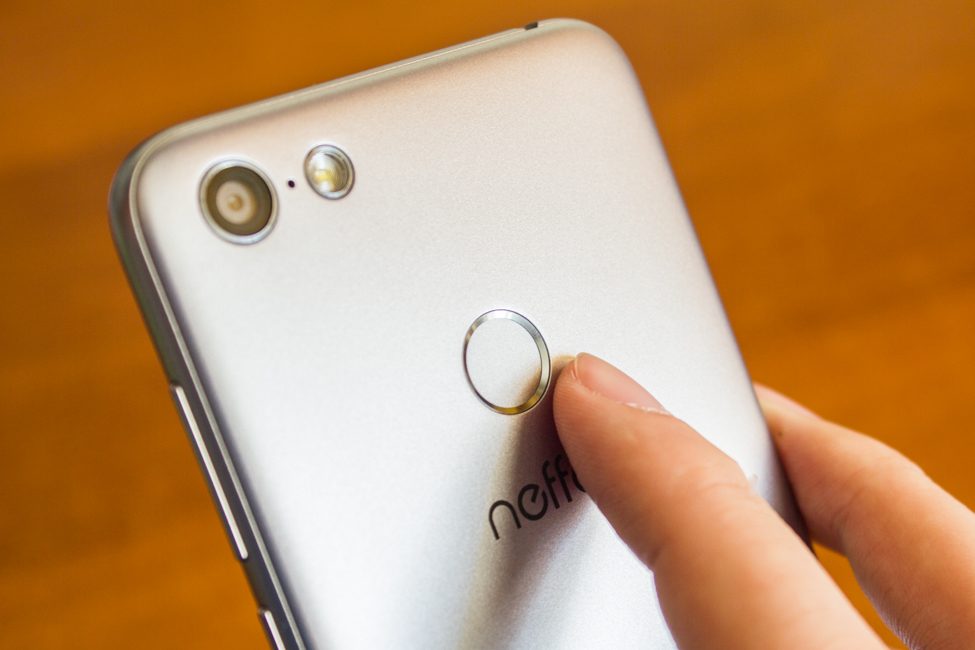 The latter works slowly and sometimes makes mistakes on its first try, but again, it's there and that's great. Also, it can unlock applications, open or hide the notification curtain and control the camera descent.
Unlocking with face recognition also takes time. It takes about 2 seconds on the street and indoors with good lighting, but in total darkness this method does not work at all, which is unsurprising. Better use the scanner.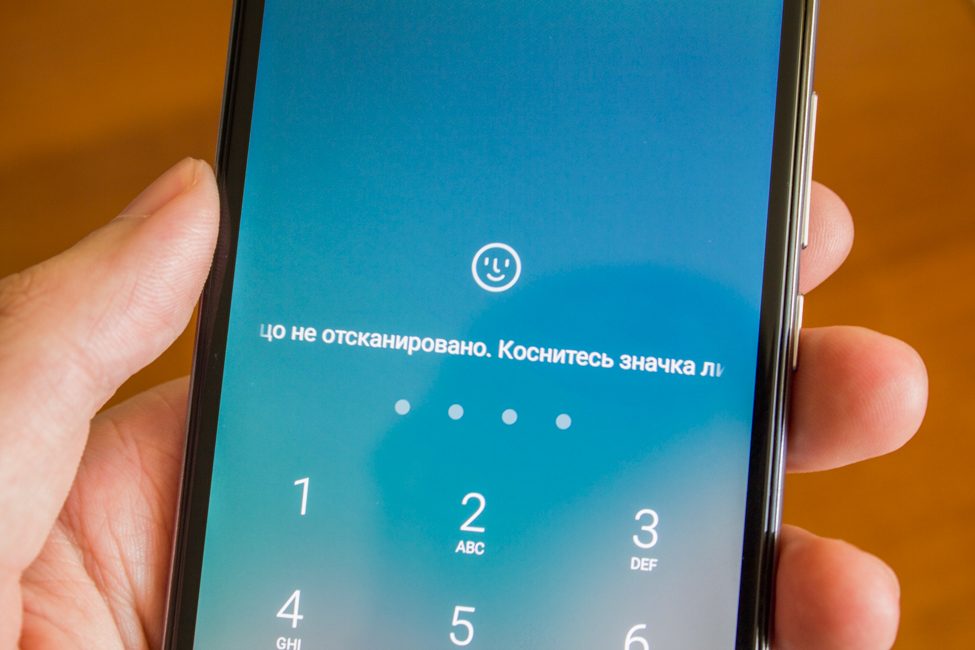 The process of customization is usual, you can add only one person.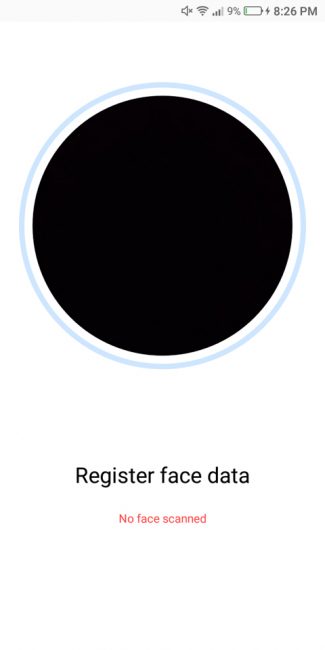 Battery life
The smartphone has a non-removable battery with a capacity of 3020 mAh. No surprises in this regard – Neffos C9A survives to the end of the day with active use. On average the active screen stays on for 4-5 hours.
The firmware allows for two power-saving modes. The phone charges slowly. An hour gives you 45%, and the full charge takes 2.5 hours.
Sound and communication
The earpiece speaker in the TP-Link Neffos C9A is combined with a multimedia speaker. It works for conversations, but not nearly enough for media.
The sound in the headphones is quite good, but you can't improve it as there's no equalizer.
Cellular network can be found instantly, there were no problems with it. GPS modules, Wi-Fi 802.11 (b /g/ n) without the support of 5 GHz and Bluetooth 4.1 works well.
Firmware and software
TP-Link Neffos C9A is running Android 8.1 with the proprietary NFUI 8.0 shell.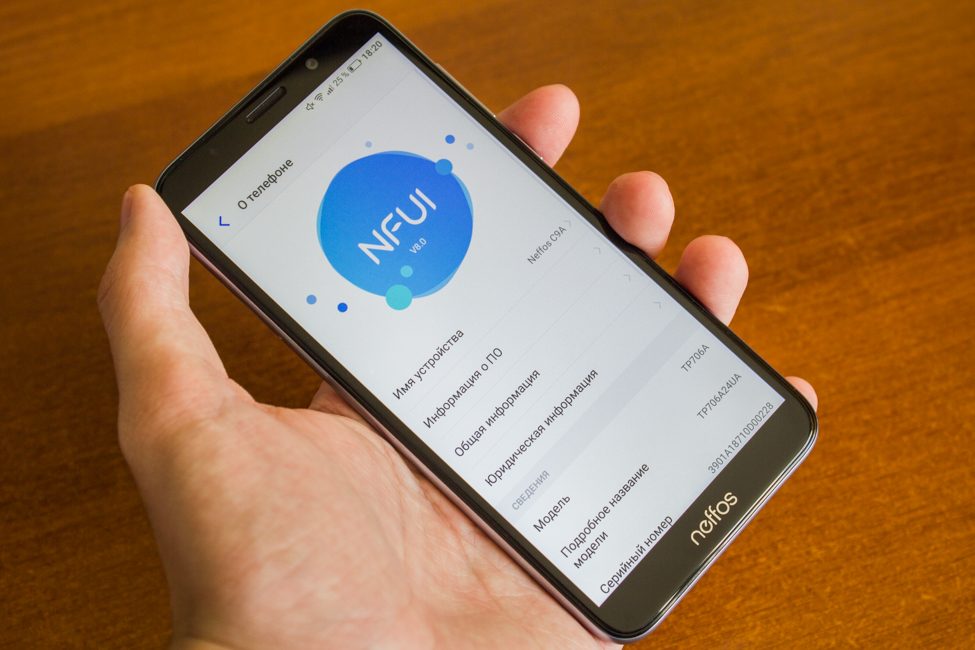 The shell has a nice interface, it's stable and functional. From the lock screen you can start the camera, or open the dock with a voice recorder, calculator, flashlight and timer/stopwatch.
Other functions include cloning applications, gestures (with screen turned off) and moveable button.
Also I want to note that navigation is possible in two ways: the usual on-screen buttons (their location can be changed) and gestures. I choose the latter.
The logic of this control is as follows: to return to the desktop, you need to draw the bottom of the screen up, you can perform the action "back" with swipe to the center from the left or right edge (or both, there is such an option), and you can open the menu with running applications with a swipe from below to the center and holding your finger on the screen.
You get used to this method of managing the phone in ten minutes. You can also activate (or turn off) the visual display of these gestures.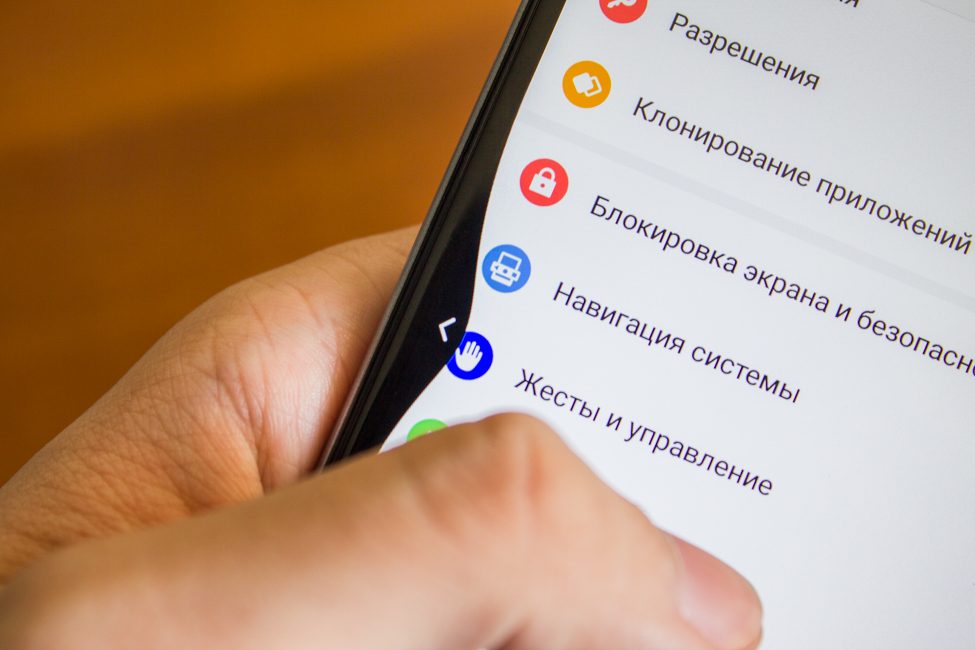 Verdict
TP-Link Neffos C9A is a good mid-ranger for those who seek a simple device for everyday tasks.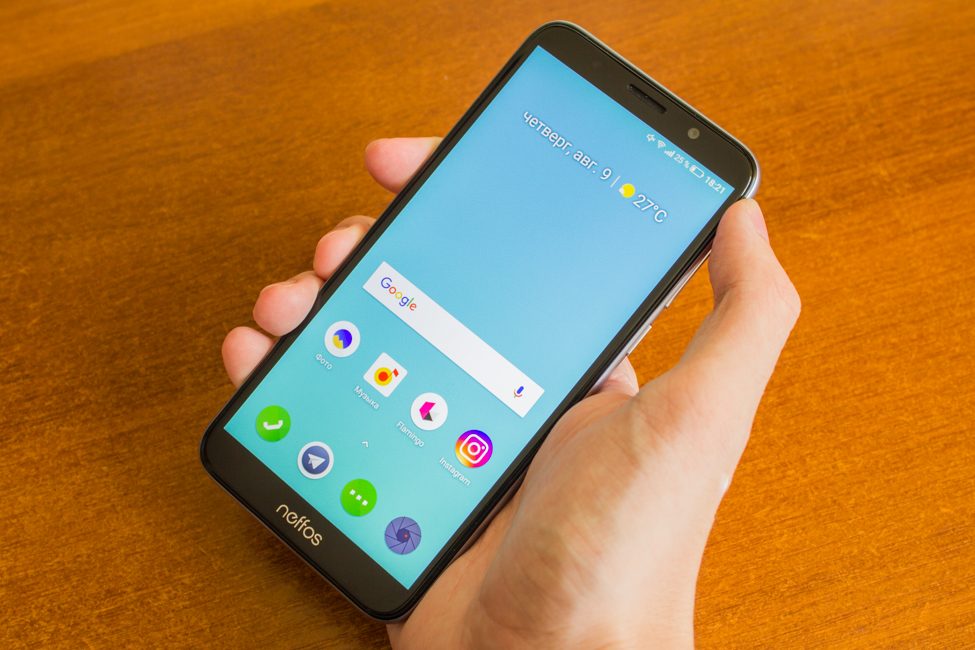 The smartphone is nice to use, and has a good screen and build quality. I can't blame software as well – the firmware is stable and supports trendy gesture control. Camera and performance are more than okay for that kind of price.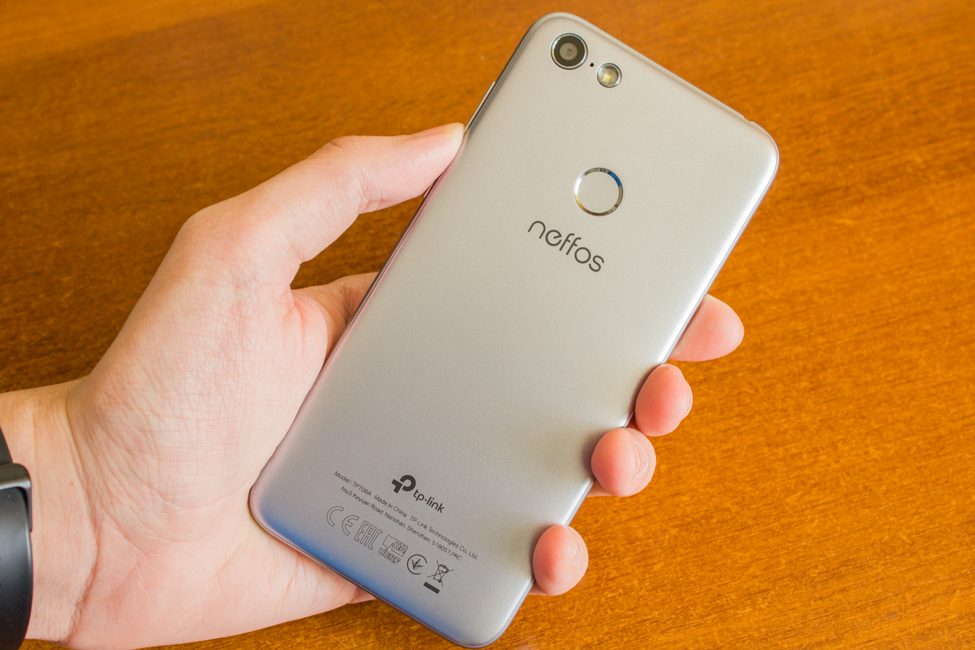 Is it really better than Huawei Y5 2018? You can decide for yourself. It certainly rivals it in many aspects.