I really wanted to try the new Xiaomi Mi 6. Mostly because I liked the Mi 5 from the last year, although it was flawed. I wanted to see Xiaomi's progress, what was improved in the year 2017. And finally my dreams came true – I have the Mi 6! And after a couple of weeks of active use I can tell you all about it.
Xiaomi Mi 6
I have a black Xiaomi Mi 6 with 6 GB of RAM and 64 GB of storage. The user has 55,43 GB – and that's it, no microSD slot. For network I used two SIM (nano) cards in 3G network. My carriers are Vodafone UA and Kyivstar.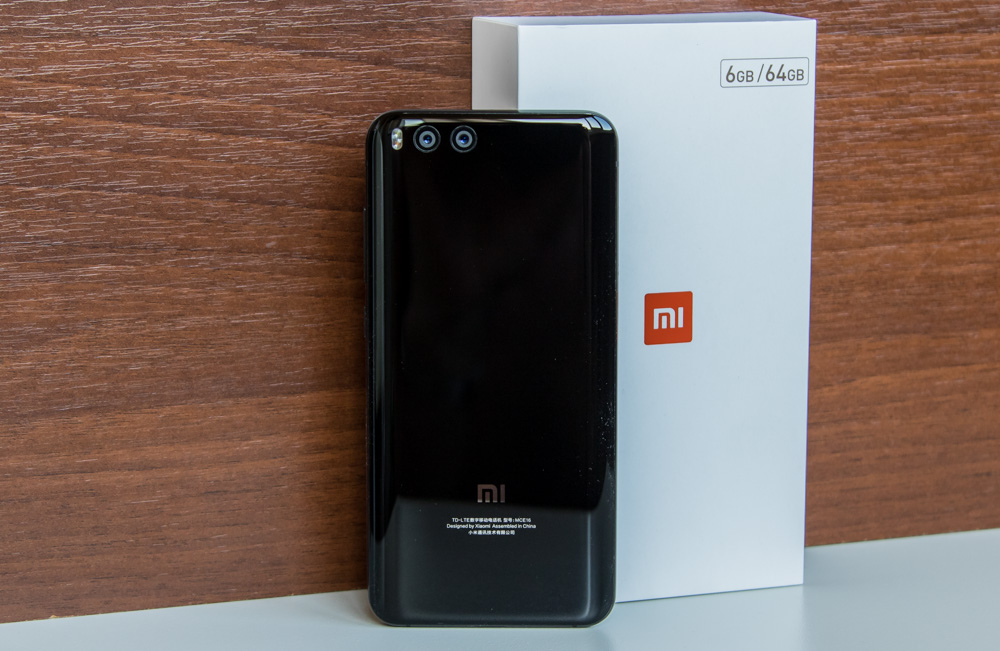 Xiaomi Mi 6 specifications
Equipment
RAM, GB
6
Storage, GB
64
Expansion slot
no
SIM card type
Nano-SIM
Number of SIM cards
2
Processor
Qualcomm MSM8998 Snapdragon 835
Number of cores
8
Frequency, GHz
no
Rechargeable battery
Li-Po, 3350 mAh (non-removable, support for Quick Charge 3.0)
Operating time (manufacturer data)
no data
Display
Diagonal, inches
5,15
Resolution
1920х1080 Full HD
Type of matrix
IPS
PPI
428
Brightness sensor
yes
Other
600 nit backlight, a contrast ratio of 1500: 1, a color gamut of 94.4% NTSC
Camera
Main camera
12 mp  (27mm, f/1.8, OIS 4-axis)

12 mp  (52mm, f/2.6)

Video
4K 30fps, 1080p 30fps, 720p 120 fps, Slow-Motion video 120 fps 720p
Flashlight
double LED
Front camera, Mp
8
Other
four-axis optical stabilization, continuous shooting, digital zoom, geographical marks, panoramic shooting, HDR, touch-sensitive focusing, face detection, white balance adjustment, ISO settings, exposure compensation, self-timer, scene selection mode, macro mode
Communications
Высокоскоростная передача данных
GPRS/EDGE/3G/LTE
Wi-Fi
Wi-Fi 802.11 a / b / g / n / ac (dual-frequency, with DLNA support)
Bluetooth
v5.0, A2DP, LE
GPS
A-GPS, GLONASS, BDS
IrDA
yes
FM-radio
no
Audio slot
USB Type-C
NFC
yes
Interface
USB Type-C
Body
Size, mm
145.2×70.5×7.4
Weight, gr
168
Protection against dust and moisture
IP67
Body type
solid (non-separable)
Body material
glass / metal
Keyboard type
screen input
Additionally
Also
fingerprint sensor, gyroscope, accelerometer, distance sensor, light sensor, Hall sensor, electronic compass, barometer, Adreno 540 graphics processor
Packaging
The phone comes in a small box. Inside are the device itself, manuals, SIM lot, USB/USB type C cable, quick charger. Usual stuff.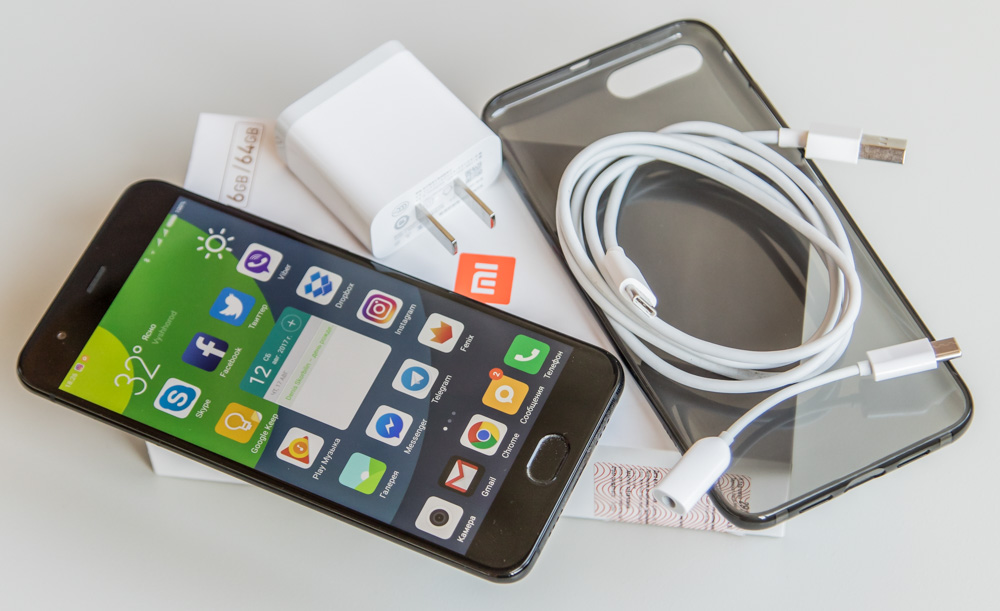 But there are extra goodies. First is a USB type C converter to 3.5 mm audio jack. Yes, there's no port for audio, so either use this silly thing or buy a headset with USB type C.
The second bonus is also a nice one – a silicon protective case. The quality is great. Translucent, in the same color as the phone itself, thin and tight-fitting. Very nice indeed.
It's worth noting that the case is thinner in some places, allowing the phone's plastic antenna inserts to boost the radio signal.
Design, materials, build quality
Xiaomi Mi 6 is a neat smartphone with 5,15-inch screen. Quite small by today's standards, but that has always been the case with the Mi devices. Can you remember any one of them with a distinctive design? I know I can't. Maybe that's Xiaomi's strategy: to create classic flagship devices with very inoffensive designs for the masses. No risk.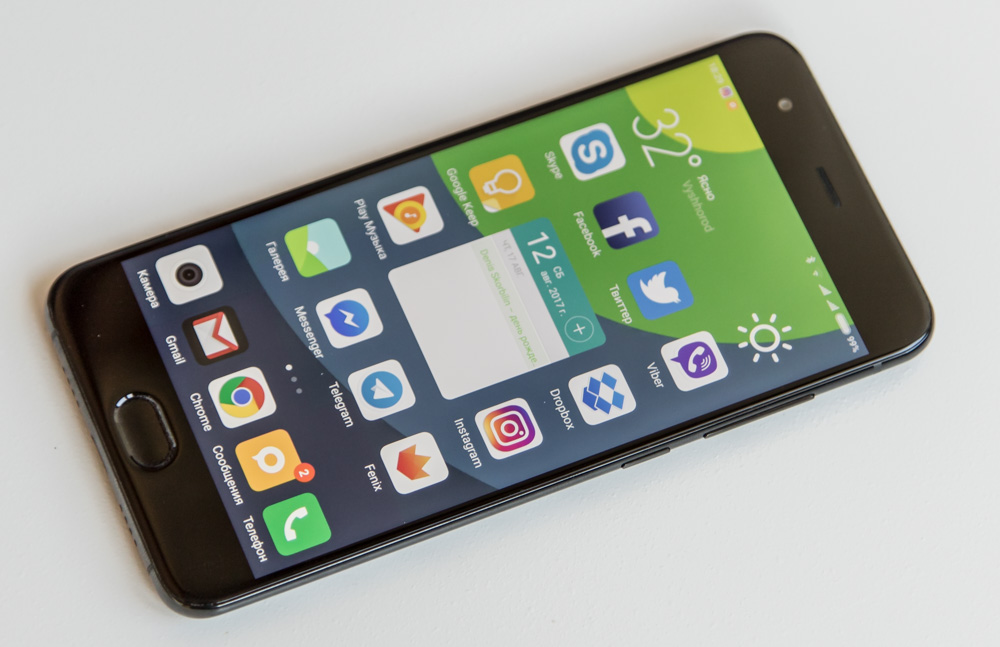 I really don't want to make analogies, but I can't help it – I can't ignore just how similar the phone's front panel is to Huawei P10's. Like a complete replica. Even the false scanner button feels the same – another oval recess in the glass. Still, there are a lot of similar-looking phones on the market, it's just how it is.
The phone's built just like the previous Mi 5, only a lot rounder, like it has been worked on with a file. It makes all the difference – I didn't like sharp corners and metallic ribs of Mi 5. The phone wasn't nice to hold. Mi 6, on the other hand, is smooth and very nice to the touch. The curved glass on the back is still here, which also adds to the overall pleasantness.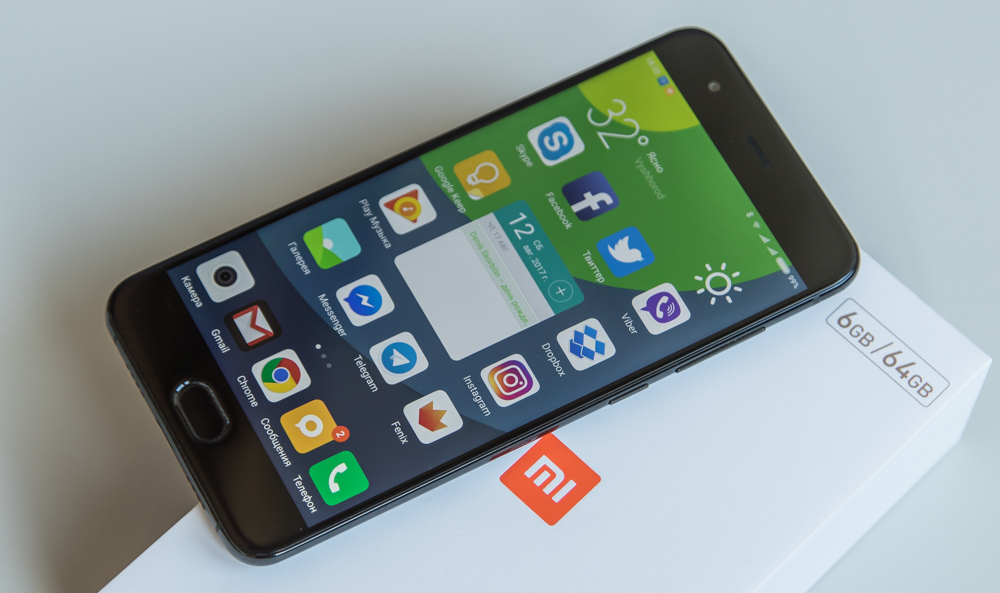 I think I made it clear that the phone is made of glass in the front and in the back; between them – a metallic frame. The build quality is perfect – a lot better than the Mi 5, where come have noticed gaps between the metal and glass.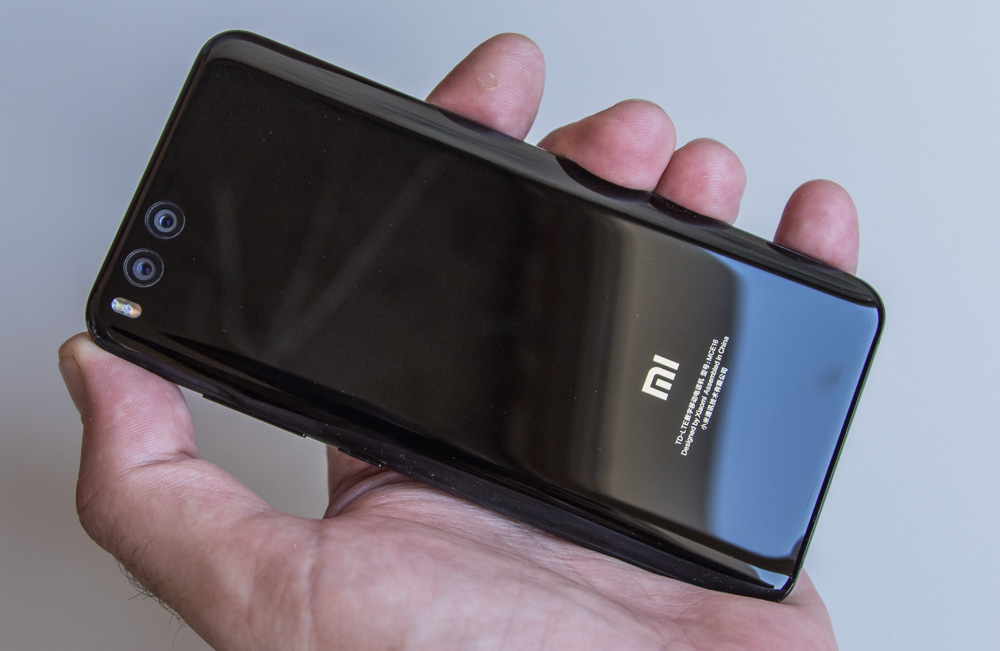 Arrangement of elements
Now onto the usual review of the phone's body.
In the front we have a screen, underneath which is a fingerprint scanner (merged with the glass). On the left and on the right we have sensor navigational buttons, noticeable by two glowing dots. I always turn off these dots – the phone looks better that way.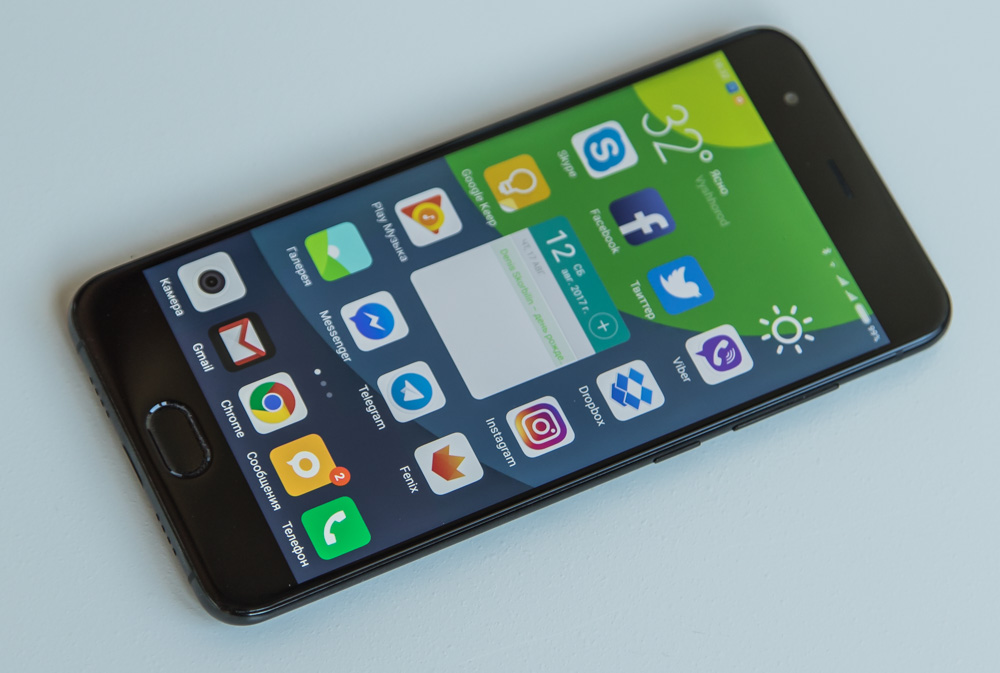 Above the screen is the speaker, the frontal camera, different sensors and an led indicator.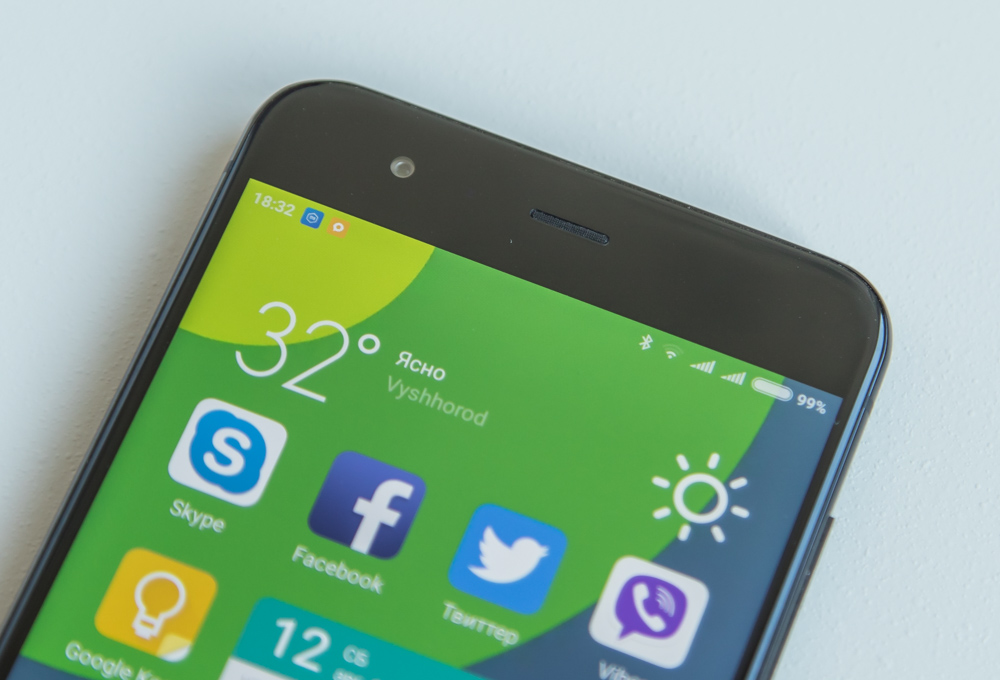 On the right side is a power button and volume controls. On the left – a slot for two nano-SIM.
Below, in the center, is a USB type C port and 2 rows of round holes to the left and to the right, as well as the main speaker and a mic. On the upper edge we have an additional mic and a small window of the infrared port.
On the back we have two cameras with a two-tone flash. In the middle – a MI logo and some text.
Ergonomics: Feels good in the hand ©
But really, it is comfy. Streamlined, nice to the touch and easy to use with one hand. I really like phones of this size. Mi 6 size feels perfect for me. Hard buttons are in their right places; navigational buttons and the scanner are also conveniently placed.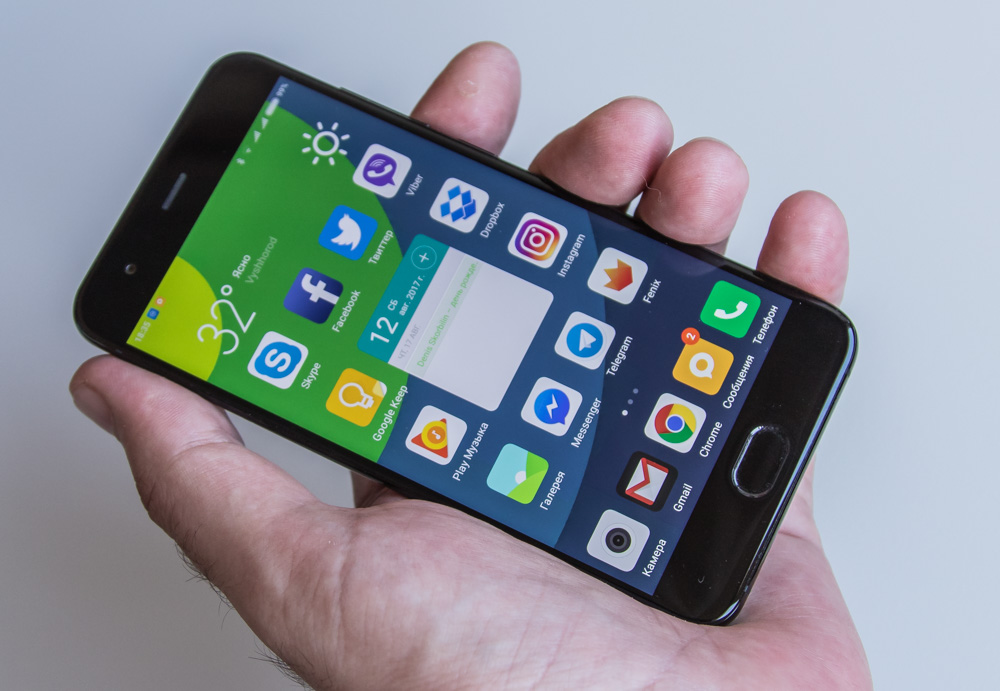 Xiaomi Mi 6 screen
Xiaomi Mi 6 has a great IPS 5,15-inch screen with the resolution of 1080x1920p. Pixel density is 428 ppi. No problems with the colors and view angles. The brightness level is nice. Automatic adjustment works fine. Overall a solid flagship display.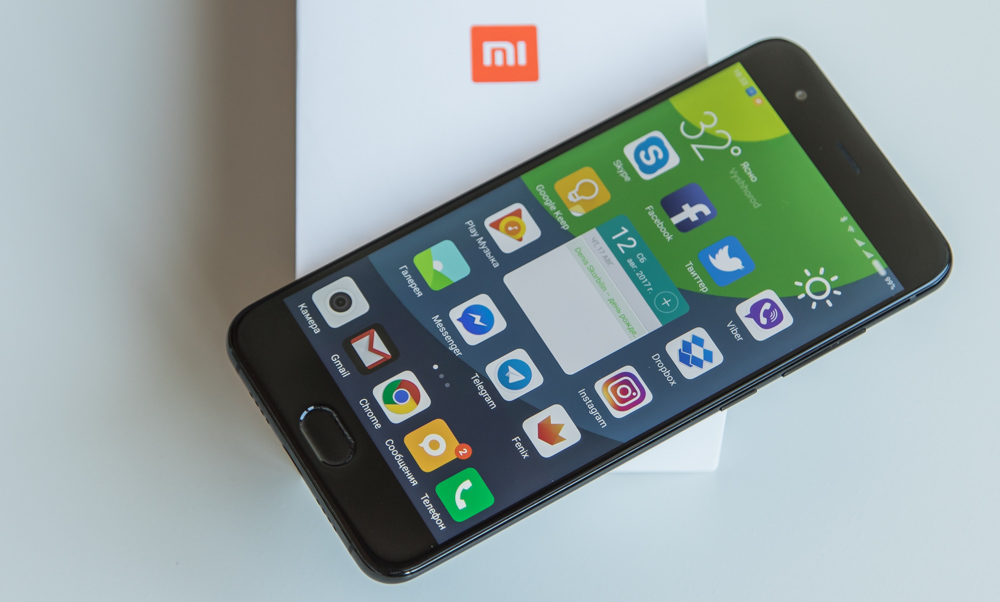 Also, the oleophobic coating is great. Fingers slide effortlessly. With time there will be dust, but it's easy to clean off with a napkin (or a t-shirt).
Hardware and performance
Snapdragon 835 processor, Adreno 540 video accelerator, 6 GB of RAM and 64 GB of memory – an impressive set, isn't it?
The device is indeed very powerful – one of the most powerful on the market. It easily handled any tasks I threw at it and can run any Android games.
The results of synthetic benchmarks:
If you want to buy a smartphone that will last for a couple of years – this is the one. Xiaomi Mi 6 will stay on the top for a long time. I doubt you'll find tasks it won't do. Years will pass until you'll feel the need to upgrade.
During serious tasks the phone gets warm, but not critically.
Cameras
Xiaomi Mi 6 follows the world trend and has a double camera module.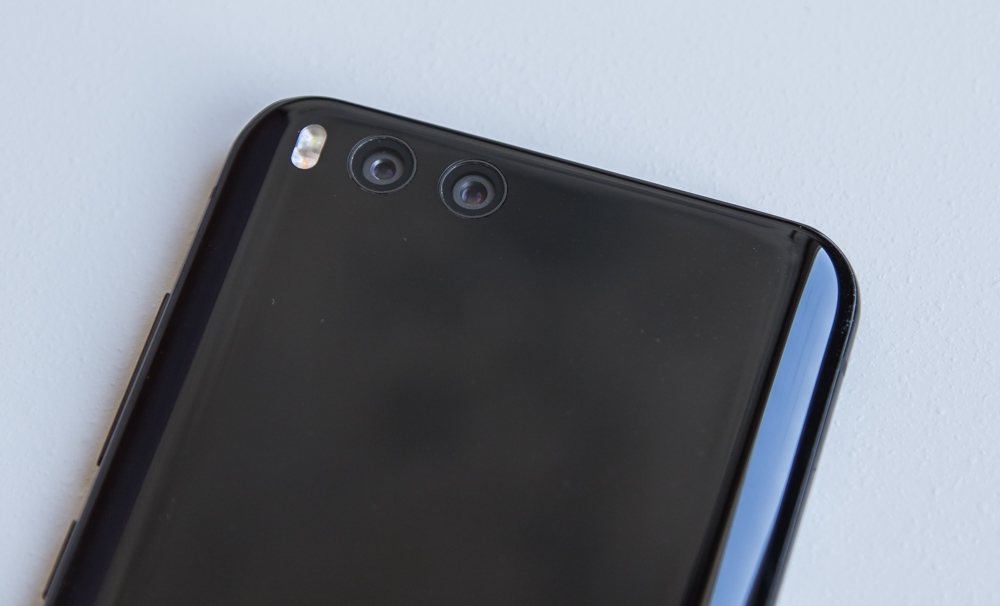 Let's get technical for a bit. There are two 12 Mp modules. But the first can be considered the main one – the focal length of 27 mm, f/1.8, equipped with a four-axis optical stabilization system and a phase autofocus. The second module is rather auxiliary – "portrait" 52 mm, f/2.6, with a nice blurring effect (bokeh).
In the UI there's a button for changing the modes of different modules. In terms of the double camera Xiaomi has imitated Apple and LG and installed two independent modules which work separately
In terms of photo quality, I am satisfied. I see clear progress comparted to the last year. Xiaomi Mi 6 has a camera similar to modern leaders of the market. You can see for yourself in our comparison article, where we put Xiaomi Mi 6 against Huawei P10 Plus. Sure, it is inferior, but not by much. One again, Xiaomi Mi 6 is considerably cheaper than other flagships; for that price the camera is more than enough. It's adequate in different modes and in any lighting.
Examples of photo and video in full definition
Examples of photo and video in full definition
The front camera is also quite nice. 8 MP, the ability to shot video in 1080p – more than enough.
Battery life
And another cliché, but Xiaomi Mi 6 is a typical flagship with the battery that lasts for about a day with active use. It can survive for 2 days on one charge. Typical numbers for a device with 3350 mAh battery. Nothing unexpected.
Sound
I can't say many positive things about the sound quality, so I'll stay neutral. And that's not bad. I wasn't impressed, but I can't really call the quality bad. Middle flagship level – more than enough for me personally.
The phone supports stereophonic sound: the phone has two speakers on both ends of the phone. The sound is on the same level in terms of volume, it is loud and clear. For watching videos and playing games it is enough. Xiaomi Mi 6 gets an A for clear stereo sound – a rare occurrence.
The sound overall is very nice – I can hear the person I'm talking to very clearly. Once again, both speakers are loud, with wide frequency range.
In headphones the sound is okay, and it can further be improved with preinstalled equalizer and presets for different headphones. Can't find your model? That's okay, just try different presets until you find the one that best suits you. The smartphone sounds good with any headphones, the better the headphones – the better the sound overall.
Communications
Once again, no nasty surprises here. Xiaomi Mi 6 works in various cellular networks simultaneously. Wi-Fi also works fine, and is especially speedy in close proximity to a router.
Geolocation supports many systems including GPS, A-GPS, GLONASS and BDS. Because of simultaneous data flows from different sources GPS starts up in mere seconds.
There's an NFC module for contactless payments.
Xiaomi Mi 6 also supports wireless screen mirroring to TVs with WiDo.
There's also an infrared port which allows to use the device as a remote control for virtually anything.
Comparted to the mechanical button of Xiaomi Mi 5, Mi 6 has a great scanner. It's bigger and more convenient, and the sensor is faster.
A small dent in a screen, the scanner is a complete copy of the one used in Huawei P10. In terms of speed, it's only slightly slower. Bravo, Xiaomi!
The sensor also works as a home button if you tap it. You can program an action for long push. By default, it opens the Google app.
There are no gestures there, though. But it's not a big deal – there are sensor buttons. They light up, but you can disable it in the settings to improve the overall look of the smartphone. You can program any action for tap and long push of any button. Very convenient. I really like navigational system of Xiaomi Mi 6.
Software and firmware
The smartphone works on MIUI 8, Android 7.1.1. we all know all too well. MIUI 9 is expected to arrive soon. Right now there's a beta version of the new firmware.
Overall, the shell is great. It's fast, fluid and functional. You can customize the UI by changing themes and combining different elements of the interface. All important apps are already installed, including safety and cleaning apps, the app for backups and cloud syncing.
I've always liked deep MIUI customization, although some things will create problems for newbies. There's gesture control, the mode for working with one hand (by resizing the screen), background mode settings, locking apps in the memory, automatic and manual recording of conversations (a rare thing nowadays), cloning of apps for various accounts and so on.
There are some problems in terms of stability. Once a week the phone can freeze for 3-5 seconds, when it doesn't respond to any action. After a while, it comes back. Once a widget on the home screen didn't render correctly. Maybe the problem was with third party themes – I had no problems with native themes.
Verdict
Xiaomi Mi 6 is a great modern flagship. It's build great, although you can hardly call its design spectacular. There are no unique features, it's just good all-around. It's powerful, has one of the most powerful processors and a lot of RAM and storage, which make it extremely fast.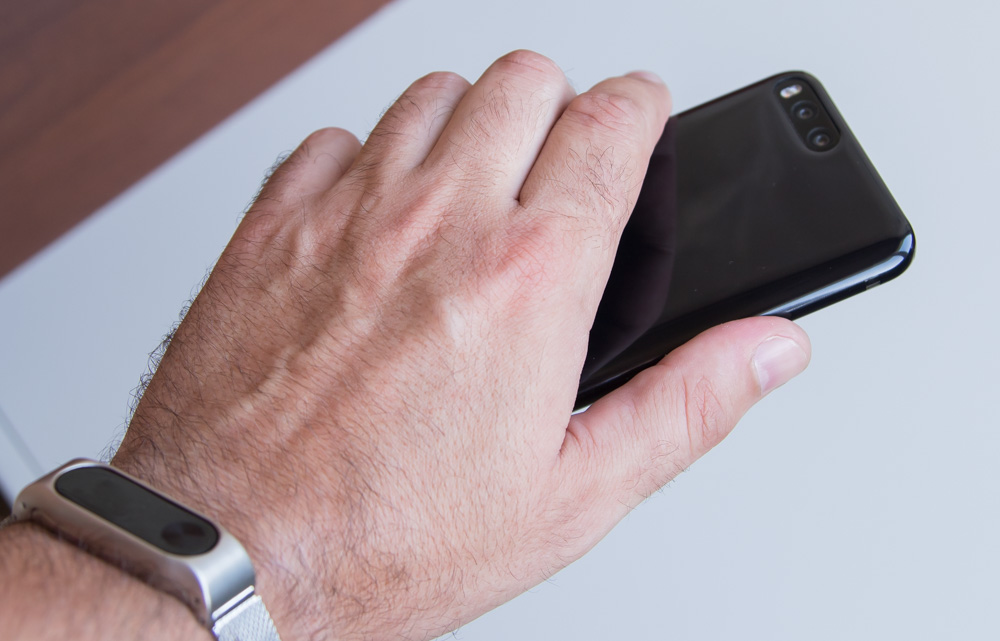 It's a lot cheaper than other flagships, and that makes it a great choice for those who want to buy a quality yet affordable flagship that won't get obsolete in the coming years.
Have any questions? Ask in the commentary section and I'll answer them with pleasure.