Xiaomi Mi A2 is a fresh new smartphone, co-created with Google and its Android One program. What it means is that we don't get a traditional MIUI shell, but a "vanilla" Android with up-to-date patches and security updates.
Xiaomi Mi A2 – Positioning and pricing
When we talk hardware, Xiaomi Mi A2 is identical to Xiaomi Mi 6X. Nothing out of the ordinary: last year it was the same with Xiaomi Mi A1 that was very similar to Xiaomi Mi 5X (or vice versa, doesn't matter).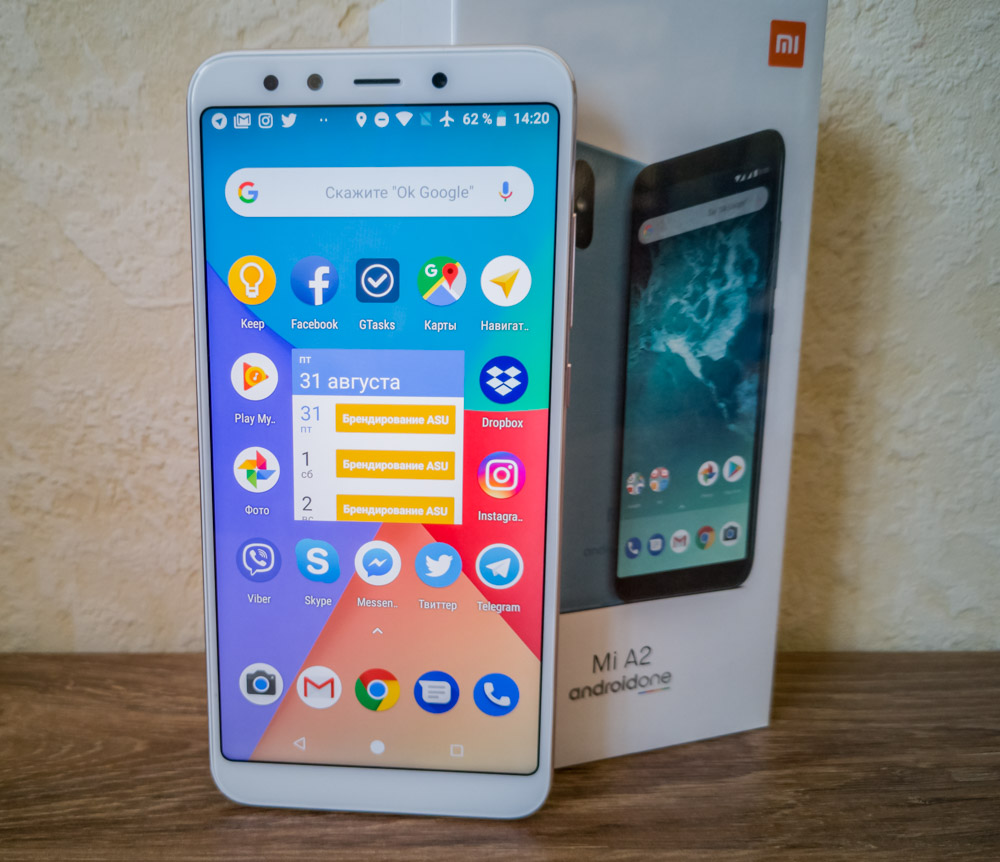 In terms of positioning, Xiaomi Mi A2 is clearly a Xiaomi device for those who doesn't like MIUI or just prefer Android "au naturel". Also for those who simply cannot afford a Pixel device.
Either way, Xiaomi Mi A2 is a curious gadget – and a very good one if we remember the price. Geeks must love it, but is it actually as good as it sounds? Let's find out.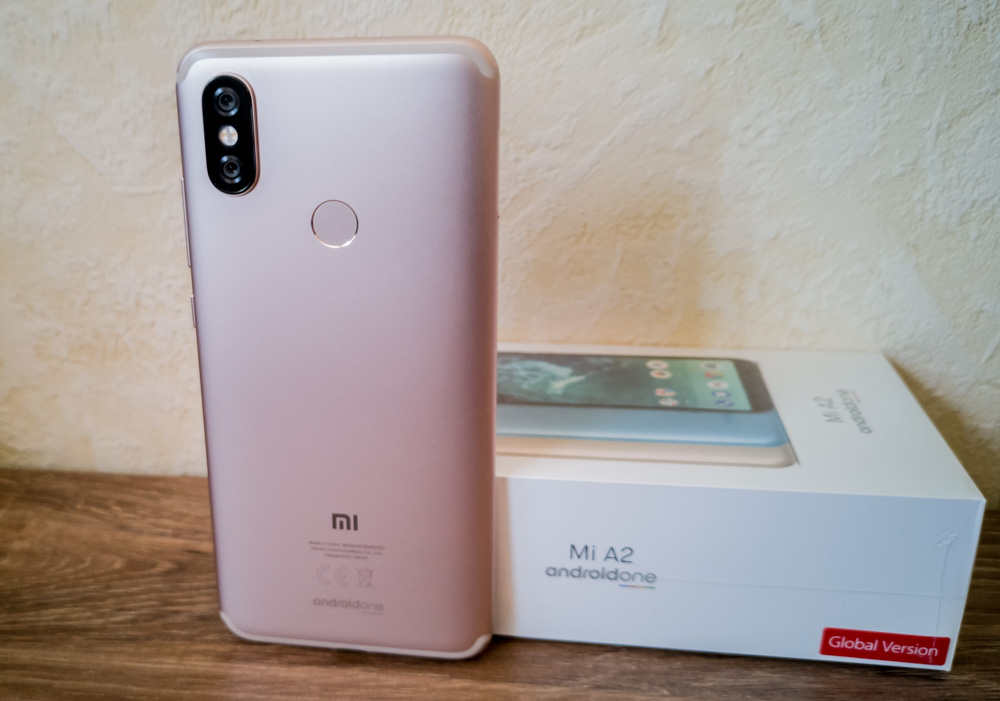 The phone costs from $230 to $359 depending on specifications, which means memory. The base model has 4 GB of RAM, but you can choose between 32 or 64 GB of storage. There's also a version with 6 GB of RAM and 128 GB of storage.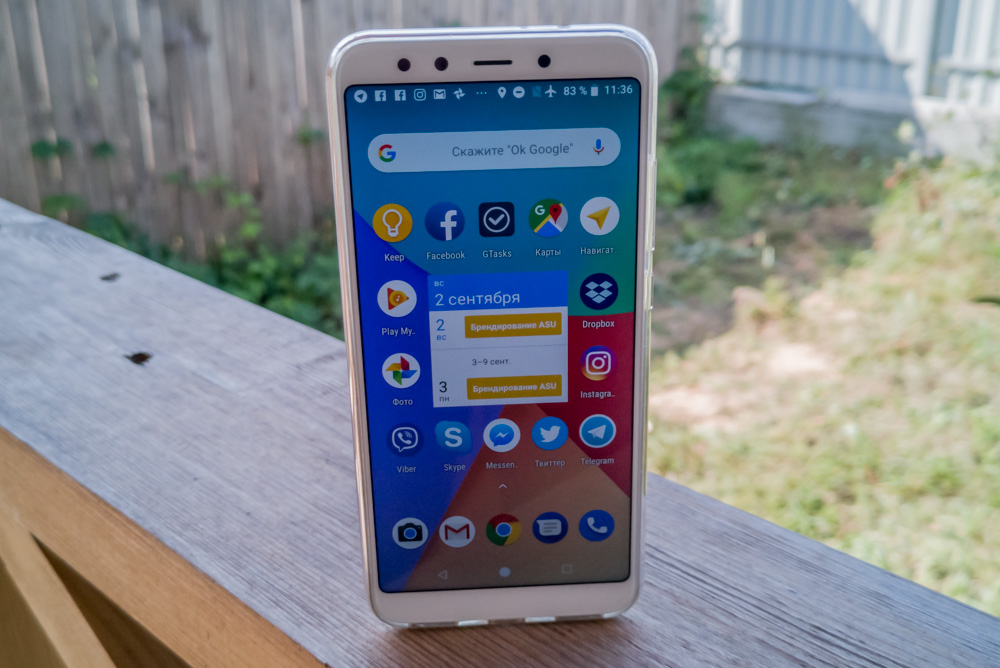 And let's not forget the "lite" version – Xiaomi Mi A2 Lite, which is cheaper and also remarkable in its own way.
In terms of rivals, Xiaomi Mi A2 is an alternative to other Android One devices like Nokia 6.1 or more expensive Nokia 7 Plus. If you don't care about the shell, you may also look at Xiaomi Redmi Note 5 with similar specs and design, but with less powerful processor.
What's in the box
In a white middle-sized box we have a usual thin silicon case, a USB Type-C cable and a simple 5V/2A charger. The phone does support fast charge, but Xiaomi doesn't want to give you that opportunity right out of the box.
There's also a SIM eject tool and different documentation. And a nasty surprise: USB-C to 3,5 mm adapter. Yep – no audio jack, unlike Mi A1.
Design and materials
Xiaomi Mi A2 is a typical Xiaomi device for 2018. The design closely resembles last year's iPhone 7 with its unibody frame and neat plastic antenna lines on both ends of the smartphone.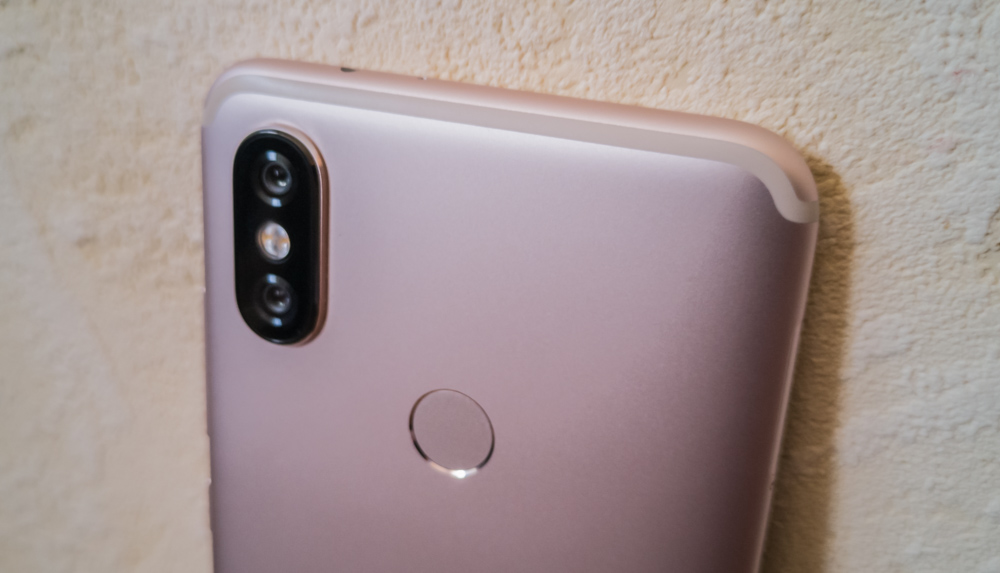 In front we have either Redmi 5 Plus or Redmi Note 5, I can't tell them apart. The main new feature here is a bigger 18:9 screen.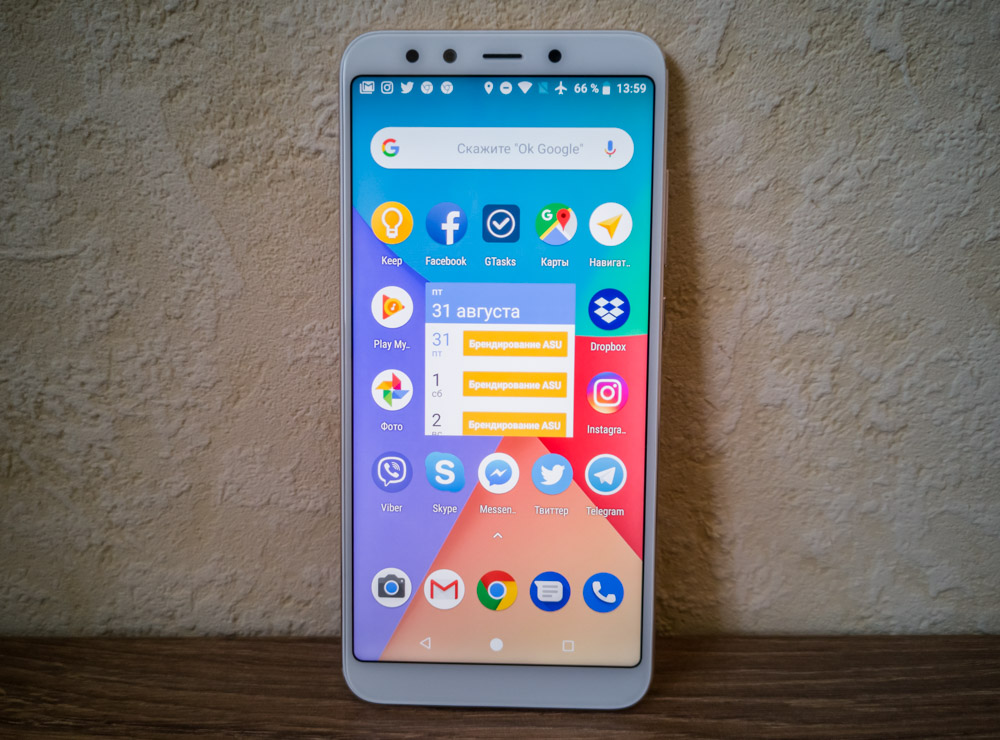 On the back we can't help but notice a vertical block with cameras in the upper left corner. We know all too well from whence it came from. Now almost all Xiaomi models have this design – from low-end device to the flagship Mi 8.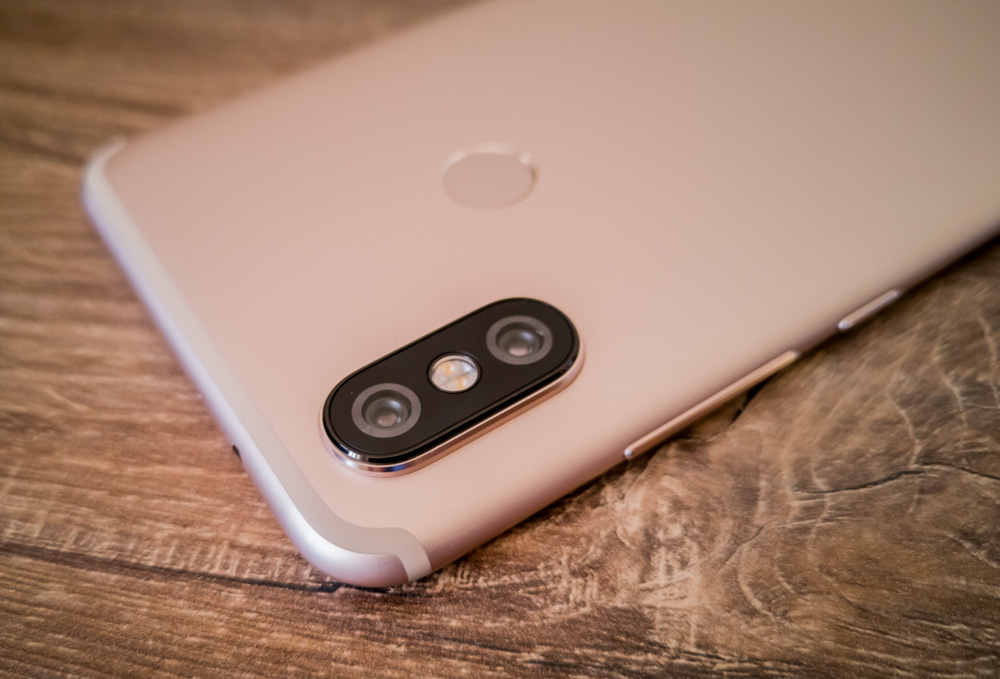 There are no other discernable changes. Xiaomi Mi A2 is hardly unique in terms of design; I'd call it a hybrid between Mi A1 and Redmi Note 5.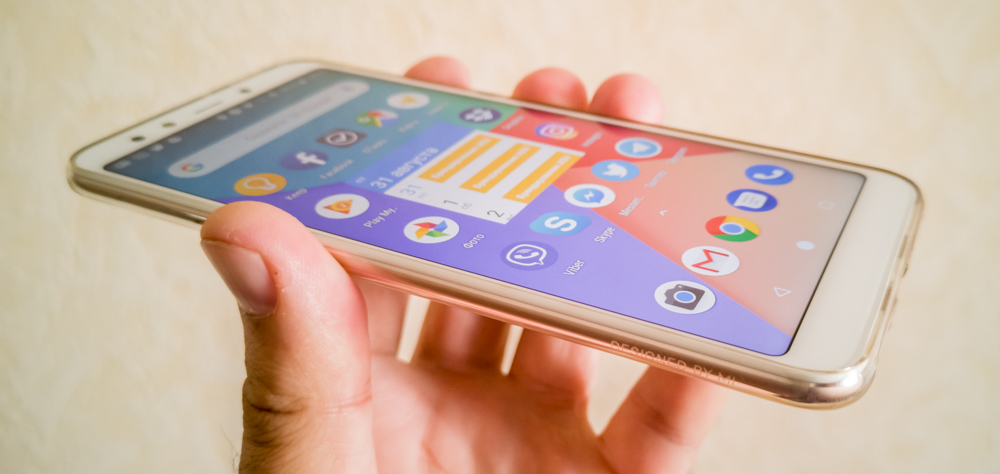 Read also: Xiaomi Redmi Note 5 review – First affordable phone with decent camera
And still, Xiaomi Mi A2 looks nice, with a hint of premium. Especially the gold model which I happened to test. You can also buy black, blue, red, and pink gold variants. Materials are great; the build quality is top quality.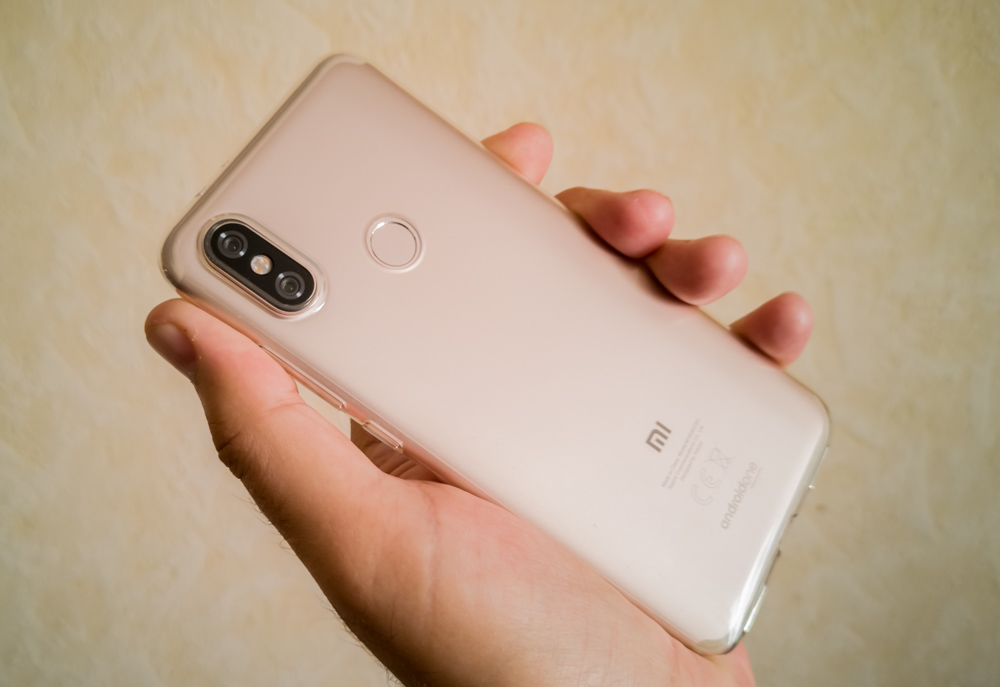 Key Features:
Dimensions: 158.7 x 75.4 x 7.3 mm
Weight: 166 g
Elements' configuration and ergonomics
Bezels around the screen are hardly invisible. Above the screen there's an earpiece speaker, lightness and proximity sensors, a selfie camera with flash and a bright notifications indicator. And when I say bright, I mean it. It only supports white colour. When you get a new message, it shines sporadically with a systematic increase and a subsequent decrease in brightness. When you charge the phone, the light stays on.
Below the screen we have a large area of nothingness. Xiaomi could have installed sensor buttons or a scanner, but no. Sure, it's silly to think about it, but I can't stand irrational waste of space.
Configuration is not unusual: the power button and volume keys are on the right, 2 nanoSIM slot is on the left (so support for MicroSD), Below is a speaker, a USB-C port and a mic. Above is a second mic and an infrared port.
On the back we have a dual camera with double LED flash and a fingerprint scanner.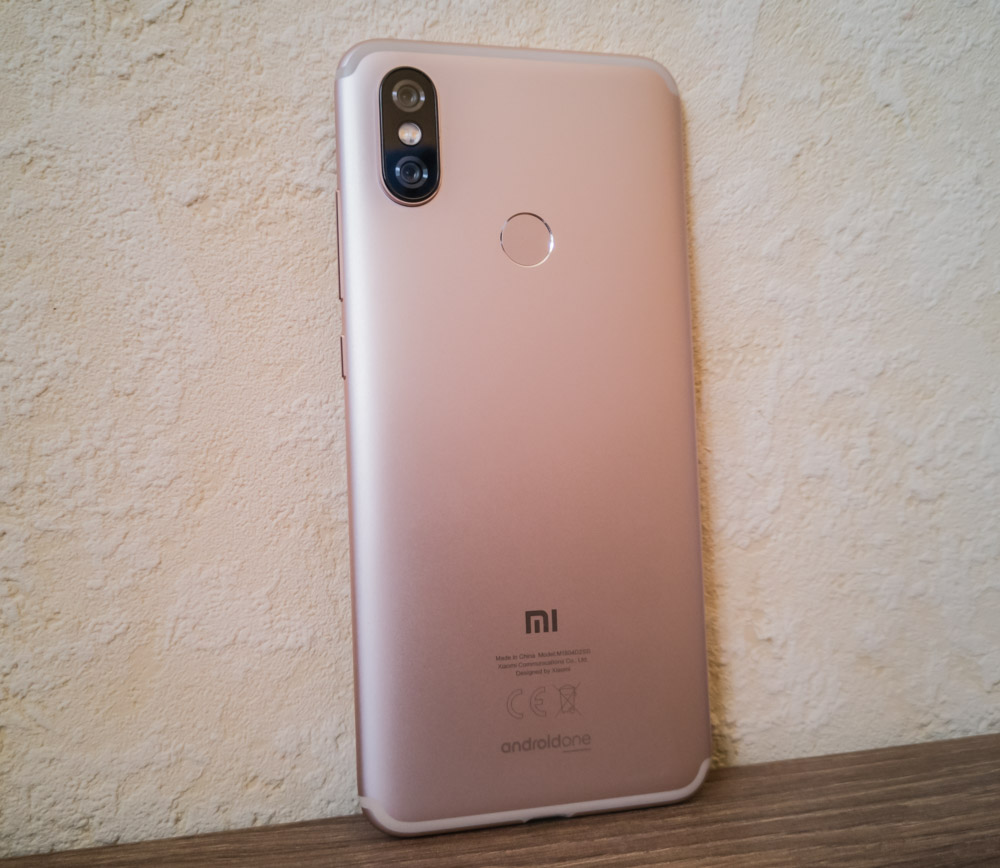 The camera stands out; it's a good thing there's a protective case.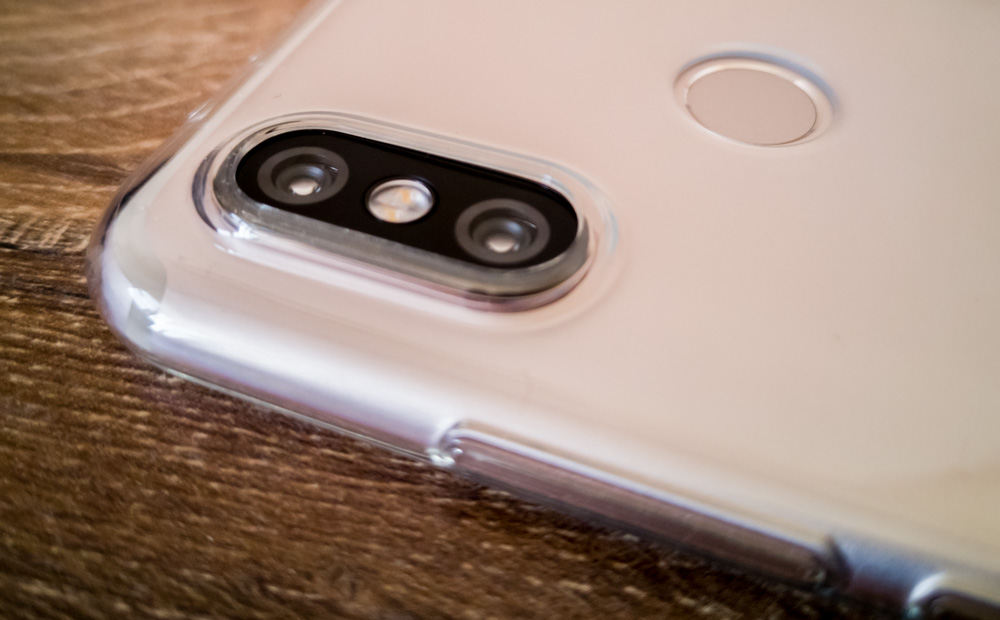 Xiaomi Mi A2 has round edges, which makes it very nice to use. It is a very wholesome feel in hand. The back panel is slightly curved towards the edges. The edges are also rounded.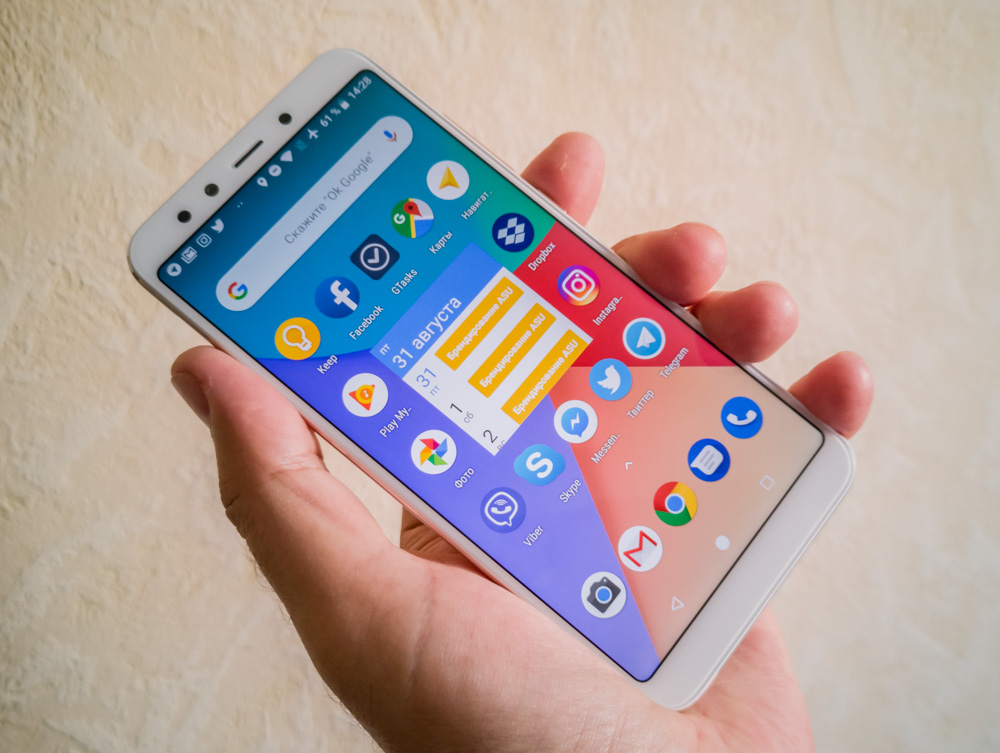 All the buttons are in their usual places. They are nice to press and the scanner is easy to reach. I can't blame the ergonomics even if I wanted to – everything is fine and dandy. Sure, it's hard to use only one hand since the screen is so massive, but that's usual for most of the modern smartphones.
The body is slippery, so better utilize the case. The back plate doesn't attract that many fingerprints and the oleophobic screen is even better.
Screen
Xiaomi Mi A2 has an IPS 18:9 screen with Full HD+ resolution. My model has a decent enough display with warm colour rendering. But remembering the risky Xiaomi matrixes, I cannot promise that you'll get the very same display.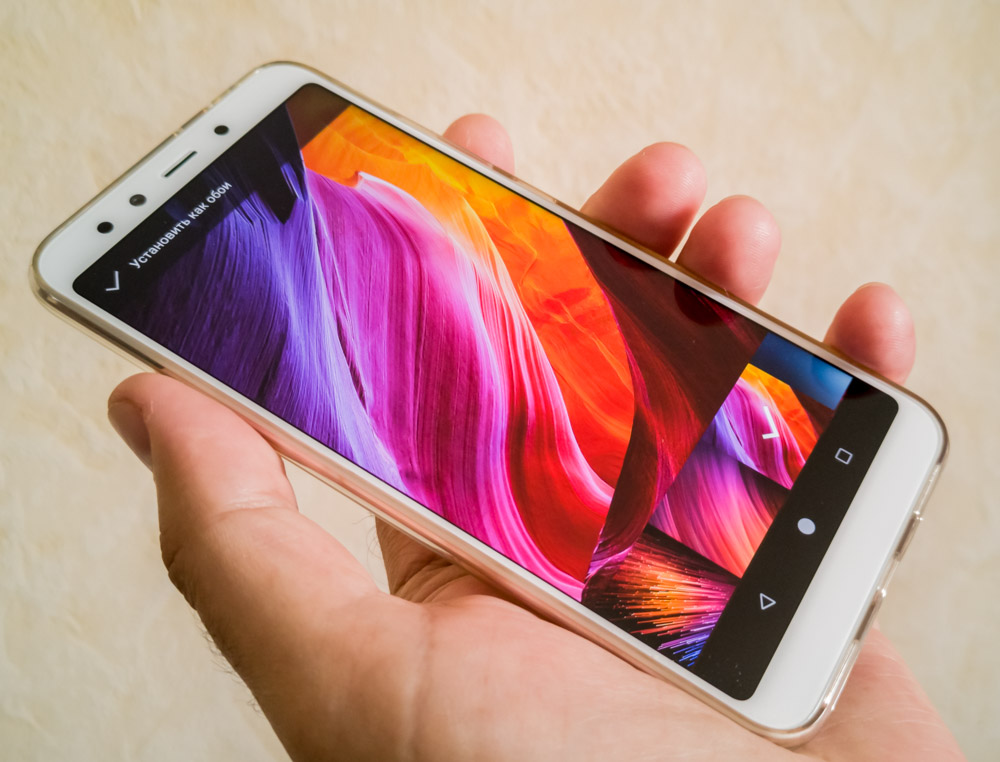 The screen is great for everyday use – the angles are fine, but could be better. The brightness tends to waver when you look at an angle, especially in the sun. The whites get a little too red. But the screen is always legible. The minimal brightness is low enough – you can use the device in total darkness no problem.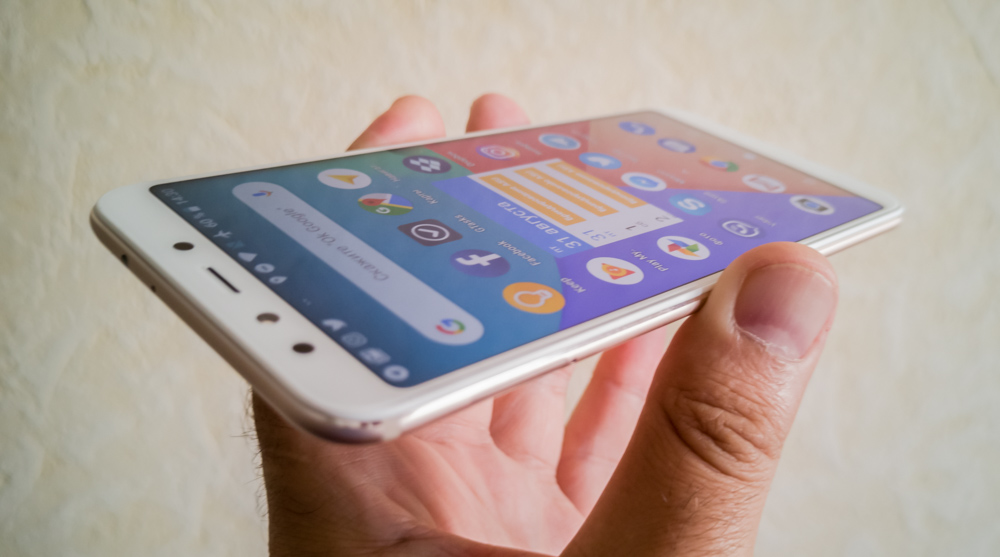 The automatic brightness works, there's a night mode with sliders for intensity; it can turn on automatically. No support for gloves and no ability to adjust colour rendering.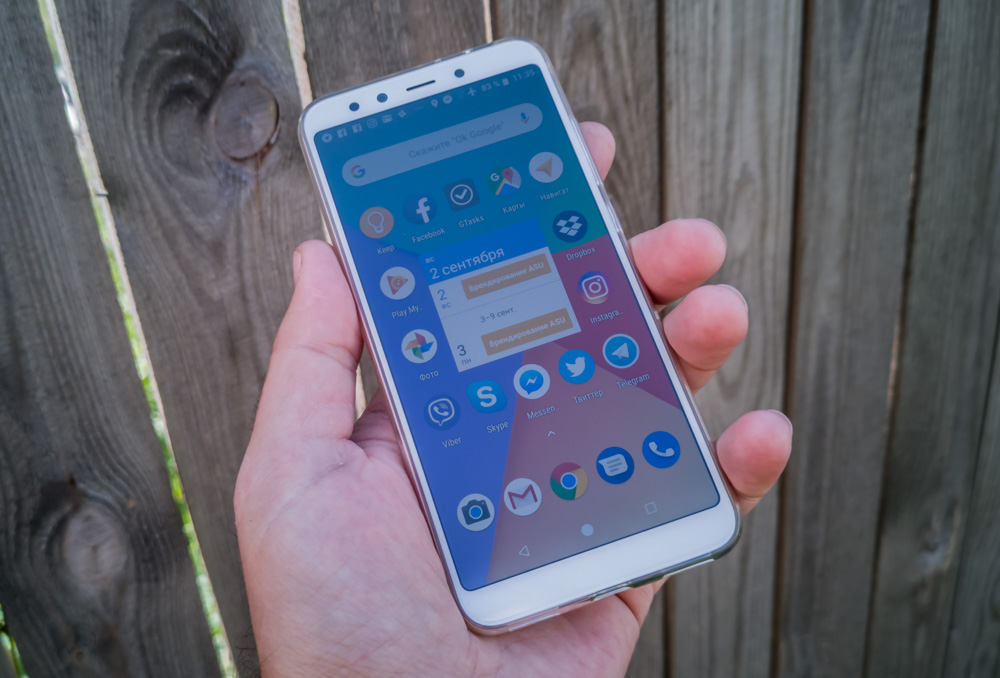 Sure, the display is not flagship-level, but it's good enough. Any type of content looks good.
Key Features:
Display dimensions: 5.99"
Matrix Type: LTPS IPS LCD capacitive touchscreen
Aspect ratio: 18:9
Resolution: 1080×2160
Pixel density: 403 ppi
The ratio of the screen area to the front panel: 77.4%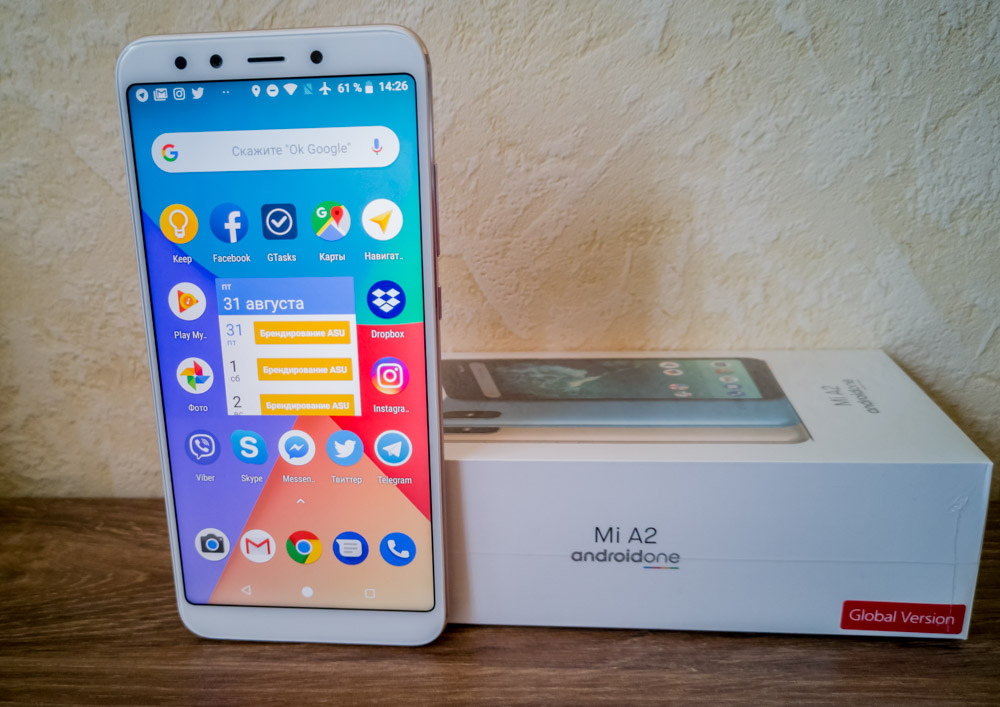 Performance
In everyday use the phone is fast – at least at the very beginning. I can't say what will happen after half a year of active use. We all know that Android tend to slow with time, but there's no consensus. Some people say it's a certainty, some have no idea what they're talking about. All depends on individual systems.
But let's get back to the hero of our review. The UI is smooth, and the vanilla Android feels right at home. Animation is not jittery, there are no delays.
The apps open quickly, the multitasking works. The phone can run dozens of apps at any given time, but when you open a heavy game like PUBG, most of the programs will quit.
Key Features:
Processor: Qualcomm SDM660 Snapdragon 660, 8-core – 4×2.2 GHz Kryo 260 and 4×1.8 GHz Kryo 260
Video Accelerator: Adreno 512
Memory versions: 32 or 64 GB, 4 GB RAM and 128 GB, 6 GB RAM
Memory card support: no
Yes, games: all is usual for a mid-ranger. Most popular (optimized) games work on the highest graphical settings, but some of the heaviest ones will force you to sacrifice picture quality for a higher framerate.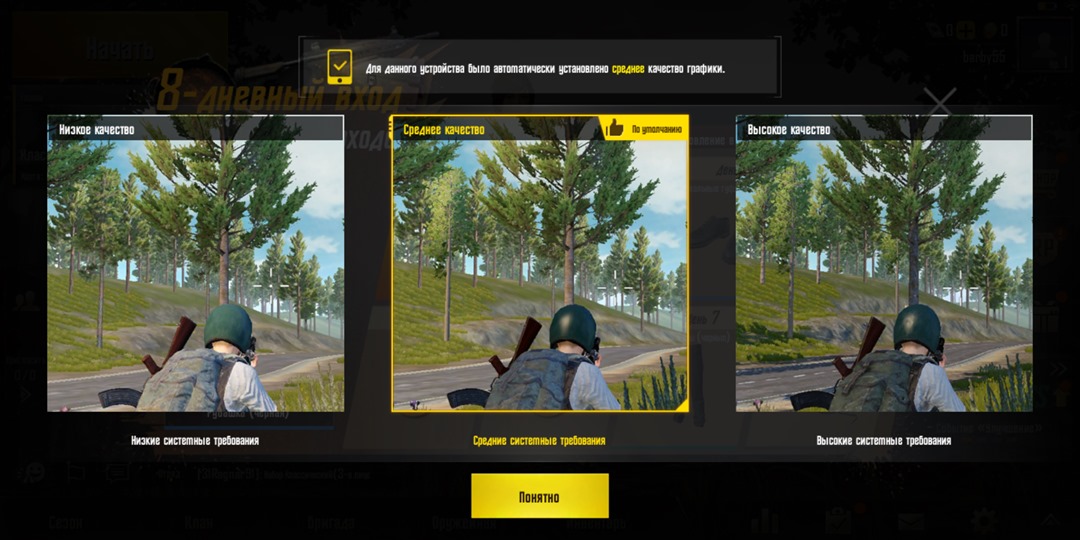 Benchmark results:
AnTuTu = 129947
GeekBench CPU Single Core = 1622
GeekBench CPU Multicore = 4385
GeekBench COMPUTE = 4741
PCMark Work 2.0 = 8474
3DMark Sling Shot Extreme = 1291
3DMark Sling Shot Extreme Vulkan = 1042
3DMark Sling Shot = 1928
Cameras
This year brings us better Xiaomi cameras in mid-rangers. First Redmi Note 5 with dual cameras, AI support, and now Xiaomi Mi A2, which shows similar results.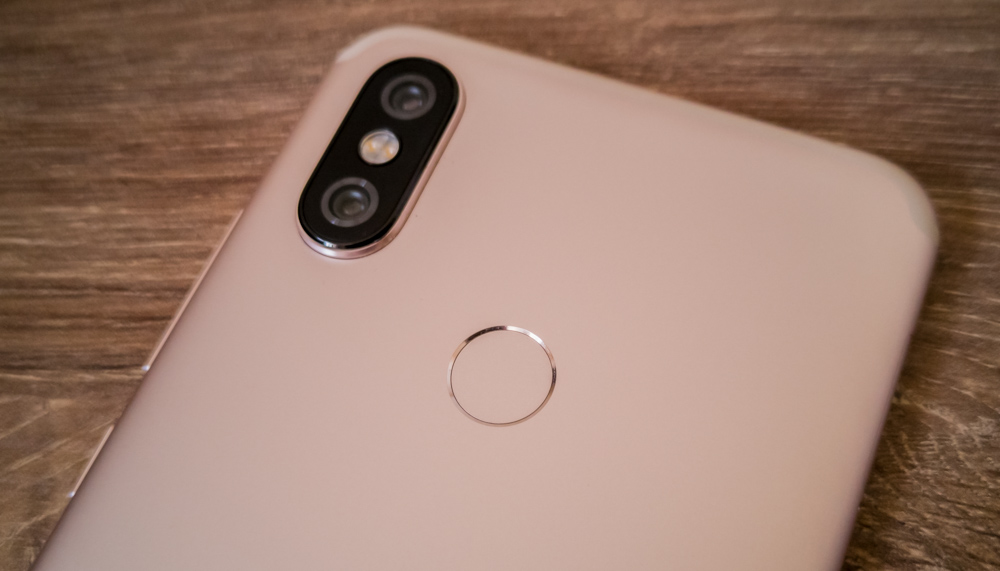 Key Features:
The first module: 12 Mp (f/1.8, 1.25µm, 1/2.9″)
The second module: 20 Mp (f/1.8, 1.0µm, 1/2.8″, PDAF)
Flash: two-tone LED
From a technical standpoint, the main camera in Mi A2 slightly is inferior to Note 5 – for example, the pixel size is smaller (1.25μm vs. 1.4) and there is no Dual Pixel focusing for the main 12 Mp module, while the autofocus is here. However, at the same time, the diaphragm is slightly larger (1.8 vs. 1.9). But the second module received a higher resolution (20 megapixels versus 5 megapixels) and an enlarged aperture (f/1.8 versus f/2.0), but the pixel size is smaller (1.0μm vs. 1.25μm). In practice, all these details have little effect on the final result. As for me, visually Xiaomi Mi A2 and Redmi Note 5 cameras are almost indistinguishable.
The photo quality in good conditions is impeccable. Detalization levels are high. Even in half-decent lighting, the results don't disappoint. In darkness we see the appearance of noises – at night you won't get good results, but that's A-OK for a mid-ranger.
PHOTOS AND VIDEO IN FULL RESOLUTION
PHOTOS AND VIDEO IN FULL RESOLUTION
The focus speed and shutter release are fast and overall the camera is faster than Redmi Note 5. Sadly, no fast mode with the help of the volume button. But you can use it for making photos.
As for camera features, we have Auto HDR, filters. The method of focusing is a phase autofocus, which works quickly enough. Also there is a portrait mode, panoramas and a full PRO mode, in which you can adjust the white balance, perform manual focusing with peaking, shutter speed adjustment, ISO setting and switching the lens from "normal" to "night" mode.
When it comes to video, there's a fast improvement over Note 5. We have 4K support and gyroscopic stabilisation. The results are decent enough.
The selfie camera also got an upgrade. Module characteristics: 20 Mp, f/2.2, 1/2.8 ", the pixel size is 1.0μm. The quality of selfie is okay. The camera supports portrait mode with a background blur, has built-in beautifiers. In addition, do not forget about the flash, which allows for selfies even in total darkness.
Battery life
3000 mAh battery does not impress in 2018. And sure enough, don't expect any miracles: the smartphone survives until the evening, but barely. That is, if you use it constantly. Overall, 24 hours of use with 3,5 hours of screen time, Typical Android.
And considering that OS is "clean" and does not limit the background activity of applications, we have a double-edged sword. On the one hand you are guaranteed to receive all notifications from all applications, and instantly. On the other hand the battery dies in standby mode even if you do not turn on the smartphone screen.
Therefore, I can't call Android energy-efficient. For example, almost any smartphone with similar hardware but with the shell which incorporates energy saving tools, lives 1.5-2 times longer due to the limitation of background processes.
Curiously, other vanilla Android phones like Pixel or near-vanilla phones like Moto, Android One (Nokia), and also Oxygen OS (OnePlus) have background activity settings, but Xiaomi offers nothing of the sort. Maybe later, but right now – nothing.
Xiaomi Mi A2 supports fast charging, but the bundled 2A charger does not. The device charges in no time anyway, even this way. Here's how it goes starting with 15%:
00:00 – 15%
00:15 – 34%
00:30 – 52%
00:45 – 69%
01:00 – 85%
01:15 – 95%
01:30 – 100%
By the way, I couldn't try PCMark Work 2.0 battery test, as the app kept shutting down right before telling me the results. In the end I got about 8 hours of work with middle settings of brightness.
Sound
As was previously stated, there's no 3,5 mm jack. In the box we can find the adapter for analog headphones. A weird decision, considering the lack of water resistance and price.
The sound overall is fine. You can use the default Android equalizer which actually improves the sound. The result is decent.
The outer speaker on the low edge of the phone is loud and offers quality sound. Still, you can easily block it with your hand – better be mindful of that. And there's also no stereo.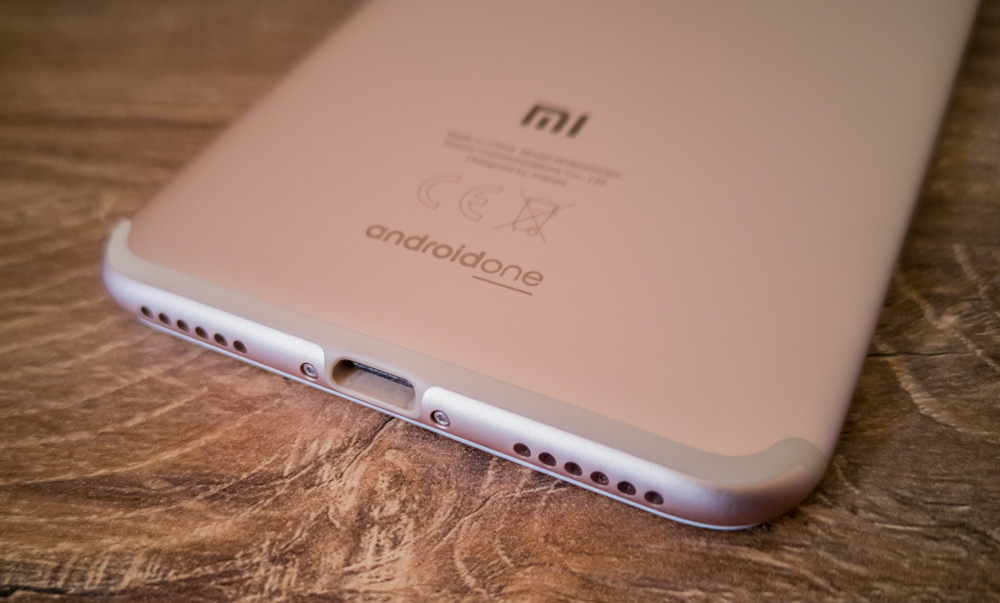 The earpiece speaker is so good it can easily come from a flagship. There's a second mic for noise reduction.
Connectivity
No real problems with cellular network was detected during the test. I can only note that in a low signal zone Xiaomi Mi A2 loses signal faster than Huawei P20 Pro. Not the most logical comparison since the latter is a flagship.
Key features:
Wi-Fi 802.11 a/b/g/n/ac, dual-band, WiFi Direct, hotspot
Bluetooth 5.0, A2DP, LE
Geolocation: GPS, A-GPS, GLONASS, BDS
USB: USB Type-C 1.0, USB 2.0
Infrared port
Xiaomi Mi A2 is a modern smartphone with all modern communication aspects. WiFi 5 GHz, modern Bluetooth module and Type-C are great.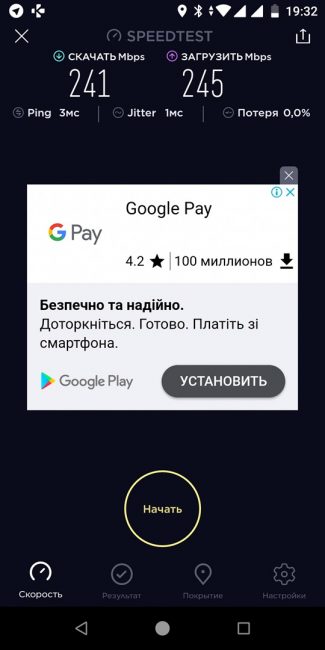 Infrared port is hardly a necessity, but sometimes it comes really handy. But the lack of NFC is a blow, surely. If you want to pay with your phone, Xiaomi Mi A2 is not for you.
Firmware and software
There's no real reason to describe Android 8.1.0. I'll just remind you that Android One program allows you to get regular security updates straight from Google. During my time with the gadget I got two of those. This is feature worth noting.
Visually, the OS looks good. The design isn't noisy and feels thought out.
Android One doesn't forbid Xiaomi from installing their own apps and services, but, surprisingly, the company does not abuse this right.
There aren't so many preinstalled apps. The camera UI is the most obvious one. Mi Remote for infrared port is another one.
Thirdly, a quality improvement service for collecting data and sending feedback about the product (which can be deactivated in the settings). Also Mi Community app, which is a kind of a hub which displays regional news and offers from Xiaomi; you can also access forums about certain models.
Another neat addition is Mi Drop for sharing files between other devices and PCs.
About security. The fingerprint scanner works almost flawlessly. It doesn't do much – you can unlock the device and use it in the apps.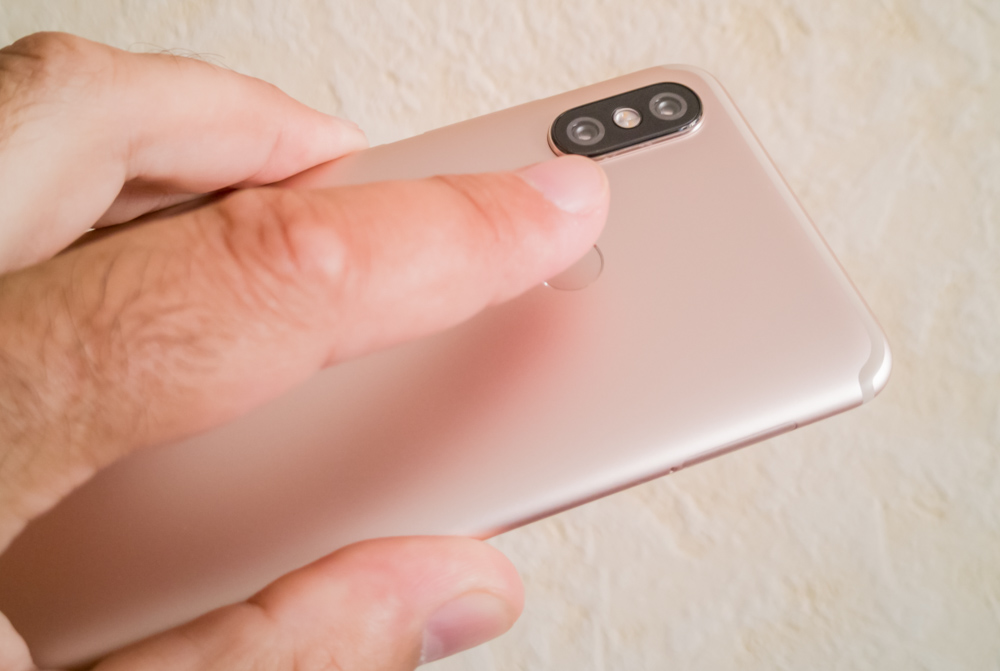 You can also try unlocking the phone with your face. You register in Security/Smart Lock menu. There is also a utility for improving recognition, which allows you to take several pictures (with different lighting, with makeup, with glasses, etc.). Unlocking with the face works perfectly, even in poor lighting conditions.
Firmware is fine, the device is stable and fast, but there are some noticeable bugs. Remember that PC Mark error? Instagram also refuses to work correctly, ignoring the keyboard. A couple of times I encountered "crash windows" in various apps. I don't remember anything like this with other shells.
Verdict
Xiaomi Mi A2 is generally a very good smartphone, albeit not perfect. It looks like a flagship, even if the design is far from original. Sturdy metal body, good build quality, decent screen, okay cameras with AI, modern USB-C and a full set of communication capabilities. Regular Android updates are also a nice bonus.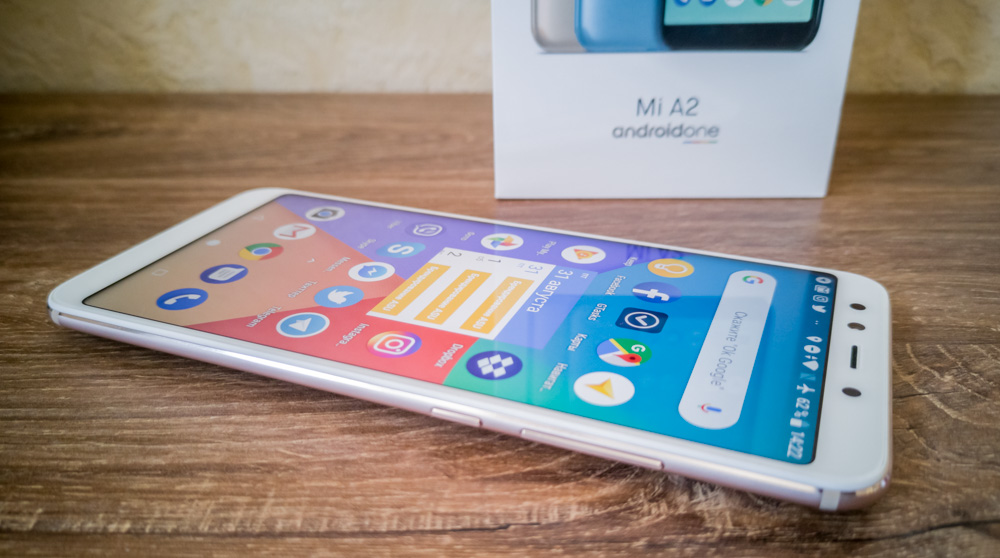 At the same time, the firmware may very well be the weakest link. Vanilla Android is like a beautiful, fast and smooth car without climate control, power steering, airbags and electric windows. I've grown used to feature-rich shells and it's increasingly hard for me to see the beauty of Android One's austerity. Even the most basic of features are not there, e.g. navigation buttons' settings.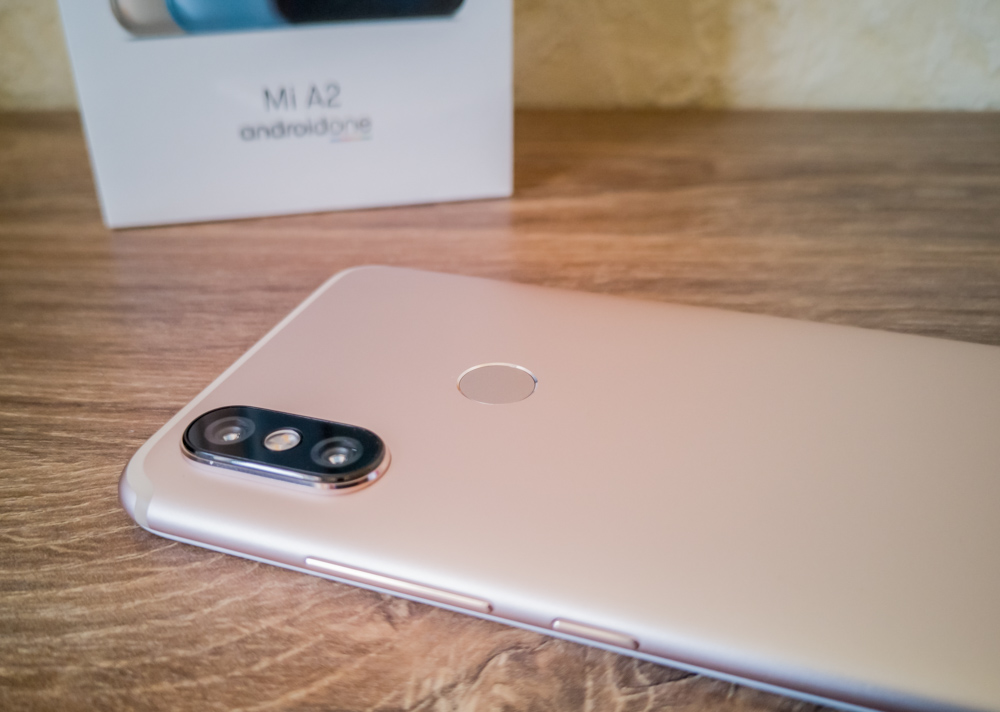 We can't ignore the absence of NFC module, the audio jack, and SD cards slot. The battery life is also mediocre – the result of poor energy-saving modes in default Android.
I can wholeheartedly recommend the phone to anyone who's interested – just take a look at pros and cons, and decide whether Xiaomi Mi A2 is for you. I hope my review helped you in any way.