I think I have always supported Huawei. I didn't stop doing so even when Google services were taken away from the company. I was looking forward to getting to know its products again, and now I got my hands on the Huawei nova 11 Pro. An expressive design, an unusual camera island and interesting software solutions – I invite you to read the Huawei nova 11 Pro review.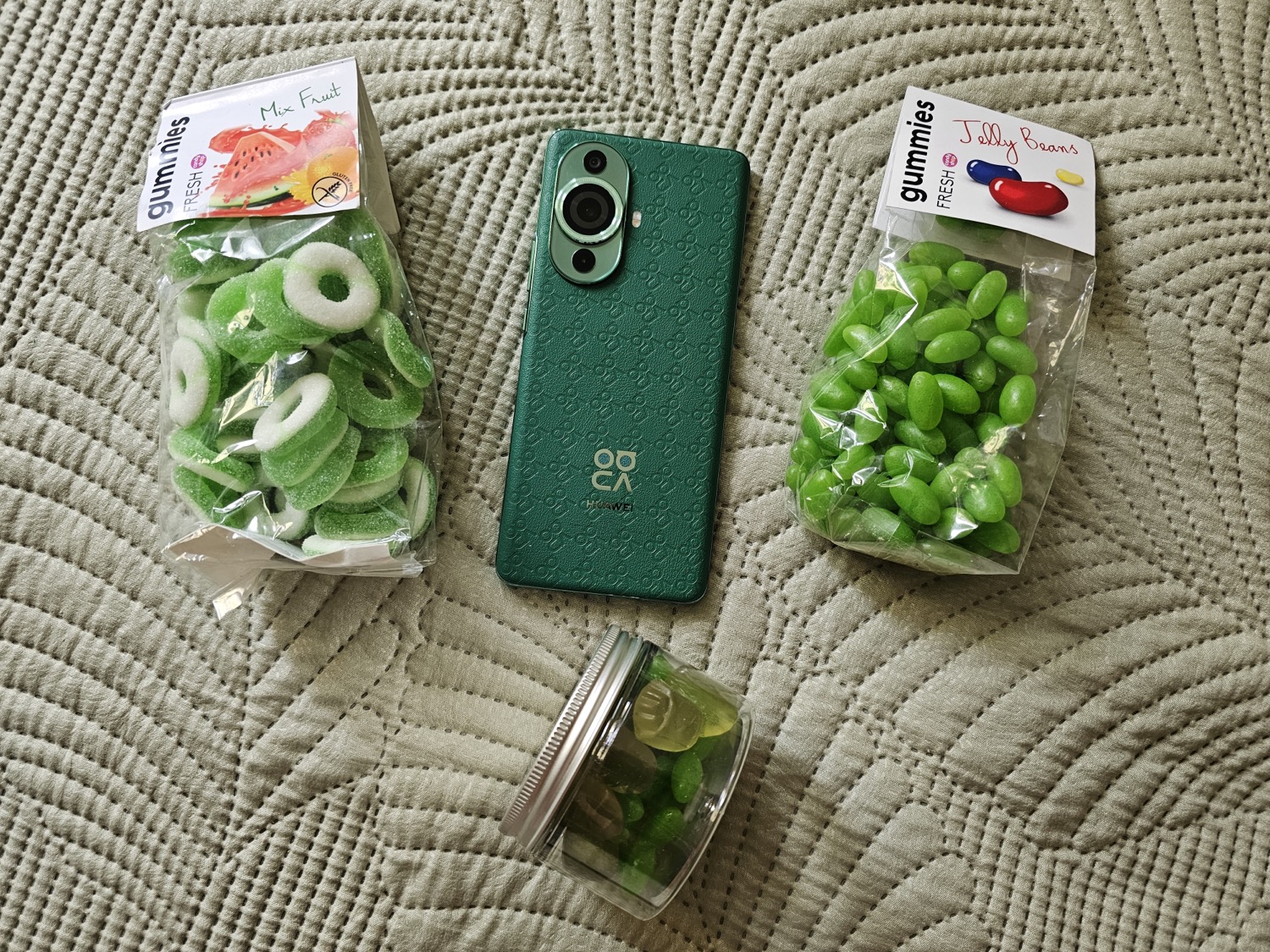 Huawei nova 11 Pro specifications
Display: 6,78″ OLED (1 billion colours), resolution: 2652×1200, refresh rate: 120 Hz
Processor and OS: Qualcomm Snapdragon 778G (1 core, 2.4 GHz, A78 + 3 cores, 2.2 GHz, A78 + 4 cores, 1.8 GHz, A55), EMUI 13 (Android 12)
Memory: 8 GB RW / 256 GB PW
Battery: 4500 mAh; 100W fast charge, 0% to 100% in 30 minutes
Main camera:

50 megapixels, f/1.9, (wide-angle), PDAF, laser autofocus
8MP (f/2.2) ultra-wide 112° lens
4K@30fps, 1080p@60fps, 720p@960fps, gyro-EIS

Front camera:

60 megapixels (f/2.4) with 100° aperture, 17 mm, autofocus
8 megapixels (f/2.2), 52 mm, autofocus

Connectivity: Dual-SIM, Wi-Fi 802.11 a/b/g/n/a/6, dual-band, Wi-Fi Direct, Bluetooth 5.2, A2DP, LE, NFC, GPS (L1+L5), GLONASS (L1), BDS (B1I+B1c+B2a), GALILEO (E1+E5a), QZSS (L1+L5), NavIC
Dimensions, weight: 165.0 × 75.0 × 7.9 mm, 188 g
Optional: under-screen fingerprint scanner, available colours: black, green.
Read also: Huawei Watch 4 Pro review: An incredible watch with one drawback
Package contents
In the box, in addition to the Huawei nova 11 Pro itself, we find a powerful 100W charging adapter, a USB-A to USB-C cable, a silicone case and a needle for the SIM card slot, as well as documentation. Personally, I really liked the look and quality of the cable, it's not just white, but with an additional coloured element at the ends (the same goes for the adapter itself).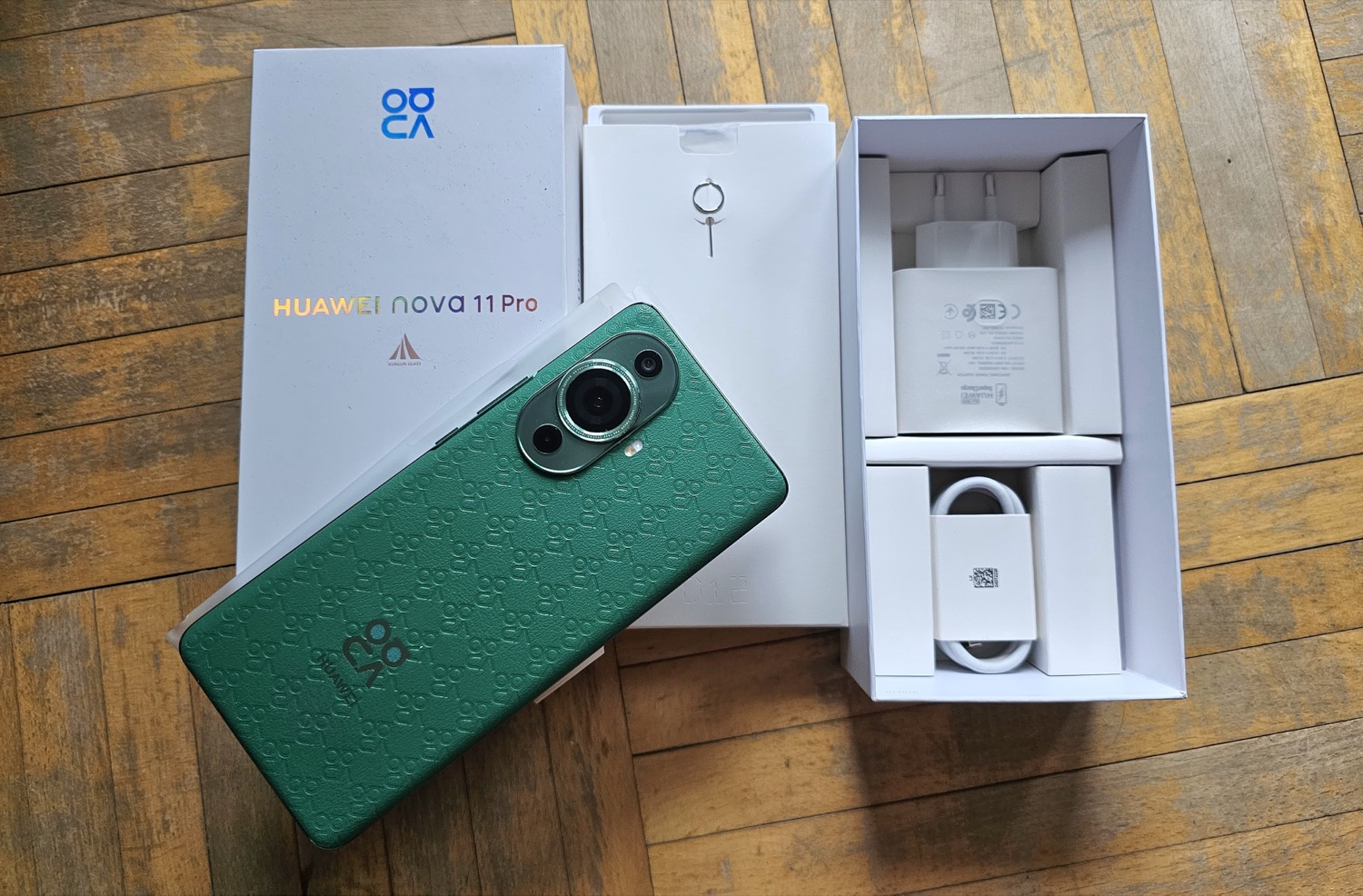 Although the aforementioned case looks good, it is not particularly stiff and does not fit the nova 11 Pro very well. The top and bottom parts are difficult to remove, and the sides start to move away even from a light touch.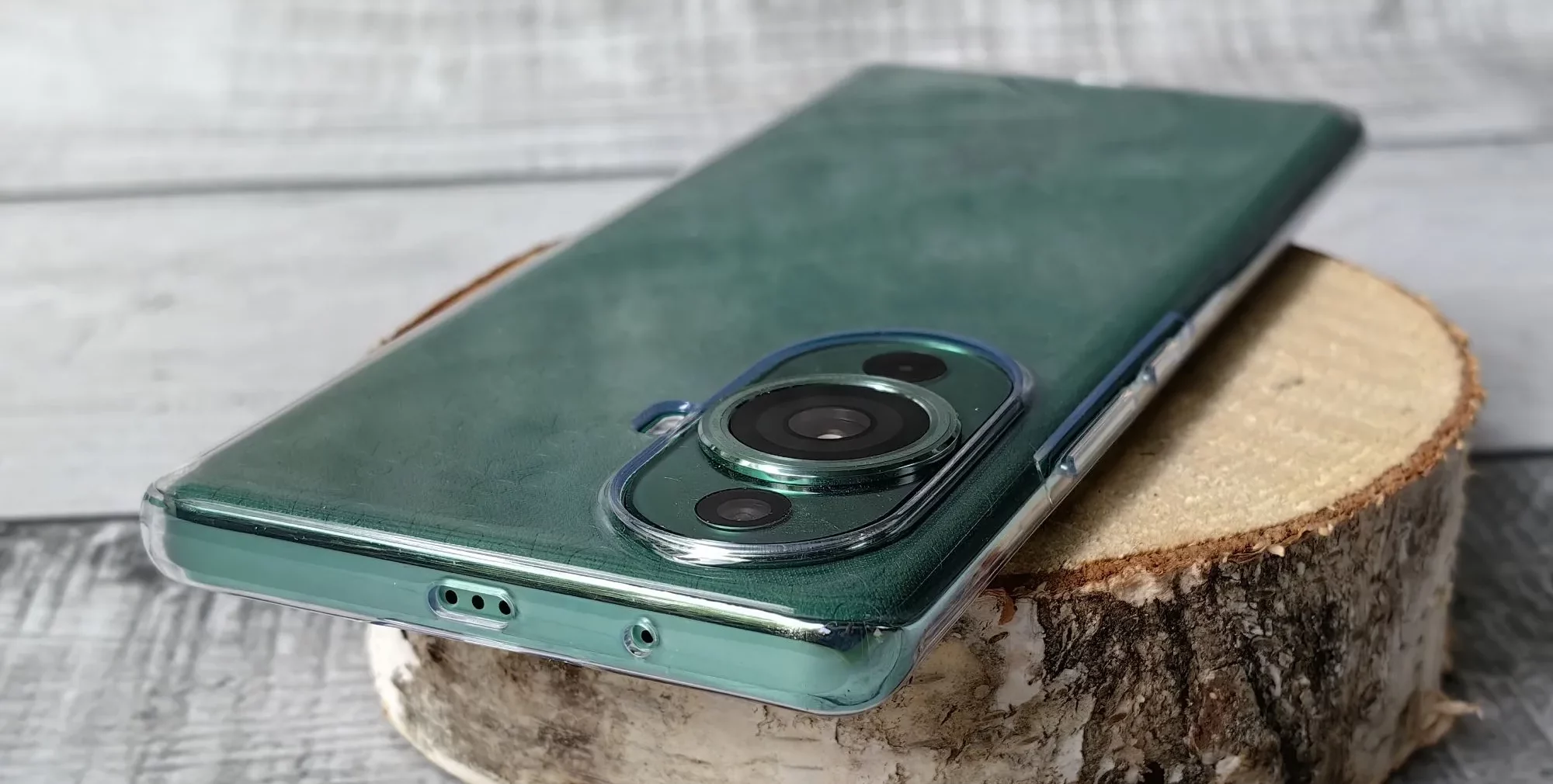 Positioning
In addition to the Huawei nova 11 Pro, the lineup has an almost twin version – the nova 11. It differs little from today's hero – except for a slightly slower charging, a single front camera, or design. We also have the Huawei nova 11i, which is a truly budget-friendly solution in the series. In some markets, you can also find the nova 11 Ultra version (almost the same as the Pro, there is a slight difference in camera performance).
None of the devices in the line are currently sold in Ukraine, but are expected to be.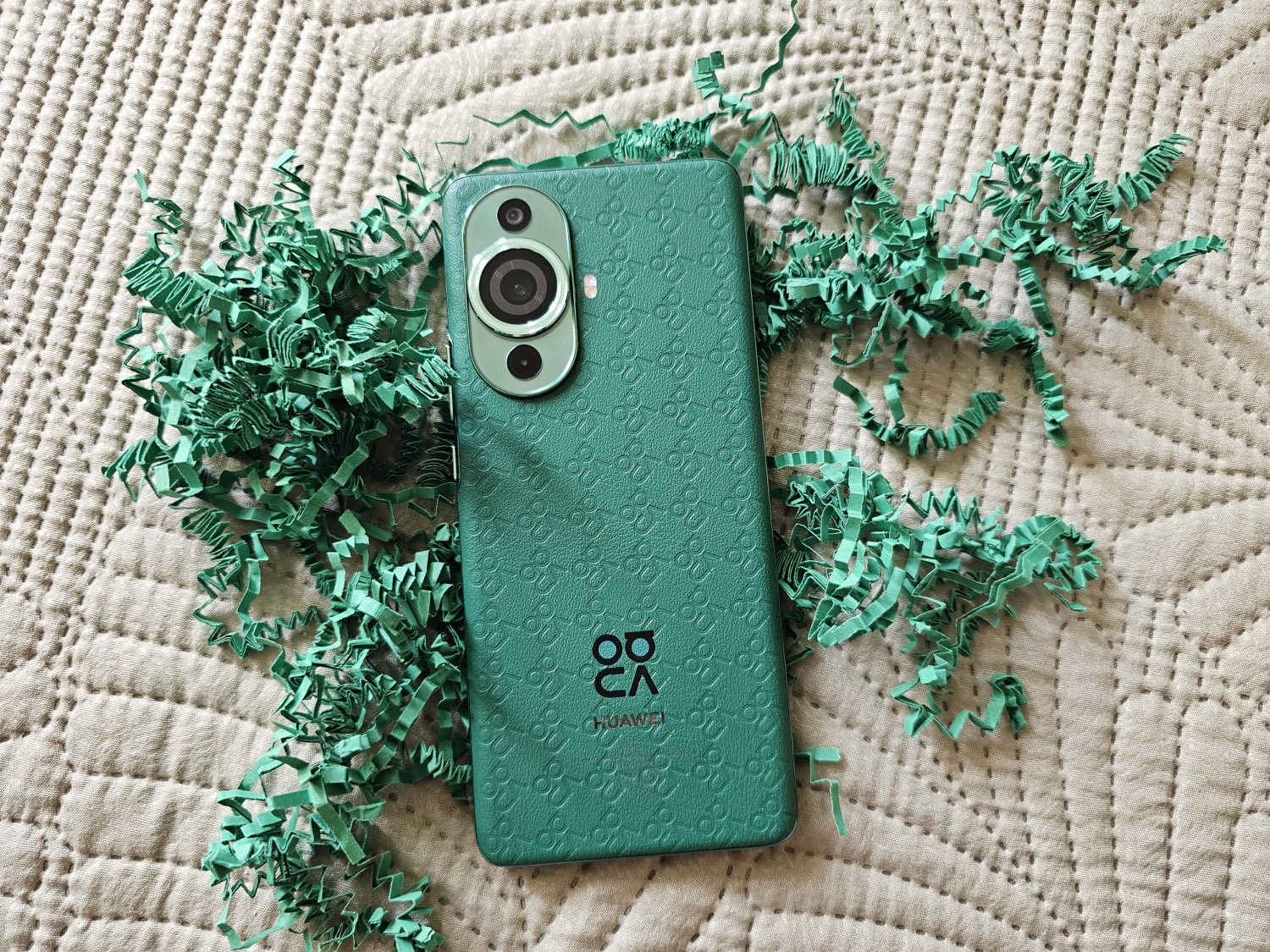 Read also: Huawei P60 Pro review: The world's best mobile camera again?
Exterior of Huawei nova 11 Pro
This smartphone impresses with its appearance at first sight. It is available in two colours – black and green. However, regardless of the colour, the nova 11 Pro will have an aluminium frame and an eco-leather back panel with a stylish repeating pattern in the form of the word "nova".
I received the green version for testing and I have to admit that it looks gorgeous.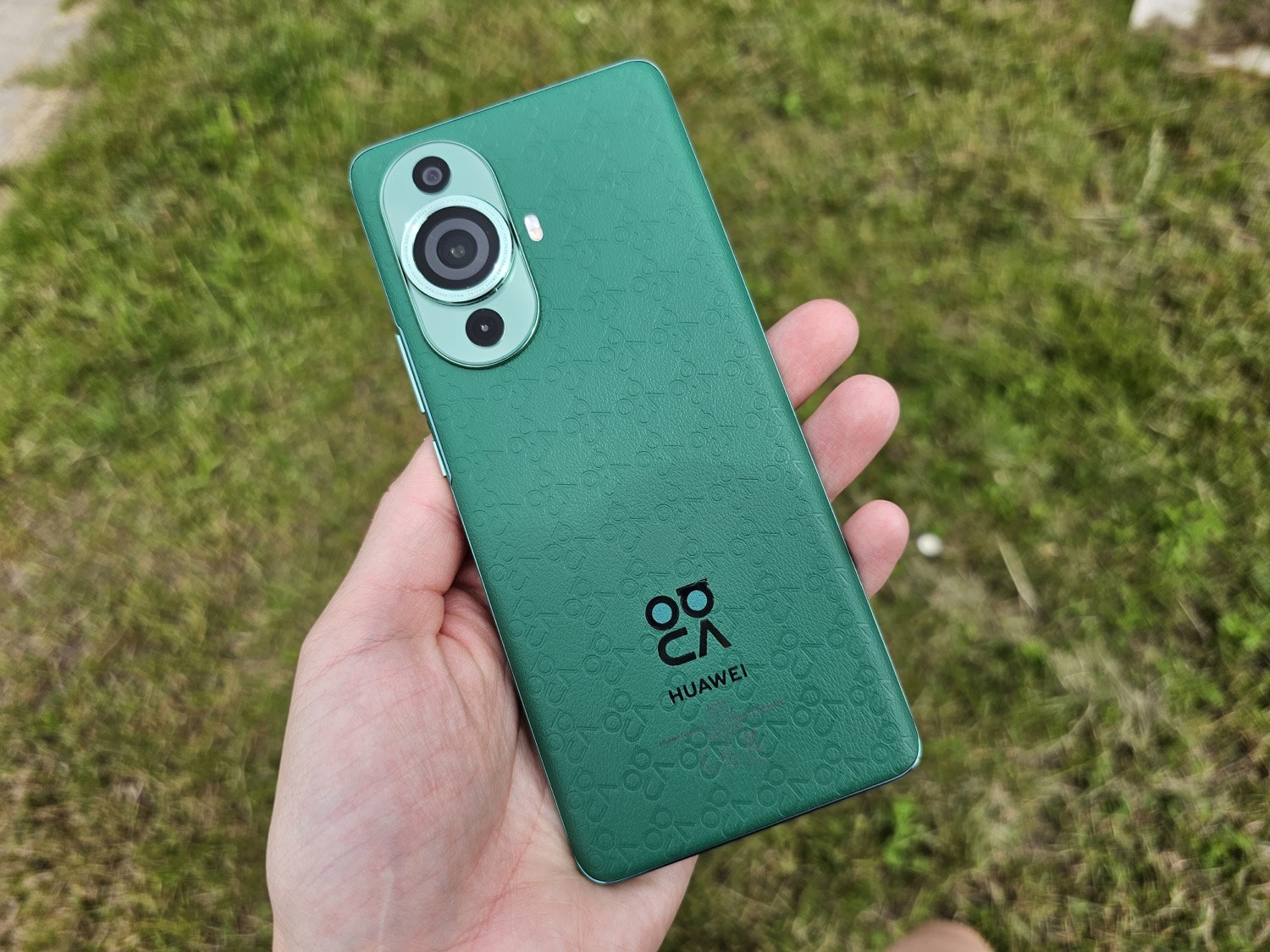 The camera island also looks unusual but elegant, made in a similar style to the Huawei P60 Pro flagship.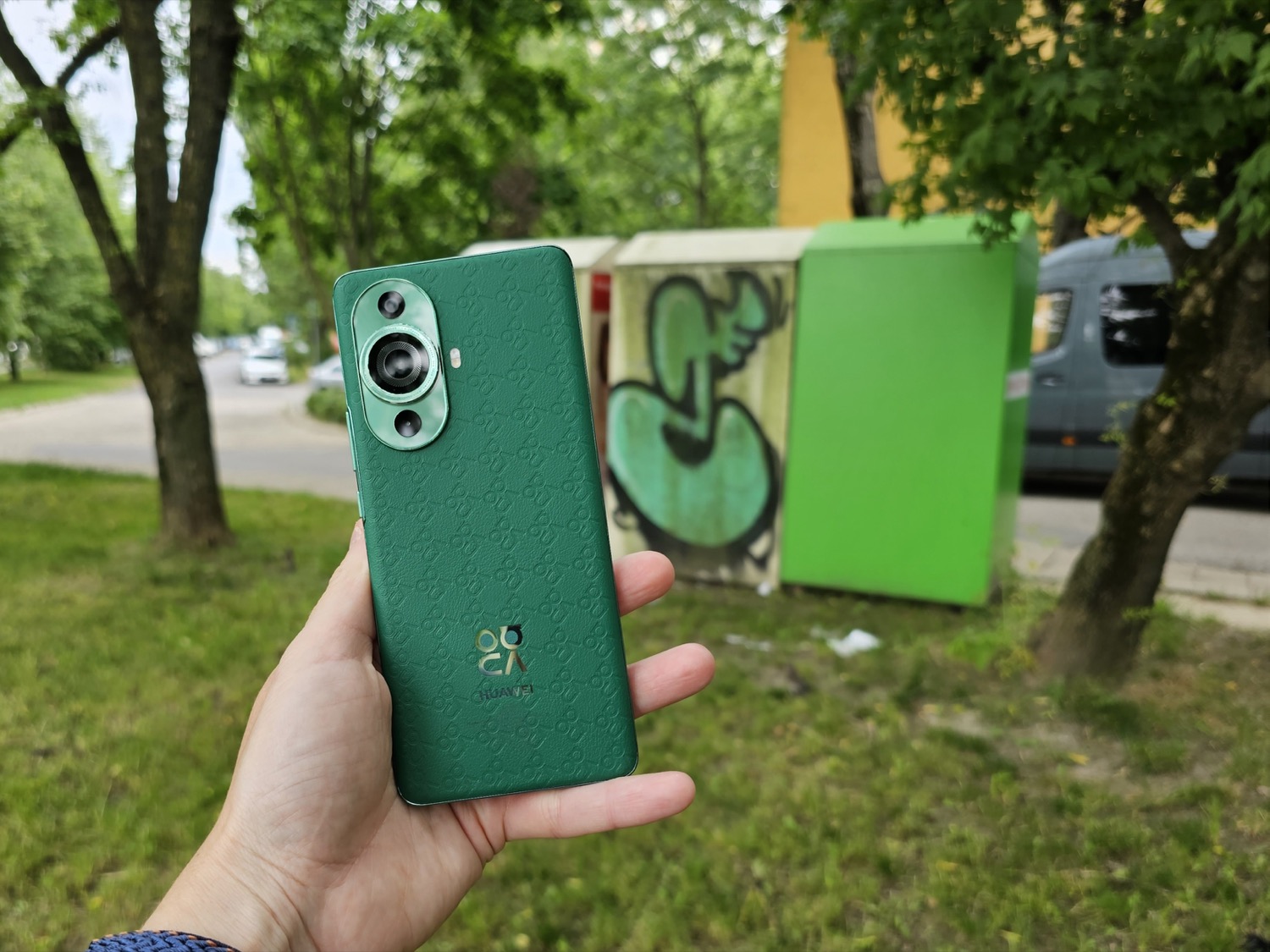 But despite the size of one of the camera modules and the really large 6.78-inch display (165.0 × 75.0 × 7.9 mm and 188 g), the nova 11 Pro fits perfectly in the hand and feels mega-light and pleasant to the touch.
The display bezels are fairly flat and thin, and the display itself is rounded on the sides. In the case of the nova 11 Pro, I have to say that I didn't have any accidental touches at all, so the experience of using this particular screen from edge to edge was pleasant. It looks great! Recently, such "infinity" screens have become more and more common on mid-range smartphones (Realme 11 Pro, Moto Edge 40, Infinix Zero Ultra, Xiaomi 13 Lite).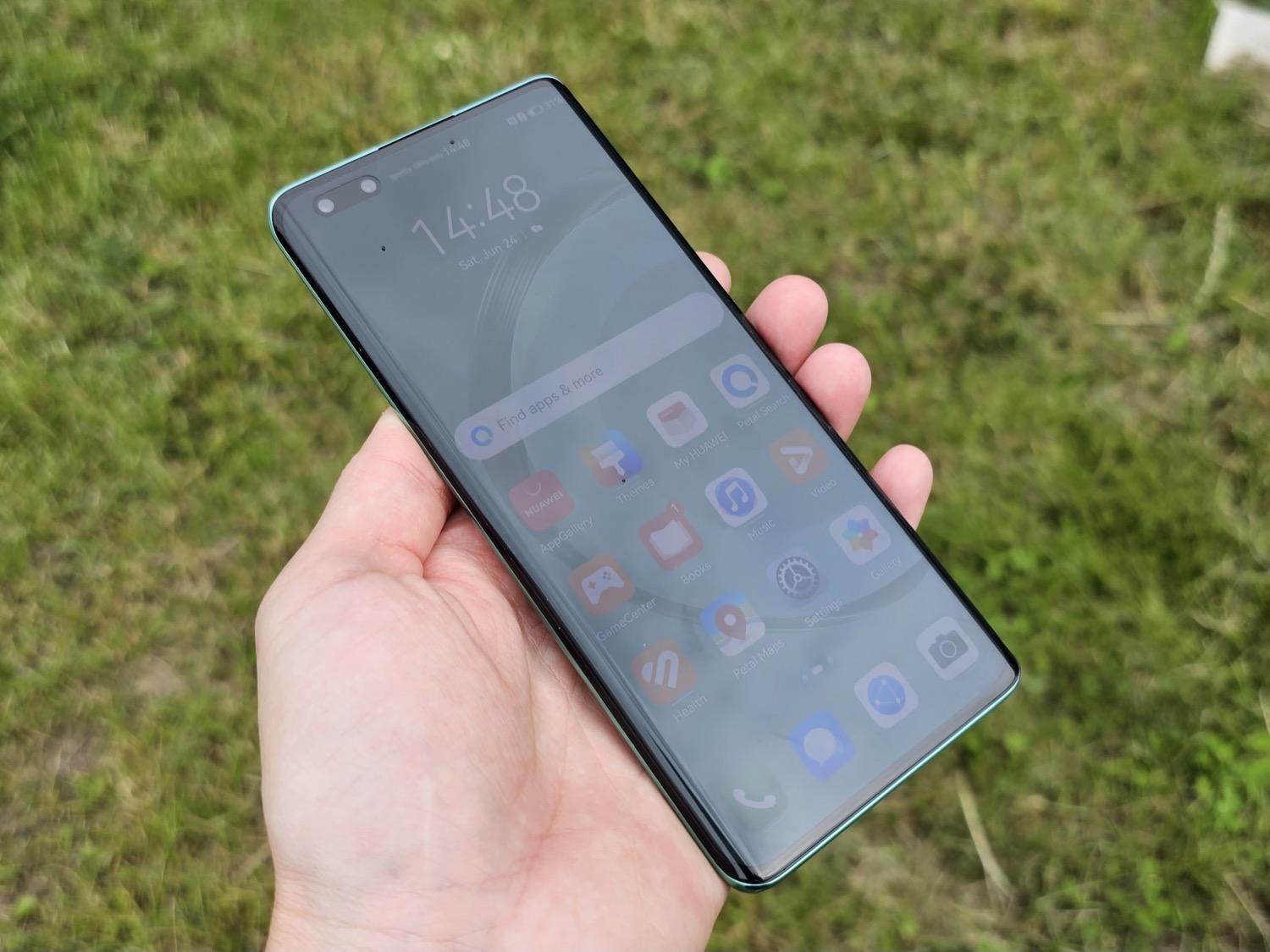 What I never got used to was the dual selfie camera. I remember how I defended this feature on the Samsung S10, while on Huawei I feel a little uncomfortable. I honestly don't know if I should immediately include this in the list of disadvantages of the nova 11 Pro, because it may not bother someone, and you can adjust the display interface so that the camera island is less noticeable on the display.
However, there is one drawback that cannot be overlooked. I'm talking about water resistance, because in the case of the nova 11 Pro, we only get protection from light splashes. However, this is not a flagship, and this can be forgiven for a mid-range smartphone.
Returning to the display for a moment, in our case we have the equivalent of Gorilla Glass in the form of Kunlun Glass, which has repeatedly proved that it can be on top both in terms of touch and durability. Of course, I didn't throw my Huawei nova 11 Pro against the wall, but it clicks really comfortably. A bonus in this case will also be the protective film right from the factory, which I do not recommend removing, as it is made very high quality.
As for the controls, all three buttons are located on the right side, with the power button having an additional subtle red accent. I don't know why, but in the dark it was difficult for me to press the power button, although I think all the buttons are at a comfortable height for most people. Only the fingerprint scanner on Huawei nova 11 Pro is, in my opinion, too low.
At the top of the nova 11 Pro there are speakers and a microphone, and at the bottom there is a tray for 2 nanoSIM cards without the possibility of adding a memory card, another microphone and speakers.
Read also: Apple AirPods Pro 2 vs Huawei FreeBuds Pro 2: which headphones to choose?
Display
Huawei nova 11 Pro has a 6.78-inch OLED display, 1200×2652 pixels (429 ppi), 1 billion displayed colours, HDR10, 120 Hz. If you go beyond the dry parameters, this is a very cool display.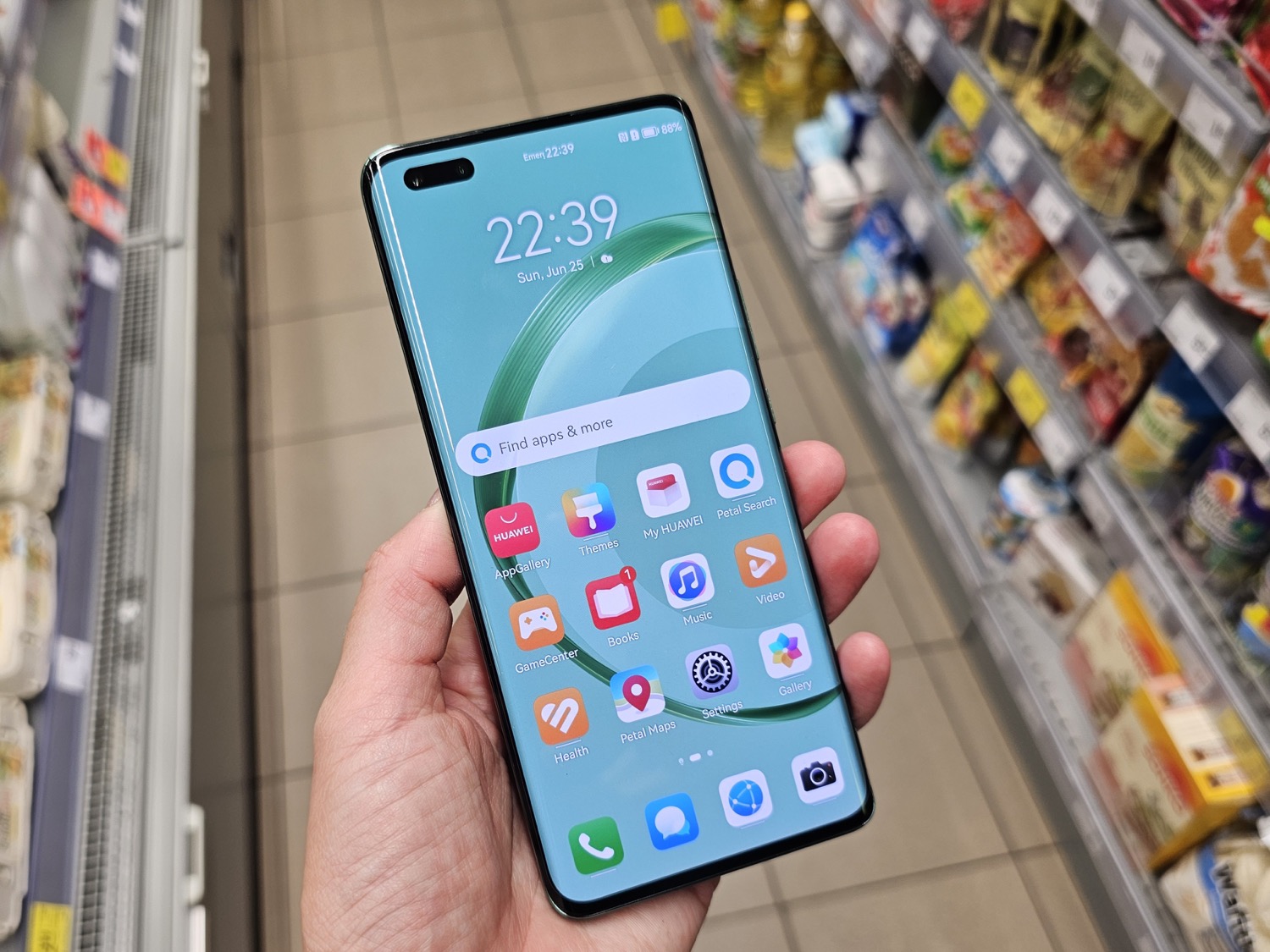 In the sun, the brightness easily exceeds 1000 nits, making the entire interface readable. I also looked at the media content from different angles and didn't notice any significant distortions in the colour reproduction.
As for the refresh rate, there are three options – 60 Hz, 120 Hz and dynamic from 60 to 120 Hz. I, of course, immediately switched on the "maximum speed" and played with the nova 11 Pro for a while. I can confirm that 120 Hz is really noticeable, and everything works very smoothly.
You can also reduce the screen resolution, for example, to save battery power.
In the settings, I was impressed by the "e-book mode" option, which was a nice addition to the classic eye protection options. As a person who likes to read on smartphones, I really appreciate this gesture from Huawei.
On the other hand, if you want to use the display at 101% instead of greys and saves, there's a pretty powerful Always On Display option. It has a large number of editable watch faces and graphic elements, plus you can download others available in the store, and when you select one, you'll get an interest prompt in the top right corner.
Read also: Huawei FreeBuds 5 review: Super headphones with a strange design
Components, performance, software
Huawei nova 11 Pro still has one of the most successful Qualcomm Snapdragon 778G processors (1 core, 2.4 GHz, A78 + 3 cores, 2.2 GHz, A78 + 4 cores, 1.8 GHz, A55). Of course, it's already a bit old, but as I like to say, the performance of processors in 2018 was enough for years to come. The situation with the 778G is identical, and the only downside is the lack of 5G, although, on the other hand, 4G can still handle 4K content playback.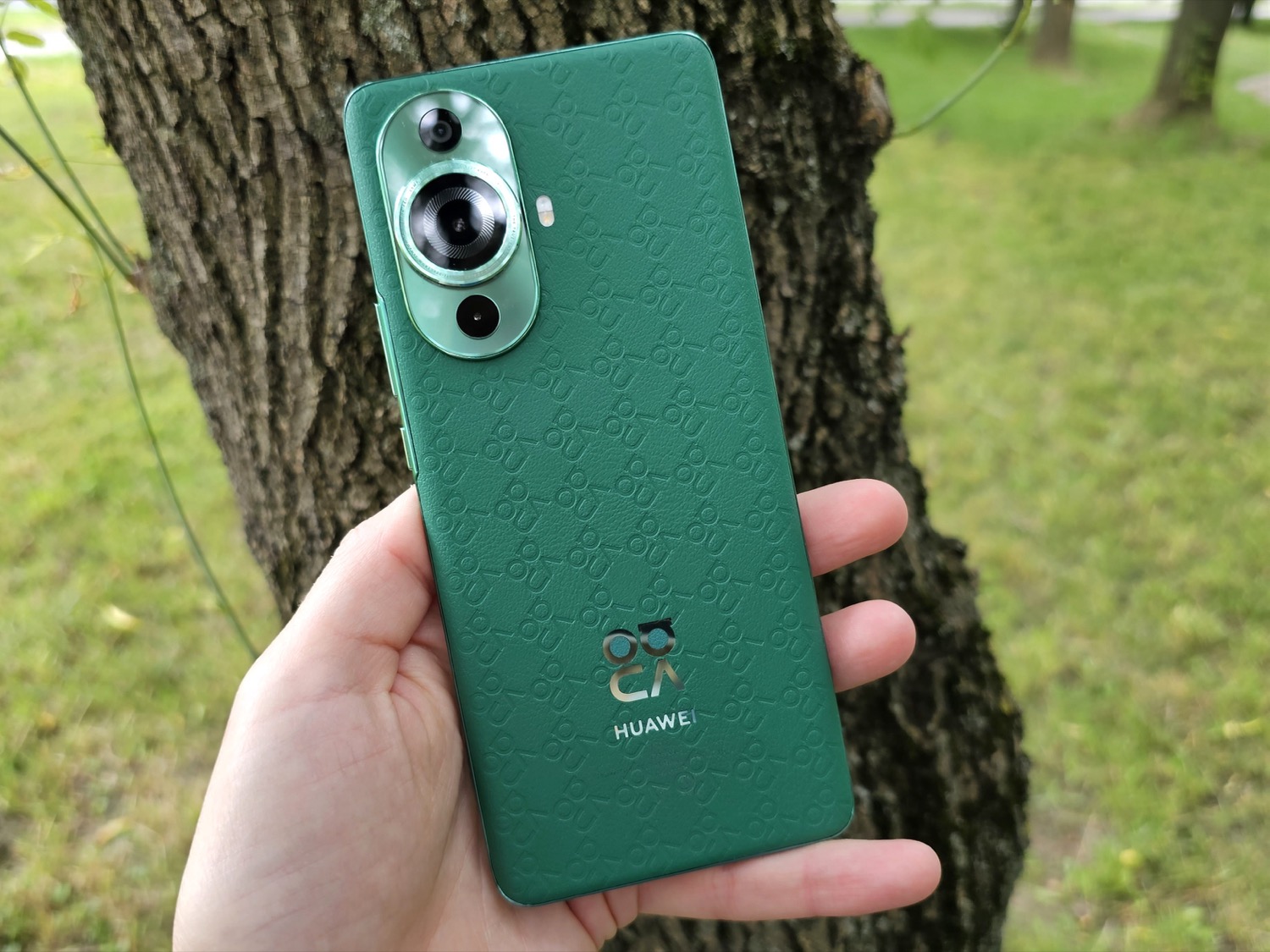 As for the overall performance, I was pleasantly surprised by the results of the CPU test and the Throttling Test, in particular. The phone hardly slows down, and I can explain the huge instantaneous drop at the very end of the measurement by a certain error. Below you will see screenshots of the synthetic test results.
Synthetic test screenshots
But to avoid confusing these types of applications, I also ran one of the more demanding games, Asphalt 9. Surprisingly, even on the highest settings, the game ran smoothly and without any major lags. There was never a moment when I was annoyed by any noticeable stuttering during the gameplay. It's clear that Huawei nova 11 Pro is not designed purely for gaming, but it's quite possible to spend some time playing games on good settings.
Versions with 8/256 GB and 8/512 GB of storage are available without the possibility of expanding via SD card. Again, kudos to Huawei for not chasing the amount of RAM, as the 8 GB offered is more than enough for comfortable daily use of the nova 11 Pro.
As for the software, at the time of writing this review, we have the EMUI 13 graphical shell overlaying Android 12. I know, I know, it looks uninteresting, but in general, it did not interfere with the use, so I believe that Huawei engineers know what they are doing.
The advantage of the Huawei nova 11 Pro shell is that the company really puts a lot of effort into providing users with interesting features that make working on the device easier. For example, I'm a fan of windowed mode, and with EMUI, I can really do anything with applications. You can launch the selected application in a separate window, move it, resize it, minimise it, and flip it to a special edge panel. By the way, there is also a second panel with useful system functions. The shell works smoothly and looks nice.
Huawei is also striving for its own ecosystem, and we can easily connect the phone to Huawei monitors or laptops wirelessly, and then conveniently scroll through files, use it as an additional display, and do many other interesting things. There's also a handy Device+ (Super Device) to quickly connect and control various accessories.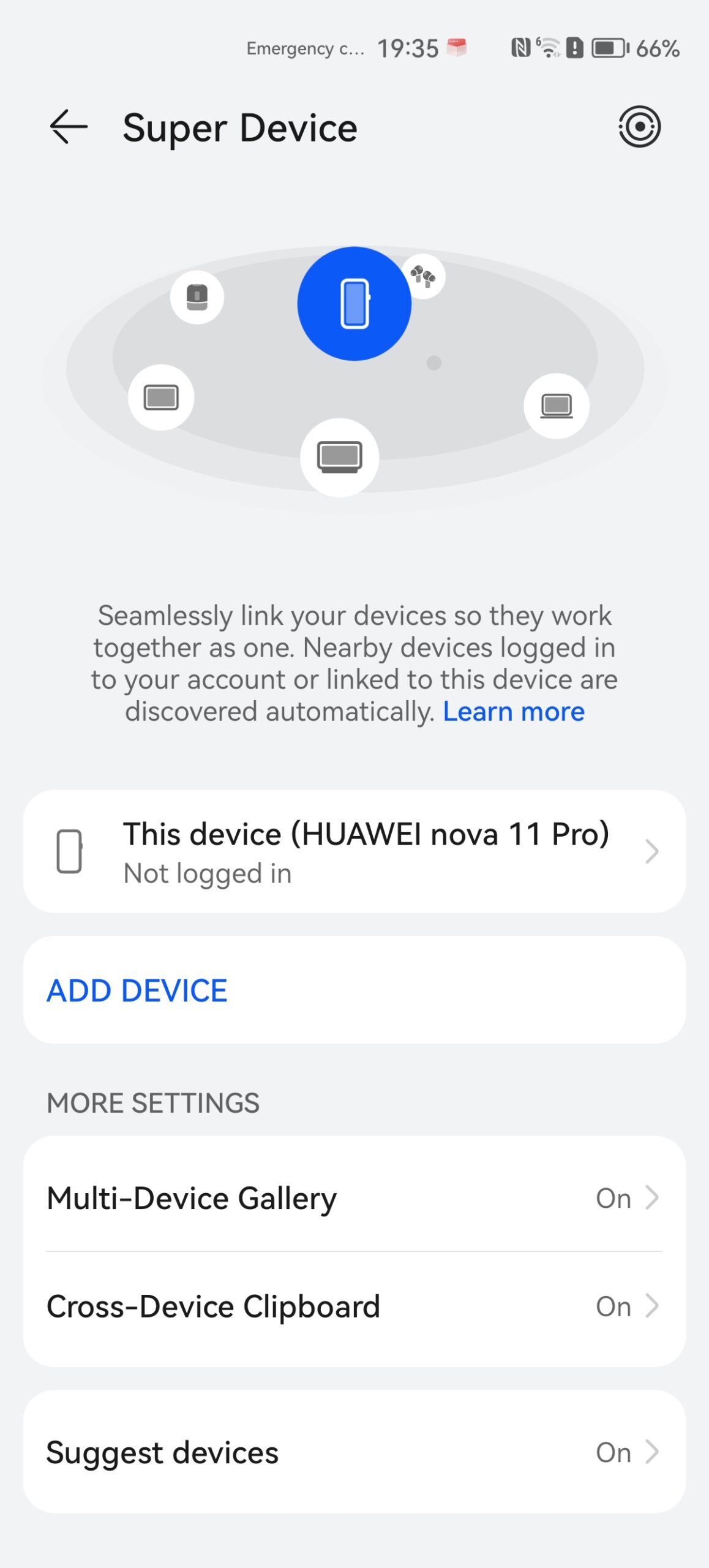 Huawei's biggest problem is the lack of GMS (Google Mobile Services). The manufacturer itself offers to download the GBox emulator through AppGallery, with which we download the necessary Google applications. However, they do not work so smoothly. Of course, many other alternatives to GBox have been invented that work much better (for example, Gspace), but the average user is unlikely to scour the Internet in search of the best one.
But Huawei has done everything possible to make the lack of GMS not seem like a problem. There is its own software for watching videos, listening to music, reading, cloud backup, navigation, etc. The AppGallery catalogue is filled with apps, including those useful in different countries/regions (banks, taxis, delivery). Apps that are not in the Huawei catalogue can be installed through AppGallery by downloading them as .apk files. In principle, there is nothing to complain about. Life with a Huawei smartphone is not as complicated as it might seem. And you can figure out Google apps too.
Read also: Huawei Watch Ultimate review: Top smartwatch and competitor for Apple Watch Ultra
Photographic capabilities of Huawei nova 11 Pro
Huawei has always had a knack for photography. The Nova 11 Pro is no exception, and although it's not a flagship per se, the cameras in it can do a pretty good job. In terms of modules, we have a 50MP main camera and an 8MP wide-angle camera, respectively, as well as 2 selfie cameras of 60MP and 8MP, respectively.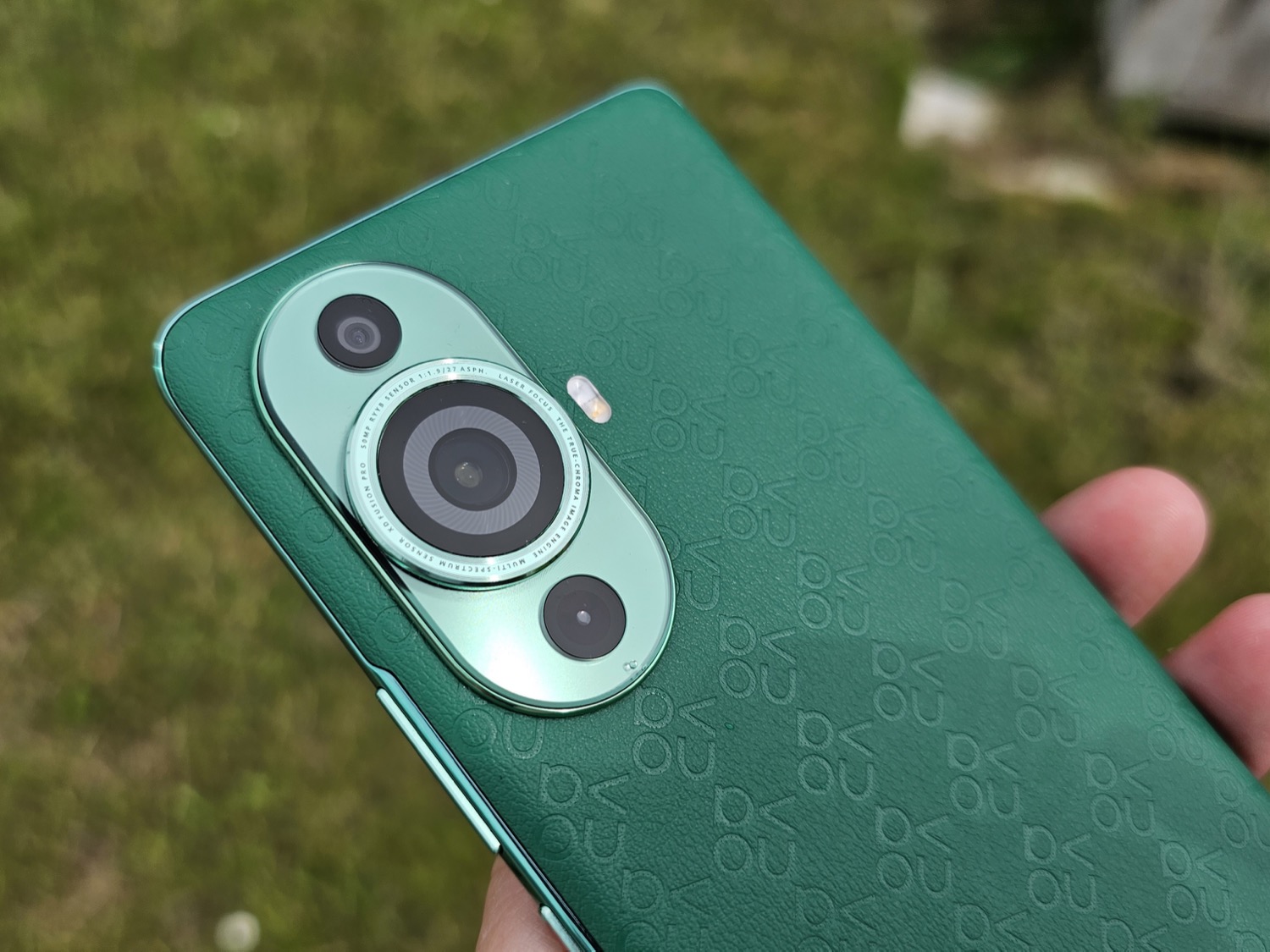 As for the main camera, it boasts one of the biggest advantages over almost any flagship – correct colour reproduction. The algorithms in the case of the nova 11 Pro work flawlessly, and if one is a fan of 1:1 reality display while maintaining good image quality for a reasonable price, then the nova 11 Pro is the right choice.
ALL PHOTOS FROM NOVA 11 PRO IN ORIGINAL SIZE
The only thing I would add is that when it comes to photos, the nova 11 Pro doesn't have a 16:9 option, which may be a disadvantage for some.
The ultra-wide-angle lens is also not inferior in quality. It simply takes beautiful photos that you're not ashamed to show your friends. There is a difference in colour reproduction, but it's not critical. Here's a comparison, with the ultra-wide-angle module on the right:
The night photos sometimes turn out to be mega good, and sometimes just an incomprehensible mixture of yellowish colours (for example, in the photo with the church), which I think should be improved with updates.
The night mode doesn't really make a difference, it's more useful when you have some kind of glowing object. Our night mode is on the right:
When it comes to zooming, you can easily use 2x, in which case the photo quality will not suffer. You can also use a 5x zoom. On the other hand, 10x is an unacceptable smearing. It's common knowledge (I know, I'm repeating myself) that the nova 11 Pro is not a flagship device, so the zoom will not always do its job. Here are examples of different zoom levels:
ALL PHOTOS FROM NOVA 11 PRO IN ORIGINAL SIZE
There's also a macro mode (accessed via the More section in the camera app), and a wide-angle lens with autofocus helps you take close-ups. The quality is quite good for a mid-range camera.
The selfie camera does not disappoint again, its quality is excellent. The photos are natural and clear. There's a 2x zoom option so you can take a close-up photo of a specific part of your face or use the camera as a mirror. There is also a group selfie option (wider angle).
The front-facing camera is also top-notch, delivering 4K@30fps with zoom.
When it comes to recording, the rear cameras again operate at a maximum resolution of 4K@30fps. It is possible to switch between cameras directly during recording (also on the front camera) and take photos during recording. The video quality is excellent for a smartphone of this type. Examples of videos from Nova 11 Pro are available in this folder.
However, I should note that when it comes to stabilisation, only gyro-EIS is available, and the ultra-wide-angle camera is mediocre, and I doubt that anything can be done about it, to put it mildly.
The camera software is traditional for EMUI. On the main screen, you can switch between the main modes – night, portrait, photo, video, professional (manual settings) or go to the menu with advanced modes, such as monochrome, macro, document, time-lapse, shooting with several modules at the same time, full camera resolution mode, etc. The main screen also has separate buttons for turning on and off the AI assistant, flash mode, and some auxiliary