The updated vivo V21 line, which includes two models – the standard V21 and the "light" V21e – appeared on our shelves recently. It is the successor to last year's V20 series, which was introduced in September 2020, and which also consisted of two smartphones (V20 and V20 SE). One could assume that the V21e is the new V20 SE, but they have much more in common with the classic V20. Anyway, let's see if vivo will surprise us this year in the middle-range smartphone category.
Read also:
Technical specifications of the vivo V21e
Display: 6.44 inches, AMOLED, 2400×1080 (FullHD+), aspect ratio 20:9, 408 ppi, HDR10
Chipset: Qualcomm Snapdragon 720G, 8 nm, 8-core (6×Kryo 465 Silver, 1.8 GHz + 2×Kryo 465 Gold, 2.3 GHz)
Graphic accelerator: Adreno 618
RAM: 8 GB (+ 3 GB with storage)
Storage: 128 GB
Memory card support: up to 1 TB
Wireless networks: Wi-Fi (2.4+5 GHz), Bluetooth 5.1, NFC, GPS, Beidou, Galileo, GLONASS, QZSS
Main camera: master module – 64 MP, autofocus, f/1.89, wide-angle – 8 MP, f/2.2, autofocus, macro camera – 2 MP, f/2.4
Front-facing camera – 44 MP, f/2.0
Battery: 4000 mAh
Charging: fast wired 33 W
OS: Funtouch 11.1 based on Android 11
Dimensions: 161.24×74.37×7.38 mm
Weight: 171 g
Colors: Diamond Flare, Roman Black
Price
The V21 series belongs to the mid-budget segment of smartphones. If the "senior" V21 costs about $520, the simplified vivo V21e is about $370. Given that the characteristics, it seems that it has a better chance of becoming a favorite.
What's in the box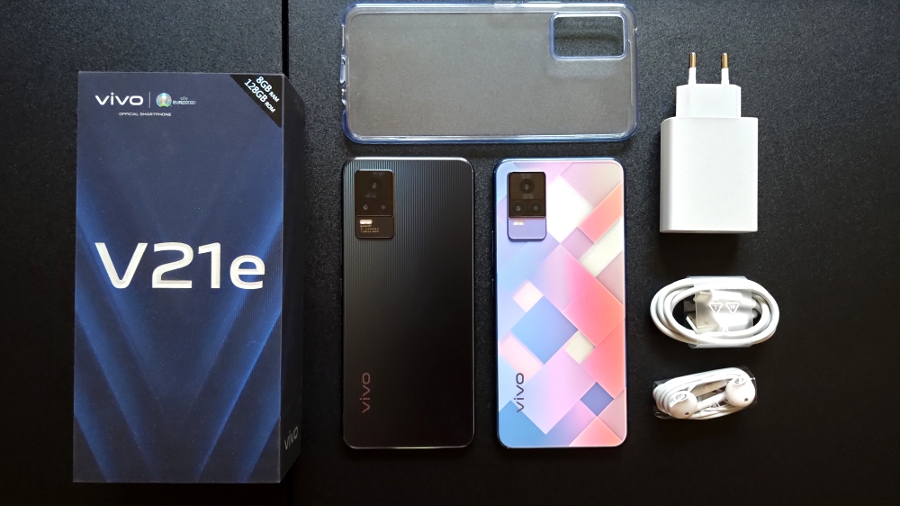 The vivo V21e configuration is very, very pleasant by the standards of modern smartphones. In addition to the device itself, the cute branded box contains a charging cable, a transparent silicone bumper, accompanying literature, a SIM eject tool and wired earphones. And in addition to all this, there is a protective film on the display. In my opinion, the set is just perfect – take it and use it.
Read also:
Design, materials and build quality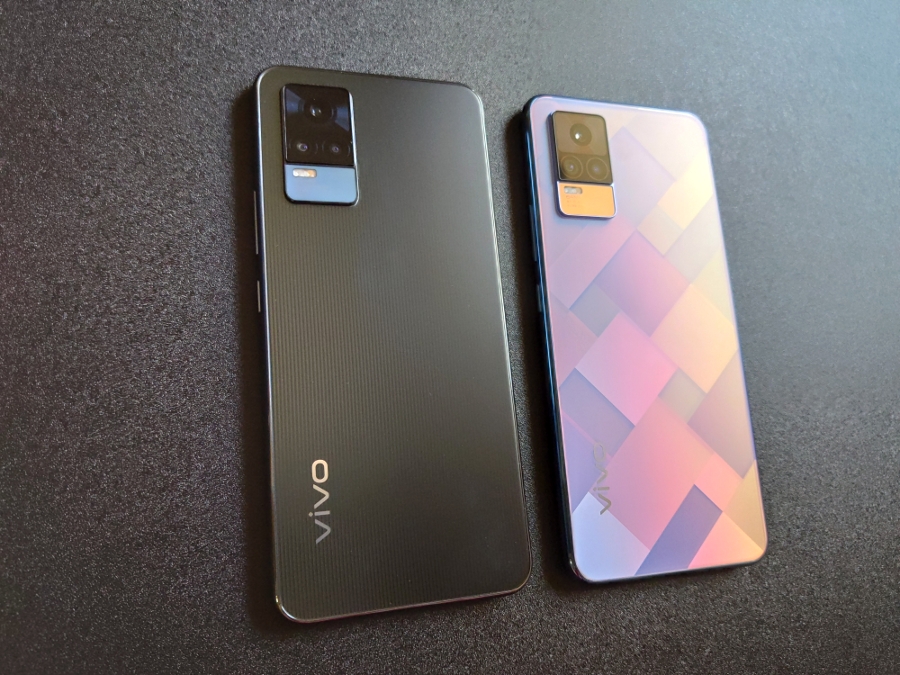 In general, the V-series of vivo has always been distinguished by its design and the V21e was no exception. The smartphone is available in two colors – Roman Black and Diamond Flare – and we are lucky to get acquainted with both of them. Let's start with the fact that in both cases the back cover is glass, but with a matte coating. And this is great, as there are almost no fingerprints on the surface and the smartphone looks quite neat.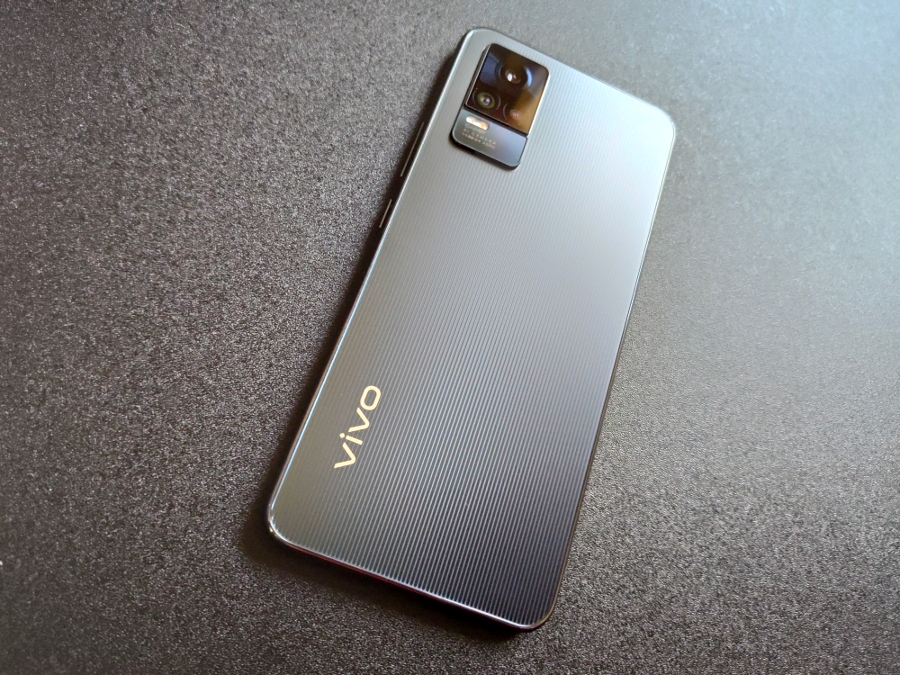 Roman Black is a dark gray surface with longitudinal stripes, which at a certain angle casts a little blue. The edges are plastic, but painted metal, which visually makes the device classier. And if you want a brighter smartphone, Diamond Flare is your choice. Compared to the dark version, there's just a riot of colors – from purple and blue to pink and yellow. The pattern on the back is three-dimensional and the effect of overlapping tiles on each other is created at different angles. 3D design may become a new trend in smartphones, as the smartphone in this color looks simply epic. It's a pity that the photo doesn't convey it. You wouldn't want to hide this design under a case, so a bundled transparent bumper is very useful here.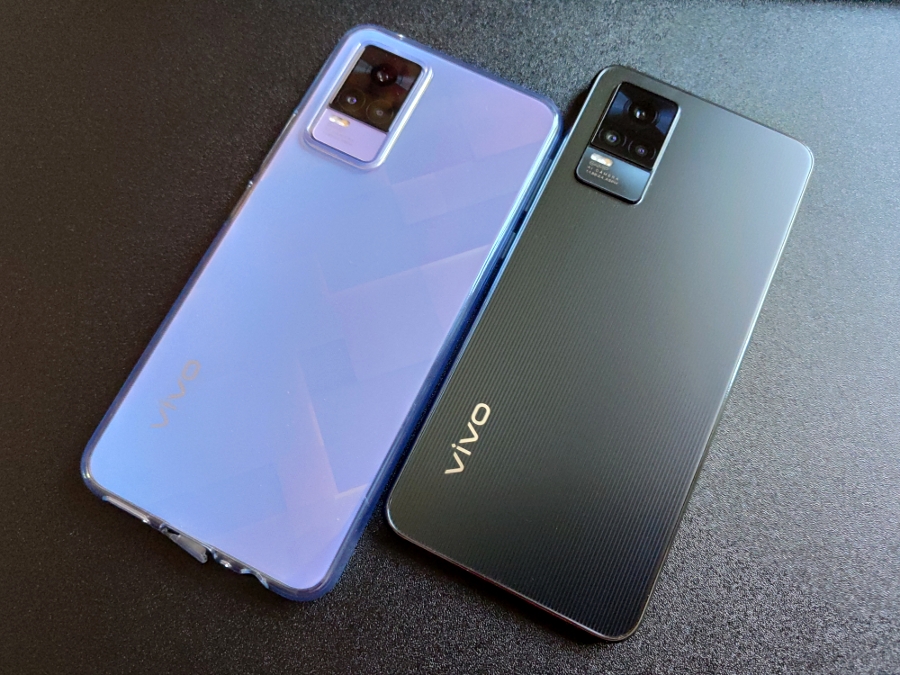 The camera unit here is trendy – a large main module and a couple of smaller auxiliary ones. All this was hoisted on a double "pedestal", and the flash was lowered a little lower.  It is worth noting that the camera panel raised above the case contributes to the wobbling of the smartphone on a horizontal surface, which can be partially eliminated with the help of a case.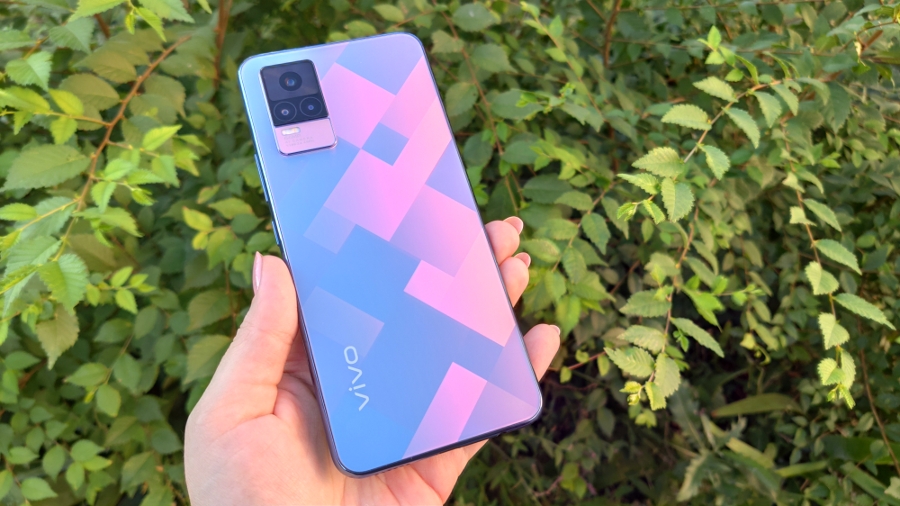 Here, under the flash, there's info about the camera (the main sensor is 64 MP), from f/1.89 to f/2.4.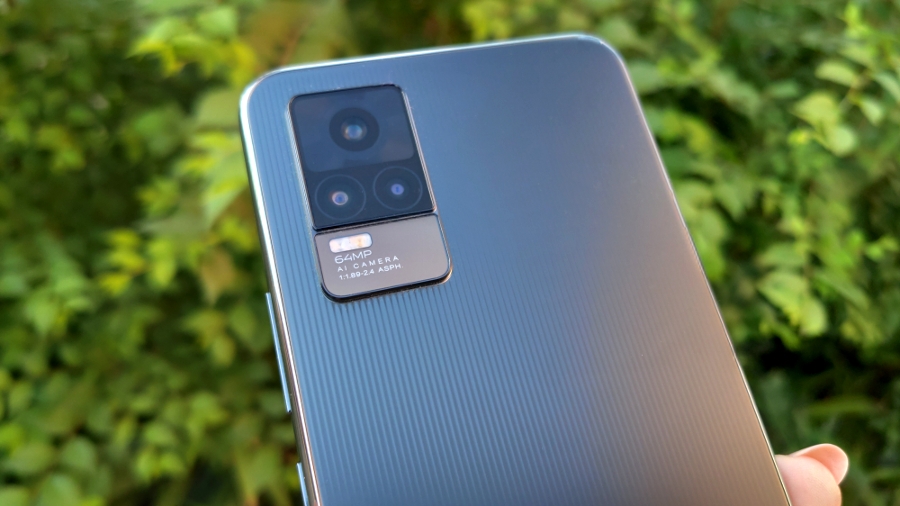 The display is framed by neat, but not to say that miniature bezels, among which the top and bottom ones are the most noticeable.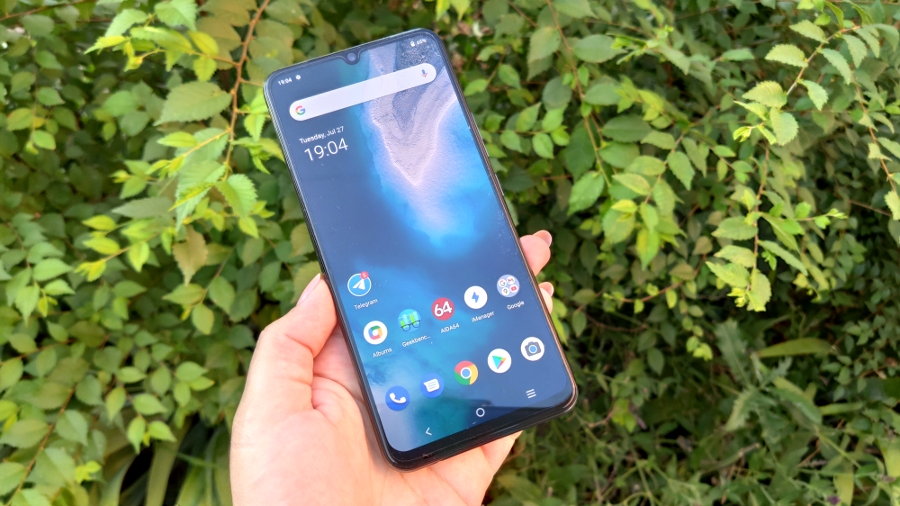 To the left of the display is a SIM and memory card slot. On the opposite side there are power and volume buttons.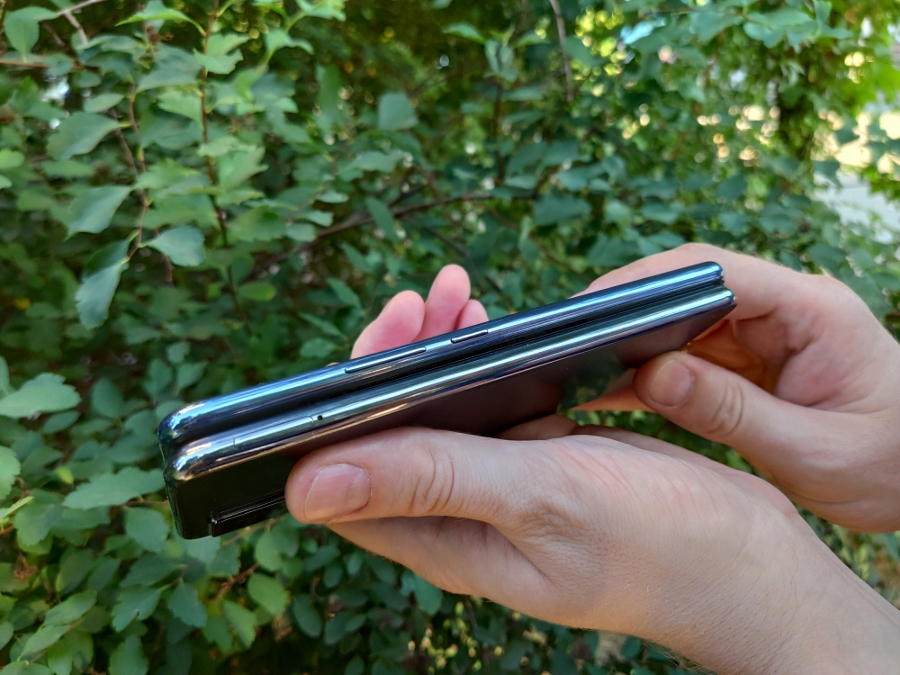 The top edge is almost unused – only an auxiliary microphone hole can be seen on it. At the bottom there is a 3.5 mm audio connector, a hole for another microphone, a charging port (Type-C) and a main speaker. Nothing unusual.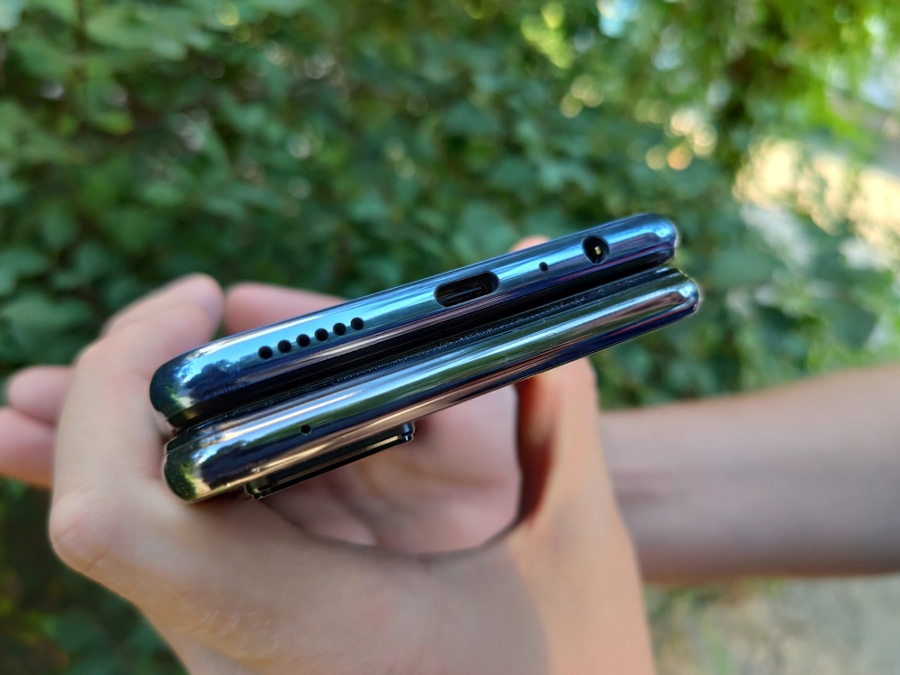 In general, the vivo V21e has a good build quality, there are no issues with the quality of materials. And the color scheme is just insane.
Ergonomics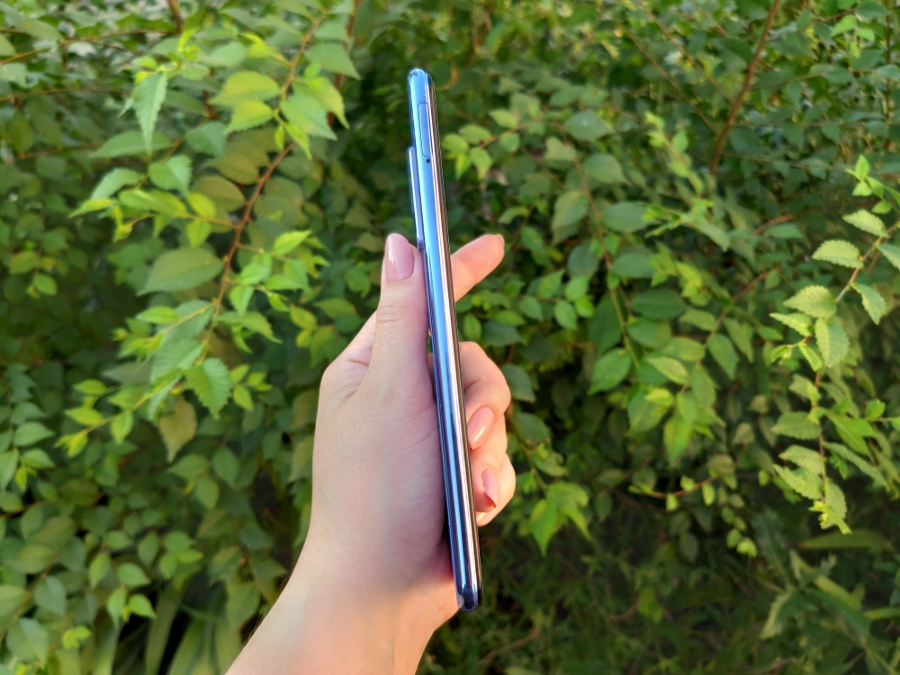 The main emphasis in the vivo V21e design was placed on the thickness of the case – it is only 7.38 mm. At the same time, the weight of the device is 171 g, and the full dimensions are 161.2×74.4×7.38 mm. Due to the thin case in the hand, the smartphone does not try to slip out of your hands, you can reach the buttons on the right without problems, as well as the fingerprint scanner. In general, I have only one remark – if the fingerprint sensor had been located higher by at least a couple of centimeters, it would be even more convenient to use it.
Read also:
Display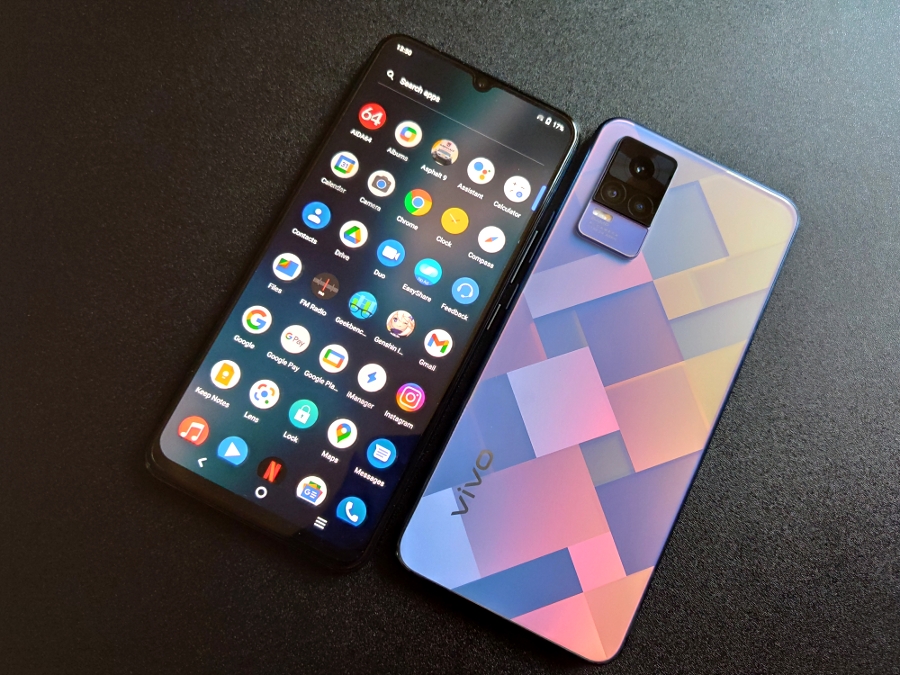 vivo V21e received a 6.44-inch AMOLED sensor with a resolution of 2400×1080 (Full HD+), 20:9 aspect ratio, 408 ppi pixel density and HDR10 support. It is worth noting that the V21 has the same screen in terms of characteristics, with one exception – the V21 supports a refresh rate of 90 Hz, while V21e has a standard 60 Hz.
The screen settings provide adaptive brightness, dark theme, eye protection mode and color settings. There are 3 color display modes – standard, professional and bright, in each of which you can adjust the color temperature. There are settings for Always-On, as well as an option to mask the notch. Separately, I would like to note that the settings menu provides a separate item for working with all kinds of animations – animation of unlocking the screen with the face scanner or fingerprint, when charging or when using a USB connection, selecting an animation of the fingerprint scanner icon, etc.
In general, the screen is very good and the presence of an "old-fashioned" refresh rate cannot spoil the overall impression – AMOLED is still AMOLED. The viewing angles are excellent, the contrast is high, and there is plenty of brightness. Anyway, it's comfortable to use your smartphone even on a sunny day.
Performance of the vivo V21e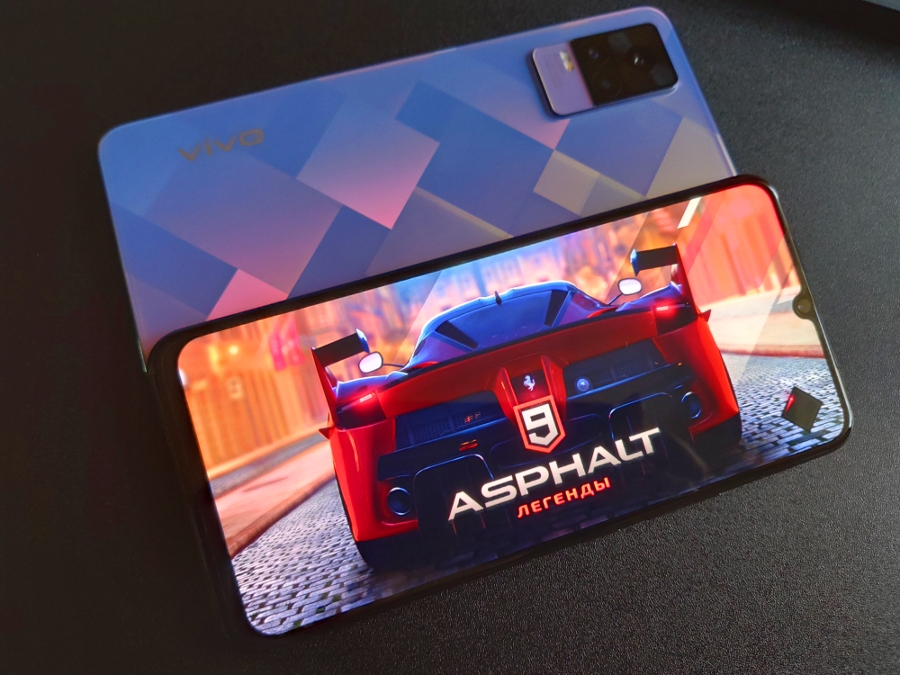 The vivo V21e is powered by the same chipset as the V20, an 8-core Qualcomm Snapdragon 720G, which consists of 2 Kryo 465 Gold cores with a maximum clock speed of 2.3 GHz and 6 energy-efficient Kryo 465 Silver at 1.8 GHz. The Adreno 618 accelerator handles the graphics. There's 128 GB of storage with the ability to use microSD up to 1 TB. 8 GB of RAM in a mid-ranger is quite a decent figure, but the ability to use an additional 3 GB allows for even better future-prooffing.
Speaking of performance, it fully corresponds to the positioning of the smartphone. The device copes perfectly with everyday tasks. V21e games are also very good and can handle even the heaviest of games. But even it has its issues: Asphalt 9 works fine, but Genshin Impact requires some adjusting.
It is worth noting a good balance between hardware and software in the vivo V21e. The gameplay is quite smooth, light friezes are noticed only in rare cases. In my opinion, everything here is very, very decent for a mid-range device. The only nuance is some heating of the case (near the camera block and along the left edge) during serious loads. It's not critical, but it's still noticeable. However, this can also be affected by elevated room temperature.
Read also:
Cameras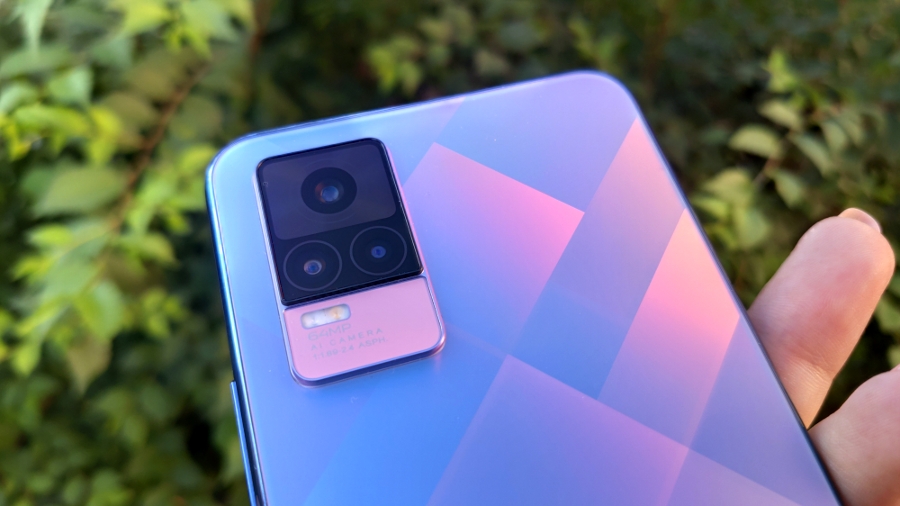 The main camera consists of three modules: 64-megapixel lens with autofocus, Quad Pixel technology and f/1.89 light sensitivity, an 8 megapixel wide-angle sensor (f/2.2) and a modest 2 megapixel macro camera (f/2.4).
The app provides night mode, portrait, standard "Photos" and "Video", high-resolution photos, panorama, live photos, slow and interval shooting, simultaneous shooting on the main and front camera, pro-mode and correction mode for documents. The main module can shoot 4K video at 60 fps, there is electronic video stabilization and object tracking function, filters, AR stickers and Google Lens.
The 64-megapixel lens shoots in 16 megapixel resolution by default – to shoot at full power you need to use the appropriate shooting mode. However, in my opinion, you can't achieve significant image improvements and most often you will shoot in standard mode. The quality of the photo on the main sensor is very decent in daylight and a little worse at night.
It is worth noting that in night photos (if night mode is not used) the camera tries to find out the light as best as it can, especially if you take pictures in open spaces. It is necessary to note how different the degree of illumination is in fact and in the photo. At dusk you can get almost a daytime photo. Although without night mode, the detail is lacking, but the result is still good – you get quite interesting and contrasting photos. In night mode, which will take a few seconds to shoot, you can get more detail, but you need to spend these 5 seconds without moving. And this is not always convenient if you are on the move and decide to pause to capture something interesting.
The main sensor also allows you to shoot twice as close. It is better to use it during the daytime, as at night the digital zoom gives graininess and a lot of noise.
The wide-angle module is also good during the day, but it is not very useful at night. Even though it supports night mode.
If we talk about a macro sensor, everything here, as everywhere else, needs a lot of light. With sufficient lighting, it transmits details and textures well, which, in principle, is quite enough for a smartphone.
The vivo V21e has an impressive 44 megapixel selfie camera, which, taking into account the Quad Pixel, eventually gives a resolution of 11 megapixels. The camera is really interesting. First of all, it also shoots videos in 4K (although at 30 fps). Secondly, it also uses video stabilization software technology, like the main camera. Although it's not a hardware solution, the difference is noticeable. Thirdly, there is a night mode, autofocus, and you can also choose the degree of background blurring. As a result, it can be used to achieve very outstanding selfies, which can appeal to those who actively maintain a page in social networks.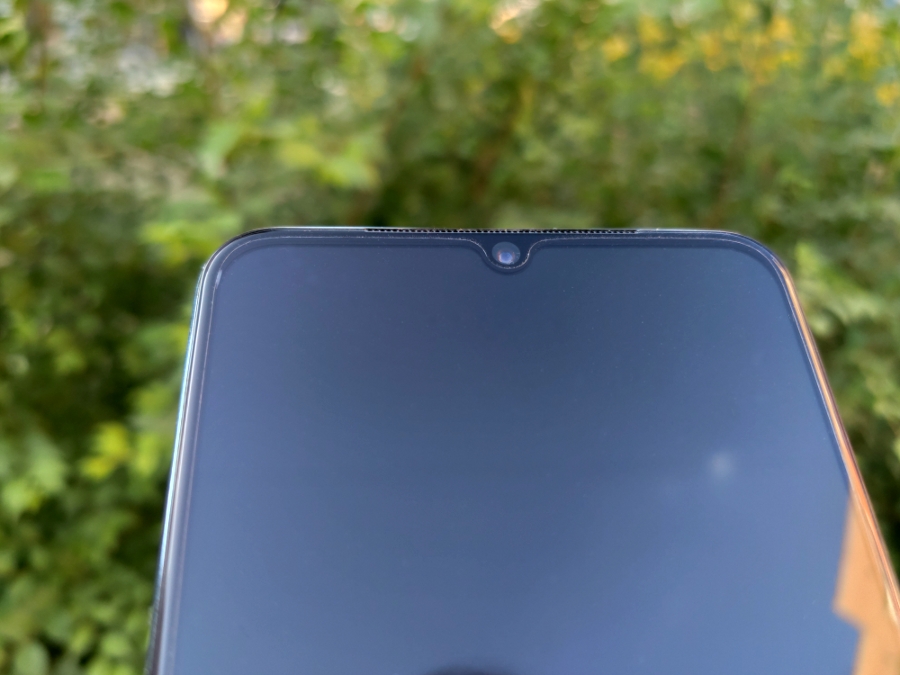 Software
vivo V21e runs uses Funtouch 11.1 UI built on Android 11. The impressions of the shell developed by vivo are quite positive. It provides a lot of useful features, but it is not functionally overloaded. The UI itself is pleasant and fast – during the testing I have not encountered any slowdowns and other problems. Everything is fast.
From the software, I would like to note the vivo store, which, in addition to the news of the company and the online device store, has a tab called "Service". Firstly, here you can activate an electronic warranty, secondly, find the nearest service center in your city, and thirdly, contact vivo representatives in any convenient way – from the hotline to e-mail.
I would also like to note the game mode and settings. With the help of software the developers tried to create the most comfortable conditions for people who like playing on their mobile devices. In addition to the side game panel, where quite usual functions for such apps are available, there are additional features, which, however, are available only for some games. For example, eSports mode, 4D vibration, individual sound settings when using headphones and picture-in-picture mode.
There is also a service for exchanging files with other vivo devices called vivoshare. There is also support for Android Beam and Android Auto, there is a touch assistant, the appearance of which can be adjusted, gesture settings, animation display, etc.
Read also:
Unlocking methods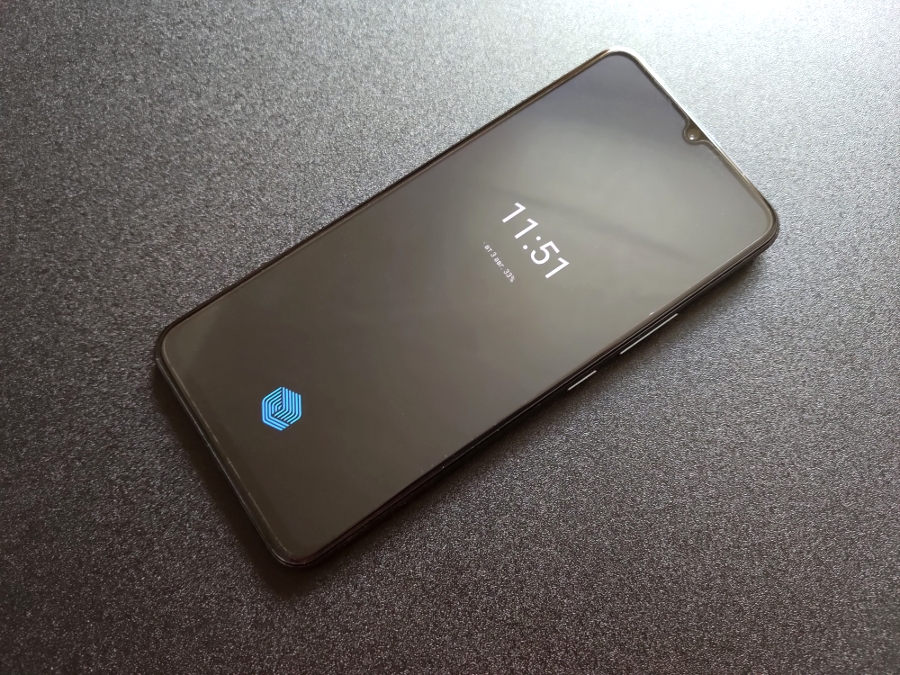 The blocking in vivo V21e is the responsibility of the face scanner and fingerprint sensor located in the screen. Both options do their job perfectly. The face scanner works in low light, and the optical fingerprint scanner works almost flawlessly, recognizing the owner in a fraction of a second.
Battery life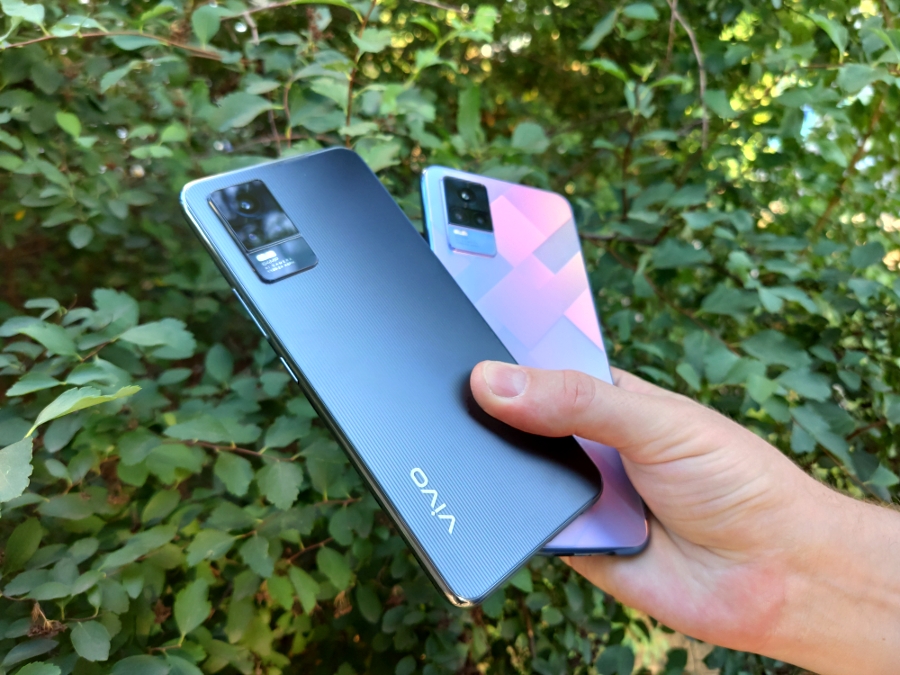 The capacity of the vivo V21e battery is 4000 mAh, which is quite standard. It is enough for the whole day of intense load.
Wireless charging, of course, is not supported, but fast charging is here. vivo V21e supports FlashCharge technology with a power of 33 W, which allows you to charge the device from 0% to 100% in about an hour. Not a record, but quite a good result.
Sound and communications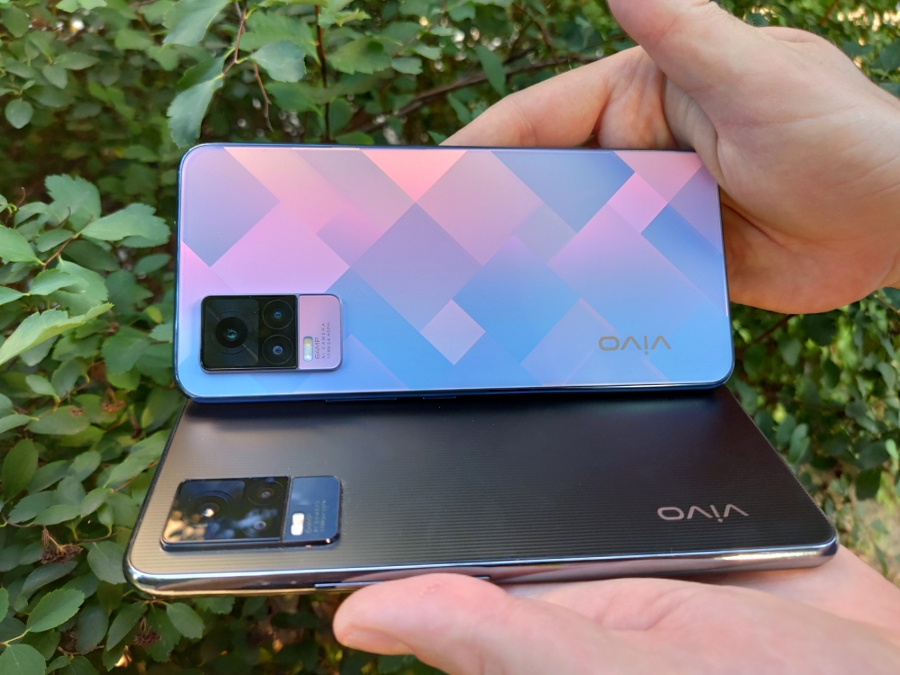 Alas, the device from vivo cannot boast stereo sound – it has only the main speaker, which is on the bottom edge. It's loud, but the quality is lacking. It's better to use headphones for games, music or movies.
Wireless connections include Wi-Fi (2.4 and 5 GHz), Bluetooth 5.1, support for GPS, Beidou, Galileo, GLONASS, QZSS, as well as NFC.
Verdict
If you look at the characteristics, the vivo V21e sounds like a reincarnation of the V20 with an updated design. A very good reincarnation, in fact. The main advantages of the V21e are a really good screen, a convenient shell without bloatware, quite decent performance with some reserve for the future, given the additional 3 GB of RAM, and decent cameras. An obvious plus is that today the V21e costs $75 cheaper than the V20 with similar characteristics. If you are looking for an up-to-date, powerful and good-looking smartphone for reasonable money, it is worth paying attention to the V21e.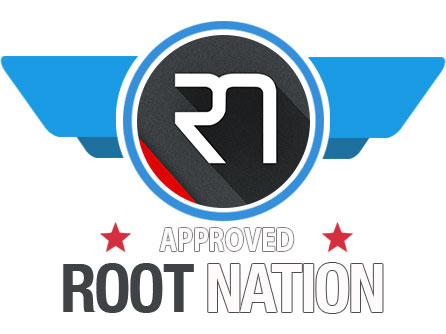 Subscribe to our accounts: