Welcome to the Workaholics Anonymous club. My name is Nikita and I am a workaholic who likes to multitask. Even now, as I write this very review, I'm simultaneously watching YouTube videos and following chats on Telegram. That's why I often complain about modern compact laptops: it's a pain to open 3-4 windows at the same time on a small Full HD screen. Everything is small, you have to constantly scroll, and zooming doesn't help. The only consolation is an external 4K monitor. But here's the rub, there's not enough space in a travel suitcase, and it's inconvenient to carry a monitor with you all the time (believe me, I've checked). Fortunately, there are companies in the world that create laptops for perverts like me. For example, ASUS has been successfully developing its Zenbook Duo line, where the company has shoved an additional monitor into the body of a regular 14- or 16-inch laptop using a fancy hinge. And Lenovo went even further and played a little with the proportions of the laptop and the location of the screens and got… Today's protagonist: The ThinkBook Plus Gen 3 is an ordinary, at first glance, laptop, in which 70% of the internal space is occupied by screens. One of which has a diagonal of 17.3 inches, with dimensions that barely exceed the 13-inch Macbook Air. How Lenovo managed to pull off such a trick and how convenient the ThinkBook Plus Gen 3 is to use, I'll tell you in this review.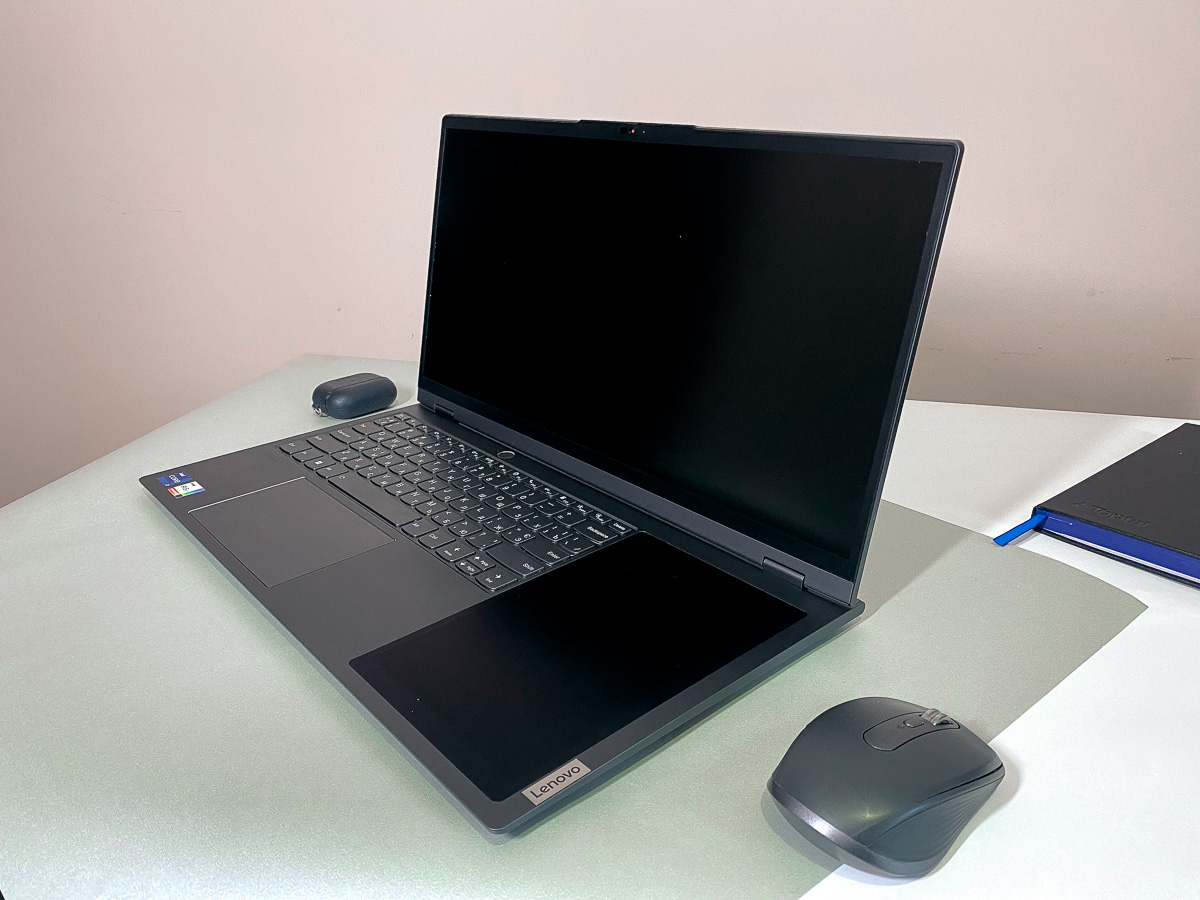 Design and interfaces
I usually start laptop reviews by talking about what's inside, but the design of the ThinkBook Plus Gen 3 deserves to be mentioned first.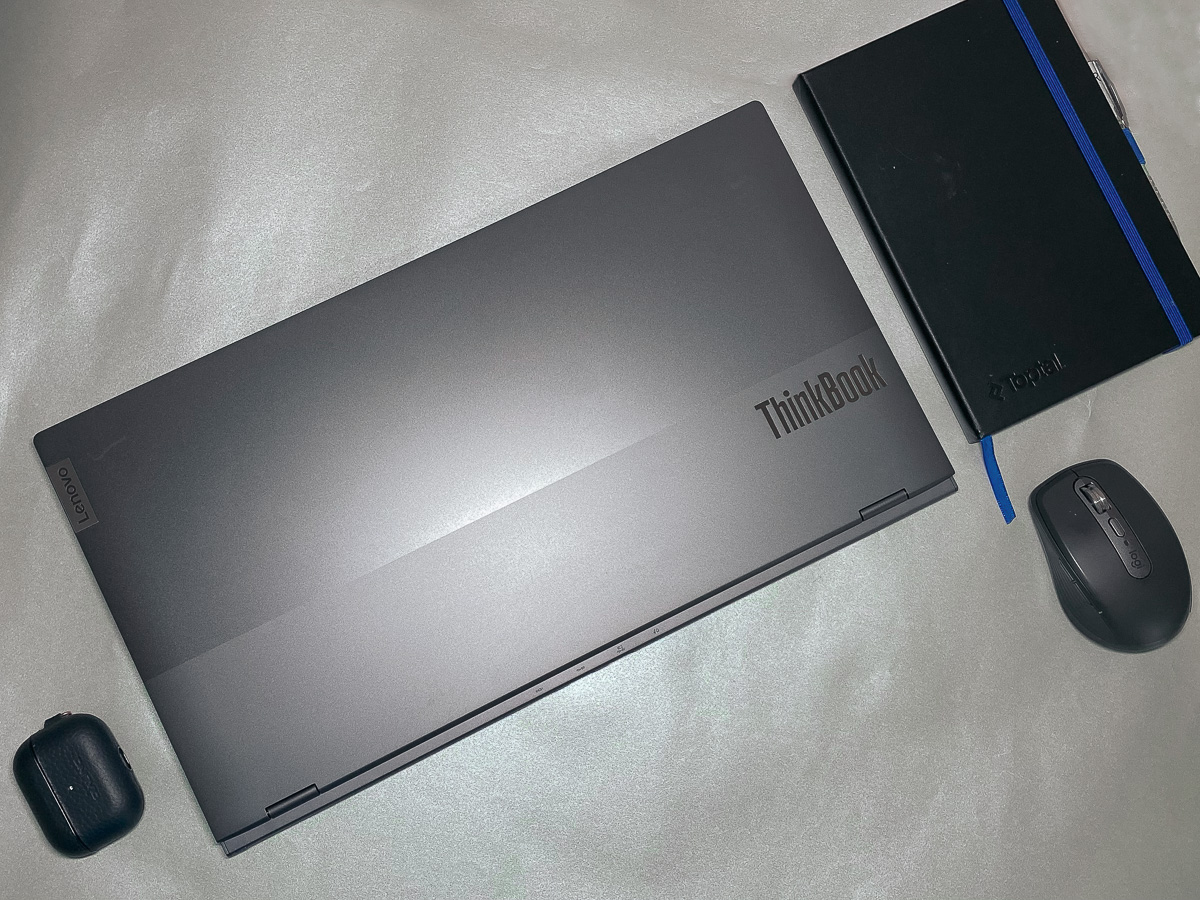 And I'm not talking about the steel-coloured aluminium unibody (the lid and keyboard unit are made of solid pieces of aluminium). Although the body looks stylish, especially the two-tone design of the laptop lid, the laptop feels solid – the build is as good as Apple's products.
The fact is that ThinkBook Plus is a line that is famous for its interesting design solutions: just remember that Gen 2 had an e-ink display on the outside of the laptop lid. And Gen 3 is no exception.
Read also:
After all, when you're offered a 17.3-inch laptop, you imagine a giant and bulky machine that will take up almost your entire desktop. But just like smartphone manufacturers at the end of 2017, Lenovo realised that a large-diagonal display doesn't have to be in standard proportions, such as 16:9 or 16:10.
So, inside, ThinkBook Plus Gen 3 has a 17.3-inch main screen with an aspect ratio of 21:10, and from the outside it looks like a 14-inch laptop that has been "stretched" along the long side. At the same time, the 16-inch MacBook Pro, a 2019 model, looks like a giant against Lenovo.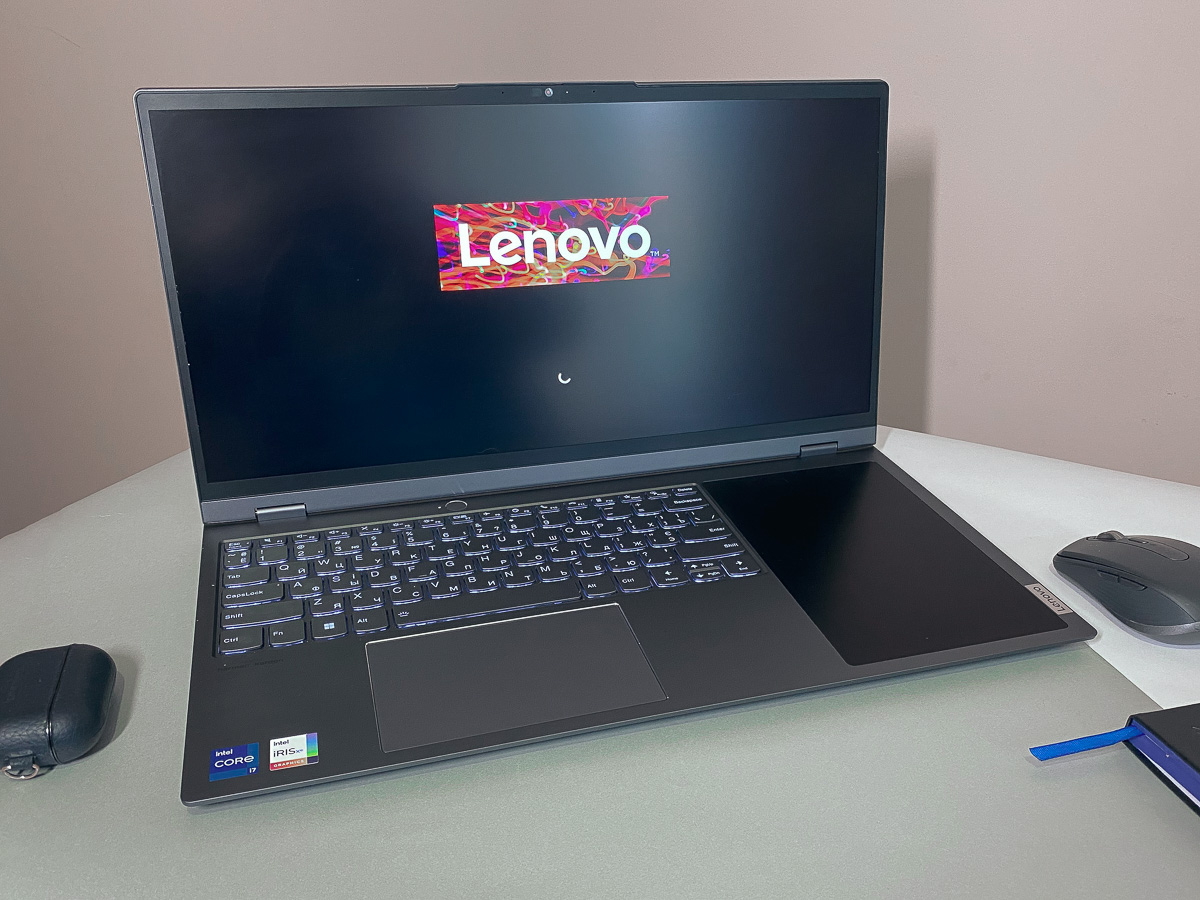 But reducing the overall size is not the only goal of the company's engineers. Plus in the device's name means an additional screen inside. It's an 8-inch HD panel that takes the place of a numpad, but is essentially a full-fledged additional touchscreen where you can, for example, display a messenger window or a Photoshop window to edit images using the built-in stylus. Yes, there is a small stylus built into the right-hand corner of the laptop to work with the additional screen.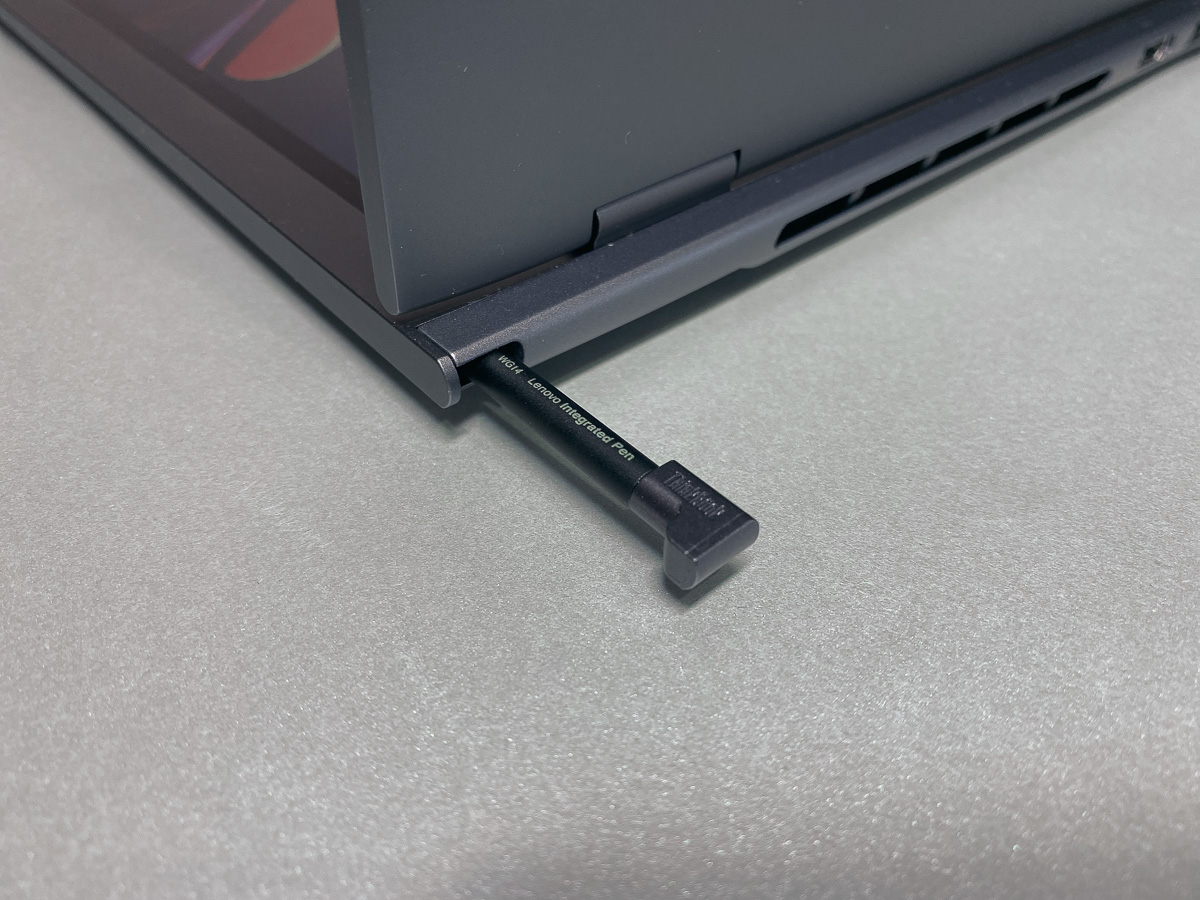 Despite all the advantages of a great design, there were some sacrifices for ergonomics. For example, the additional screen forced the keyboard and touchpad to move to the left, so you will occasionally touch the screen while typing, which is not very convenient. It's good that the keyboard and touchpad are of sufficient size for comfortable work.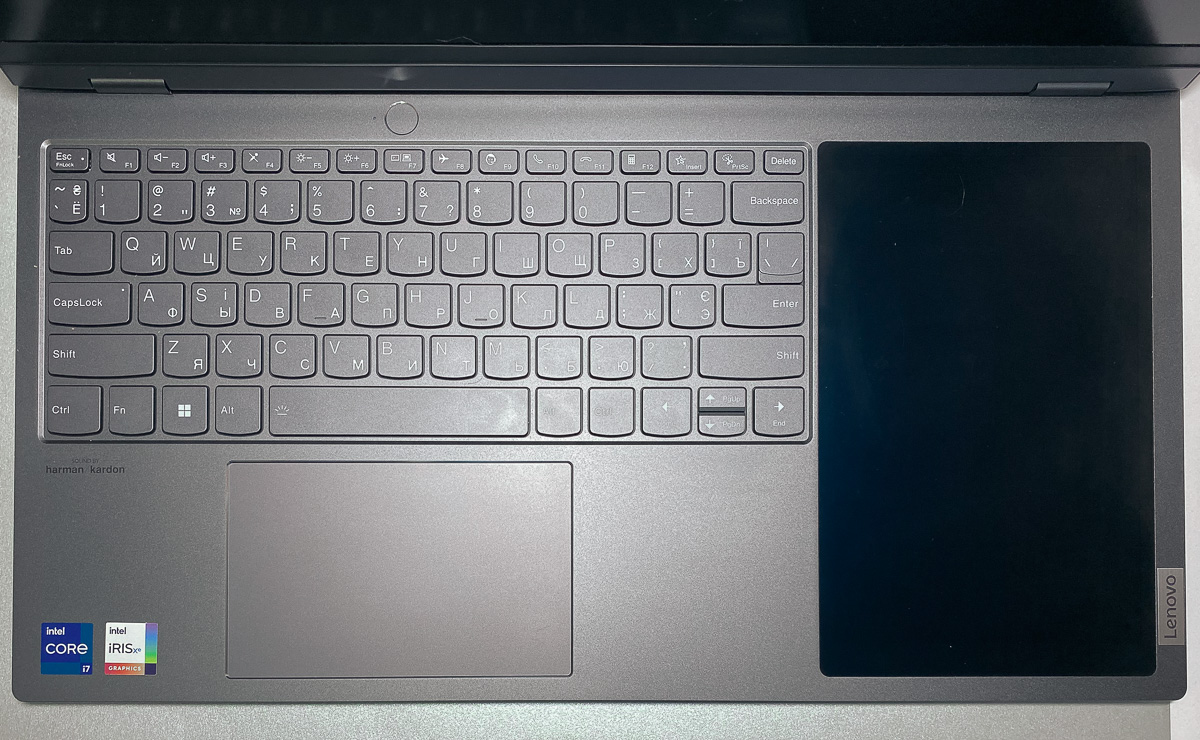 The laptop also has plenty of interfaces for connecting devices: there are 2 USB-A (3.2 Gen 1) ports, one of which works even when the laptop is sleeping to charge external devices with a power of up to 10 W, 1×Thunderbolt 4/ USB 4, and HDMI 2.0. If that's not enough, there's also a combined 3.5mm audio jack and an additional USB-C on the left side, albeit of the USB 3.2 gen 2 standard.
The laptop also has an infrared dual camera with a mechanical shutter for increased privacy and support for Windows Hello and a fingerprint scanner located in the power button. The button is separated from the main keyboard unit, which is very convenient.
What would also be appropriate is to talk about the characteristics of the laptop.
Read also:
Features and specifications of Lenovo ThinkBook Plus Gen 3
Despite its unique design, the ThinkBook Plus Gen 3 boasts quite powerful specs for a work laptop. Thus, you can choose from two 12th generation Intel processors: Core i5-12500H and Core i7-12700H. You can also choose between two variants of RAM and storage: there are versions with 16 and 32 GB of RAM (in both cases, LPDDR5-4800 soldered on the motherboard), with 512 GB or 1 TB of NVMe SSD (PCIe 4.0). The only thing missing is discrete graphics, so in any configuration you'll have to put up with the integrated Intel Iris Xe graphics card.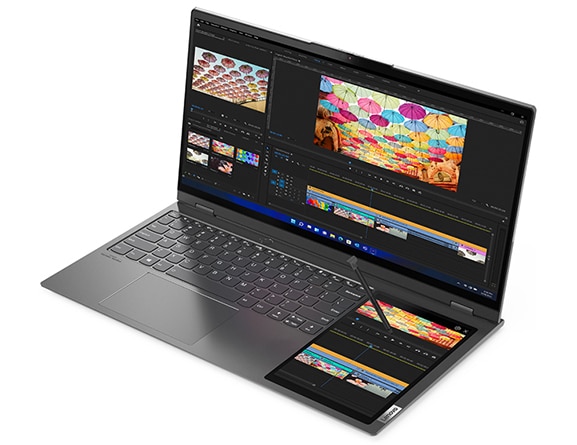 I had at my disposal a top-of-the-line modification with a Core i7, 32 GB of RAM, and 1 TB of SSD, the detailed specifications of which I give below:
The tested configuration is Lenovo ThinkBook Plus Gen 3:
Processor: Intel Core i7-12700H, 14 cores (6 P-core, up to 4.7 GHz; 8 E-core, up to 3.5 GHz), 20 threads, 24 MB cache
Video card: Intel Iris Xe (integrated)
Main screen: IPS, 3K (3072×1440), 21:10, 17.3 inches, 120 Hz, touch, brightness: 400 nits, anti-reflective coating
Auxiliary screen: IPS, HD (800×1280), 10:16, 8 inches, 60 Hz, touch, brightness: 350 nits, anti-fingerprint coating
RAM: 32 GB LPDDR5 4800 MHz
Storage: 1 TB NVMe SSD M.2 (PCIe 4.0)
Connection ports and interfaces: 1×USB 3.2 Gen 1, 1×USB 3.2 Gen 2 (Always On), 1×USB-C 3.2 Gen 2 (data transfer, Power Delivery 3.0, DisplayPort 1.4), 1×Thunderbolt 4/USB4 (40Gbps, data transfer, Power Delivery 3.0, DisplayPort 1.4), 1×HDMI 2.0, 1×3.5mm audio jack
Operating system: Windows 11 Pro
Battery: 69 Wh, 100 W charger (Type-C)
Audio: stereo speakers, sound from harman/kardon
Webcam: 1080p, infrared camera, support for Windows Hello, mechanical curtain
Connectivity: Wi-Fi 6e and Bluetooth 5.2
Dimensions: 410.90×230.20×17.95 mm
Weight: 2 kg
Additional features: built-in stylus, fingerprint scanner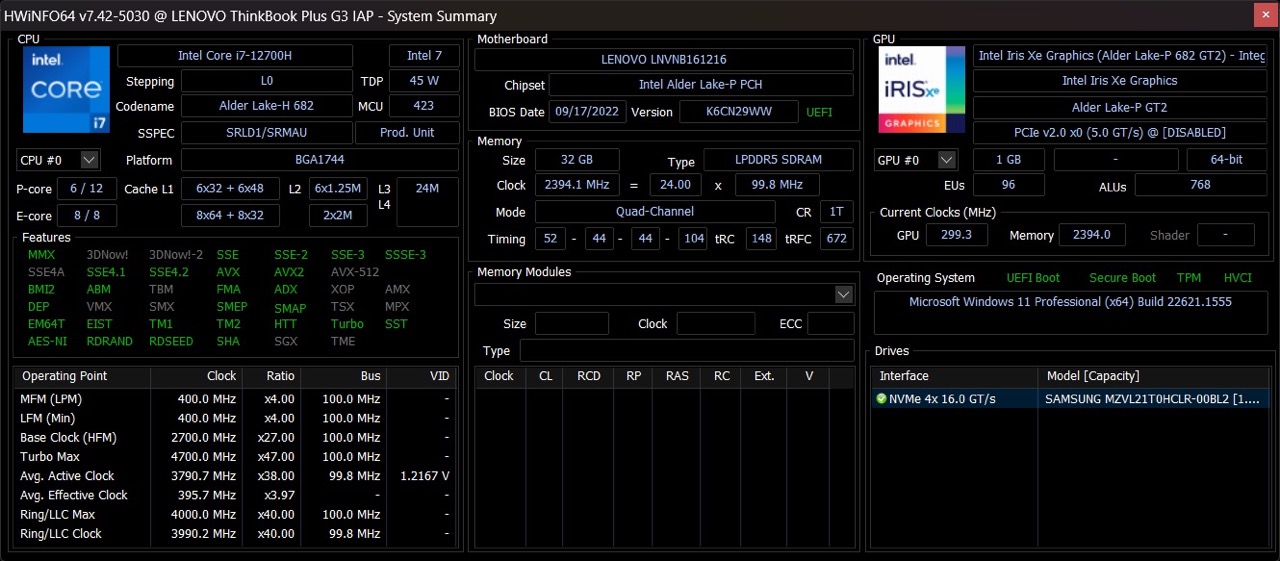 What's great is that I'm once again getting a full retail sample to review. So you can base your purchase on my results when choosing a laptop.
You can also be sure that the package includes the laptop itself, a 100W charger with a Type-C connector, and a stylus. In my case, Lenovo also included a ThinkVision M14t external monitor in the box with the test laptop. But let's be honest: one more screen for the ThinkBook Plus G3 is too much.
ThinkBook Plus Gen 3 screens
After all, the two available screens are more than enough for productive work. And each of them deserves a detailed look.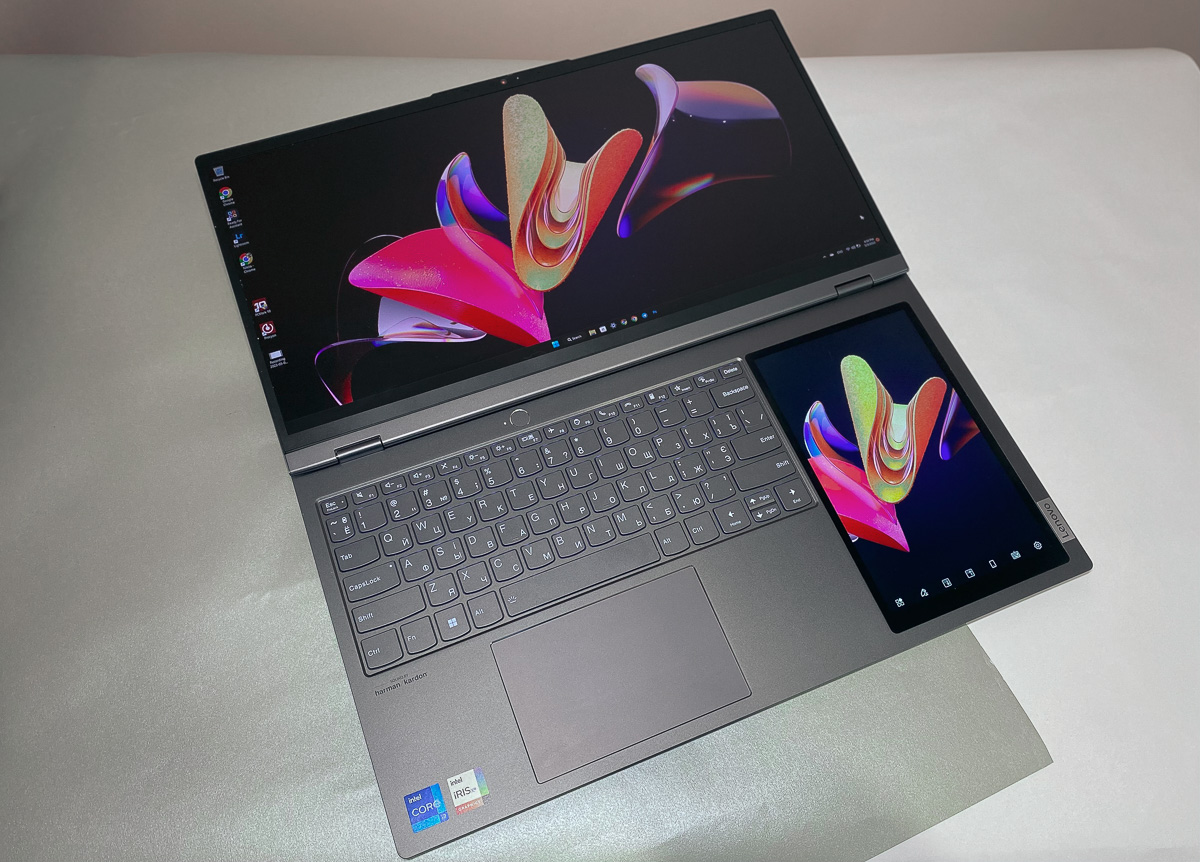 Yes, looking at the massive 17.3-inch screen, it seems that Lenovo engineers tried to please the most demanding users. Starting with the resolution. Yes, we are dealing with a WQHD screen, which, however, has a rather non-standard resolution for its aspect ratio: 3072×1440 pixels with a 21:10 ratio.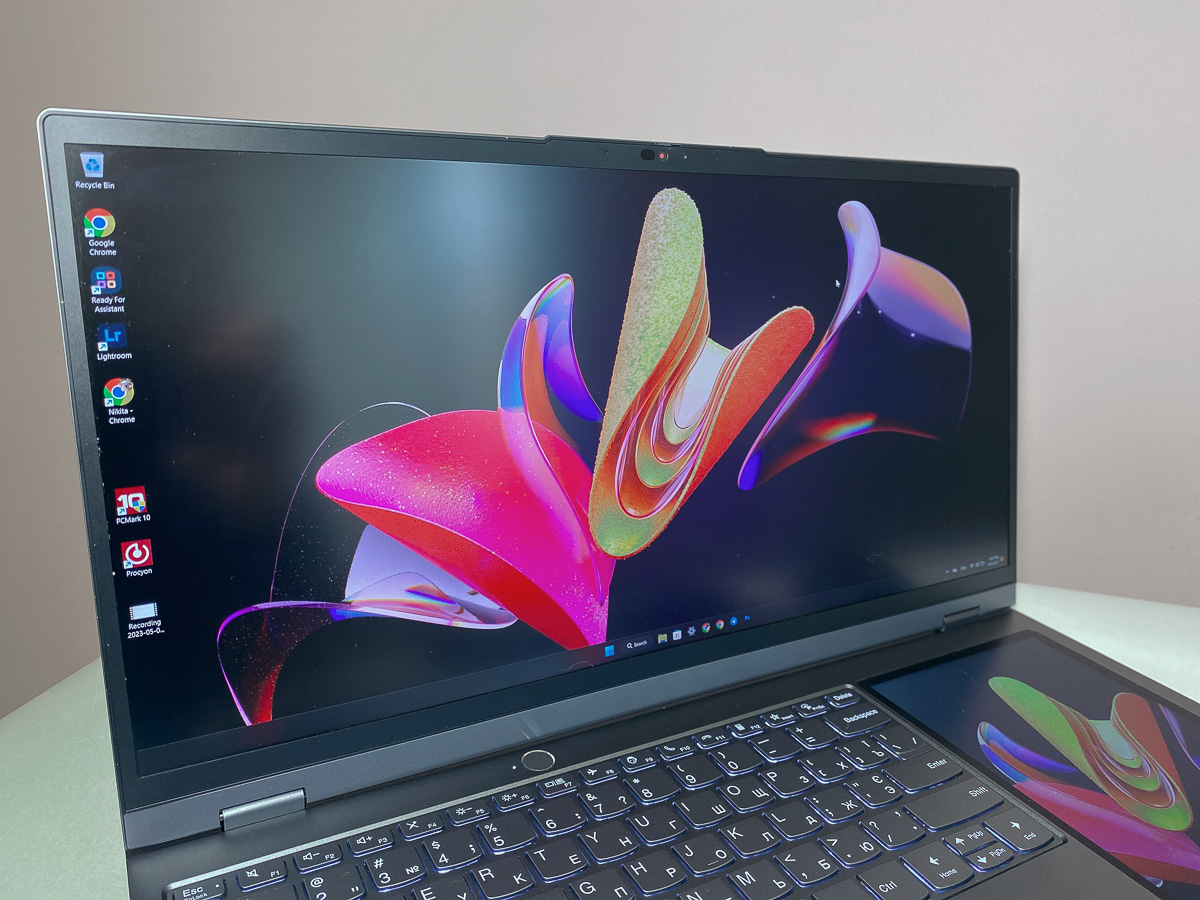 However, I did not notice any problems with the display of content or the adaptation of programmes. Even viewing content that is usually adapted to a 16:9 or 18:9 ratio does not occur. Just as we are used to watching content on elongated smartphone screens, so it is here – you stop noticing black bars around the edges of the screen in just a couple of minutes.
This extra space is essential for productivity. With an aspect ratio of almost 2 to 1, working with two documents at the same time becomes very convenient. In some cases, you can even open 4 windows at the same time, although in this case there is a little bit of vertical space.
What was more than enough was the brightness: 400 nits is not a record figure, but even at 50% brightness it is very comfortable to work with a laptop. Although, I have a question about the colour reproduction. I'm not going to pretend to be an expert, but the image reminds me of Samsung screens from 10 years ago, they are bright, vivid, but completely unrealistic. For watching videos, this may be OK, but when you try to work with graphics, you want something more accurate.
At least there are no problems with the accuracy of the screen's touch recognition – the screen recognises up to 10 presses, and Windows 11 has become much more touch-friendly than Windows 8.1, which was installed on my last touchscreen laptop.
The high refresh rate of the screen also contributes to comfortable work: Intel iRIS Xe is hardly capable of delivering 120Hz in games, but it's much more pleasant to scroll through documents and the news feed. It's a shame that the built-in stylus can't work with the main screen: combined with a 120Hz screen and the ability to adjust colour reproduction, this would make the laptop a great choice for designers. At least it works with the secondary screen without any problems.
Speaking of the additional screen. Despite its low resolution (HD, 800×1280) and standard refresh rate, it's a killer feature. The mini-screen is designed to be used to pin a work/personal messenger screen or to open a file manager window. The resolution is more than enough for this.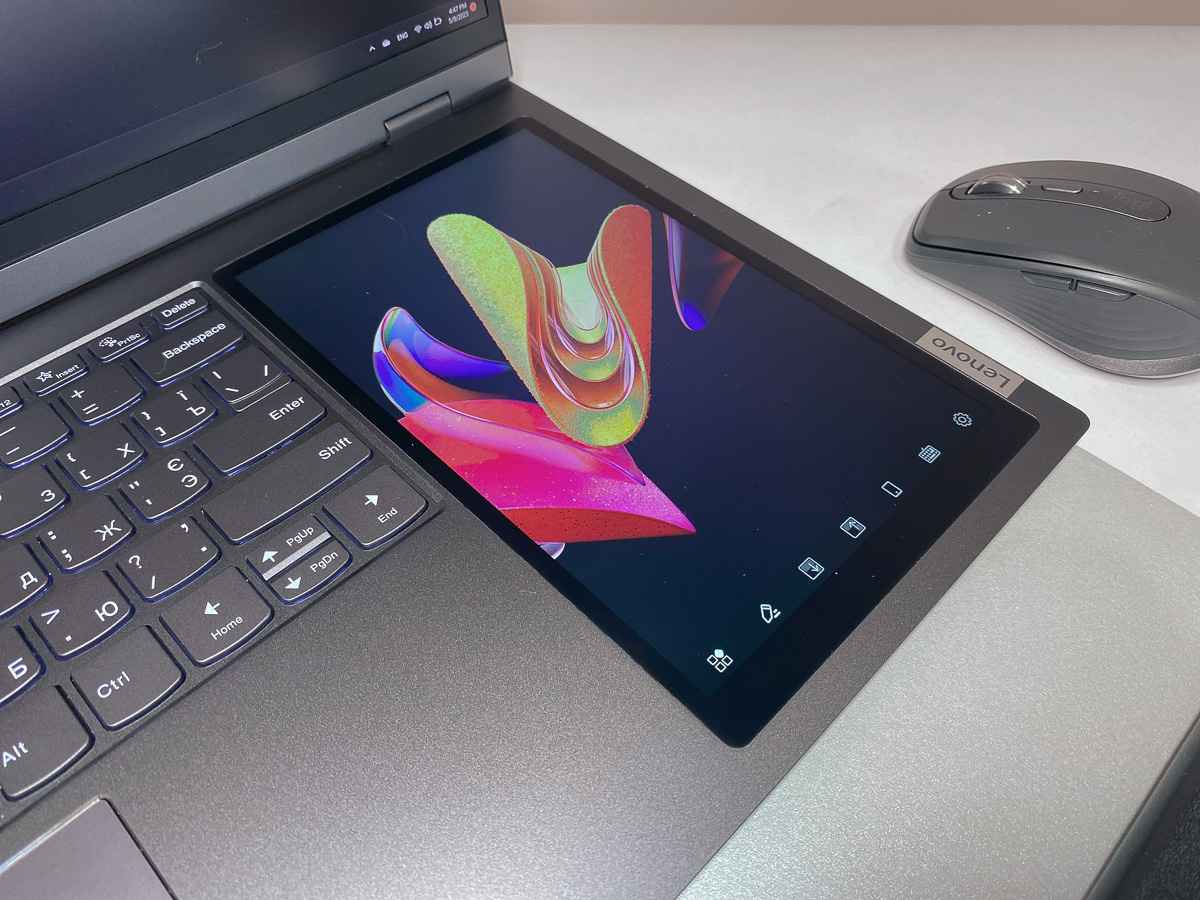 The screen is also touch-sensitive, so you don't need a mouse or built-in stylus to use it. Everything is literally just a touch away.
The size, location and capabilities of the mini-screen also allow you to display additional information and switches on it, and Lenovo has tried to make the most of this opportunity.
Read also:
Software
If the display is the key feature of your new product, then creating software that will help to reveal it 100% is a sacred duty of any company. In Lenovo ThinkBook Plus Gen 3, this role is assigned to the DisplayPlus shell.
Lenovo DisplayPlus
With DisplayPlus, you can first configure the behaviour of the secondary display: how the brightness is adjusted (simultaneously with the main screen or separately), whether the touch screen is enabled or disabled (in which case the secondary display can only be controlled with the mouse), whether the toolbar is displayed, and whether the Photoshop/Premier/After Effects control panel is enabled.
Secondly, you can use the additional display to launch your favourite and frequently used apps, and even launch a group of apps at the same time. Just keep in mind that not all applications are optimised for the launcher and the secondary display: for example, Telegram and Workplace Chat, which I use most often, despite the possibility of opening on the secondary display, are not quite optimised for working on it with a default scale of 125%.
Lenovo ThinkBook Plus Gen 3
Thirdly, there is a built-in notepad for handwritten notes. The built-in stylus will come in handy with it: you can quickly jot down some details from a meeting, or make a quick sketch. Lenovo's stylus is certainly not an S-Pen or Apple Pencil, but it's more than enough for taking notes and editing some elements in Photoshop.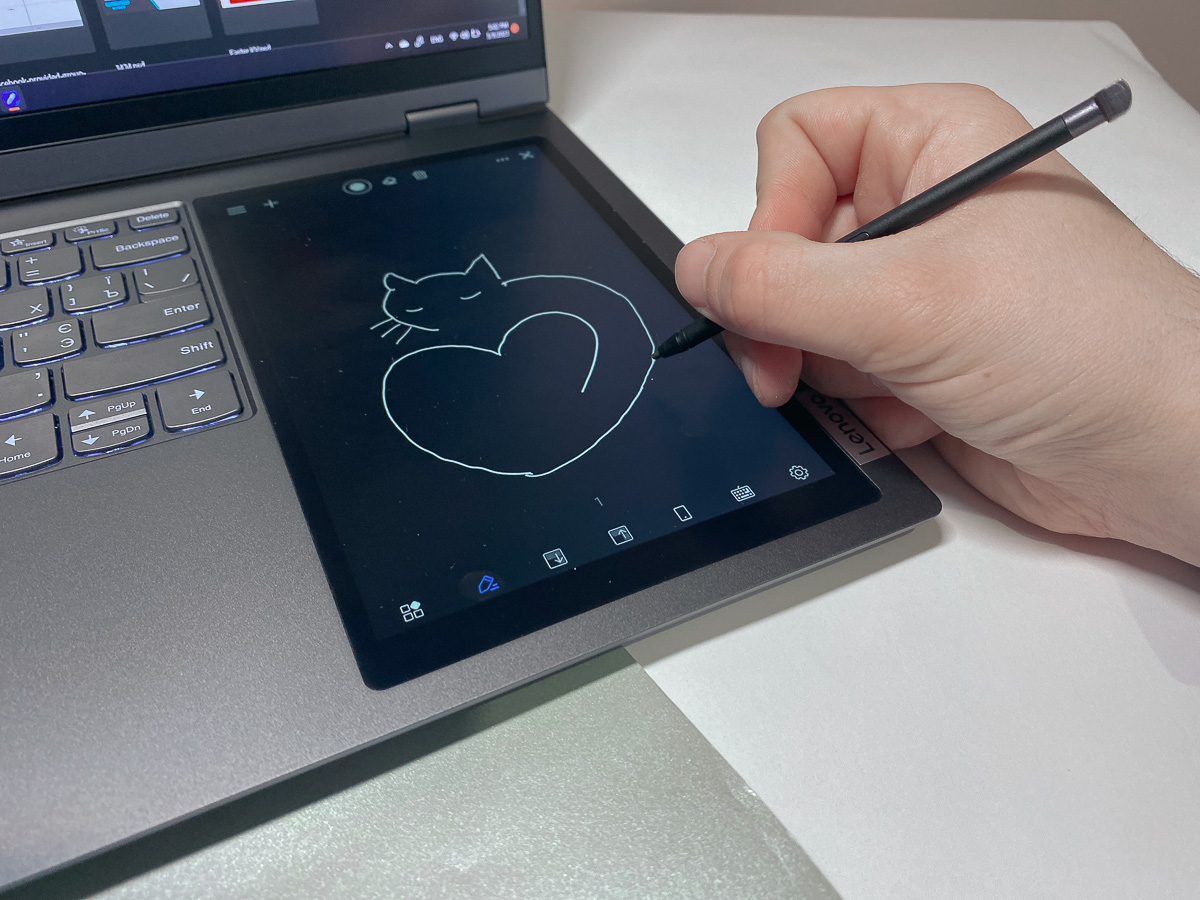 The secondary display also has several options for screen duplication. In the first case, the area of the main display can be broadcast to the secondary screen.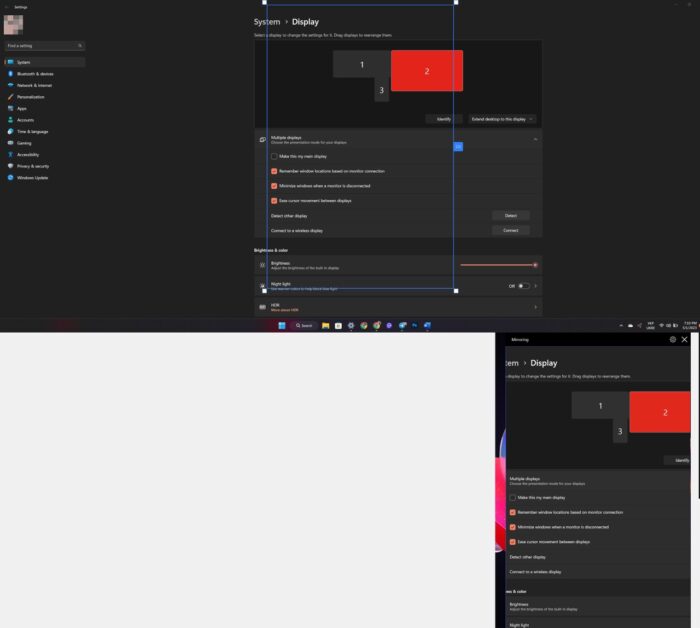 This way, for example, you can conveniently select a specific element in Photoshop with the stylus.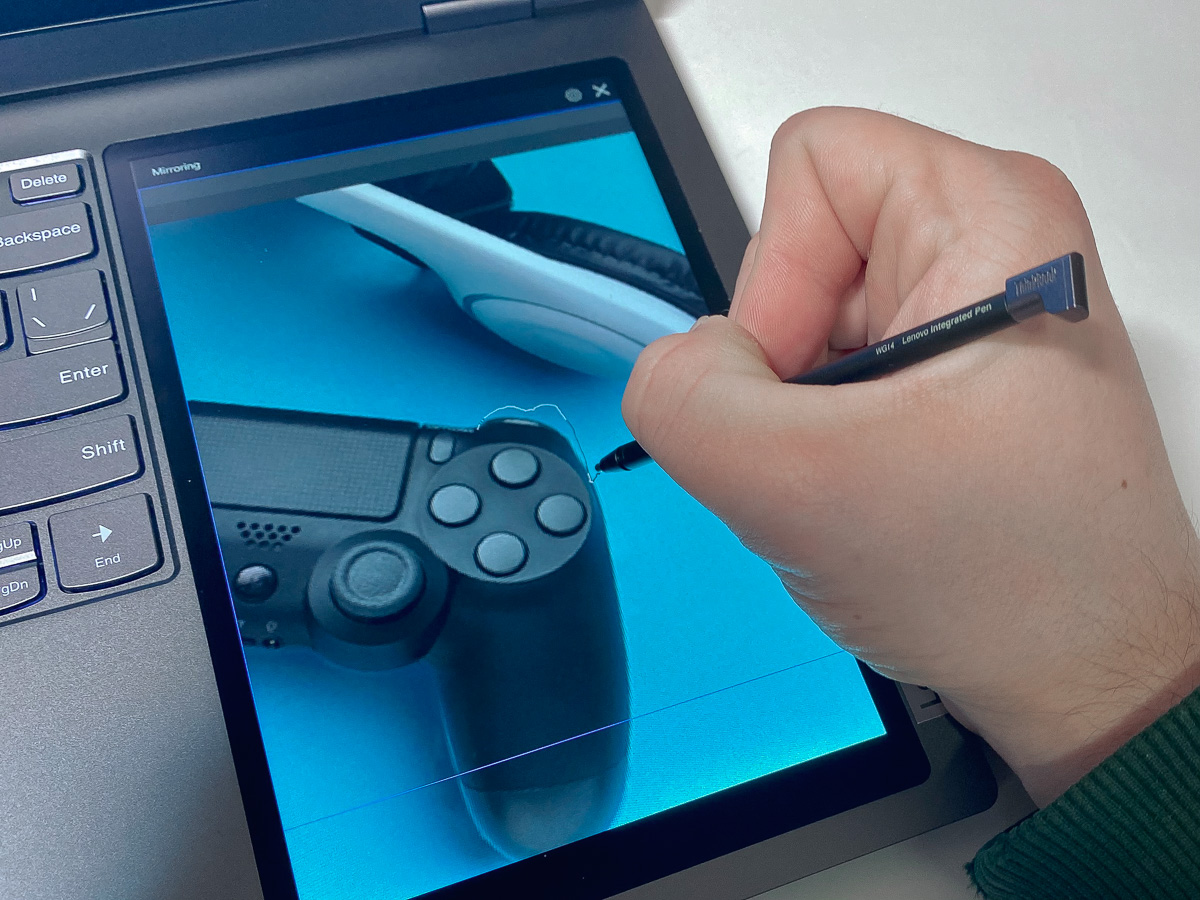 In the second case, the additional screen is streamed to the main screen, and it is not possible to interact with the content from the additional screen on the main screen, only to view it. It is good that you can at least make the broadcast translucent.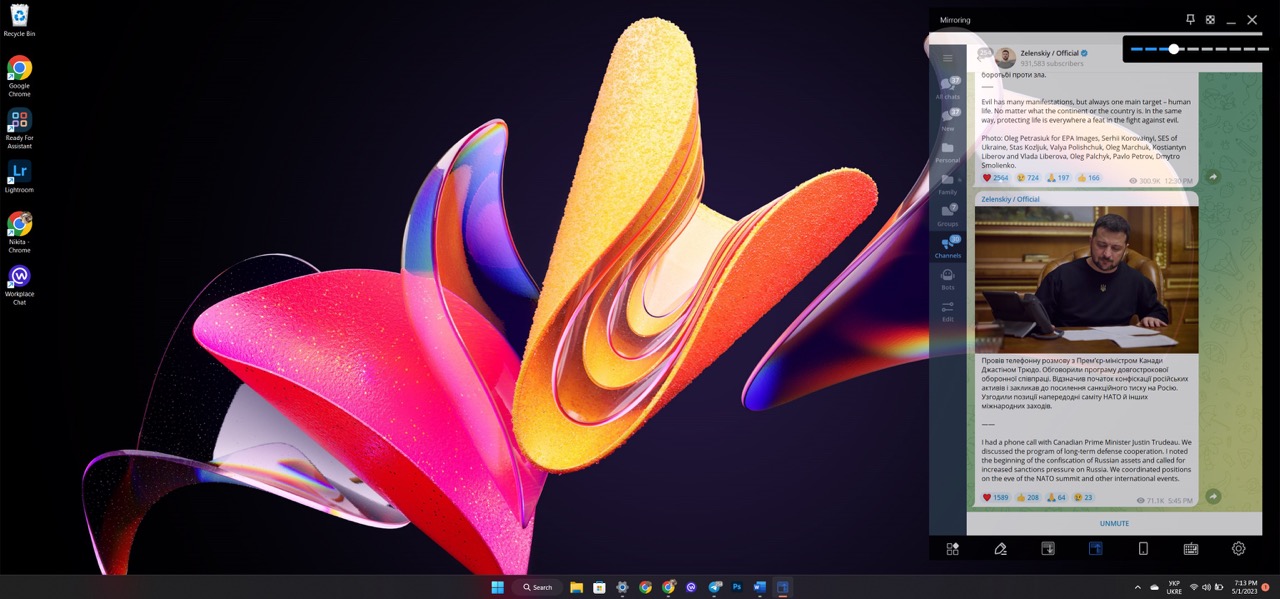 Another feature of DisplayPlus is Ready For support. This is a feature of Motorola smartphones that allows you to conveniently stream and interact with smartphone content on a computer. Unfortunately, the feature will only be handy for Motorola owners, so our editor Eugene Beerhoff should appreciate it, while everyone else will have to use Microsoft's Phone Link, especially since it recently added full iPhone support..
And, of course, the additional screen can be used as a numpad. This is certainly not as convenient as with a physical number pad, but it's nice to have this option.
Lenovo has also taken care of adding additional menu items to Windows Snap, so you can quickly move the desired window to an additional screen.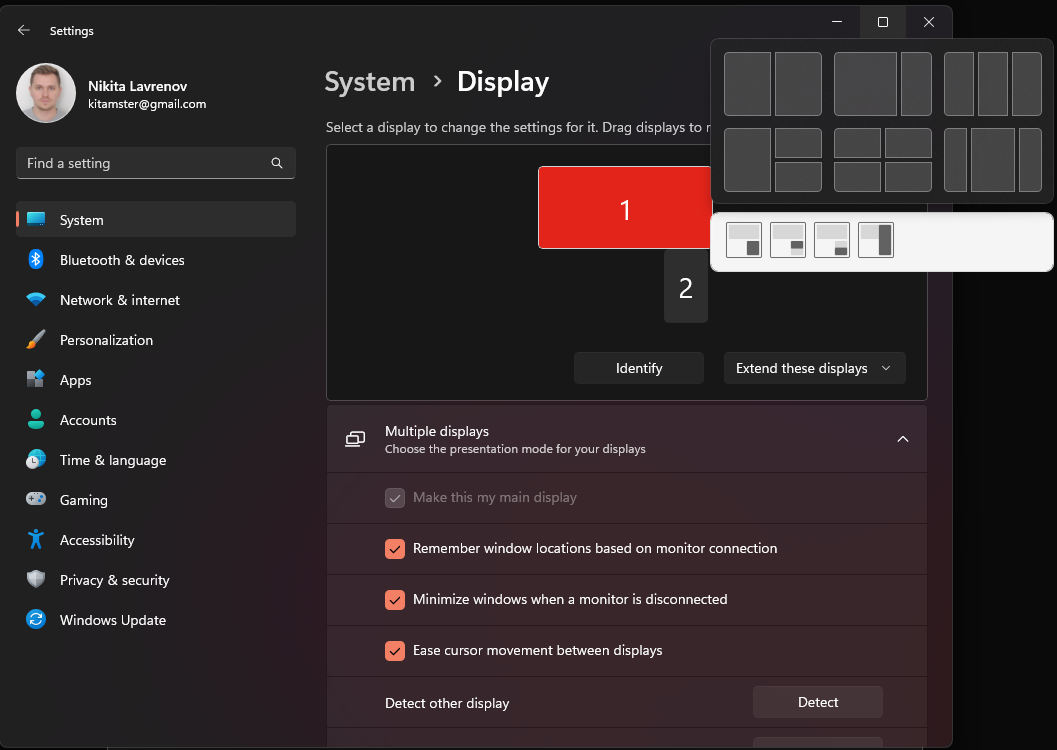 Everything seems fine, but Lenovo's software lacks stability and consistency. For example, when you try to change the scale of the additional display, DisplayPlus turns off until you return the settings to the default. It gets ridiculous: I connected an external screen via Type-C and I can't change any of its settings (scale, placement) without turning off DisplayPlus.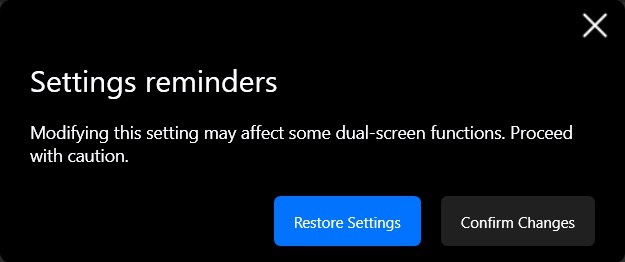 An additional Photoshop control panel would be great, but it just doesn't work with the latest version of the GPU available in Creative Cloud. And when you try to do something with it, or anything on the secondary display, the cursor automatically moves to the secondary screen. That is, you cannot work with your finger on the touch screen and the mouse on the main screen at the same time.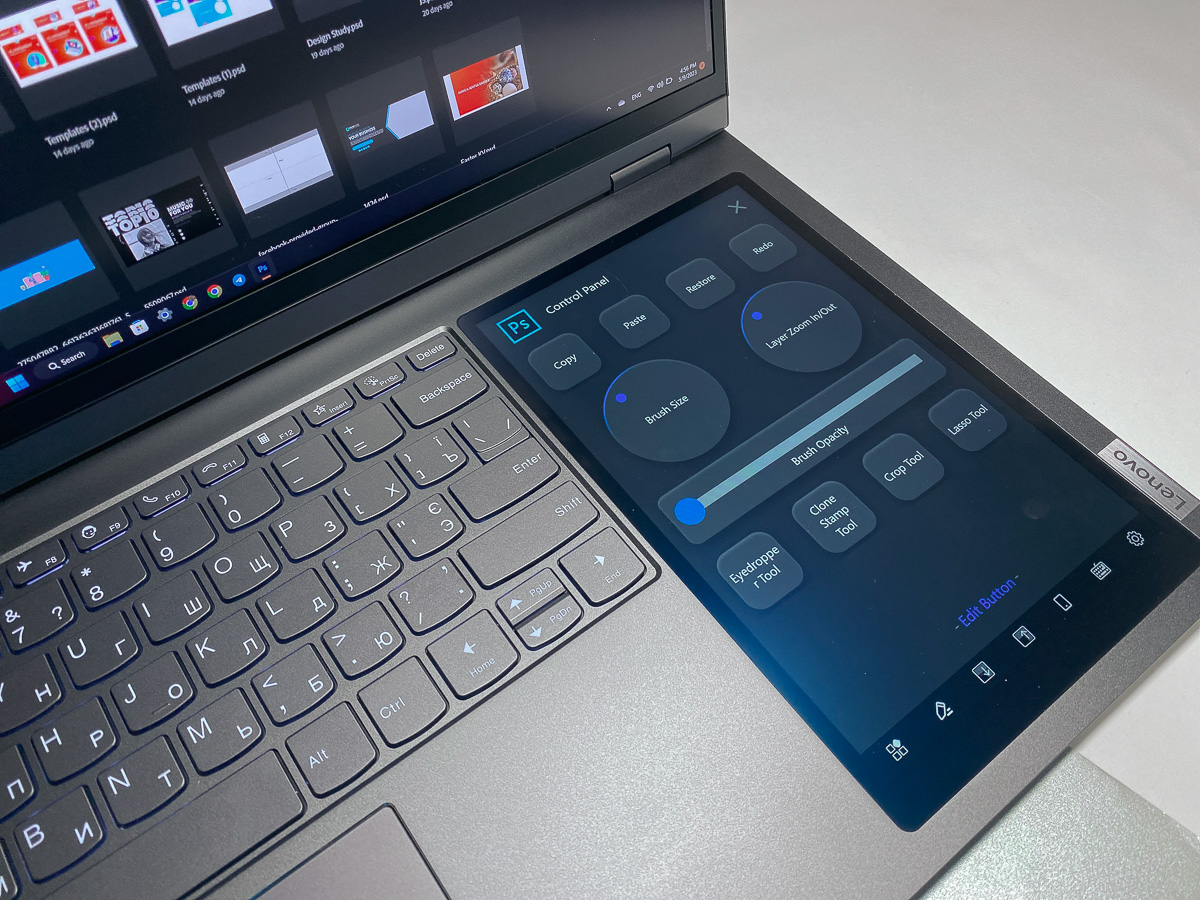 I'm not saying that limiting the stylus to the secondary screen is extremely inconvenient. Lenovo, for some reason, thought that it would be more convenient to broadcast a part of the main screen to the additional screen for working with the stylus than to simply add the ability to work with the stylus on the main screen.
We can only hope that Lenovo will fix most of the software issues with future updates, because the features in DisplayPlus can greatly increase your productivity. They just need to be perfected.
Other additional software
Of course, the laptop is not without other pre-installed software. This includes the infamous McAfee antivirus, Mirametrix's Glance app, which uses an infrared camera to automatically lock the laptop when you stop looking at it. There's also a full set of Lenovo utilities: from a hotkey manager to an AI assistant that can help you during online meetings.
I'd also like to mention the ability to turn on the hardware SplitScreen, which allows you to use the laptop's ultra-wide screen as two separate screens. It's a very interesting feature, but the standard Windows Snap handles the ultra-wide screen just fine, and this feature requires disabling kernel control in Windows Defender, which I don't want to do.
With the exception of these additional apps and features, the Lenovo ThinkBook Plus Gen 3 runs on the standard Windows 11 operating system. So if you're used to working with Microsoft's latest OS, you shouldn't have any problems getting started with the laptop.
Read also:
Lenovo ThinkBook Plus Gen 3 performance
Of course, I couldn't help but evaluate the laptop's performance both with the help of benchmarks and relying on my own subjective impressions. So let's find out whether it is powerful only on paper, or whether it is a very productive laptop in real tasks.
Benchmarks
The results of Cinebench R23 are very pleasant. In single- and multi-core tests, the laptop does not languish at the bottom of the list and gets a decent 1663 and 12942 points, respectively.
But the results of PCMARK 10 Extended are less pleasant: 3297 – is even lower than the recently tested Acer monoblock. The reason for this result, like last time, is the integrated graphics, which drags down quite good results in other categories.
At the same time, PugetBench for Photoshop demonstrates a good result of 899 points. This is not the highest result in the benchmark, but only laptops with discrete graphics usually show better results.
And the result in the PCMARK10 and UL Procyon office benchmarks will be definitely good: 11432 points and 6319 points, respectively. You can rest assured that the ThinkBook Plus Gen 3's ultra-wide display will handle extra-wide spreadsheets in Microsoft Excel and your colourful PowerPoint presentations with ease.
Subjective impressions
My personal experience only confirms that a laptop can help you with office and online work. Whether you prefer Microsoft's office suite or Google's online solutions, everything opens and switches as quickly as you'd expect from a premium laptop.
Photoshop is also not to be complained about. Whether it's heavy source PSD files or new AI-based filters, there was never a single time when I wanted to go make tea or coffee while the laptop was processing images.
The only caveat is working with an external 4K monitor. I understand that this is a bit of a "perversion" – the laptop already has two great screens, but it's worth keeping in mind that when working with three monitors at the same time, the laptop can sometimes "think" about a certain task. But this is a small exception, because in general, I can describe the laptop's performance as impeccable.
Read also: ASUS Zenbook 14 OLED (UX3402) review: ultra-portable, stylish and powerful
Battery and charging
It's a shame that you won't be able to enjoy the flawless performance for very long if you decide to work without a charger. In my case, in the power saving mode and with the brightness of both displays at 50%, the battery lasted only 1 hour and 45 minutes. So, at 9:45, I disconnected the laptop from the power supply and connected to the meeting, and at 11:20, 24% of the charge remained.
Of course, without video conferencing and with the additional screen switched off, you can expect a better result. But I doubt that Lenovo can beat the battery life records of the new MacBooks with M-chips.
It's good to have fast charging at your side: the unit is relatively small, powerful (100 W), and has a universal connector (Type-C). You're not ashamed to carry this with you, and you can always use something even more versatile if you need to: like the 100W GaN charger I use.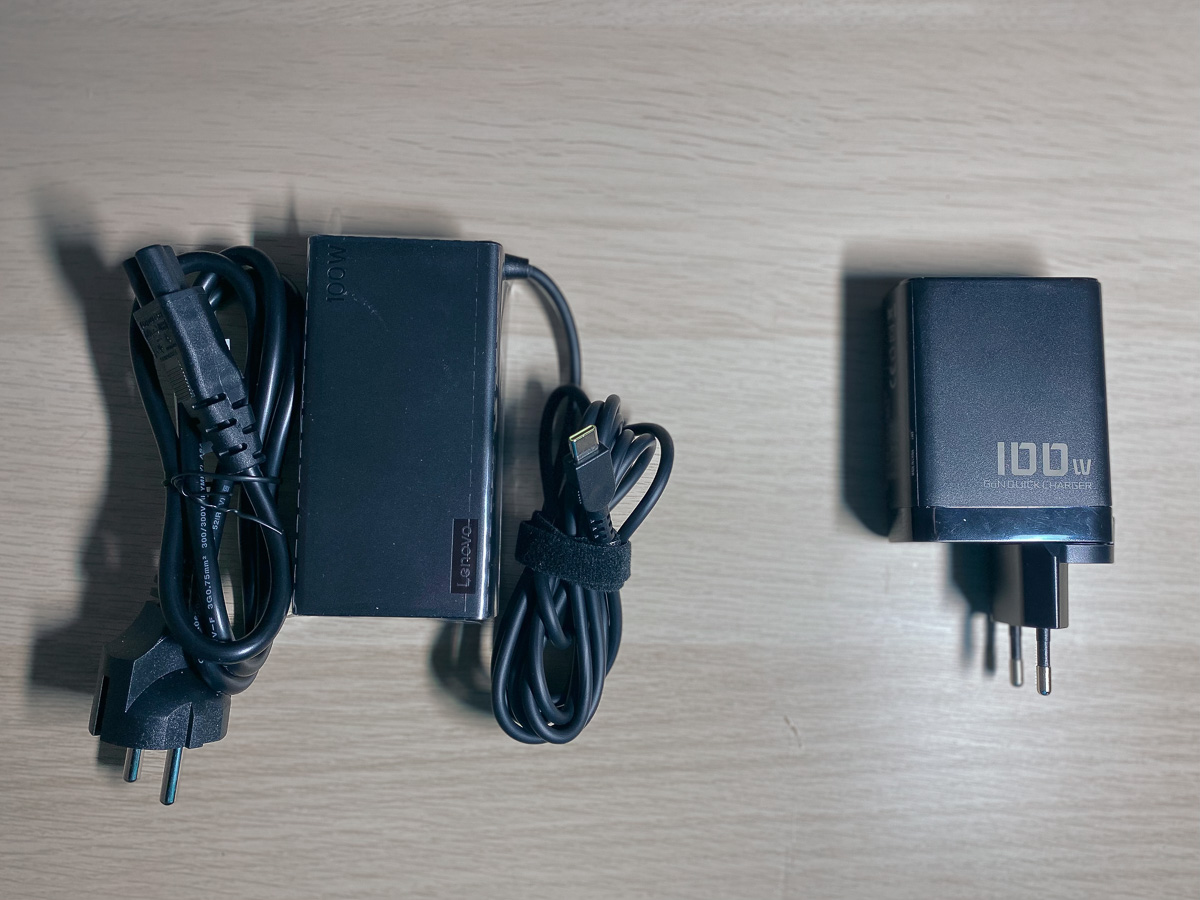 Overall experience
There's no shame in carrying the Lenovo ThinkBook Plus Gen 3 with you, either, especially since it doesn't take up much space in your backpack. It won't take up much space on your desk either: the compact form factor for a 17-inch laptop leaves plenty of room for your favourite coffee mug or notebook.
It also keeps your personal data secure: it's the first laptop I've ever seen that has both fingerprint scanner and Windows Hello support. It's certainly not on the level of Touch ID and Face ID, but it's incredibly satisfying when a laptop recognises your face.
Colleagues on video calls will also recognise you. The built-in 2MP camera is actually pretty good for a laptop. The resolution isn't record-breaking, but it's more than enough for Google Meet meetings, especially with the new 1080p conferencing option. And yes, the stereo microphones provide pretty good sound. You can hear the recording quality in the video example.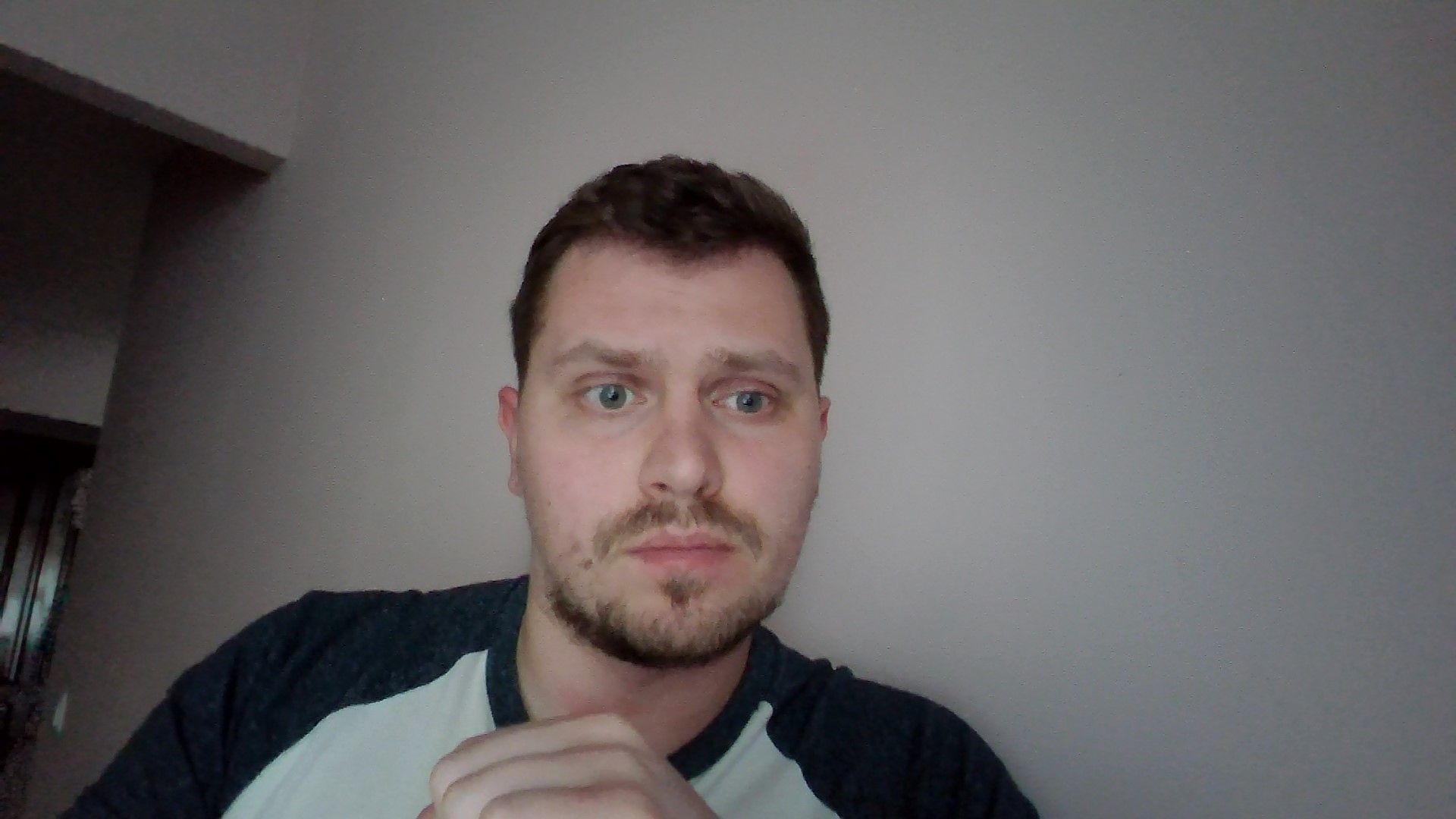 But the sound of the built-in stereo speakers is absolutely unimpressive. Despite the "Sound by harman/kardon" logo, the speakers are not loud or have deep bass. The MacBook Air has much better sound despite its smaller size, although it doesn't have the famous audio brand's logo on the case.
The good thing is that you can always connect better speakers or headphones. There is a 3.5 mm audio jack and Bluetooth to choose from – in any case, there are no problems with connection. The built-in Wi-Fi 6E module works just as well – the speed and stability of the connection have never raised any questions.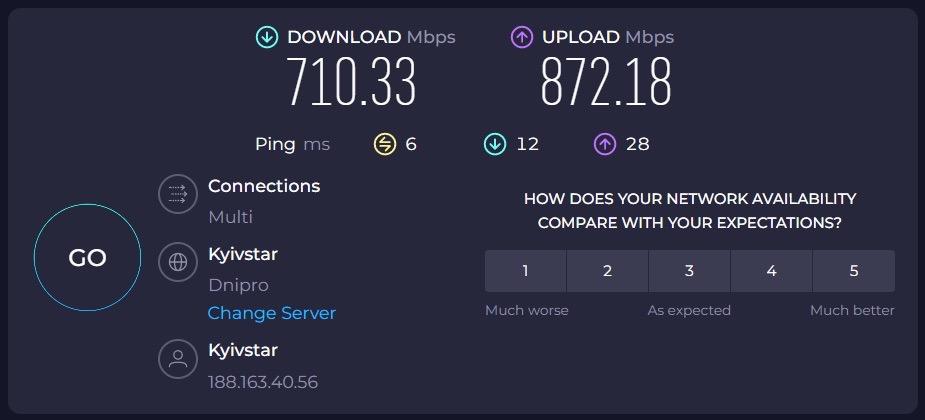 Read also: ASUS RT-AX88U Pro review: power in an attractive case
Price and competitors
The tested version of Lenovo ThinkBook Plus Gen 3 costs about $2240 and, despite the fact that this is a decent amount, similar solutions are even more expensive.
For example, a key competitor in the form of the Asus ZenBook Pro 14 Duo OLED (read the review), with similar characteristics (Core i7-12700H, 32 GB of RAM, 1 TB of storage) is offered for almost $410 more than $2653. The ASUS offer has discrete graphics, a main OLED screen, and slightly better performance with the secondary screen (after all, this is not the first generation of DUO laptops in this form factor).
At the same time, Lenovo has a more comfortable keyboard and, subjectively, a more convenient screen configuration. Yes, I believe that a vertical additional screen is ideal for messengers.
In an ideal world, it would be great to combine more advanced software from ASUS and discrete graphics in a laptop with a Lenovo form factor, but "you get what you get". And if I had to make a choice, I would choose Lenovo, despite its shortcomings.
Conclusions
Lenovo has managed to do something incredible – the ThinkBook Plus Gen 3 has turned out to be a great laptop for a workaholic: the screens are finally big enough, their resolution and configuration are as convenient as possible for productive work, and all this in a fairly compact body that won't weigh you down on the road.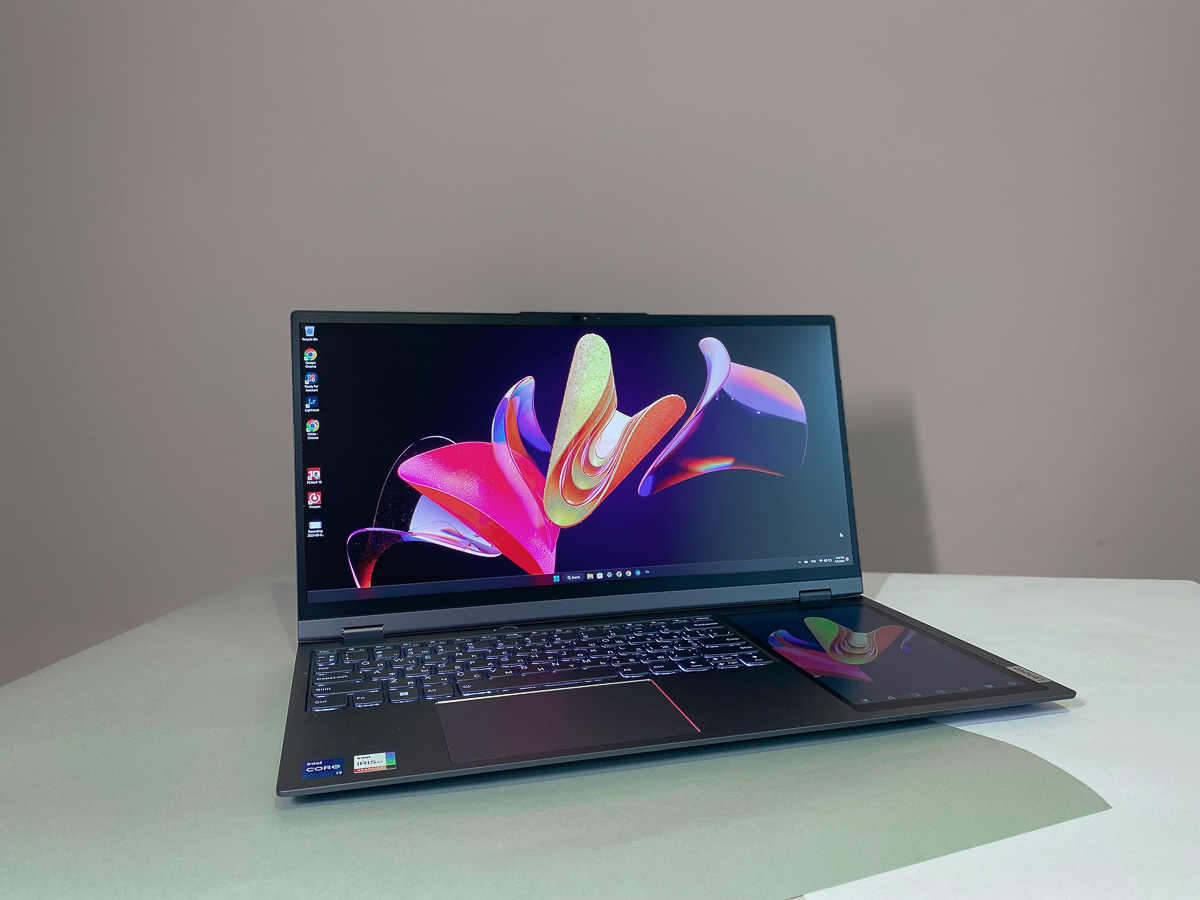 Of course, it would have been nice to have discrete graphics, a slightly larger battery, and better software for the additional screen. But even now, working on a new Lenovo laptop is a pleasure. So if you need a work machine for maximum productivity, the ThinkBook Plus Gen 3 is a great choice.