Samsung Galaxy S22 Ultra seems to be not a typical Android smartphone, it's like a combination of two Galaxies. I will share my experience of using this very interesting flagship.
Samsung has always offered two top series of models – S and Note. The Note series smartphones boasted support for the S Pen stylus, a large display, and a great design. Last year, we did not see a new addition to this series. The Galaxy S21 Ultra with S Pen support was supposed to replace it, but it clearly did not look like the Galaxy Note series smartphones.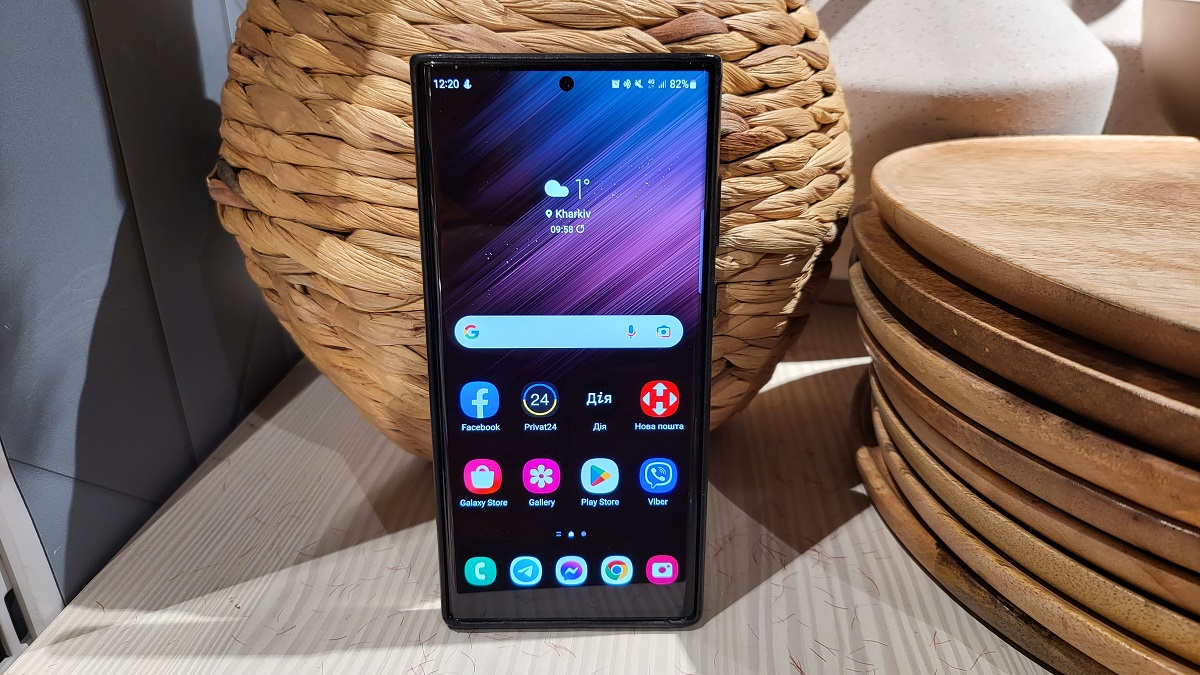 This year, the South Korean manufacturer decided to combine the Note series with the S Ultra models and created the Samsung Galaxy S22 Ultra. This is the largest and heaviest, but at the same time the most equipped phone of the three S22 models. This is an example of what can be packed into a flagship smartphone. The presence of this model will be especially appreciated by fans of the now defunct Galaxy Note series who can no longer do without a stylus.
What is interesting about Samsung Galaxy S22 Ultra?
Thus, Samsung Galaxy S22 Ultra is the long-awaited revival of the iconic Note line, offering top features and functions not available from competitors. We can discuss for a long time why the smartphone got such a name – in my opinion, it would be more logical to call this model at least Galaxy S22 Note, reflecting the main feature, but we'll leave it to the marketers.
I was very enthusiastic about the Galaxy S22 Ultra – after numerous rumors about the closure of the Note line and the company's intention to no longer produce devices with a stylus, Samsung has finally introduced the successor to the line of phablets with a built-in pen.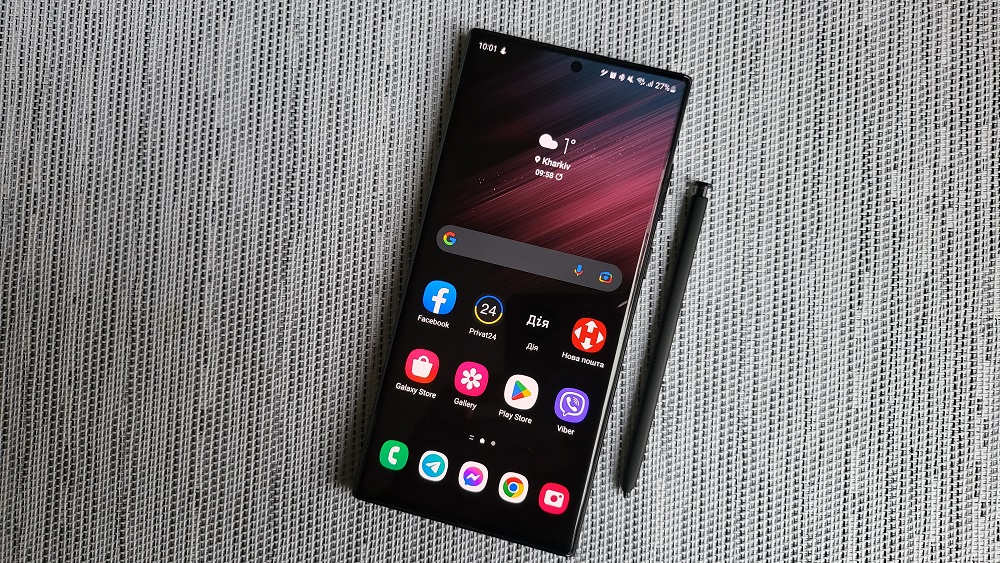 When I was offered to test this smartphone almost 8 months after the premiere, I realized that it would be difficult to write something new and out of the box. So I decided to just share my impressions and emotions after the hype around this Samsung flagship had died down. Let's see what happened.
All in all, nothing prevents me from saying that the Samsung Galaxy S22 Ultra is the best Android phone you can buy right now. It basically has only one major drawback, which I'll write about below, but otherwise it delivers the absolute best user experience. Its only real competitor is the iPhone 14 Pro, which is coming in the fall of 2022. Yes, I personally believe that there are only two leaders in the smartphone industry this year: one from Samsung and one from Apple.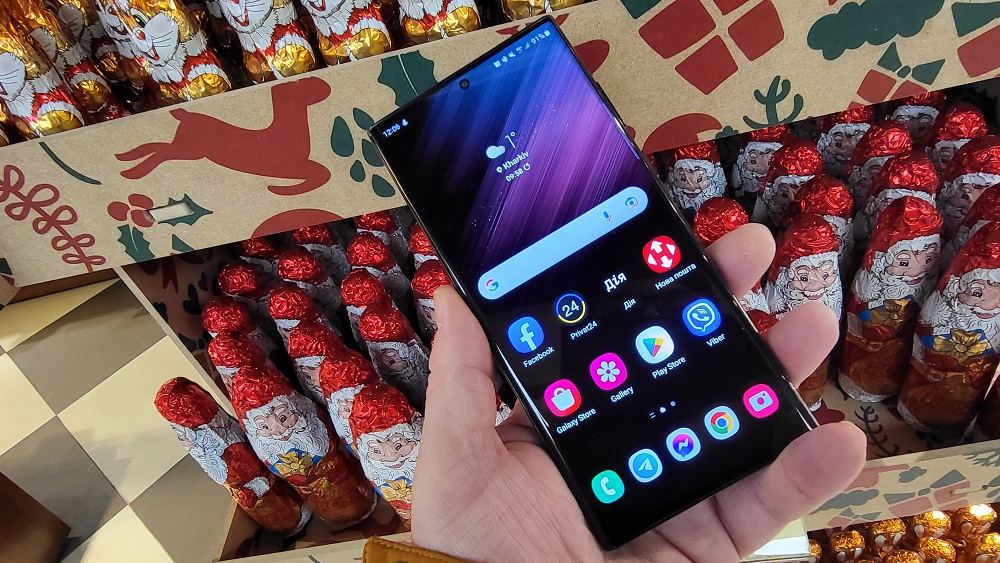 Will these phones be the best-selling on the market? Of course not, because most people will buy smartphones from the budget and mid-budget segment, and this is not surprising. However, Samsung and Apple products attract the most attention and simply fascinate many people. Don't let this nondescript appearance and power fool you, Samsung's flagship is indeed a very expensive smartphone. But even the recommended price of Samsung Galaxy S22 Ultra – from 42,899 UAH – will not prevent connoisseurs from buying this amazing smartphone.
Specifications of Samsung Galaxy S22 Ultra
System: Android 13, One UI 5.0
Chipset: Samsung Exynos 2200, 4 nm, 8 cores
Graphics: Samsung Xclipse 920, 1300 MHz
RAM: 8/12 GB, LPDDR5, 5500 MHz
Internal memory: 128/256/512/1024 GB, UFS 3.1
Display: 6.8″, Dynamic AMOLED 2X, 3088×1440, 19.5:9, 500 ppi, 1-120 Hz, HDR10+, ultrasonic fingerprint scanner
Main camera: 108 megapixels, Samsung S5KHM3, f/1.8, 1/1.33″, 0.8 μm, OIS, PDAF
Wide-angle camera: 12 megapixels, 120°, Sony IMX563, f/2.2, 1/2.55″, 1.4 μm, AF
Telephoto camera: 3×, 10 megapixels, Sony IMX574, f/2.4, 1/3.52″, 1.12 μm, 36°, OIS, AF
Telephoto camera: 10×, 10 megapixels, Sony IMX574, f/4.9, 1/3.52″, 1.12 μm, 11°, OIS, AF
Front camera: 40 megapixels, f/2.2, 1/2.82″, 0.7 μm
Battery: 5000 mAh, lithium-polymer (Li-Po), 45W fast charge
Slot: 2x nano-SIM, without memory card
Wi-Fi: a/b/g/n/ac/ax (Wi-Fi 6E)
Bluetooth: version 5.2
Sensors: NFC, light sensor, accelerometer, compass, gyroscope
USB: Type-C 3.2
Navigation: GPS, GLONASS, Beidou, Galileo
Standard of protection against dust and water: IP68
Dimensions: 163.3×77.9×8.9 mm
Weight: 228 g
In terms of all technical characteristics and capabilities, this is one of the most powerful smartphones of 2022, even though it uses Samsung's own Exynos 2200 processor. Everything here is the latest, most modern, and most powerful. The most, most, get used to it, this prefix will often be found in my review.
Read also: Samsung Galaxy Tab S7 FE review: Surprisingly reasonable compromise
The design and appearance are reminiscent of Note
Many people say that Samsung Galaxy S22 Ultra is similar to the Galaxy Note 20 Ultra, and this is due not only to the stylus, but also to the characteristic flat top and bottom ends. The front panel roundings on both sides are also similar, and the Edge screen has been present in Samsung smartphones since 2014, when the Galaxy Note Edge model appeared on the market.
Large size
Let's get back to the main character of today's review – Samsung Galaxy S22 Ultra. Always with the Ultra version we are dealing with a powerful smartphone. Not only the best in terms of features, but also the largest in size. Compared to the previous generation, this year's model is slightly lower (probably due to the flattened frames), but wider and slightly heavier, but only by 1 g. It should be noted that there is a much bigger difference between the Ultra model and the base version of the Galaxy S22 and S22+. Here are the exact dimensions of the Galaxy S22 Ultra: height 163.3 mm, width 77.9 mm, thickness 8.9 mm and weight 229 g.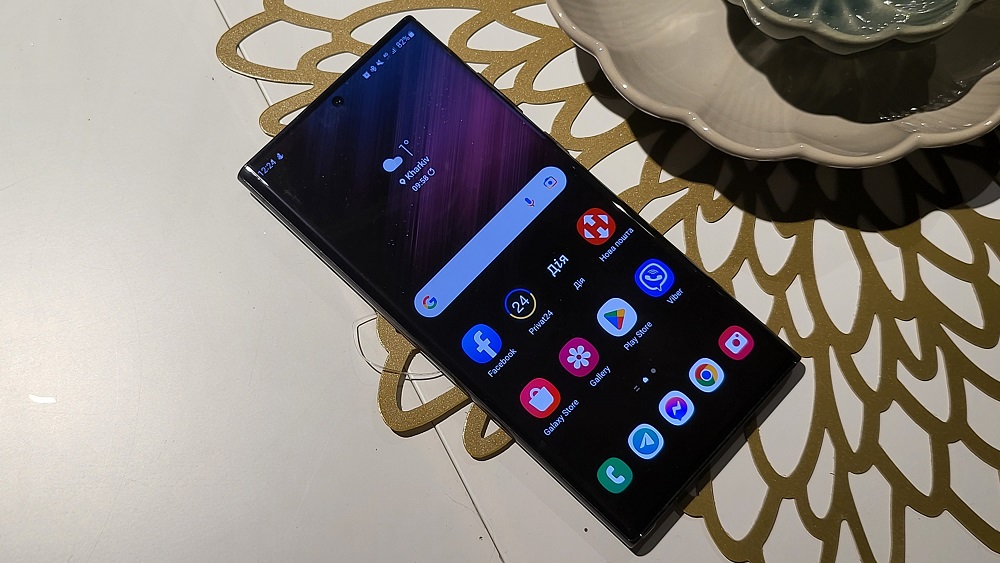 You can forget about working with one hand if you are not inclined to overcome difficulties. But you have to admit that Galaxy S22 Ultra, the successor to the Note series, is designed, of course, not only for everyday tasks like viewing messages and social networks. A large workspace should be convenient for taking notes, creating graphic projects, editing documents, photos and videos, or even playing games. And the 6.8-inch screen provides a truly comfortable experience in this regard.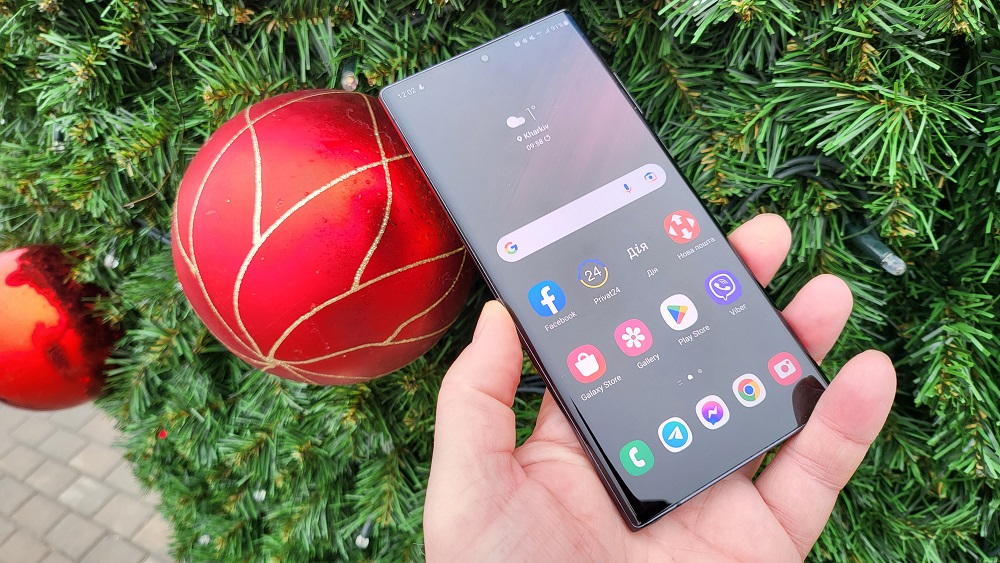 As for the appearance of the screen itself, it is worth saying that it belongs to the Infinity-O type. This is how Samsung calls its front panel, on which the webcam is placed in the middle of the top of the display in a small hole.
Read also: Samsung Galaxy S21 FE 5G review: Now definitely a fan flagship
More durability
This year, Samsung has focused on more durable and high-quality finishes. Both the screen and the body are covered with the strongest Corning Gorilla Glass Victus+ on the market today, which is scratch-resistant and, according to the manufacturer, also crack-resistant. Both panels are connected by a polished Armor Aluminum frame, which, according to Samsung, should protect the device like armor. The design, of course, has received dust and water resistance protection according to the IP68 standard (immersion to a depth of 1.5 meters for 30 minutes, also applies to the S Pen).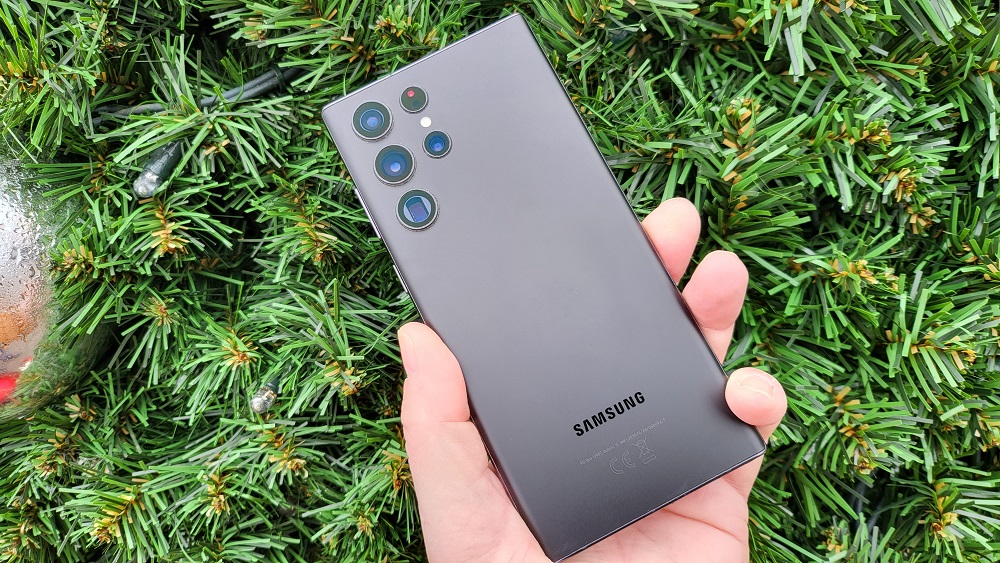 I hope and wish all the buyers of this flagship that the new Samsung smartphone for this price will be simply resistant to minor unforeseen accidents in everyday use. You should not expect the smartphone to be resistant to extreme conditions of deliberate immersion in water or bumping into walls, but you can hope that it will look as good as it did out of the box for as long as possible.
Lens mount and matte design
Samsung Galaxy S22 Ultra has gained lightness and sophistication thanks to its updated design. The cameras are no longer located on a huge island, which visually weighed down the back of the predecessor. Despite the fact that the lenses are large and placed separately in two rows, the camera unit looks very aesthetically pleasing.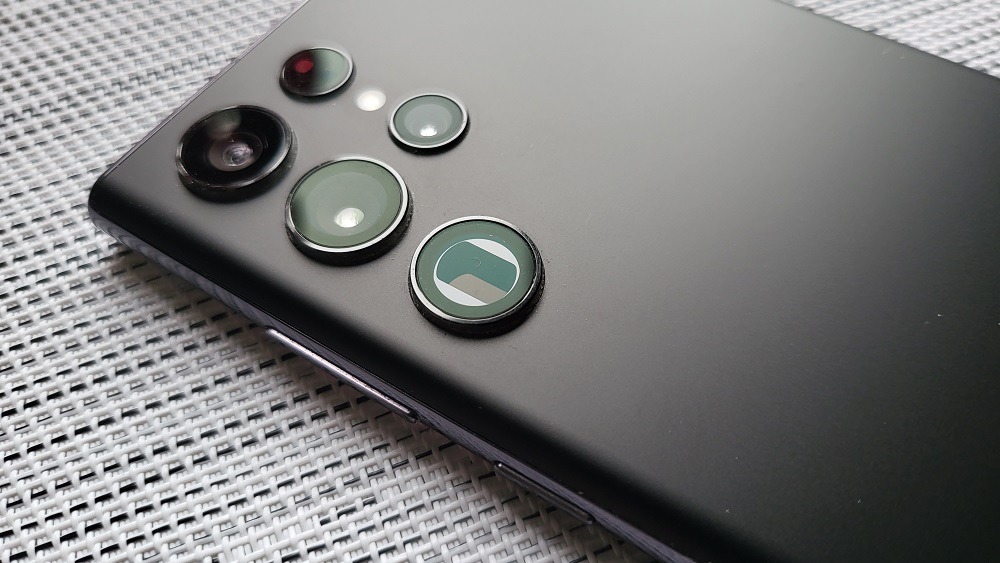 However, appearance is not everything. Functionality and practicality are equally important. Cameras that protrude above the surface of the case are very susceptible to damage and scratches. For example, when the smartphone is lying on its back and you are drawing or making notes on the screen. By the way, it's worth noting that the Galaxy S22 Ultra wobbles quite a bit, relying only on the cameras and the opposite lower left corner. The previous model, Galaxy S21 Ultra, was better profiled in this regard.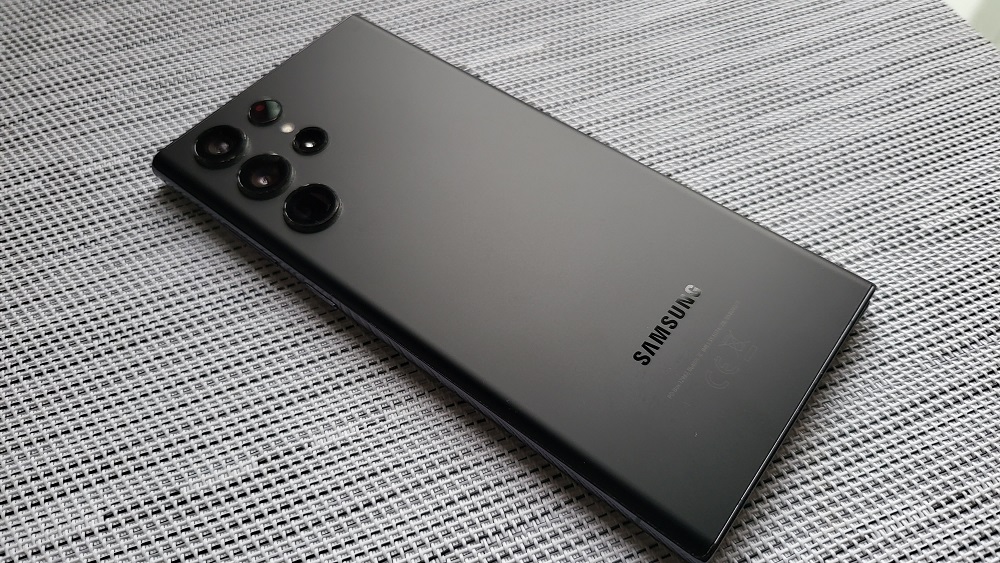 This year, Samsung has once again emphasized a fashionable matte finish in all models of the series and color options. This surface is more resistant to dirt, and fingerprints are less visible on it. This means that the smartphone will look aesthetically pleasing throughout the day, and in the evening you just need to wipe it with a microfiber cloth and it will be as good as new again.
As a lover of all things designer and original, I have to praise Samsung for the new colors of the case. There are four colors to choose from: black, white, green and burgundy. I really liked the latter, although I received a black version for review, which also looks quite attractive.
Read also: Samsung Galaxy Watch4 review: elegant smartwatch running WearOS
Let's get back to the aluminum frame, which houses all the connectors, slots and buttons. The left side of the smartphone is empty,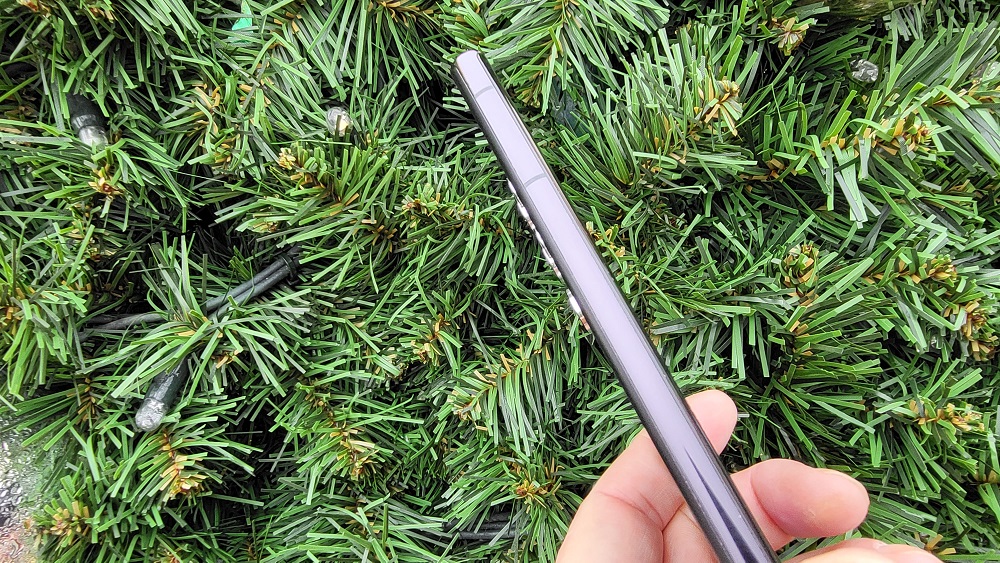 and only one of the microphones is located on the upper end.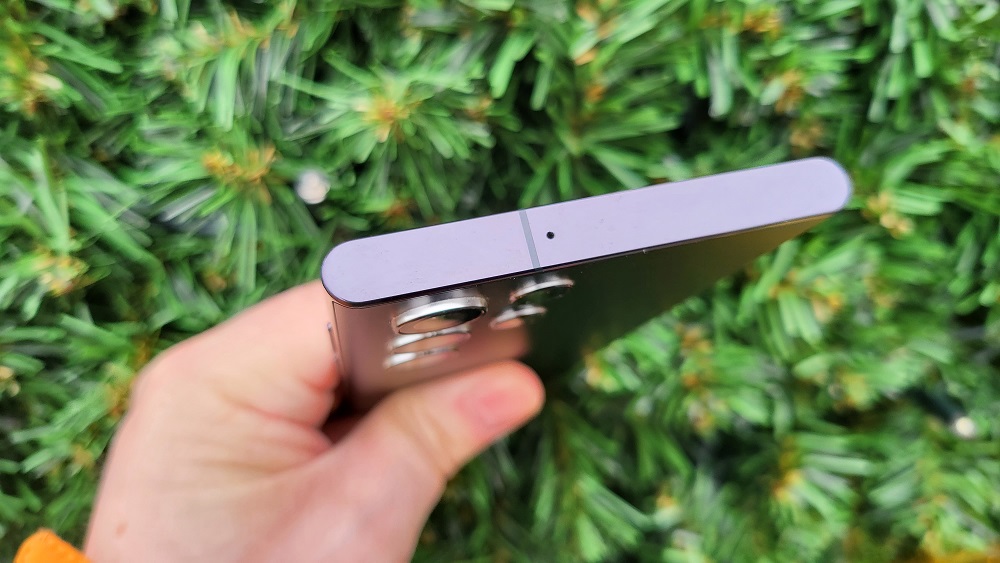 On the right side are the standard power and volume keys.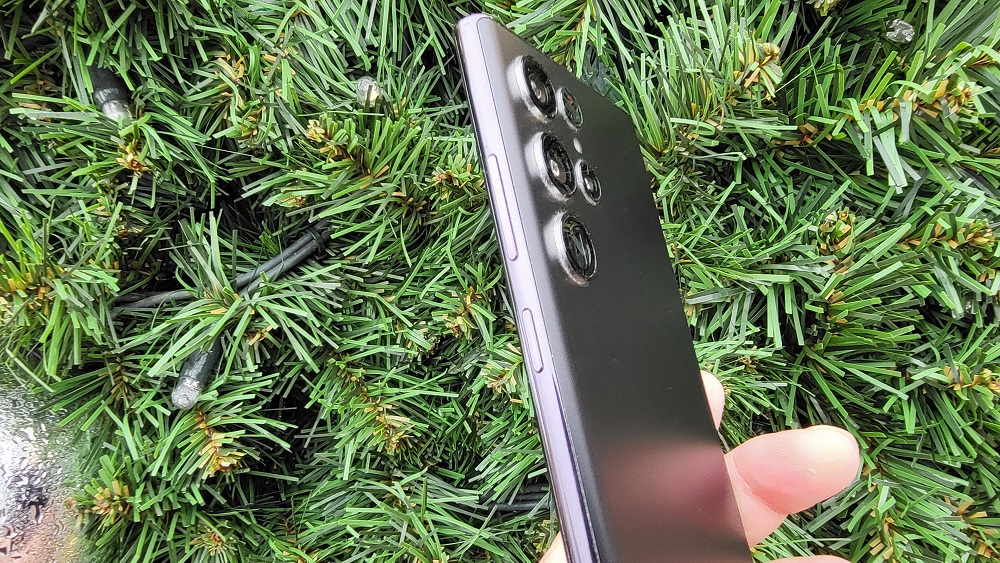 There's much more hidden in the lower part of the design: a stylus compartment, a speaker, a USB Type-C connector, a microphone and a tray for two nanoSIM cards on the flat end.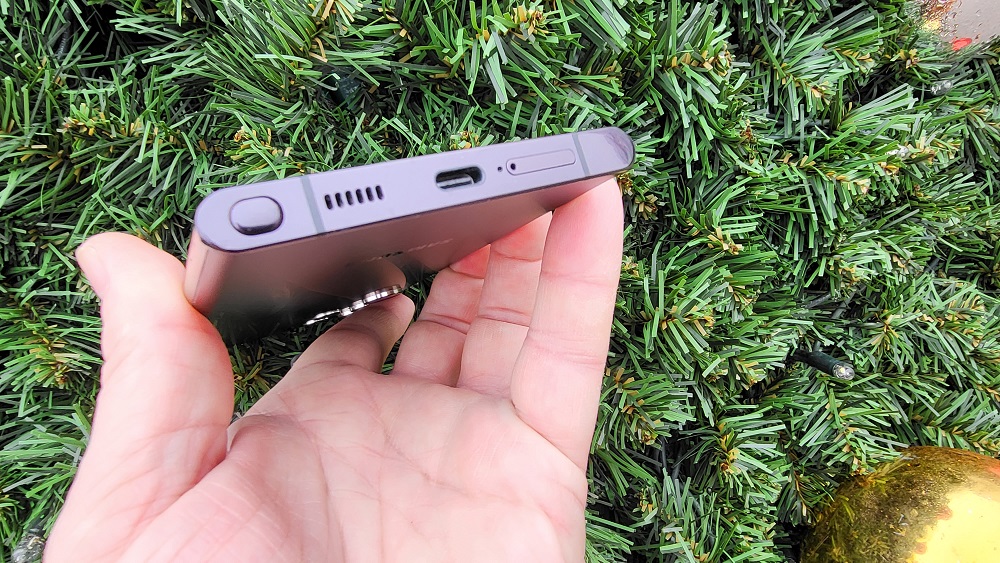 The second Samsung speaker is very well hidden between the top bezel and the display. Its thin line is almost invisible.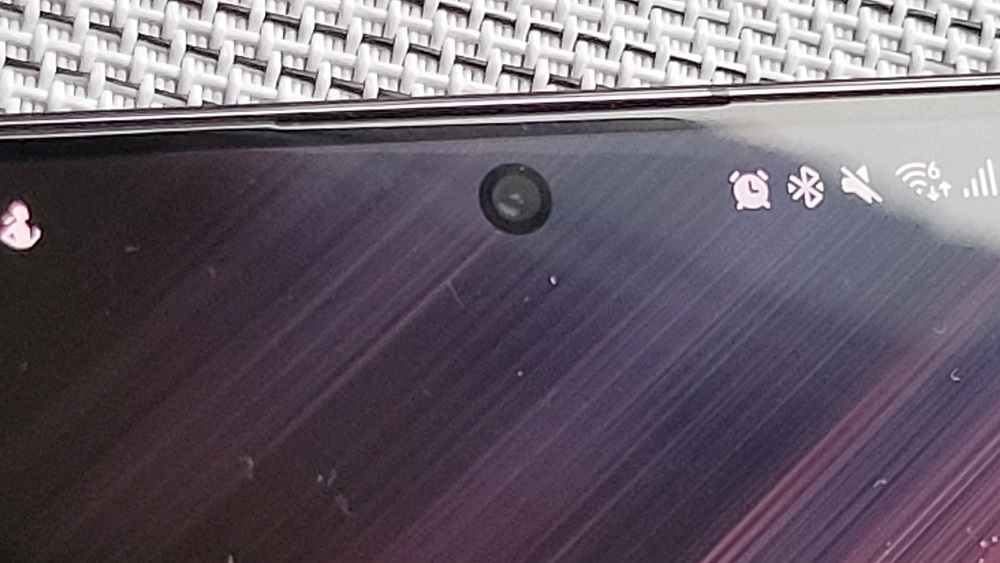 Sharp lines have always been a characteristic of the Note series. Sharp corners are further emphasized by the almost flat bottom and top edges. Someone likes the "new" design of Samsung Galaxy S22 Ultra, someone doesn't. I've seen a lot of opinions from both camps. Personally, I like the design, and it's definitely original, even if it says: "Hello, I am Note".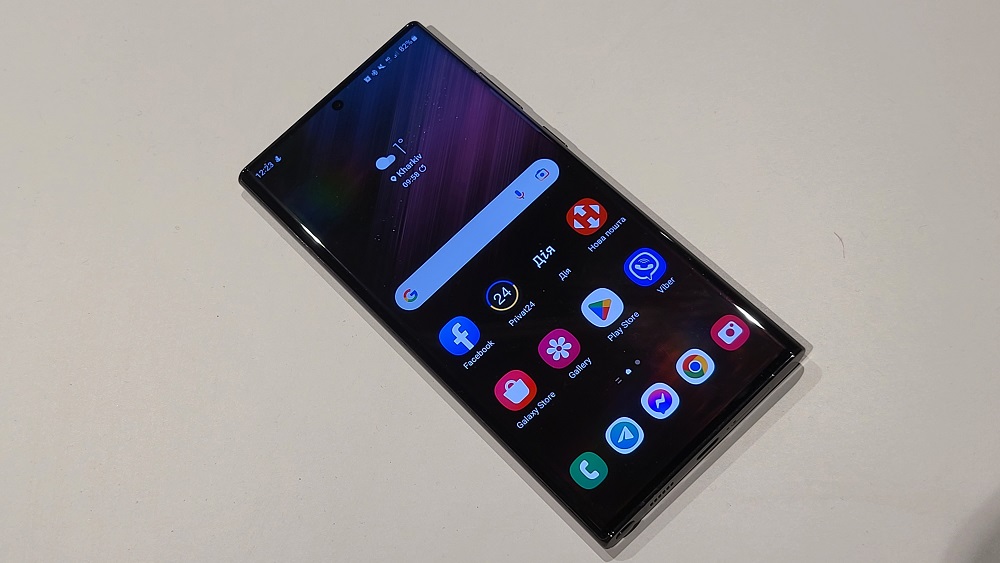 Despite the above, the ergonomics of the device are surprisingly good. With some effort, you can cover the entire display, but only if you have large hands and long fingers. The weight is well distributed – more weight is concentrated in the lower part of the smartphone, so it lies well in the hand and is not prone to tipping over.
Read also: Samsung Galaxy Watch4 Classic review: As classy as they come
Display for sunny afternoons and long rainy evenings
The Samsung Galaxy S22 Ultra impresses with a top-notch 6.8-inch display surrounded by very thin bezels. Yes, the display is really huge, although the last Note was a tenth of an inch larger. It occupies 90.2% of the front surface, which is better than the S21 Ultra, although the Note has thinner bezels. It is slightly curved on the sides, and thus is the last model of the South Korean manufacturer that does not have a completely flat display.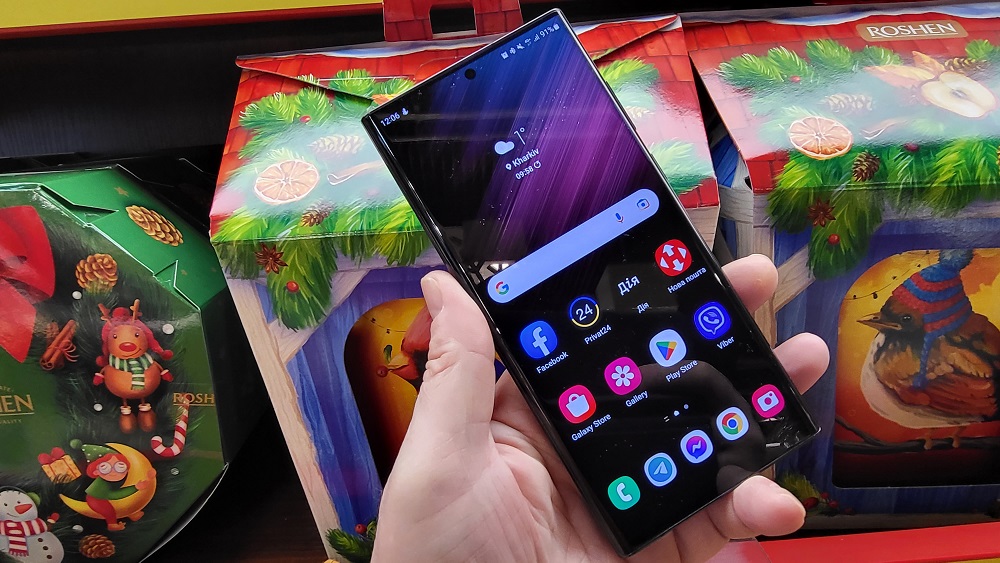 The rounded edges further enhance the visual impression and add some depth to the image. However, most importantly, the image is very clear, bright and saturated, and the contrast between similar colors is also greater. This is all thanks to the Dynamic AMOLED 2X matrix and high Quad HD+ resolution.
Of course, today all high-end smartphones have an AMOLED matrix, and even cheaper models have such a screen. However, Galaxy S22 Ultra has a really high quality display. In addition, it is unlikely that competitors have such a high resolution.
Read also: Samsung Galaxy A72 review: Getting Closer to Flagships
High brightness of 1750 nits
This year's flagship also increased the brightness of the screens. In Galaxy S22 Ultra, it reaches 1750 nits. Thanks to this, the smartphone can be used comfortably even in the sun. This is also ensured by the new Vision Booster technology, which improves the visibility of the display by analyzing the intensity of ambient light and digital content.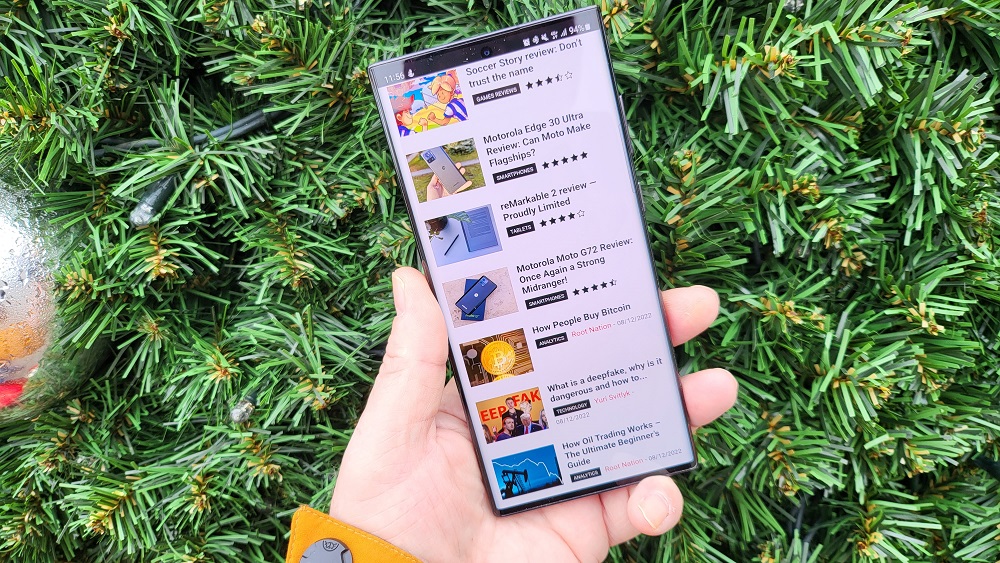 I mostly used my smartphone indoors. The brightness was always at a very good level, and the content on the screen was clear, but it never hurt my eyes due to excessive brightness.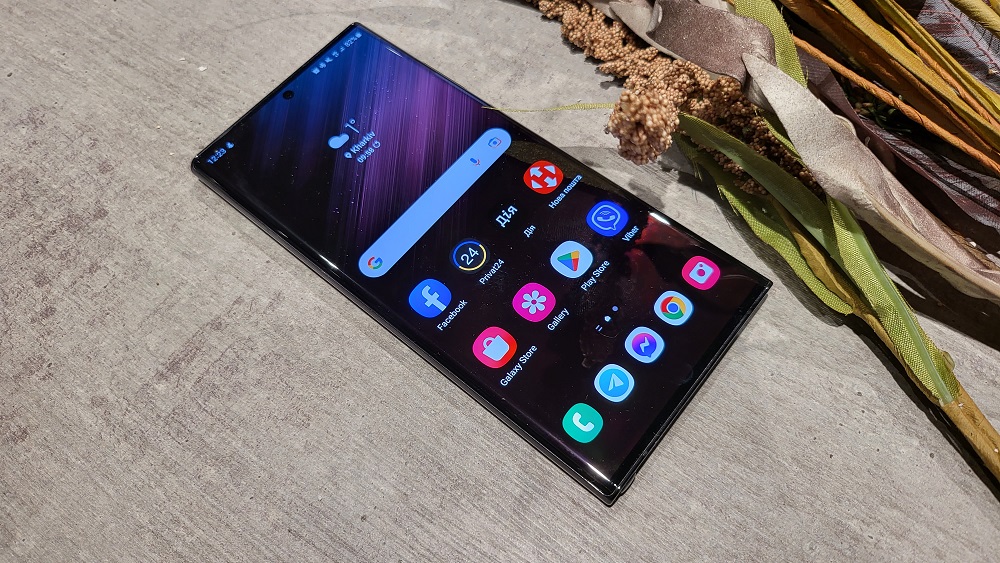 And even on a sunny day outside, I didn't have to cover the screen to read notifications or adjust the cameras to the scene I was filming.
Smooth animations and scrolling
The screen of the new Samsung is equipped with a refresh rate of 120 Hz. This makes browsing the web, scrolling through social media feeds, or viewing photos in the gallery smoother. Animation in games also works smoothly, making any entertainment even better.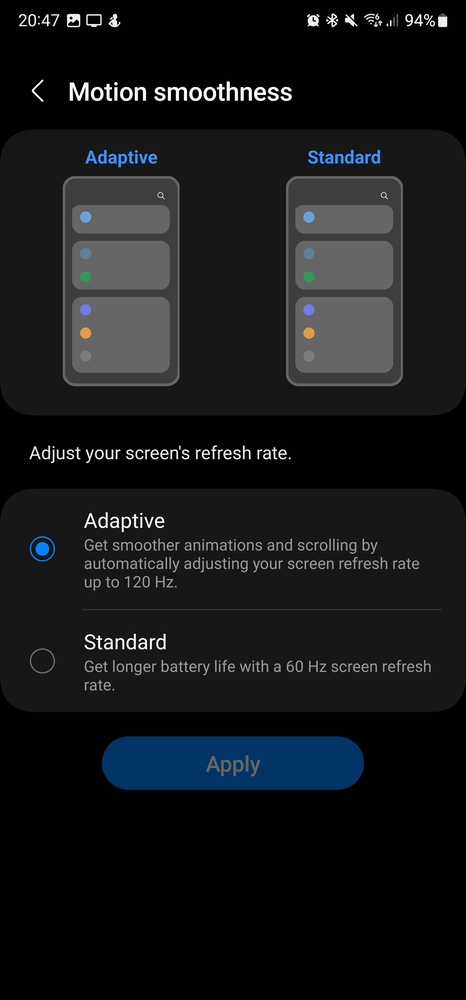 The choice of smoothness is limited to two options: standard (60 Hz fixed) or adaptive. In the second case, the screen refresh rate is adjusted automatically depending on the content. When artificial intelligence decides that smoother animation and scrolling will be useful, it will increase it to 120 Hz, so the smartphone will take care of the balance between performance and power consumption. A higher frequency consumes more battery resources. Interestingly, the Galaxy S22 Ultra supports a unique range from 1 to 120 Hz (for comparison, the S22 and S22+ have a range of 48-120 Hz).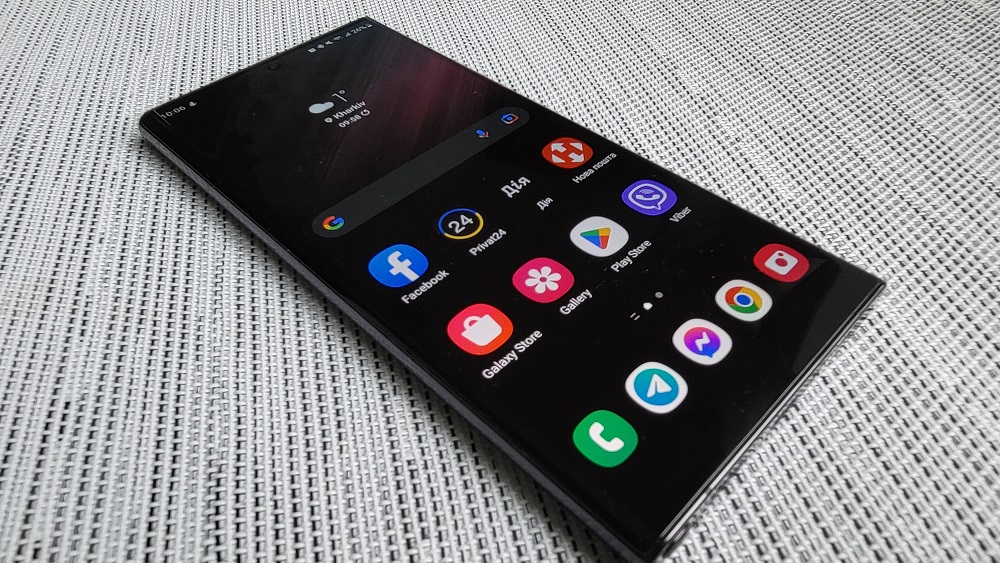 On the other hand, you can't choose a fixed value of 120 Hz yourself, but during testing I didn't notice that the smoothness was ever lower than necessary, which means that the smartphone does a good job of automatically adjusting the refresh rate.
Also worth mentioning is the integrated Always On Display function, which has many customization modes to suit different tastes. Although in our power-saving environment, I often turned this function off, because it consumes quite a bit of smartphone battery power.
Very fast fingerprint scanner
Finally, the days have come when there are almost no complaints about the fingerprint scanners on most smartphones. This also applies to the hero of my review, although it would be very strange if a super-flagship device had them.
The Samsung Galaxy S22 Ultra uses an ultrasonic fingerprint scanner, which is placed, of course, under the screen and which reads fingerprints extremely well. In Samsung's flagship, a short touch to the right place on the screen is enough to securely unlock the smartphone. The larger than standard size of the scanner also helps to reduce delays in unlocking the device. I have never had any problems with this unlocking method, although I usually prefer to use face recognition. And the latter method pleasantly surprised me, because it works even in complete darkness.
It is worth emphasizing that the user's biometric data is protected by the Samsung Knox solution, which also monitors other private information.
Excellent stereo speakers and microphone
Next, I'll move on from image to sound. After all, they go hand in hand when playing games, watching online movies, personally recorded videos, or holding video conferences. Samsung Galaxy S22 Ultra has dual speakers that produce excellent sound for a smartphone, loud and quite pleasant to the ear. Thanks to this, you can freely listen to podcasts while doing household chores, watch webinars, or even watch episodes of your favorite TV series while spending an evening in a hotel room during a business trip.
You'll also appreciate the loud and clear sound of Galaxy S22 Ultra's stereo speakers when talking to loved ones or video conferencing with colleagues. There are no complaints about the microphone either. You really realize that a conversation with such a smartphone turns into a pleasure.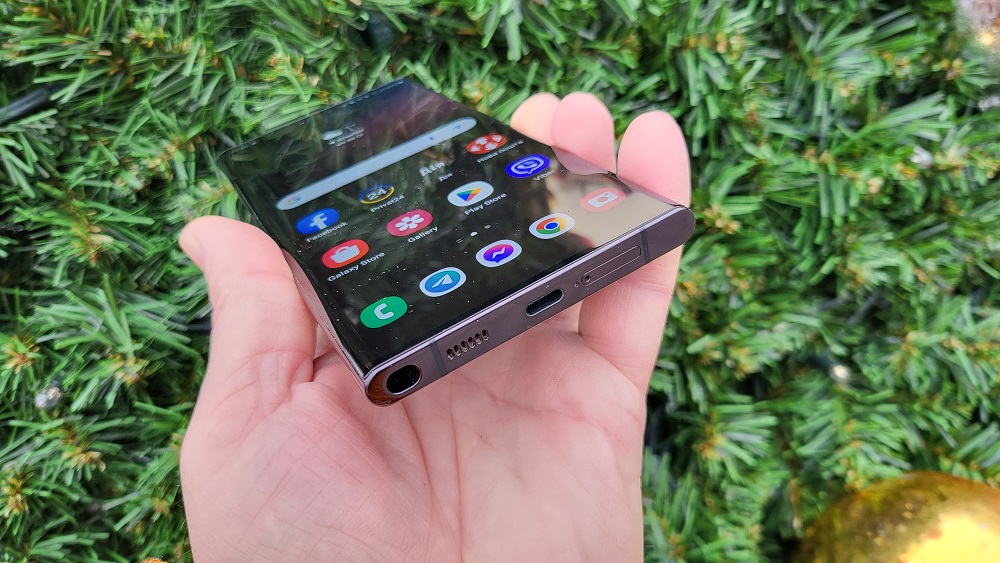 In the sound settings, you can also turn on Dolby Atmos surround sound technology in one of the following modes: automatic, which optimizes the sound according to the content you are listening to, or adapted, created specifically for movies, music, and voice. There is also the Adapt Sound function, known from Samsung smartphones, which allows you to personalize the sound to your ears, and it works with headphones. Unfortunately, I have not been able to try it yet due to the lack of headphones from Samsung.
Read also: Samsung Galaxy M53 Review: Slim Mid-Budget Phone With Great Cameras
Work with the S Pen stylus
This year's Samsung Galaxy S22 Ultra is the first to be equipped with the S Pen stylus, which was previously inherent in the Note series. What does it bring to the user? In addition to precise touch control, the ability to make handwritten notes and graphic design, there are also functions that allow you to control the phone with gestures, such as launching a selected application, returning to the home screen, or controlling multimedia.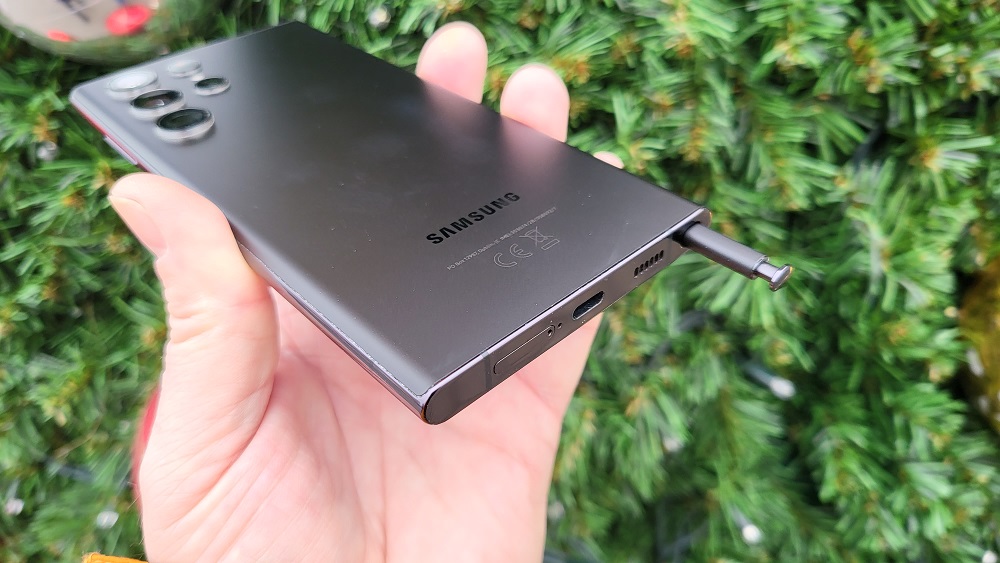 One of the most interesting features of the S Pen is the ability to change handwriting to digital text. It can be used anywhere there is a text area, i.e. when writing SMS messages, in messengers, search engines, web browsers, etc. This function works very well, reads handwritten text correctly, and will be extremely convenient for people who prefer writing by hand to typing on the keyboard. Even if you make mistakes, such as unnecessarily separating letters in a word, missing a conjunction, or spaces, you can use the stylus editing tools.
Another feature I really liked was the translator. Just hover the S Pen over a foreign word to see its translation and even hear the correct pronunciation. Other similar features are Bixby Vision, which finds products that you "look" at with the stylus, and Zoom, which works like a magnifying glass – the area you hover the stylus over is magnified.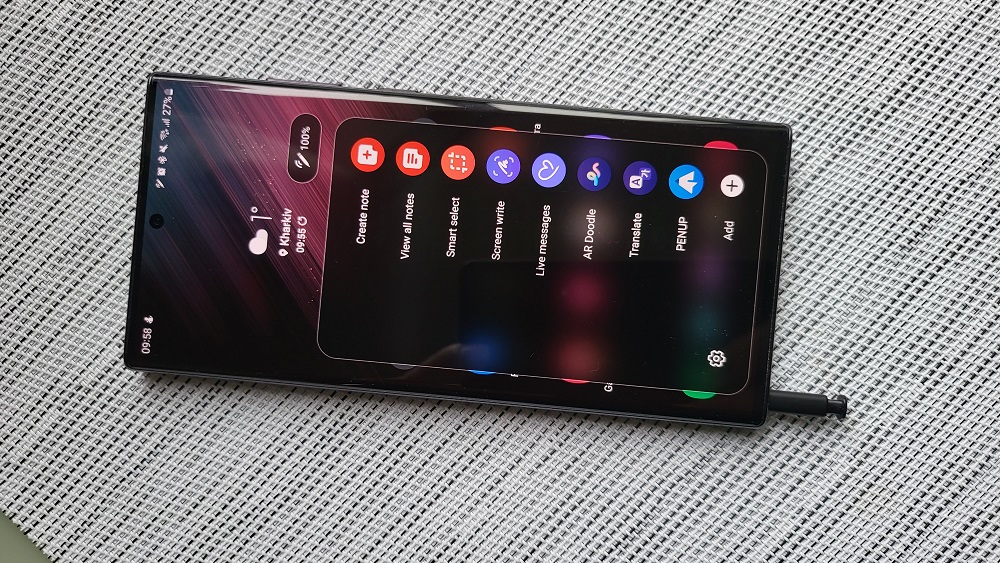 After removing the S Pen from the case, a small translucent icon with a stylus symbol appears on the screen. Once opened (interestingly, this is only possible with the stylus, you can't touch it), a convenient list of programs and functions that you can use with the pen appears. Stylus-compatible recording and creation apps:
Take notes
Smart Selection (to select a portion of the screen so you can write, draw, or edit it in another program. You can also extract text from a screenshot to copy. You can also create GIFs from short screen recordings with this tool)
Writing on the screen (allows you to draw, make notes, and underline parts of the screen)
Handwritten messages (to create interesting animated messages based on images in your gallery, new photos or videos, or just background colors)
AR Doodle (for creating videos with your own AR animations)
PENUP (a program for drawing, learning to draw, coloring, and competing with other users to draw digital works)
Write in Calendar (allows you to take notes and write directly on the calendar sheet).
Of course, Samsung didn't just add a stylus to the mix. The S Pen has also undergone improvements. Among other things, the latency has been reduced, making it feel like you're writing or drawing on a real piece of paper.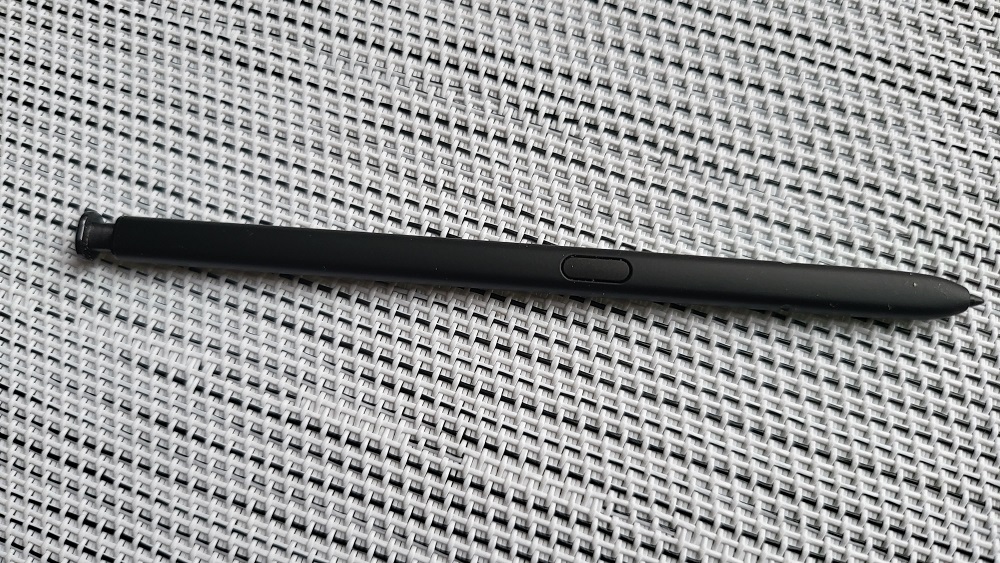 The stylus latency has been reduced from 9 milliseconds to 2.8 milliseconds, so it's incredibly comfortable and smooth, like drawing with a pencil on a canvas or a pen in a notebook. Moreover, the stylus also responds to pressure, creating bolder or thinner lines.
Read also: Choosing a Foldable Smartphone: Samsung Galaxy Fold vs. Flip – Which Type Is Better?
Incredible cameras of Galaxy S22 Ultra
On paper, the cameras have not changed much compared to its predecessor, the Samsung Galaxy S21 Ultra. The new Galaxy S22 Ultra is again equipped with a 108-megapixel main camera with laser autofocus, optical image stabilization (OIS) and f/1.8 aperture, as well as two 10-megapixel lenses for 3x and 10x optical zoom. For the first time, in addition to the main camera, both zoom lenses also have OIS. The wide-angle camera again has a resolution of 12 megapixels, and the front camera achieves incredible results with a 40 megapixel lens. It would seem that there is nothing new, but the changes have occurred in the software, and this is the most important factor in modern smartphones when it comes to cameras. Despite offering the same features as its predecessor, Samsung has made every effort to improve color reproduction and night shots. The additional OIS has a positive effect on zoomed-in shots.
There is no point in discussing the quality of standard photos taken by Galaxy S22 Ultra for a long time. They are simply excellent, and there is nothing to complain about. Are they better than last year? I think that a trained eye can notice some improvement in details or colors.
Samsung Galaxy S22 Ultra- photo
What caught my attention more were the advanced features and tools that help you get the best shot. For example, the main camera does a good job of automatically sharpening the shots.
Samsung Galaxy S22 Ultra-12MP
When shooting at close range, it only takes a moment to adjust to the correct subject. There's also a focus enhancement tool for up-close shots. As the camera gets closer to your subject, an icon will appear in the lower left corner of the screen to enable this feature.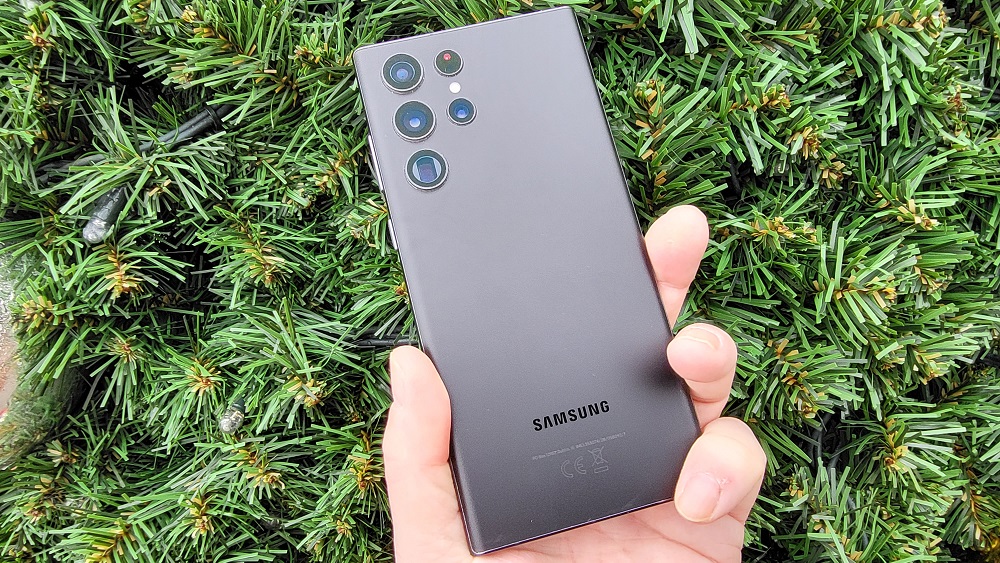 The maximum resolution is 108 megapixels
You can see the difference in the quality of photos taken at the highest resolution by first enlarging a portion of the photo, and you can see that the camera captures more detail, contours are not blurred, and colors do not fade.
In the 108 megapixel resolution mode (3:4 aspect ratio), an additional function is available – Detail Enhancement. By definition, artificial intelligence is here to "enhance pictures by adding depth and detail". However, I have the impression that it does this selectively, or is not suitable for every situation. In daylight, on the street, in the bright sun, the shots in maximum resolution were great, but when correcting the details, they were too bright and soft.
Samsung Galaxy S22 Ultra-108 MP
In a room with artificial lighting, this function actually improved the image – it eliminated shadows caused by uneven lighting and made the colors of the image more natural. The details were not smoothed out, but you could see them with the naked eye, such as the texture of the fabric.
Space Zoom, i.e. a unique 100x zoom
Thanks to the two telephoto lenses, optical zooming up to 3x and up to 10x works very well, in fact, the evidence can be seen below. However, it was different when it came to values above that. Of course, we're talking about digital zoom here, which is weaker. Only again, as with the high-definition detail enhancement function, the effect depends on the specific situation.
However, we must admit that the naked eye can see how well artificial intelligence processes photos. And this actually confirms Samsung's claims that a lot of progress has been made in the software. The contours are smoothed out, and the graininess of the image is much less. But did these changes bring what users expect? Some photos taken with the digital zoom indicate that Samsung has overdone the machine anti-aliasing. However, it works very well in many pictures.
Samsung Galaxy S22 Ultra - ZOOM
But, to be honest, the x100 zoom is a gimmick, and I sincerely doubt that anyone will use it expecting to take noteworthy photos. But this year, the 30x zoom really does its job. Such photos are easily shared on social media and delight users.
Night shooting with the Galaxy S22 Ultra camera
Much has been written about the camera features and improvements of the Galaxy S22 series smartphones after the premiere of Samsung's new devices. I was most interested in whether the manufacturer was able to improve night photos and videos in low light. Let's take a closer look at how the night mode works in practice.
Samsung Galaxy S22 Ultra-night
The improvement is visible to the naked eye. Photos are sharper, clearer, and more detailed. The colors are also much better, more natural. For example, the sky – here it has a beautiful, deep blue color at sunset, not unnaturally lit and gray, as in the previous generation. I don't think many words are needed here, because these photos speak for themselves.
Front-facing camera. Perfect selfies and crisp video recording
The front-facing camera in the Galaxy S22 Ultra again has a 40-megapixel lens, which does a great job with selfies. They are extremely sharp, so much so that you can even count every hair on your head.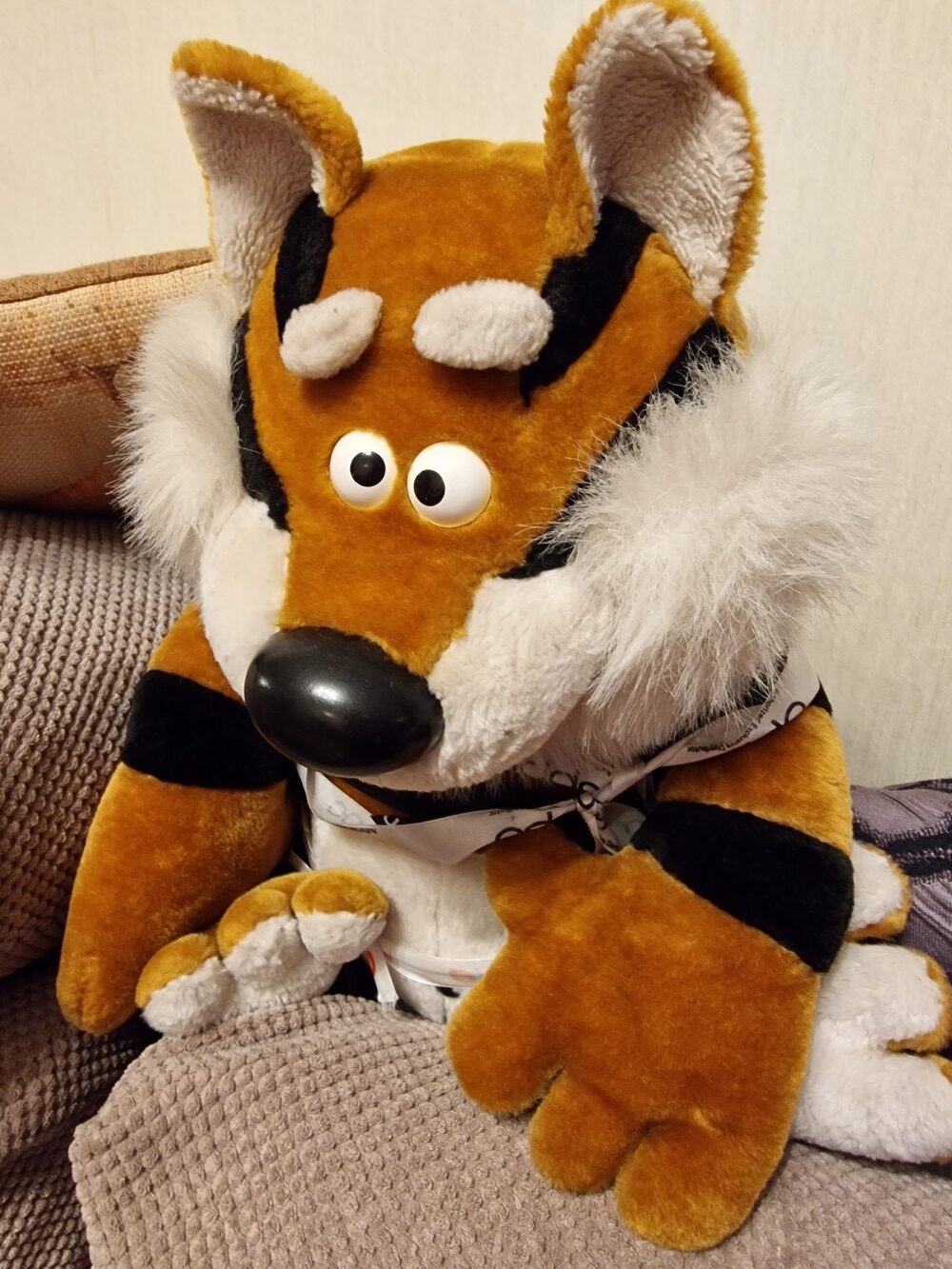 The front-facing camera is also very good. Video can be shot in the following resolutions: UHD 60 frames per second, UHD 30 frames per second, FHD 60 frames per second, FHD 30 frames per second, HD 30 frames per second. The selfie camera also features slow motion, hyperlapse, portrait video with options to blur or change background colors, and a beautify function. This lens is also used in Director's Cut mode, where video is recorded simultaneously by the rear and front cameras.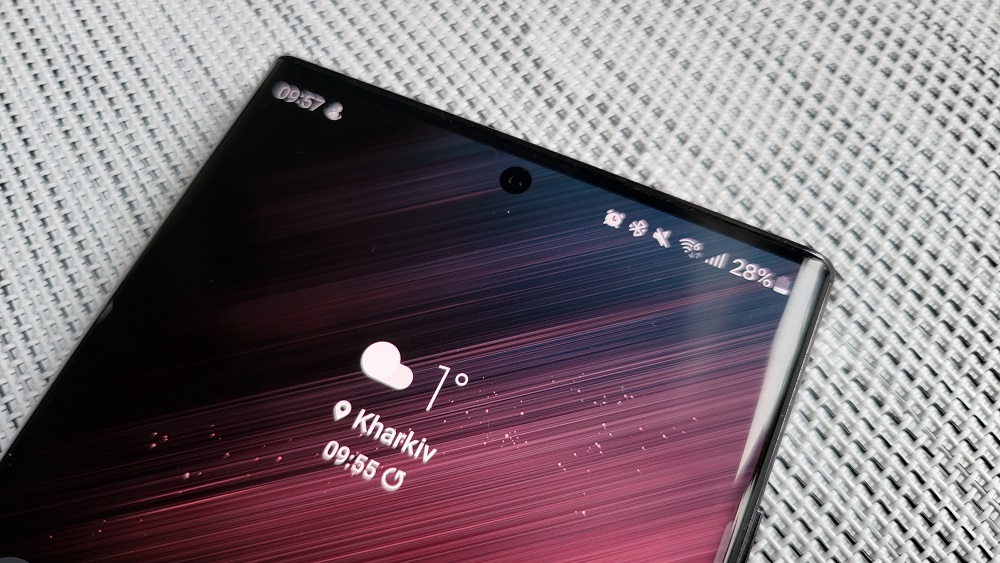 The front-facing camera also works very well during video conferencing, so that your interlocutors can clearly see not only you, but also the objects, documents, or environment you want to show them.
You can take photos in different modes. The basic mode offers options for applying filters and beautifying (for example, smoothing, tinting, or enlarging eyes). You can shoot at a maximum resolution of 40 megapixels (3:4, 5472×7296 pixels). The pixel merge function works automatically, so a standard photo will have a resolution of 2208×2944 pixels in a 3:4 ratio.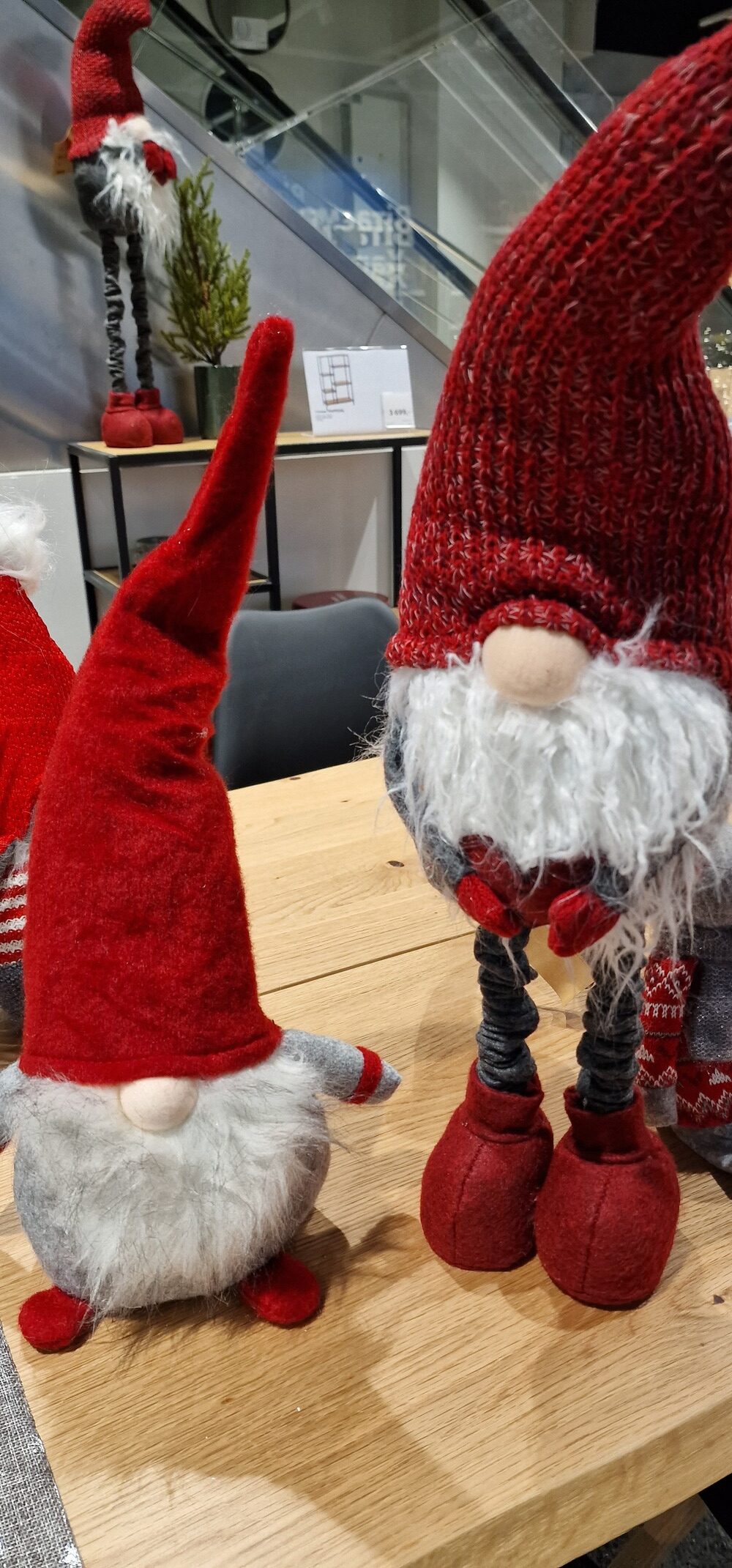 The second option is to take a selfie in portrait mode. In its menu, you'll find options to blur the background, cover it to the desired degree (using the effect strength slider), make it black and white (High-Key Mono or Low-Key Mono) or yellowish (Background). You can also keep the natural colors for just your face and silhouette and change the background to black and white (Color point). Of the beautifying tools in Portrait mode, only the Smooth Skin effect is available.
Video with high stability
The Galaxy S22 Ultra cameras can record video even in 8K resolution at 24 frames per second, as well as in 4K (UHD) and Full HD at 30 and 60 frames per second, and in HD at least 30 frames per second. However, scaling is not possible in the highest resolution. In each subsequent one, you can switch to a wide angle (0.6x) and use 10x or even 20x zoom (from UHD 30 fps).
To zoom in during recording, the camera needs time to adjust the focus. At first, the image is blurry, but after a few seconds it becomes clear, as you can see in the sample recordings below.
Galaxy S22 Ultra also has a high-stability recording function. In this mode, you can record movies in Full HD at 30 or 60 frames per second, and the image is quite stable and clear, even when recording on the move.
Among the video functions, there is also an interesting Auto Frames option available in Full HD 30 fps. When activated, the camera adjusts the frame so that the selected people are always in the frame. This is a useful feature, especially when the people you're filming are moving and you don't want them to accidentally fall out of the frame. The camera then zooms in and out.
Another option is Director Mode, where you shoot with the front and rear cameras simultaneously. There are also hyperlapse, slow motion, and super slow motion modes, as well as Video Pro for more advanced users.
Read also: Samsung Galaxy Z Fold3 5G review: Addictive foldable smartphone
Post-production, editing, gallery functions
Finally, it's worth noting what post-production and editing capabilities Galaxy S22 Ultra offers users. For me, one of the most interesting and very useful is the ability to remove objects and people while erasing shadows and reflections. With its help, you can simply erase unnecessary elements of a photo like an eraser.
In addition to the basic editing features (such as cropping, filters, brightness, saturation, etc.), styles are available that let you change the real look of a drawing and then easily create a new graphic based on it using the S Pen stylus.
ORIGINAL PHOTOS AND VIDEOS HERE
High performance with the Exynos 2200
Samsung Galaxy S22 Ultra is powered by the new powerful Exynos 2200 chipset, manufactured using 4nm technology. In total, this chip has eight processor cores (1×2.8 GHz Cortex-X2, 3×2.50 GHz Cortex-A710 and 4×1.8 GHz Cortex-A510) and AMD's RDNA2 graphics called Xclipse 920. On paper, the new product looks very good, even perhaps better than the flagship Snapdragon 8 Gen 1, with which the Galaxy S22 series will be sold outside of Europe.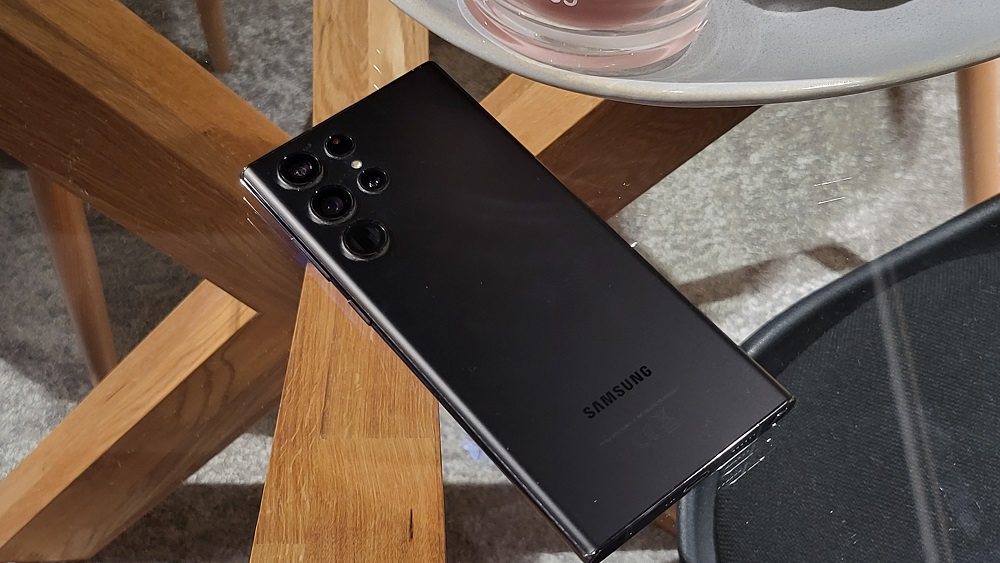 Samsung promises amazing performance, especially in games, thanks to new graphics, where the user will appreciate the built-in support for ray tracing. The processor can have 8 or 12 GB of RAM (optional), which is surprising, because the latest generations received 12 and 16 GB of RAM.
However, among the phone's settings, there is a RAM Plus option where the user can choose how much internal memory will be used as virtual memory if necessary to improve the performance of the application. For data storage, the maximum is 512 GB of internal memory. Expansion via a memory card is not possible – a pair of slots can only accommodate two nanoSIMs, and the eSIM standard is also supported.
The Samsung Galaxy S22 Ultra runs on Android 12 with the proprietary One UI 4.1 shell out of the box, but an update to One UI 5.0 based on Android 13 is already available. In terms of wireless connectivity, there's nothing to complain about either: the new Wi-Fi 6E standard, Bluetooth 5.2, 5G, NFC, GPS and UWB support.
However, the most discussed topic on this topic is, again, the equipment of European models with Exynos processors, rather than Snapdragon, which is considered more efficient. Nevertheless, the Galaxy S22 Ultra is a very efficient and productive smartphone that can easily cope with even very complex tasks. It performs well in games, photo and video editing programs, and manages advanced photo and video features. Tests show that this chipset is modern and powerful, so you won't experience any performance issues.
Personalization with OneUI 5.0
As befits the One UI system shell, it provides a number of interesting features, tools, and options for personalizing your device. One of the first changes a user makes to a new phone is often to set a new wallpaper. You can choose images for the start screen and lock screen from your gallery or several Samsung presets in the form of a static image or video.
There are four color palettes to choose from to match the menus, notification panel, and icons to the background image. Aesthetes will appreciate the ability to change the color or transparency of the background of widgets.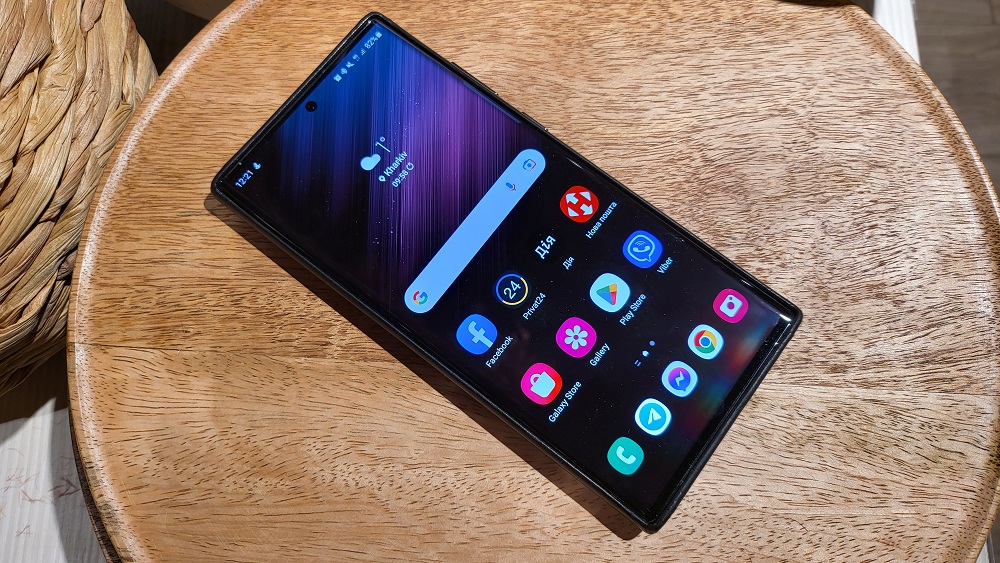 There is also an interesting option in the settings for those who like frequent changes. It's a wallpaper creation service for the lock screen that gives the screen a different look every time you wake it up.
Even more wallpapers, icons and images for your Always On Display (AOD) screen are of course available in Galaxy Themes. The Lock screen tab also has many appearance settings for Always On Display or clock style.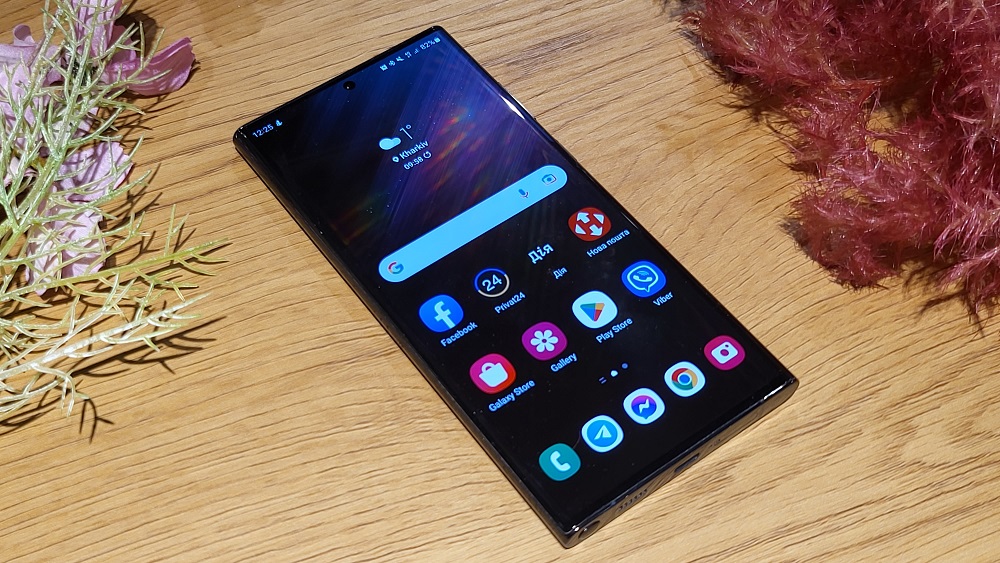 Many useful features and tools are available in the Advanced features tab. There you will find, among other things:
a button to quickly connect your smartphone to Windows for easy management of files and programs right on your computer desktop, answering calls, making calls or having conversations
Samsung DeX, which allows you to use your smartphone as a computer by connecting to a monitor and using peripherals
Android Auto settings
Quick share settings
S Pen settings
activate gesture control or set up the side key function.
In general, I consider Samsung One UI to be one of the best for Android OS smartphones. But these are my personal impressions, so if you have never used Samsung smartphones before, you will have to get used to some of the features of the shell.
Read also:
Battery and charging
Galaxy S22 Ultra is powered by a 5000 mAh battery. The same as in the previous generation. However, not only the battery capacity affects the duration of the smartphone on a single charge. Much depends on the components, such as the processor. This year's Exynos is manufactured using a 4 nm process, which also provides greater energy efficiency.
I used the Galaxy S22 Ultra smartphone in different modes – either the phone was idle (well, not exactly idle, because it was on, AOD was active from 7 to 24 and Wi-Fi was active, so notifications came all the time and programs were updated, I communicated on social networks), or I used it very intensively – long photo shoots, notes and drawings, games.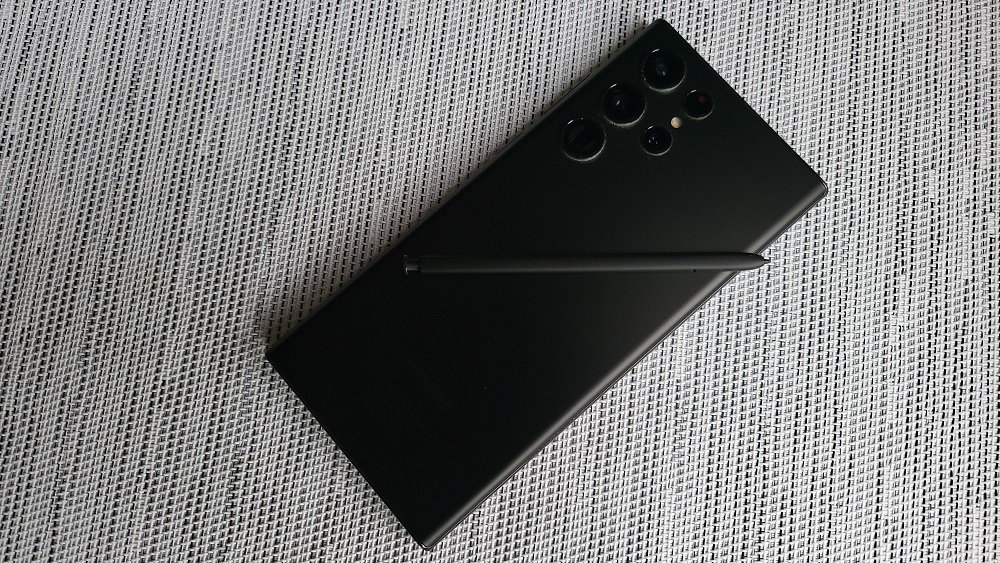 In such an intensive mode, the charge lasted for one and a half to two days of use, so in a more moderate, balanced mode, there will be no problems with too fast battery discharge. Moreover, the battery is also controlled by artificial intelligence that learns user habits. In my opinion, Samsung has made some progress in terms of energy efficiency and power management compared to the previous generation Ultra.
The battery intelligently adapts to your usage style so you don't waste energy unnecessarily. You can also find several settings in the settings to help you balance performance and power consumption. Overnight, when your phone was not in use, it could be discharged by as much as 5%. In this case, it's worth changing some settings, such as screen resolution, Always-On-Display time, and putting rarely used apps to sleep.
An interesting feature to extend battery life is to limit the maximum charge to 85%. Then the smartphone, even when connected to the charger for a long time or even overnight, will not support a full charging cycle.
No charger again
A breakthrough has happened in Samsung's smartphone. The manufacturer has finally decided to speed up charging. The Galaxy S22+ and S22 Ultra models now support charging up to 45 watts instead of the standard 25 watts. All you need to do is… buy the right charger. Even if you have a power adapter with the same or higher power at home, it may not be compatible with your Samsung smartphone. In this situation, you need to buy an original product or a charger with Power Delivery 3.0. It's very inconvenient, and I was never able to find out how fast or slow it charges.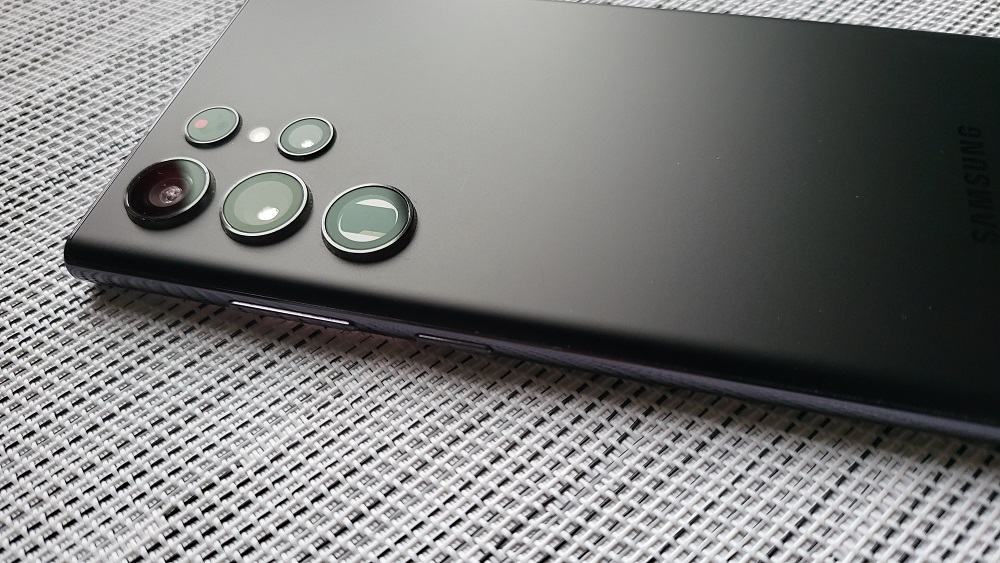 This smartphone supports convenient wireless charging. I even took advantage of Samsung's power bank with wireless charging.
With the Samsung Galaxy S22 Ultra, you can also take advantage of wireless reverse charging for other devices. To share power when you don't have access to a power outlet, QI-compatible devices such as wireless headphones, a smartwatch, or another smartphone simply need to be placed on the back of the Galaxy S22 Ultra. To use this feature, you need to enable it in Settings – Battery – Wireless power transfer. Here you should also specify the battery limit below which the smartphone will not give off its energy. The default setting is 30%.
Conclusions
Let's start with the positive aspects of the Samsung Galaxy S22 Ultra – and there are many of them. The most obvious advantage, in addition to the chic design and excellent build quality, is the incredible screen – there is no better one at the moment. After the first updates, the cameras are now also top-notch, and the two levels of optical zoom, color reproduction, and white balance, in particular, have been further improved. When it comes to video, Samsung is ahead of the game. In addition, the smartphone has high-performance hardware, a huge amount of storage and, to top it off, a stylus with great features – powerful tech.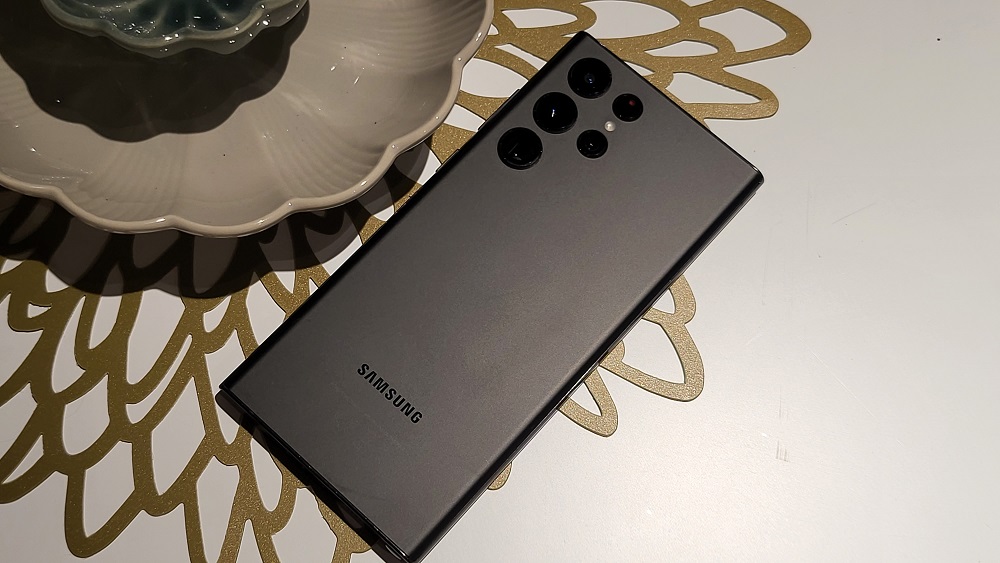 Perhaps the flagship device should have been equipped with a larger battery to fully utilize the performance of the processor or the enormous brightness of the display. But, in general, the Samsung Galaxy S22 Ultra lives up to its name – it's extremely good. Unfortunately, it is also very expensive.
The Samsung Galaxy S22 Ultra is a multifunctional device that provides a great user experience and is an extremely useful tool for work and play, in particular thanks to the S Pen stylus. I'm sure that buying this flagship will be a good investment of your money.
Read also: