Is the excellent front-facing camera enough to make the vivo V21 a leading mid-ranger? Let's find out!
Nowadays, the average budget segment of smartphones is fighting the fiercest. Each manufacturer wants to grab their piece of cake to expand an army of fans. vivo will also be averse to gaining a foothold in this niche. During this time, the Chinese giant managed to prove to everyone that it's there to stay. Especially popular among customers is the vivo V series, which surprises not only with its bright, youthful design, but also with a quality set of cameras. I already had the opportunity to test the vivo V20 smartphone last year, which pleasantly surprised and made me reconsider my opinion about the company's smartphones.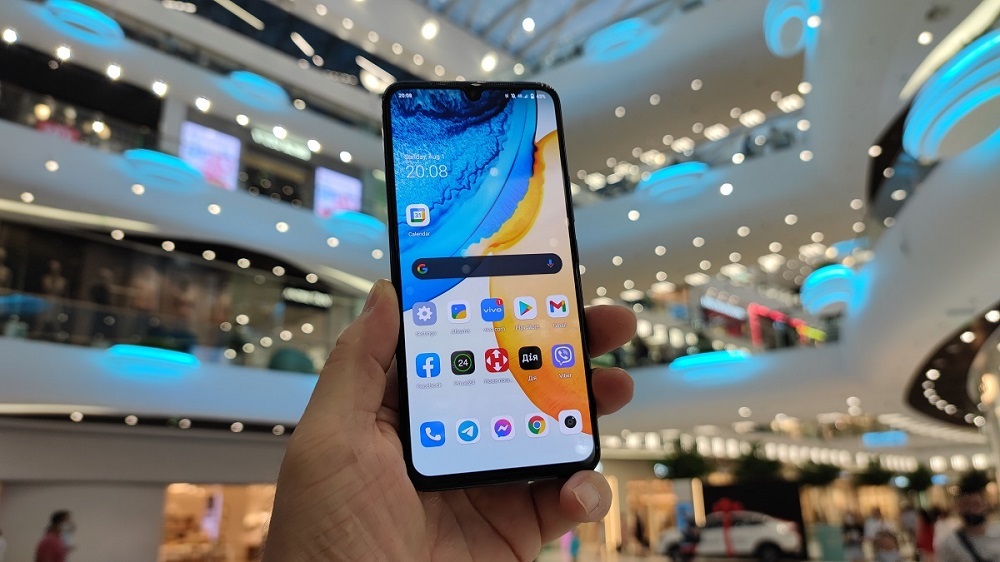 This year vivo also presented two new smartphones of this series – V21 and V21e. I chose the vivo V21, and my colleague Eugenia Faber took the "junior" V21e for a review.
Read also: vivo V21e smartphone review: More colors!
Price and specifications of the vivo V21
As I wrote above, the vivo V21 series smartphones belong to the mid-budget segment. The company itself claims that their V21 should become the dream of tick-tokers, bloggers and vloggers, thanks to a 44 mp front-facing camera. The price of the device is enticing, approximately $520. Although the competition in the market is simply crazy and the device from the Chinese company will have to try very hard.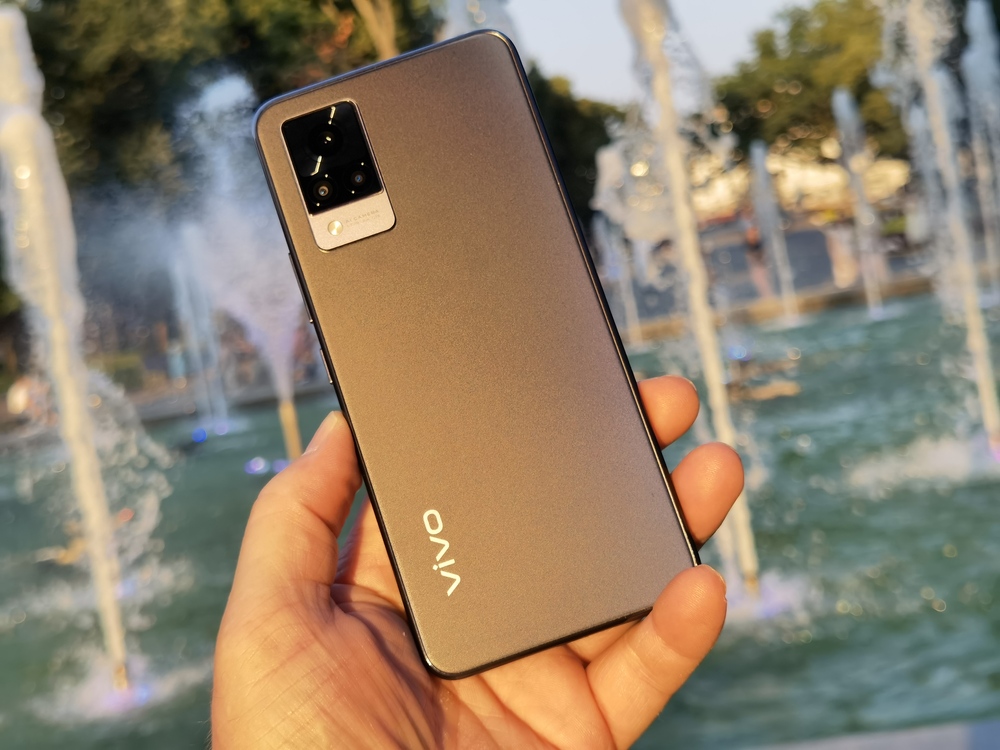 Look only at its technical characteristics:
Display: 6.44 inches, AMOLED, 2400×1080 (Full HD+), 20:9, 409 ppi, HDR10, 90 Hz
Chipset: MediaTek MT6853 Dimensity 800U, 2400 MHz, 7 nm, 8-core (6 2 GHz cores: Cortex-A55, 2 2.4 GHz cores: Cortex-A76)
Graphic accelerator: Mali-G57 MC3 850 MHz
RAM: 8 GB (+3 GB with the storage)
Storage: 128/256 GB
Memory card support: up to 1 TB
Wireless networks: Wi-Fi (2.4+5 GHz), Bluetooth 5.1, NFC, GPS, Beidou, Galileo, GLONASS, QZSS
Main camera: main module – 64 MP, f/1.8, 26 mm, 1/1.72′′, autofocus; wide-angle – 8 MP, f/2.2, 16 mm, 120°, 1/4′′, autofocus, macro camera – 2 MP, f/2.4
Front-facing camera – 44 MP, f/2.0
Battery: 4000 mAh
Charging: fast wired 33 W, Vivo Flash Charge
OS: Funtouch 11.1 based on Android 11
Dimensions: 159.7×73.9×7.3 mm
Weight: 176 g
Colors: Twilight Blues, Sunset Ryhth.
Very interesting device, and this applies not only to its appearance, but also to the technical characteristics and functionality.
What's in the box?
When the smartphone came for review, I was surprised by the aesthetics of the packaging. Usually we rarely pay attention to such trifles, but not in the case of the vivo V21. The box itself is just lovely – a combination of black and dark blue, with a shimmering silver inscription. And yes, in this case, I judge the book by the cover. So, let's check the contents of the box.
So, inside the box we have:
smartphone wrapped in protective film
silicone transparent case for it
some documents, instructions, warranty, etc.
a SIM eject tool
charger with a fairly long cable
earphones with mini jack connector
 USB Type-C and 3.5 mm adapter
Quite a decent set, given the target audience of this device. Sometimes even more expensive models do not contain such an extensive set as the vivo V21. Buying a smartphone, you will get almost everything you need to start using it right away. Vivo should also be praised for its factory protective film on the display and silicone case that protects the island with cameras from damage.
Read also:
Design and build quality
It is worth noting that the vivo V21 looks very good. I love its clean design, which makes the smartphone look neat. The mobile device will please you with an elegant, thin and lightweight body only 7.3 mm thick and 176 g thick. It fits perfectly in your hand, even in a protective case. By the way, the case is unexpectedly tight and looks pretty good. Although, of course, the smartphone looks better without a case.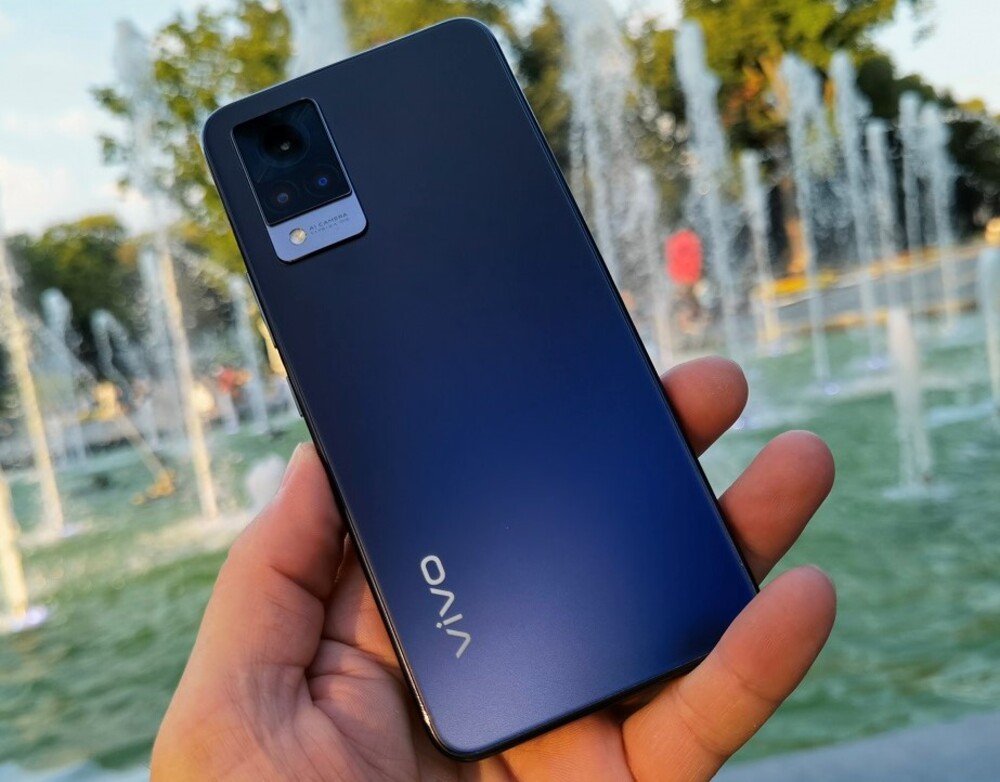 Despite the subtlety of the design, the camera module practically does not protrude above the surface of the case, for which the manufacturer deserves praise. And of course, you have to note this stunning back plate.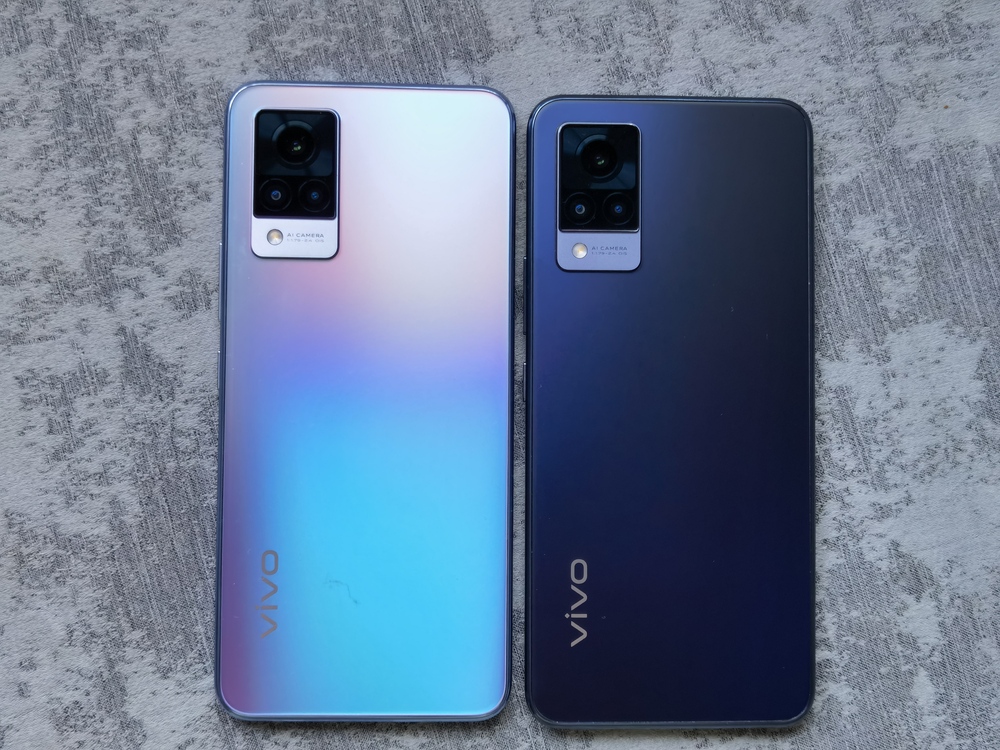 I really liked the beautiful vivo V21 back plate coating. From the first minutes I was fascinated by the dark blue color which looks different depending on the angle at which we look at it. Another plus is the matte surface (Sunset Ryhth has the same), which is more practical. In addition, it is very pleasant to the touch. I generally love matte coating of smartphones, it gives them not only resistance to dust and fingerprints, but also increases the comfort of use. There is a small vivo logo in the lower left corner.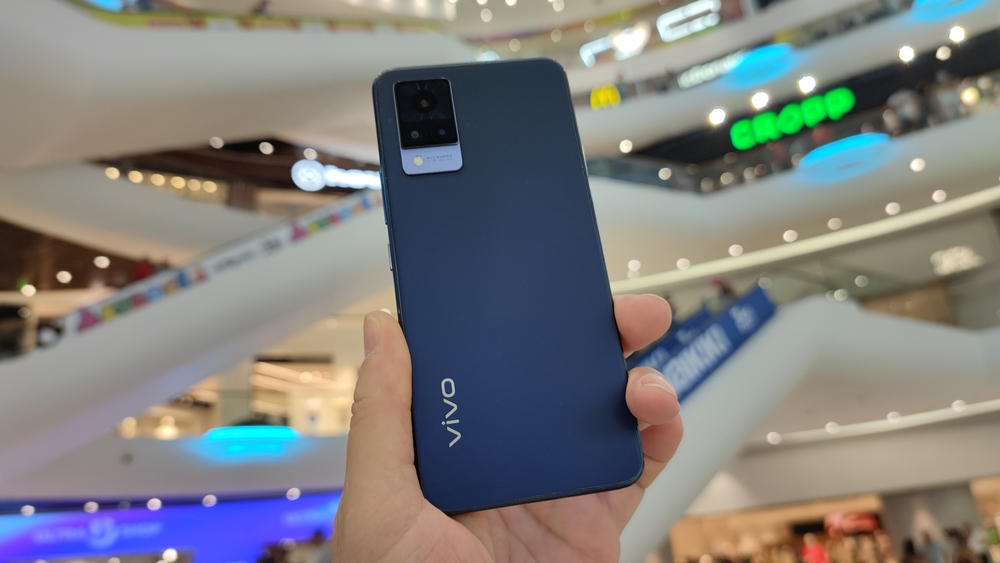 The build quality, despite the plastic frame of the case, is very decent. The matte back panel is covered with ultra-thin glass. You might think it's plastic, but no, glass. Only the edges are plastic, in the same color as the rest of the case. There's also support for IP52 standard, which means that the mobile device is not afraid of raindrops or splashes of water.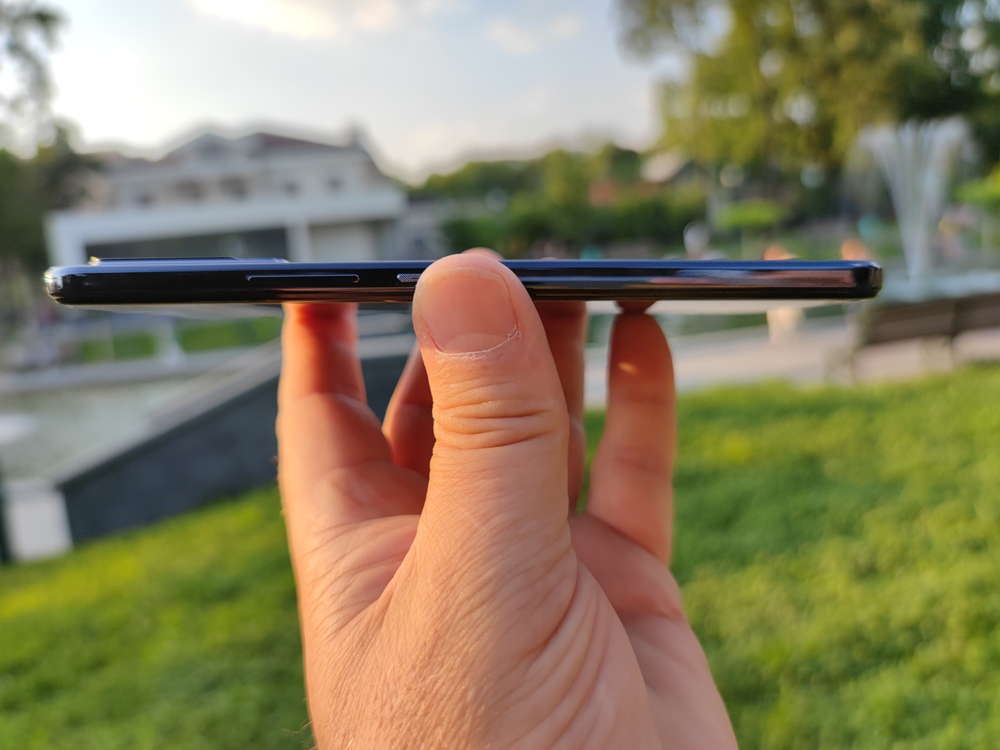 The location of the control buttons in the vivo V21 is usual for modern smartphones. The left edge remains almost empty, which increases the ergonomics of use, as it helps to avoid accidental presses.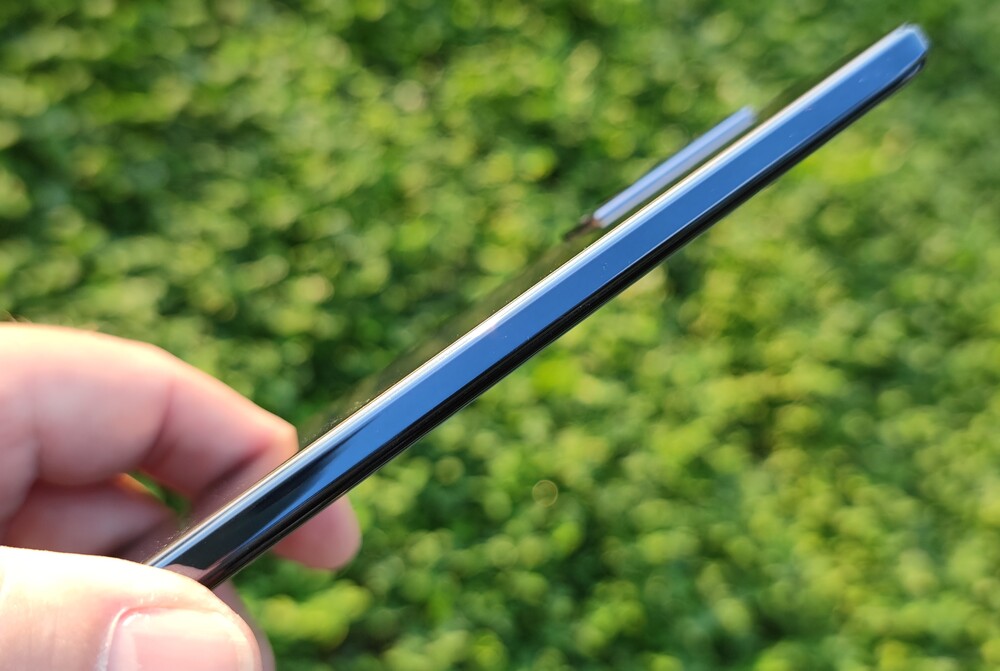 On the right side there are buttons to adjust the volume and lock the screen, they are neat, although they slightly protrude above the frame.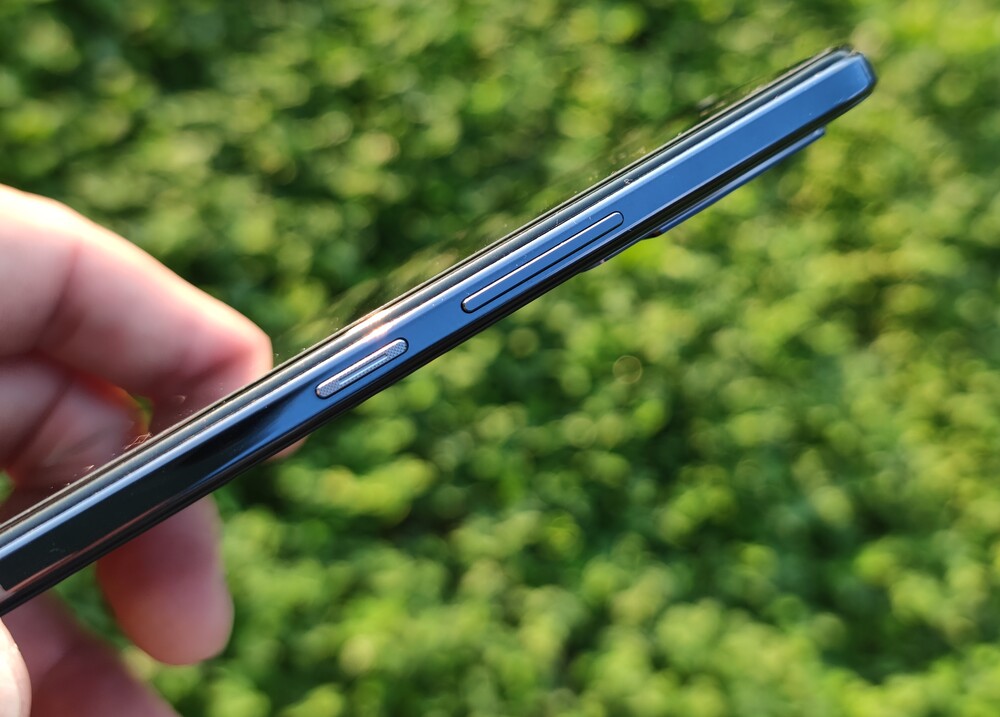 At the bottom we find a retractable tray for two nanoSIM cards and a microSD memory card, a USB Type-C port for charging your smartphone, a speaker and a microphone. Vivo decided not to use the headphone input anymore, so you will have to use a USB Type-C adapter.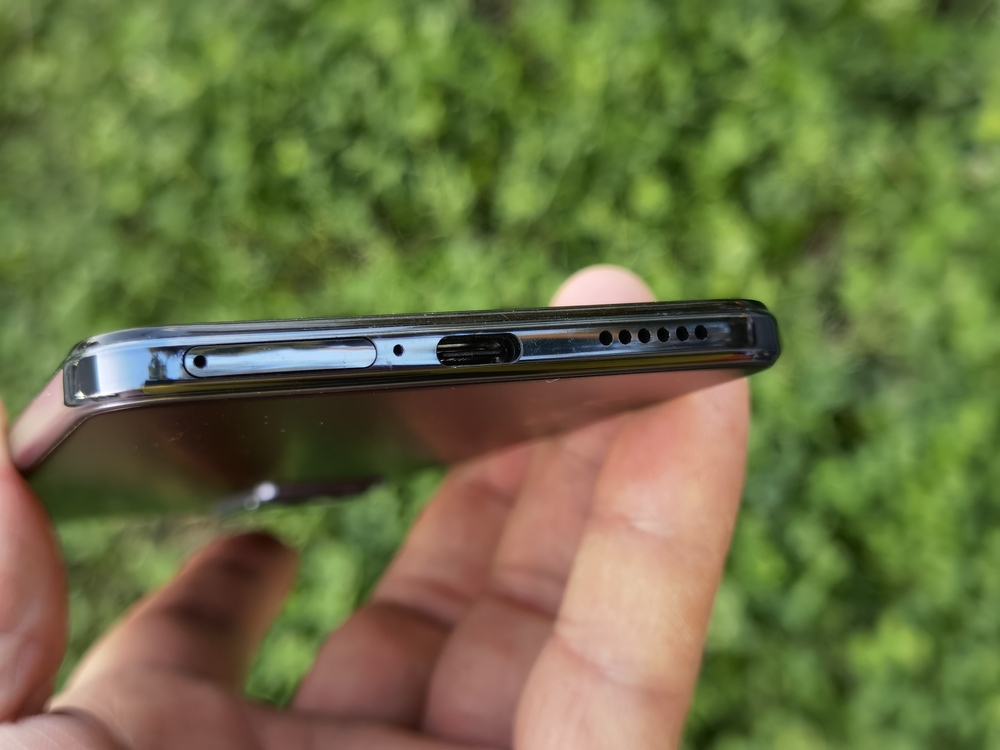 On the top face there is only an additional microphone for making voice calls.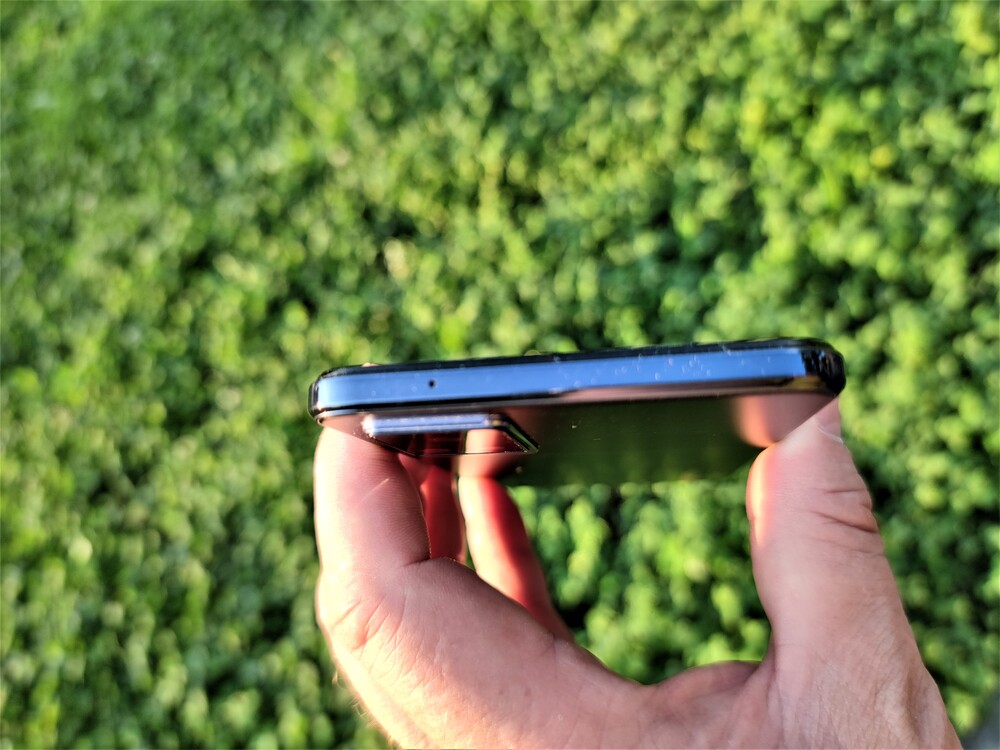 A few words about the protective silicone case that comes with it. It fits very well on the phone and fits tightly to it, providing adequate protection from all sides. A special plug covering the USB port is noteworthy. Unfortunately, the protective case attracts all kinds of dirt and dust, but this is due to the material from which it is made. I feel like the fingers are starting to stick to it over time.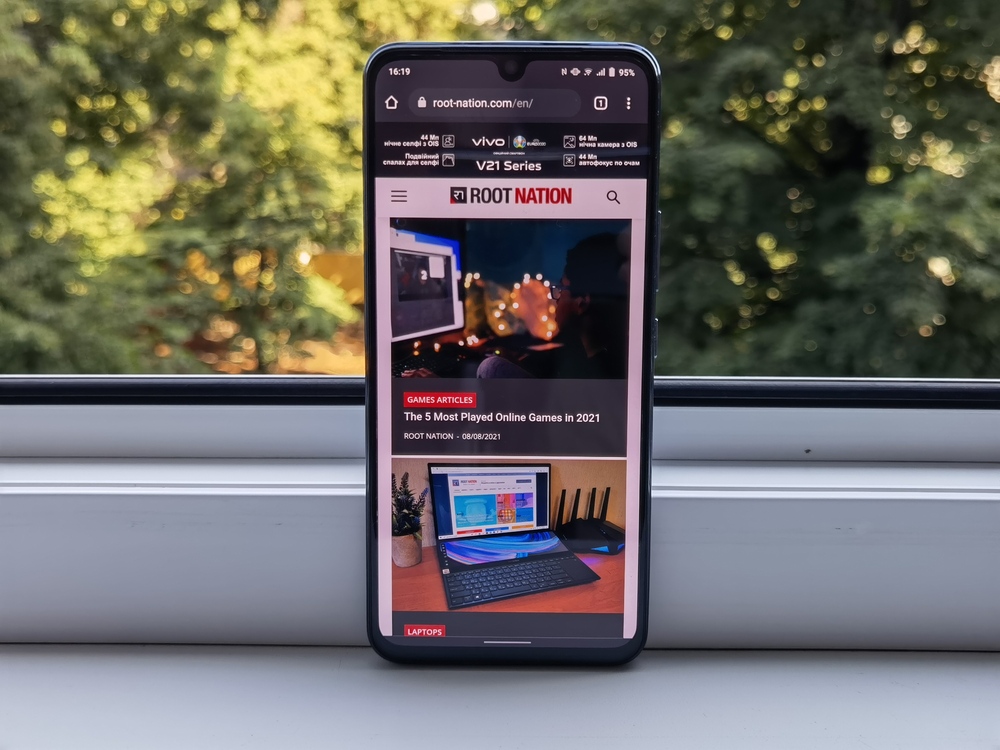 The entire front panel of the vivo V21 is covered with quite durable glass, although vivo kept silent about who its manufacturer is. The thin bezels around the display have undoubtedly reduced the size of the device itself. This gave the front panel elegance. Although there is some strangeness that potential buyers may not like. I'm talking about a drop-shaped notch. A bit odd, considering competitors are already using sleek, barely noticeable wholes for the front camera. Above the drop-shaped notch you can also see a thin slot of the speaker, next to which there are also two LEDs for the selfie camera. Their smartphone uses them to shoot self-portraits in poor light.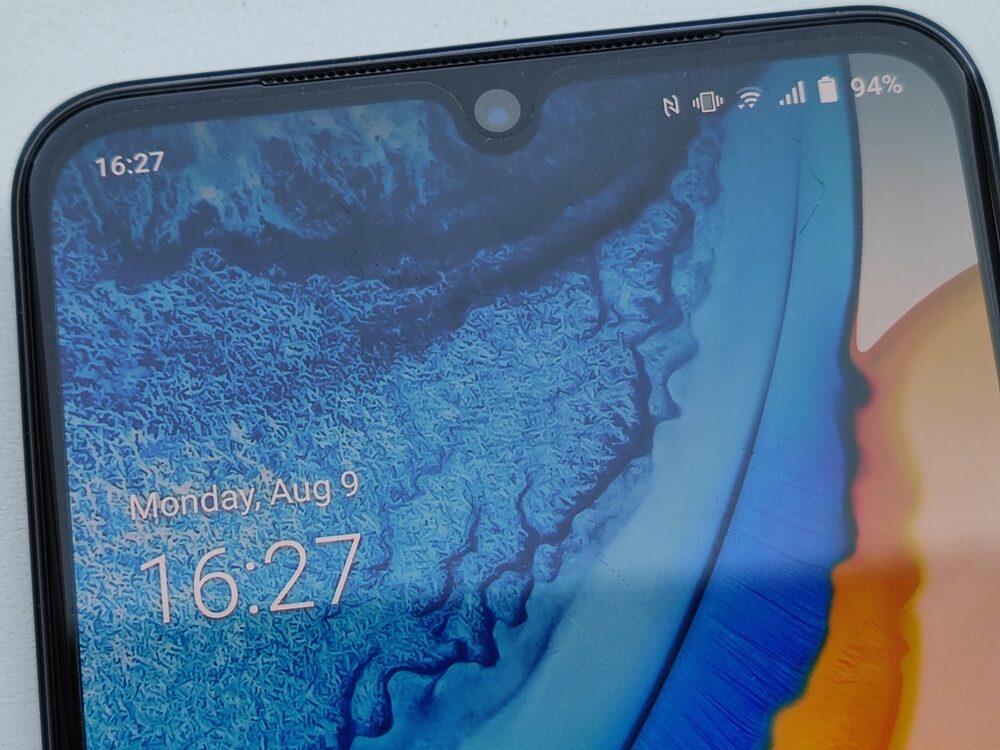 The build quality is top notch. Of course, you can reproach the manufacturer for plastic parts but I don't know if that would be fair. When you hold the vivo V21 in your hand, there's no feeling of cheapness.
Read also:
High-quality display with 90 Hz refresh rate
The vivo V21 smartphone is equipped with an AMOLED E3 6.44″ display and Full HD+ resolution, 2408×1080 pixels. E3 means that the display will require about 8% less power than the standard AMOLED screen, which will extend the service life and battery life. The screen supports the HDR10+ color palette, which improves color reproduction and brightness.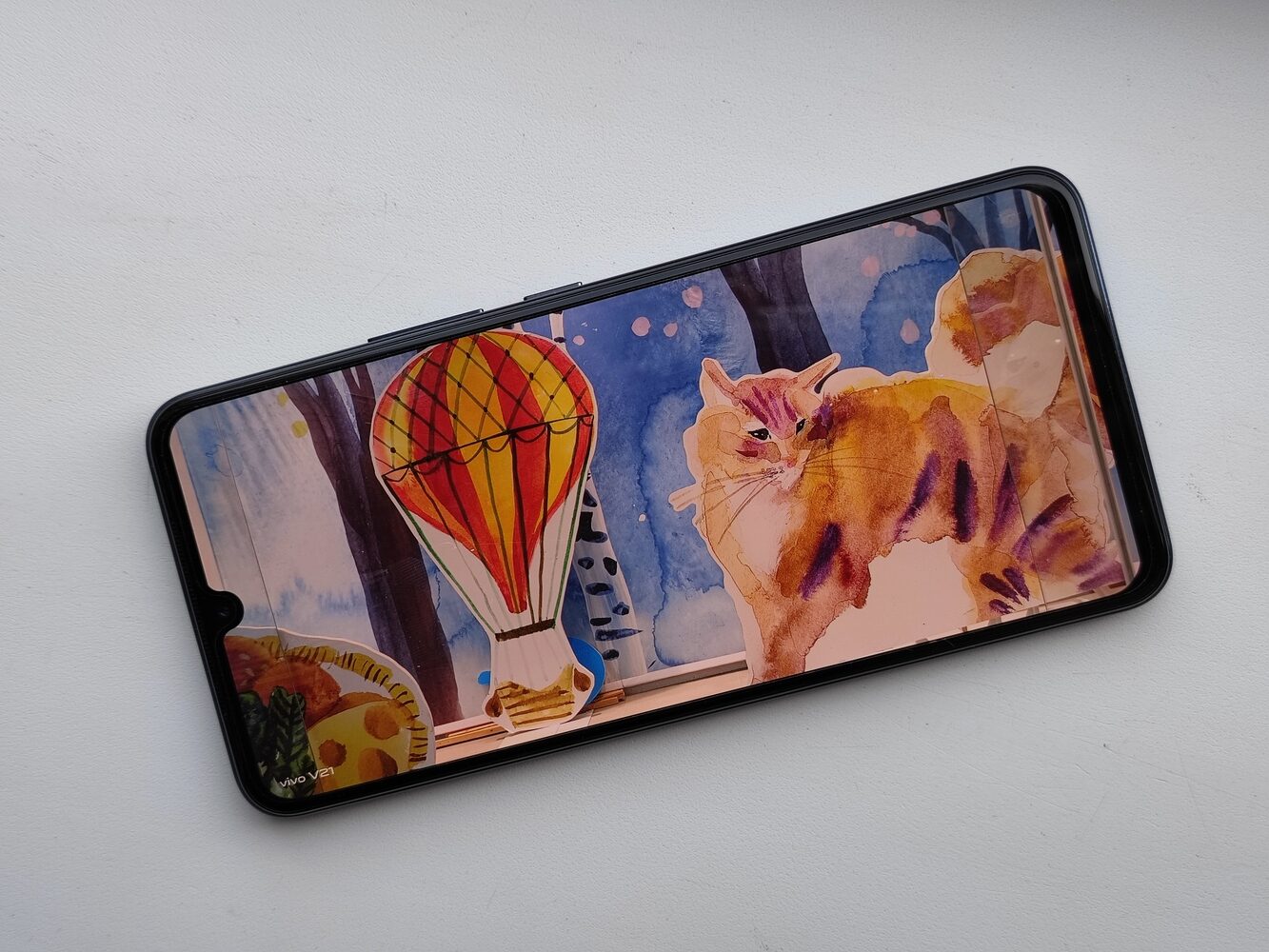 The maximum display refresh rate is 90Hz, but if we want to save battery consumption, you can reduce it to 60 Hz. This can be done manually or by selecting the intelligent switching mode, in which the phone will select the refresh rate corresponding to the current actions and power consumption of the system. However, I switched it to 90Hz, because why not use this refresh rate, since it is available. The difference is quite big. Checking social networks, reading the news, everything is quick. The screen immediately reacts to touch.
The AMOLED screen is beautiful, juicy and clean. Contrasts are not too intrusive, but you have to admit, the lips are slightly redder in the photos and the cheeks are blushier. But it's all very unobtrusive and does not interfere with the general perception of the displayed content.
Speaking of the screen, it's worth mentioning the AOD option, which I really miss in my personal smartphone. Time, notifications, etc. There's a dark mode, and those who care about the comfort of their eyes will find a protection mode in the settings. You can also change the colors and temperature of the screen in the settings. You can choose from three options: Standard, Professional and Bright.
The screen is full of dynamic effects. In standby mode, animation may appear around the display when notification is received. In any style and color, because there is also a possibility of full personalization here. This is especially useful because the smartphone does not have a special LED for notifications. And while we're talking about notifications, you can also customize these effects for the lock screen.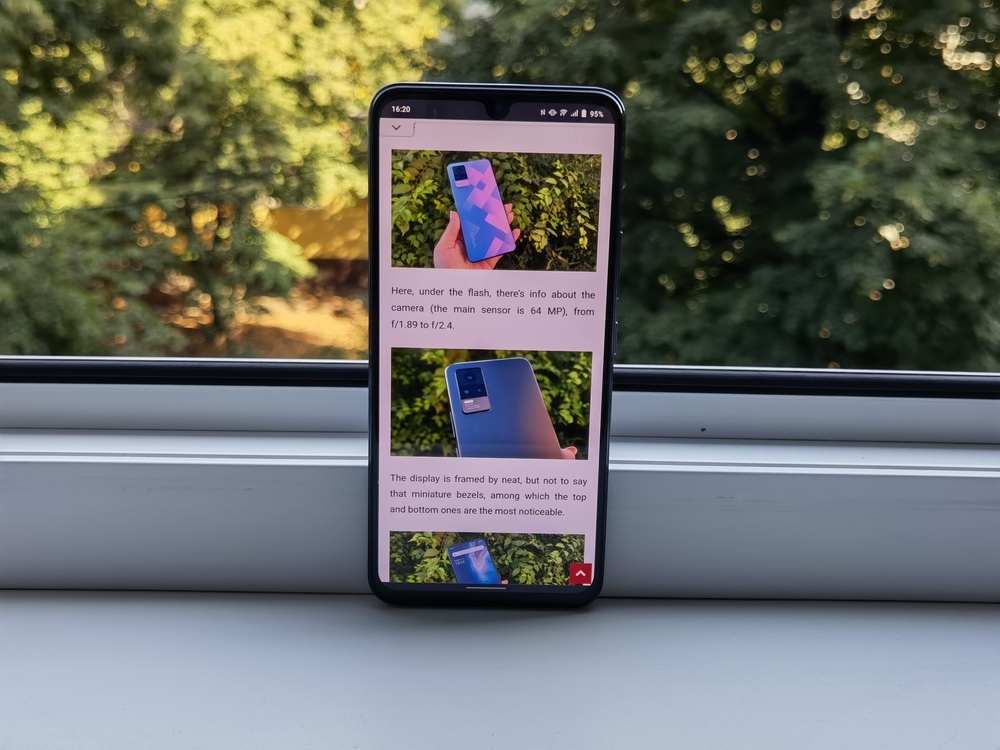 The big disadvantage of the Vivo V21 display is, unfortunately, the low brightness. It's only 500 nits, and it feels like it. Using a smartphone during the daytime is not a problem, but in direct sunlight reading is harder. Then visibility decreases significantly.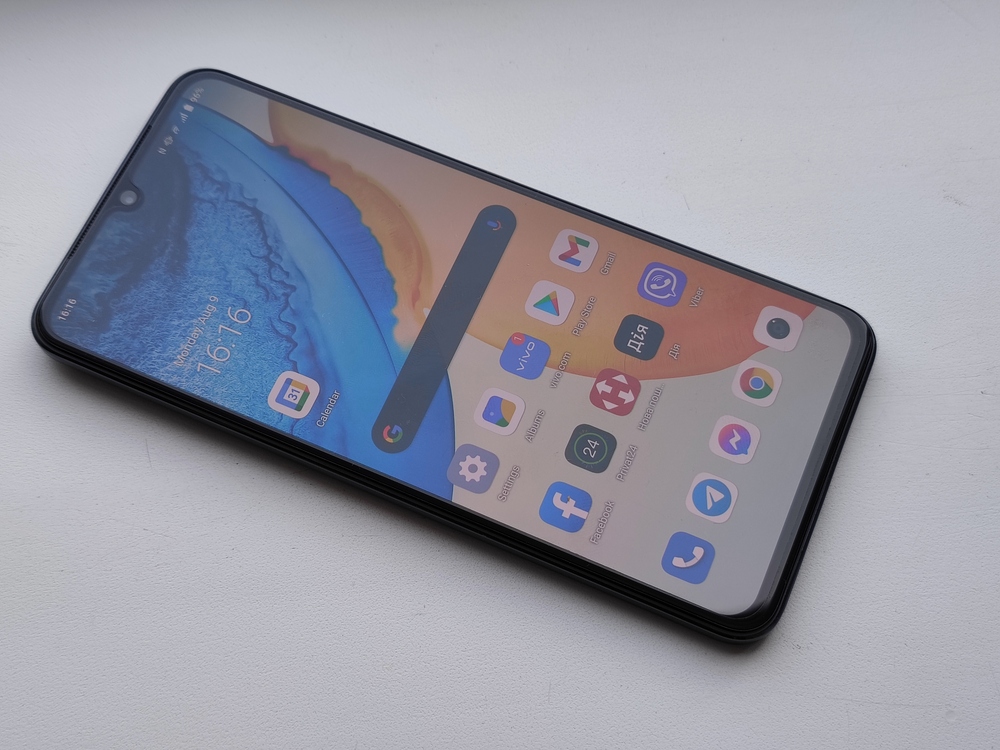 However, the display is one of the best parts of a smartphone. The color quality and depth of black when watching movies are more than satisfactory, and the maximum refresh rate of 90 Hz ensures smooth gameplay.
Unlocking the vivo V21
Modern smartphones now pay special attention to privacy. Manufacturers are trying to protect the device from hacking as much as possible. Of course, vivo is no exception.
Unlocking with your fingerprints
The fingerprint scanner is built into the display and is located at the bottom of it. To set it as a screen unlocking method, you only need about a dozen seconds, during which the device scans your fingerprint from different angles.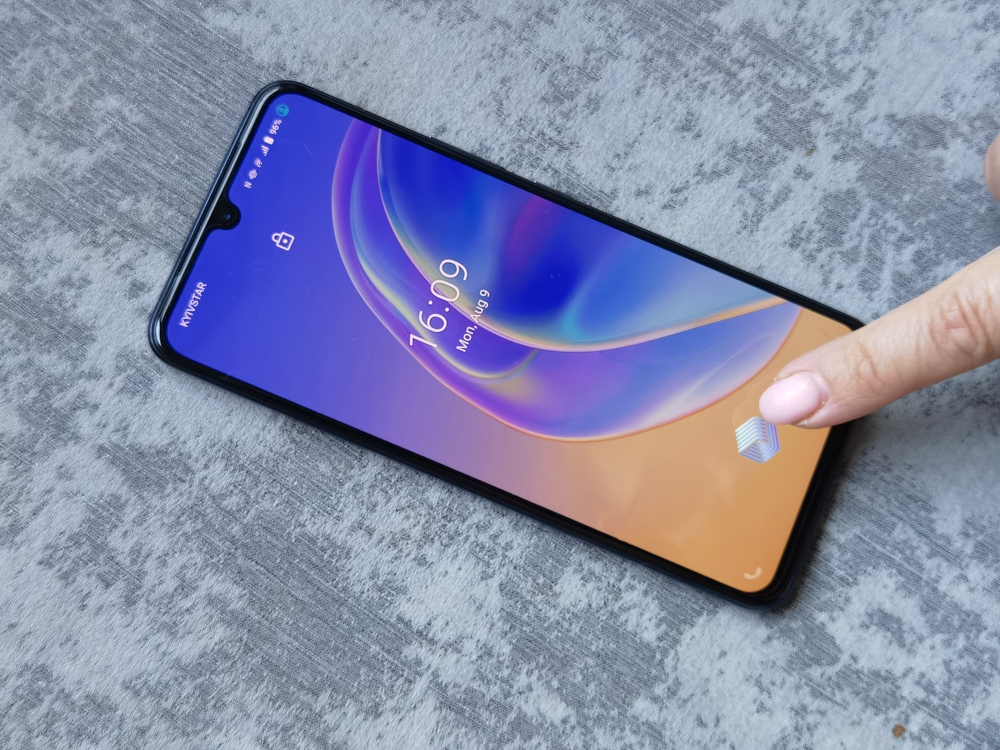 Using the scanner as an unlocking method is intuitive and simple. It is very quick, so we can unlock the smartphone at any time. This solution simplifies the use of a smartphone. You don't need to lift it up and unlock it to see the notifications.
In the settings, you can change the print pattern and its animation.
Face unlocking
This protection also works flawlessly. Unlocking your smartphone on the face has always worked. Every time and from all sides.
All I'll add is that I tried to deceive the camera in different ways, but to no avail. It is quite smart. However, I advise you to disable the function in closed public places, because if you are wearing a mask, the attempt to unlock your smartphone ends with notification that your face is obstructed.
In the face unlock settings, you can also set the animation style that will accompany the process.
In addition to the security features described above, the smartphone can of course be protected with a graphic key, PIN or password.
Sound
The smartphone has only one speaker, quite decent. Unfortunately, I didn't find any information about the dynamics itself. But it didn't upset me at all, because its sound is really good, as for a mid-priced smartphone. But if you want to listen to the song and the headphones are not within reach, use the built-in speaker calmly.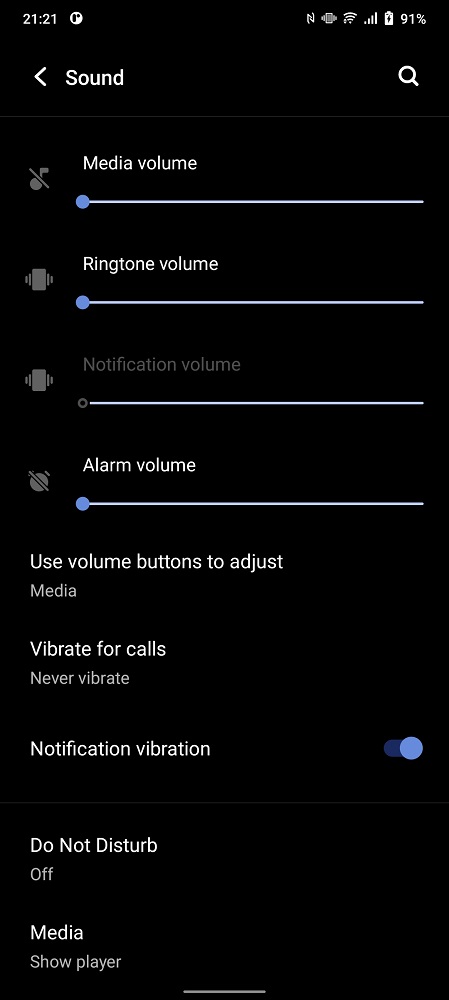 The vocals are clean, the low frequencies are acceptable, but the bass lacks a little juiciness and completeness of the sound.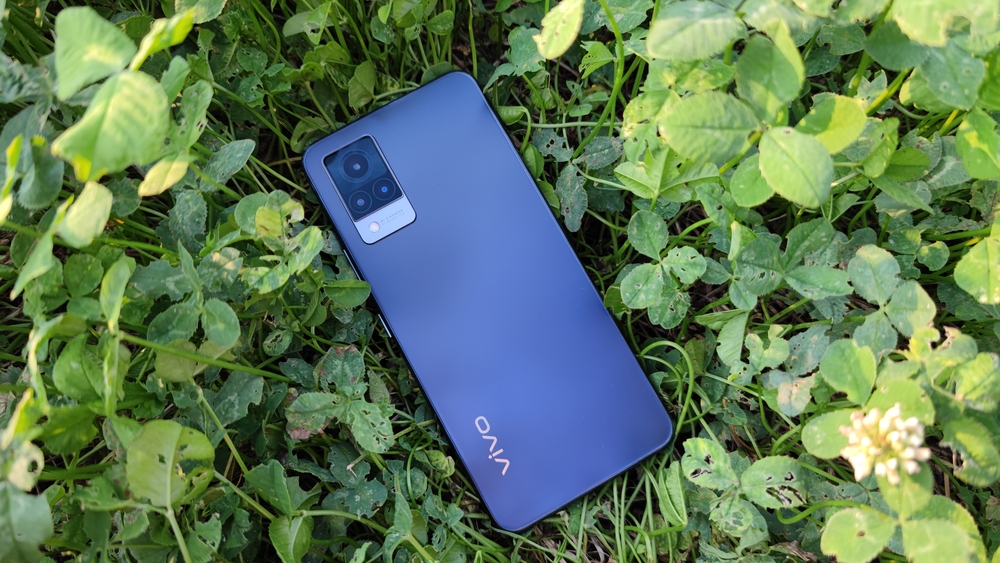 For someone, the situation is complicated due to the lack of a 3.5mm connector, but as I said, the manufacturer has included the necessary adapter in the set.
Read also:
Quite sufficient hardware performance
Not only is the V21 stylish and comfortable, but it also has very good performance. Last year I tested the vivo V20 and noted that the Qualcomm Snapdragon 720G does a great job. In this model, vivo decided to use chips from Mediatek and installed the Dimensity 800U processor. This chipset is designed for mid-price range devices. It is based on a 7 nm manufacturing process. This eight-core chip consists of six energy-efficient ARM Cortex-A55 with a frequency of up to 2.0 GHz and two performance ARM Cortex-A76 cores with a clock speed of up to 2.4 GHz. Quite a modern and powerful processor that in some components surpasses Snapdragon 720G. The graphics are supported by the Mali-G57 MC3 graphics coprocessor.
The smartphone has 8 GB of LPDDR4x RAM and 128 GB of UFS 2.2 storage. You can also expand RAM thanks to RAM Expansion technology. It allows you to allocate additional RAM from the storage. Thus, the vivo V21 additionally receives another 3 GB of RAM. Of course, they will be useful when launching a large number of heavy apps at the same time. I'm sure most users will like this chip. Now you can even boast that your vivo V21 has as much as 11 GB of RAM.
The MediaTek Dimensity 800U and 8 GB of RAM do a good job of everyday tasks. Even with a large number of open tabs and apps running in the background, there are no slowdowns. Even social networks or YouTube videos open almost instantly. Of course, 90 Hz adds to the overall smotheness. I tried to bore "kill" smartphone in a dozen ways, but unfortunately (or rather fortunately for vivo), I failed.
Now a little bit about the games. It should be understood that Mediatek processors feel a little worse if you try to play mobile games. But the Dimensity 800U is a very powerful processor.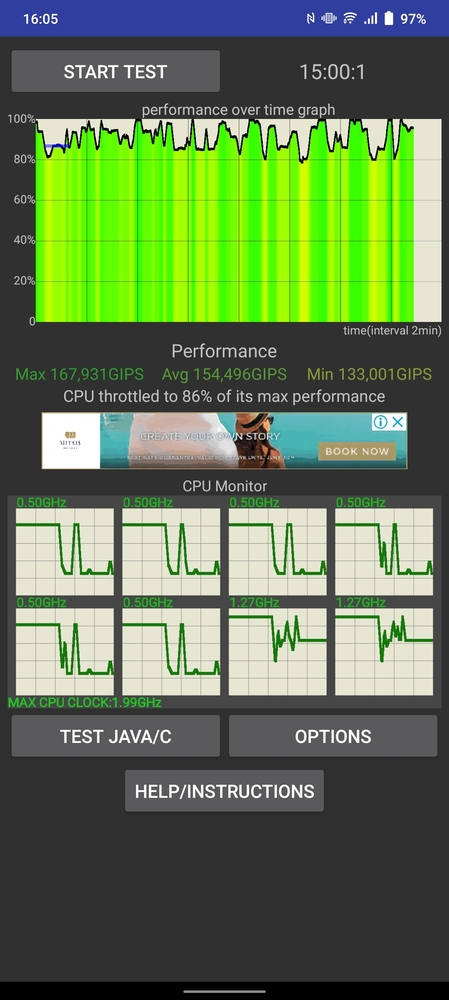 In addition, Ultra game mode helps to get as much out of games as possible. It allowed me to play games like Call of Duty: Mobile, Shadowgun Legends and Genshin Impact comfortably. There were no issues at all. Not on maximum settings, because it is not a flagship or a gaming smartphone. Also worth noting, the device didn't heat up quickly and allowed me to play for almost an hour before I started to feel the warmth under my fingers.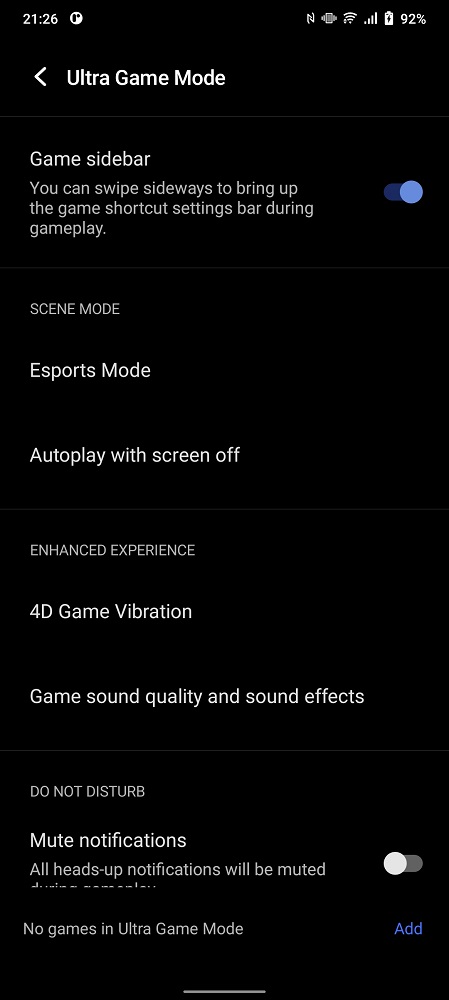 It is also worth mentioning that the vivo V21 is equipped with all the interfaces and communication modules necessary for comfortable operation. It received support for dual-band 802.11 a/b/g/n/ac 2.4GHz and 5 GHz Wi-Fi (I'm a pity there is no Wi-Fi 6 support), Bluetooth 5.1 LE and an NFC for contactless payment. There's also GPS, GLONASS, Beidou, Galileo. In other words, a modern smartphone with everything you need for work, communication and entertainment.
Funtouch OS 11.1
The smartphone out of the box runs on Funtouch OS 11.1, the original shell from vivo based on Androd 11. The appearance is somehow similar to the "clean" Android. But some interesting improvements have been added to this new version of the shell. For example, a split screen function that is activated by swiping three fingers around the screen. Great solution, especially if we use several applications at the same time, like Spotify and Messenger.
The smartphone also has the well-known Always on Display function. The appearance of this panel, of course, can also be changed in the screen settings.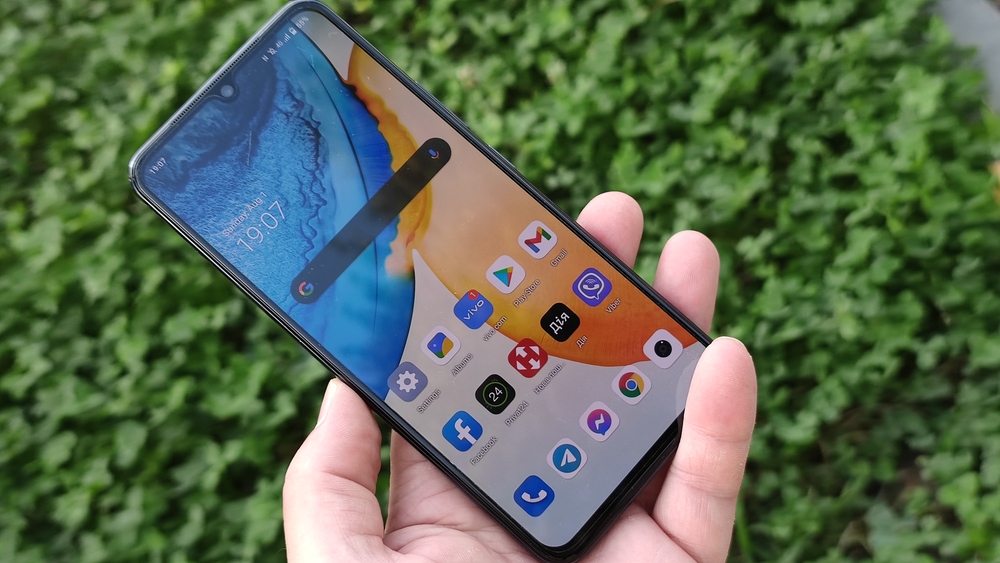 I mentioned above the Ultra Game mode, known from other devices of this manufacturer. During the game, you can call its panel by swiping your finger from the left face to the center of the screen. This mode allows us to turn off notifications.
You can also run a small window with social networks during the game. Just swipe three fingers up the screen to open a tab with social media apps, such as Facebook and TikTok.
It feels like the brand has made sure that the user has the opportunity to maximize personalization according to their tastes and needs.
Battery life
The Vivo V21 is equipped with a 4000 mAh battery. This is not the largest battery, some competitors have larger, but it will last for a whole day if you don't stress it too much.
During my video playback test (720p files in MXPlayer, 50% volume, 50% display brightness, Wi-Fi, Bluetooth, NFC, GPS included) the device survived for 15 hours and 20 minutes. This result is more than satisfactory given the relatively small battery capacity.
The smartphone from vivo performs well in terms of battery charging. In an hour and five minutes, we can charge it from 0 to 100%. The company has added a standard 33W FlashCharge charger to the set.
| Charge level | Time to charge, mins |
| --- | --- |
|   10% █ ░ ░ ░ ░ ░ ░ ░ ░ ░ |  9 |
|   20% █ █ ░ ░ ░ ░ ░ ░ ░ ░ | 15 |
|   30% █ █ █ ░ ░ ░ ░ ░ ░ ░ | 18 |
|   40% █ █ █ █ ░ ░ ░ ░ ░ ░ | 22 |
|   50% █ █ █ █ █ ░ ░ ░ ░ ░ | 26 |
|   60% █ █ █ █ █ █ ░ ░ ░ ░ | 39 |
|   70% █ █ █ █ █ █ █ ░ ░ ░ | 44 |
|   80% █ █ █ █ █ █ █ █ ░ ░ | 50 |
|   90% █ █ █ █ █ █ █ █ █ ░ | 59 |
| 100% █ █ █ █ █ █ █ █ █ █ | 65 |
Read also:
Interesting set of cameras
Due to the fact that there is a weak-ish processor compared to other phones for a similar price, Vivo wanted to compensate with the cameras. At first glance, the main vivo V21 camera is very similar to that of the more expensive vivo X60 Pro. However, it's just a stylistic similarity. This time the manufacturer chose a 64-megapixel standard module (f/1.8, equivalent focal length 25 mm, PDAF, OIS), an 8-megapixel wide-angle module (f/2.2, equivalent focal length of 16 mm, without autofocus system) and a wide-angle 2 megapixel macro module (f/2.4, without autofocus system). There's also one LED flash. The main cameras shoot 4K videos in 30 fps with the standard module or in Full HD with 30 fps with the wide-angle module.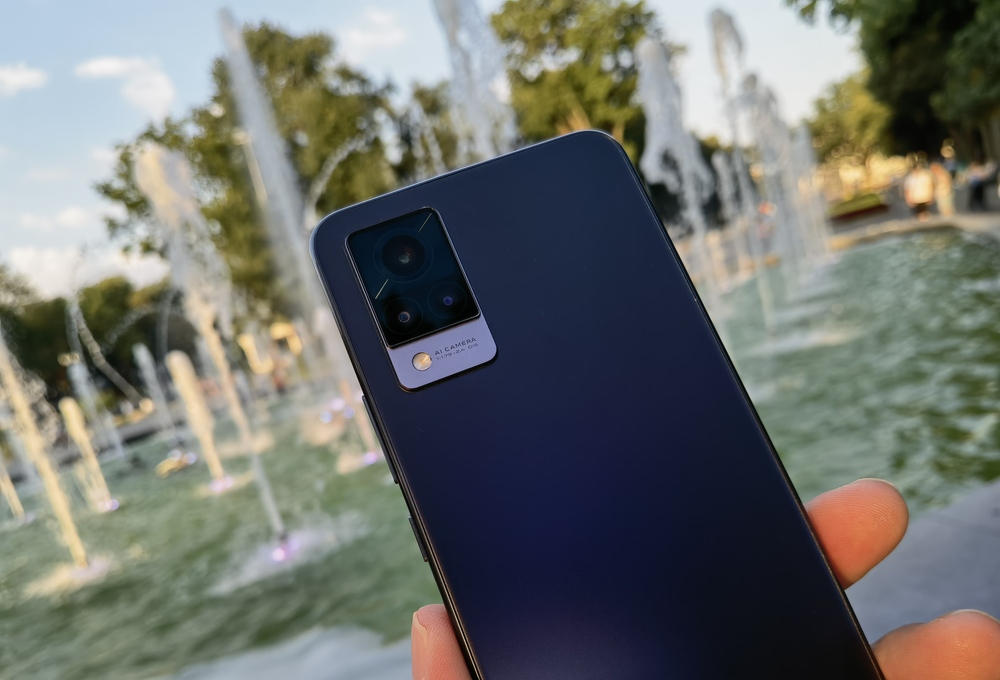 The front-facing camera is installed in a small drop-shaped notch. But there's a pleasant surprise. The module has a resolution of 44 megapixels, and f/2.0. However, what sets it apart from its competitors is the autofocus system and optical image stabilization (OIS). Of the front-facing camera in a mid-range smartphone!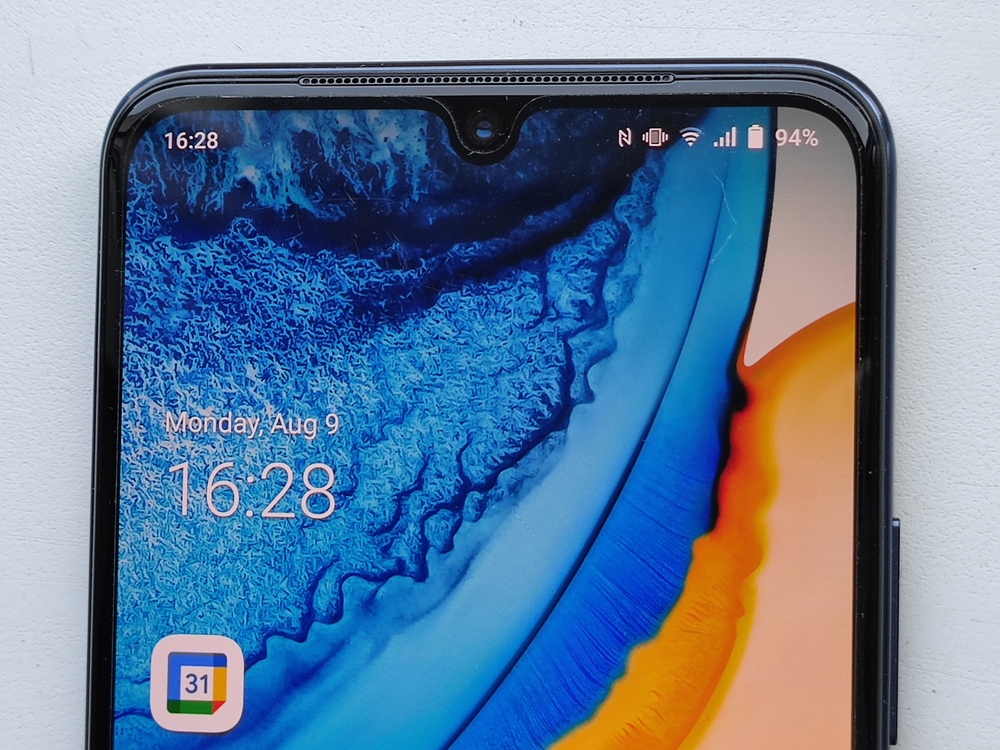 Two LEDs that illuminate night selfies are a pleasant surprise, although their location is convenient only for portrait photos. However, do not expect such a lighting system to be very effective, it is useful if the distance to the subject is about a meter. When taking selfies at night, the smartphone also uses an LED flash and the screen itself, which, however, is not very suitable for people who wear glasses. The selfie camera also records 4K video at 30 fps.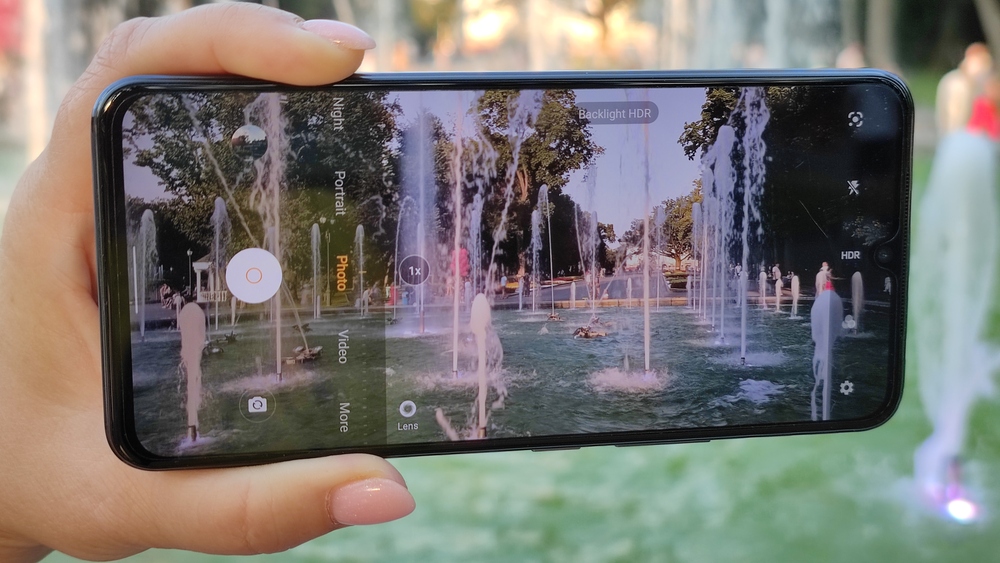 High-quality daytime photos
The main camera is good for taking photos during the day in almost any conditions, and the optical image stabilization system can compensate for the slight movement of the smartphone in the process. As a result, there are no obvious distortions. Automatic camera mode selects the right scene parameters very effectively and is good for creating macro photography.
It is also worth paying attention to the lack of optical zoom. Only digital.
Unfortunately, pics from the wide-angle lens looks a little worse. Pictures taken with it often lose sharpness in the corners. In addition, it sometimes managed to stretch the edges of the photo unnaturally. We get interesting effects using the background blur function.
The super macro lens allows you to capture the smallest details. It works well when the photographed object is no more than 5 cm away from the camera.
Unfortunately, even in this case the photos won't always stay in focus. Photos taken with this lens also show a decrease in saturation.
Night mode
Of course, the vivo V21 has a Night mode, designed for night photo shoots. You can use a wide-angle or standard module. However, in this mode there's no digital zoom, and remembering zoomed daytime images, I think it's for the best.
Wide-angle photos in night mode are clearly too dark, and too little information is displayed in dark areas. You can see that even in night mode, this module has problems managing heavily lit areas of night photography.
The standard module works much better in these conditions, but it also has some problems with the lack of details in dark areas. But night photos keep the overall "night atmosphere" at least.
Selfie, selfie, selfie
In the last week I made more selfies than I did in a while. In fact, this is a pretty interesting experience, because when I looked at these photos, I noticed that facial expressions are difficult to control.
The front selfie camera really deserves attention. As I mentioned, it has a 44 MP lens, 2x zoom and optical image stabilization. Photos taken on the front-facing camera are characterized by excellent quality, sharpness and color saturation. There are also many options for modifying the landscape.
But the front-facing camera unlocks its full potential at night. Vivo provided two different ways to illuminate the photo: we can turn the display into a lamp or use Dual Selfie Spotlight, i.e. two LEDs located on the top of the smartphone. They provide excellent and uniform illumination of the entire photo.
ORIGINALS OF PHOTO AND VIDEO IN FULL RESOLUTION
Decent video
4K video at 30 frames per second looks unexpectedly good, quite clear and detailed. The sound is not bad either. While the color saturation was sometimes lacking, it was generally a pretty nice surprise. Unfortunately, optical stabilization does nothing for video. Shooting in Full HD mode is also very good. It produces much more natural colors, but with less details.
Verdict
It's always difficult to sum up such a review. It's all about the price. There are many interesting devices in this price range. Let me remind you that the device costs about $520.
For this price, we get a modern smartphone equipped with the necessary features (there is no support for 5G though) and an excellent front-facing camera that provides accurate and clear photos in all conditions. Another argument in favor of buying this smartphone is an interesting design, decent battery life and water protection, as well as the included silicone case.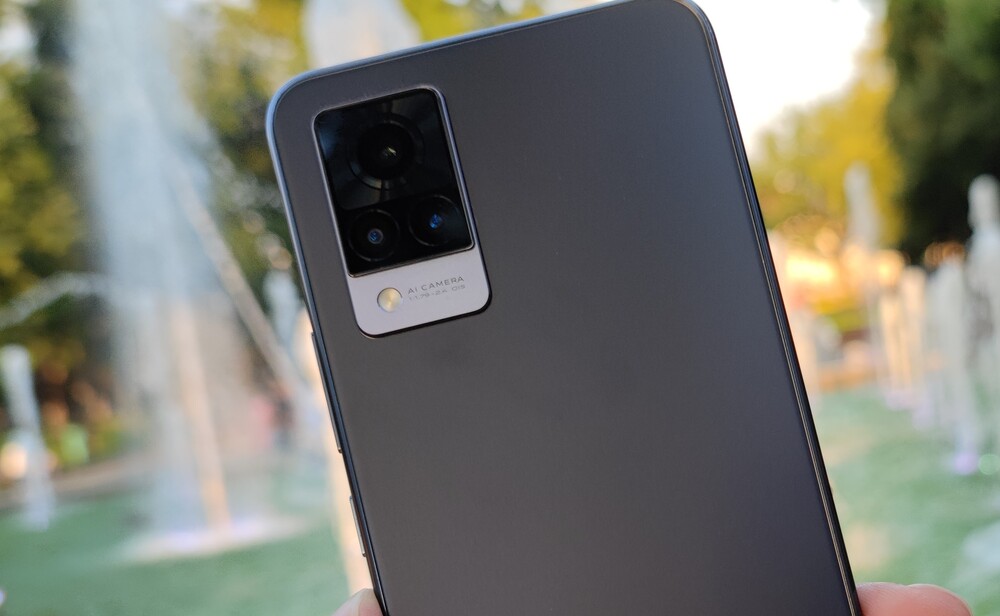 On the other hand, for this amount we have the right to expect a better and more productive processor than the Dimensity 800U. However, if you don't plan extremely intense and demanding work, it should be enough for everyday use.
I really liked this model. Can I recommend the vivo V21 to you? Sure. But the vivo V21 is primarily for people who love selfies. A good front-facing camera will also come in handy if you often make important video calls.
Pros
premium, elegant design
high-quality AMOLED screen
efficient processor for everyday tasks
an interesting set of cameras
excellent 44 MP front-facing camera
fast battery charging
Cons
medium-sized battery
no full protection or stereo sound
price
Read also: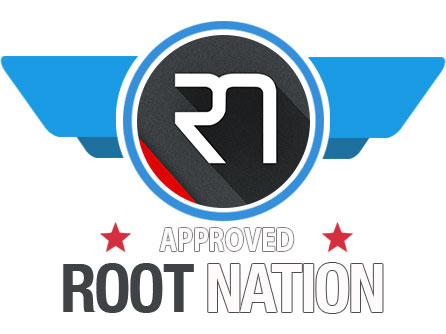 Subscribe to our accounts: